Want a wedding venue where you don't have to worry about dates being booked years in advance or rental costs rising beyond your budget? Look no further than your own backyard. This intimate setting—be it your childhood house, a relative's well-landscaped residence or a friend's home with space to spare—is an elegant way to celebrate. While more traditional venues often come with decor built in, you get to rely upon Mother Nature's design magic. Here are a few ways to enhance the beauty for your wedding day, rehearsal dinner and more.
1. Bright Idea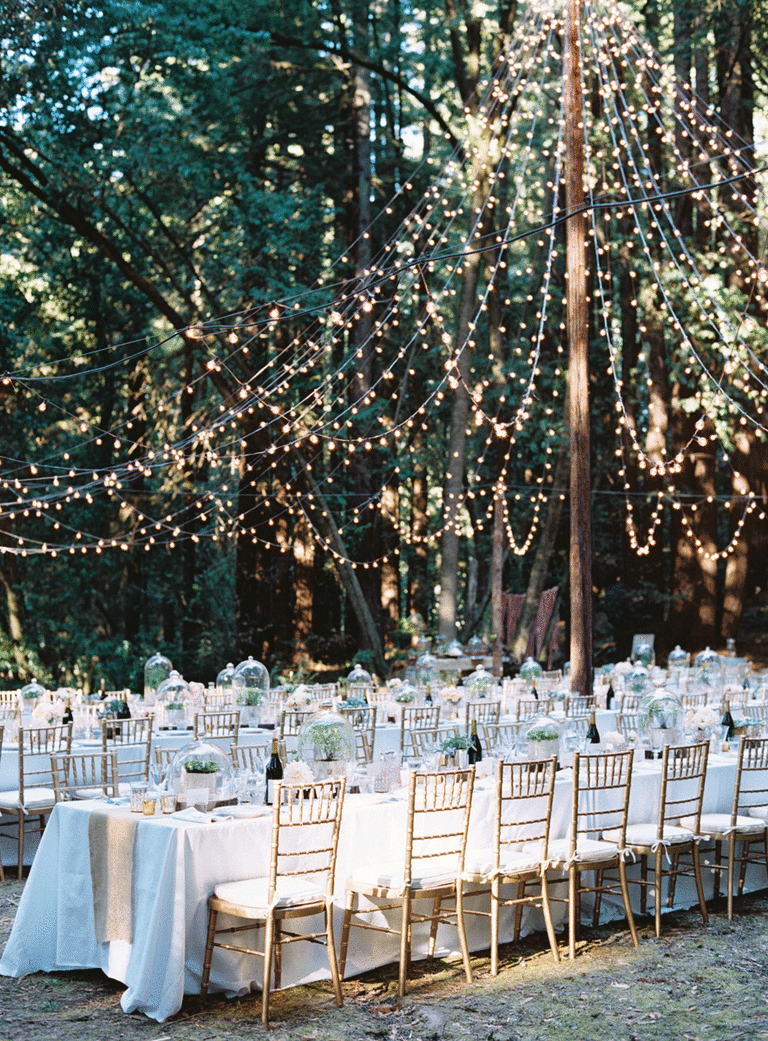 Use strings of twinkling lights to give the illusion of a tent.
From the album: A Formal, DIY Woodland Wedding With a Bohemian Spin at a Private Residence in Sebastopol, California
2. Pedal Perfect
Park a vintage bike to collect cards from incoming wedding guests.
From the album: A Vintage Garden Wedding at a Private Residence in Saugatuck, Michigan
3. Beat the Heat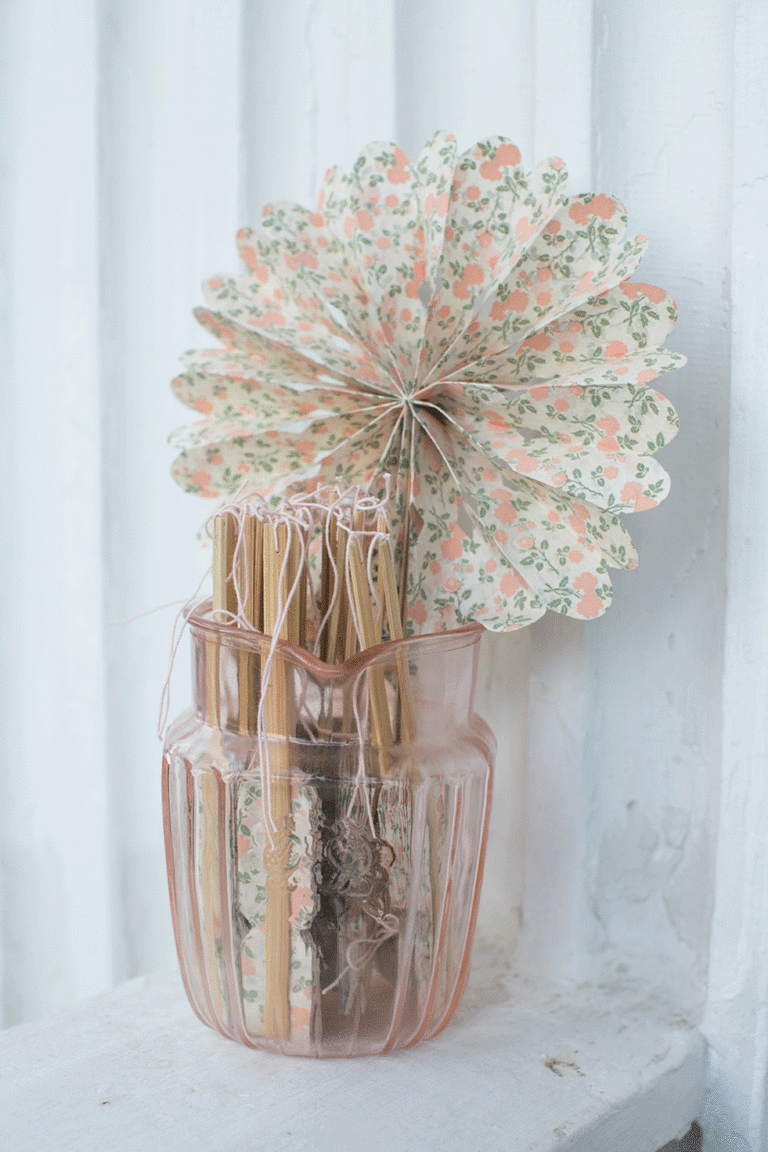 Turn folded paper into a sweet DIY detail guests can use to fan themselves.
From the album: A Romantic Bohemian Wedding at The Van Noy Mansion in Kansas City, Missouri
4. Wind-Blown Whimsy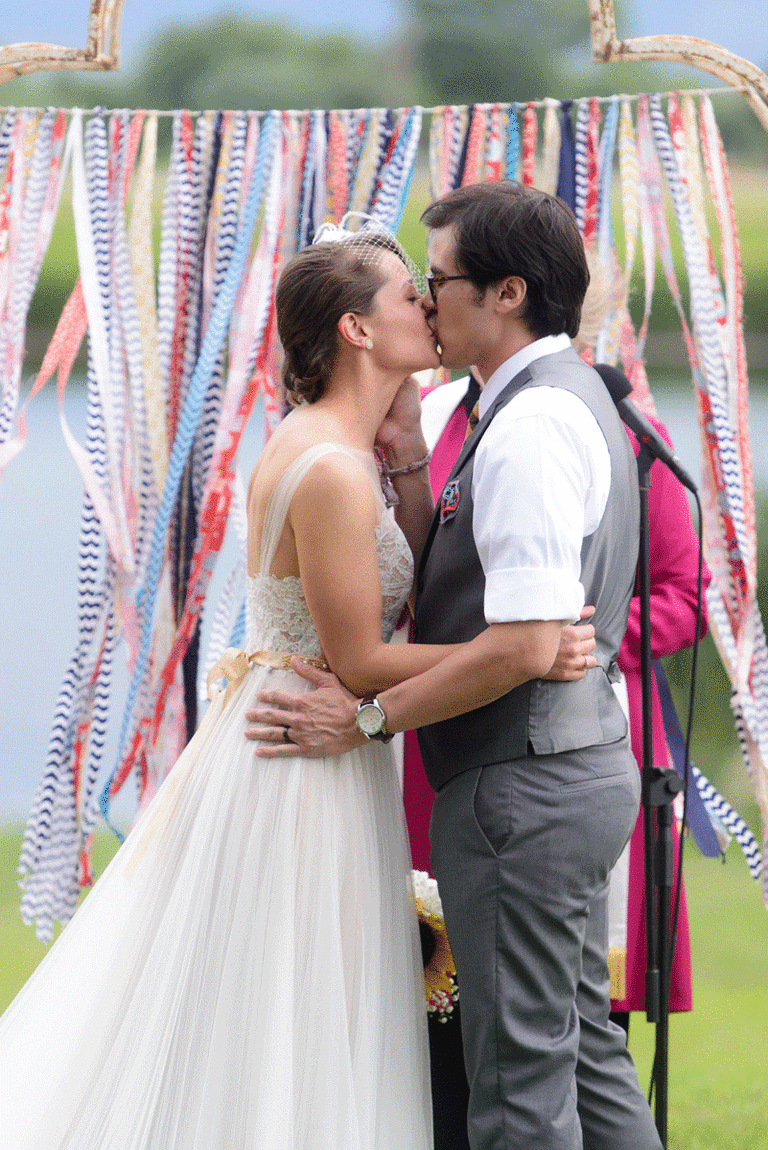 Chris McLaughlin Photography
Make the most of easy breezes with a backdrop of ribbons in fun and playful patterns.
From the album: A Colorful, Rustic Wedding at Osborn Farm in Loveland, Colorado
5. Sky-High Centerpieces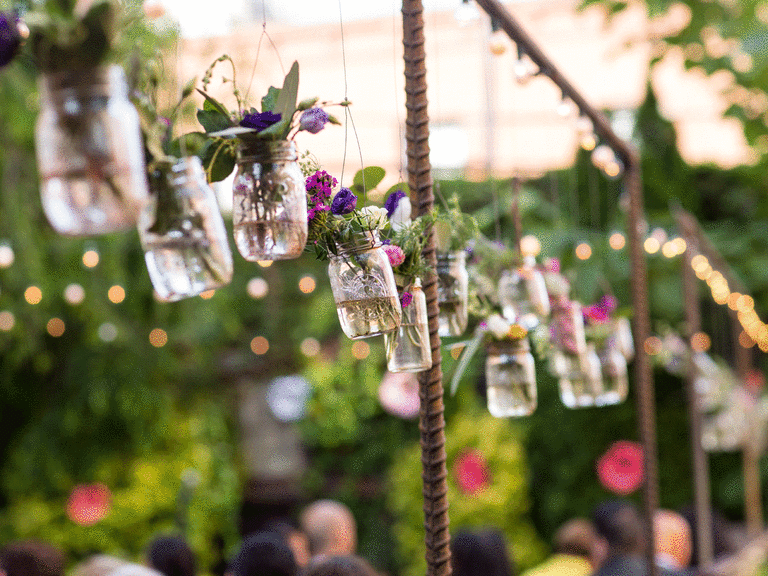 Hang small vases of wildflowers overhead instead of arranging them on the dinner table.
From the album: A Garden-Style Rooftop Wedding at MyMoon Restaurant in New York, New York
6. Branch Bling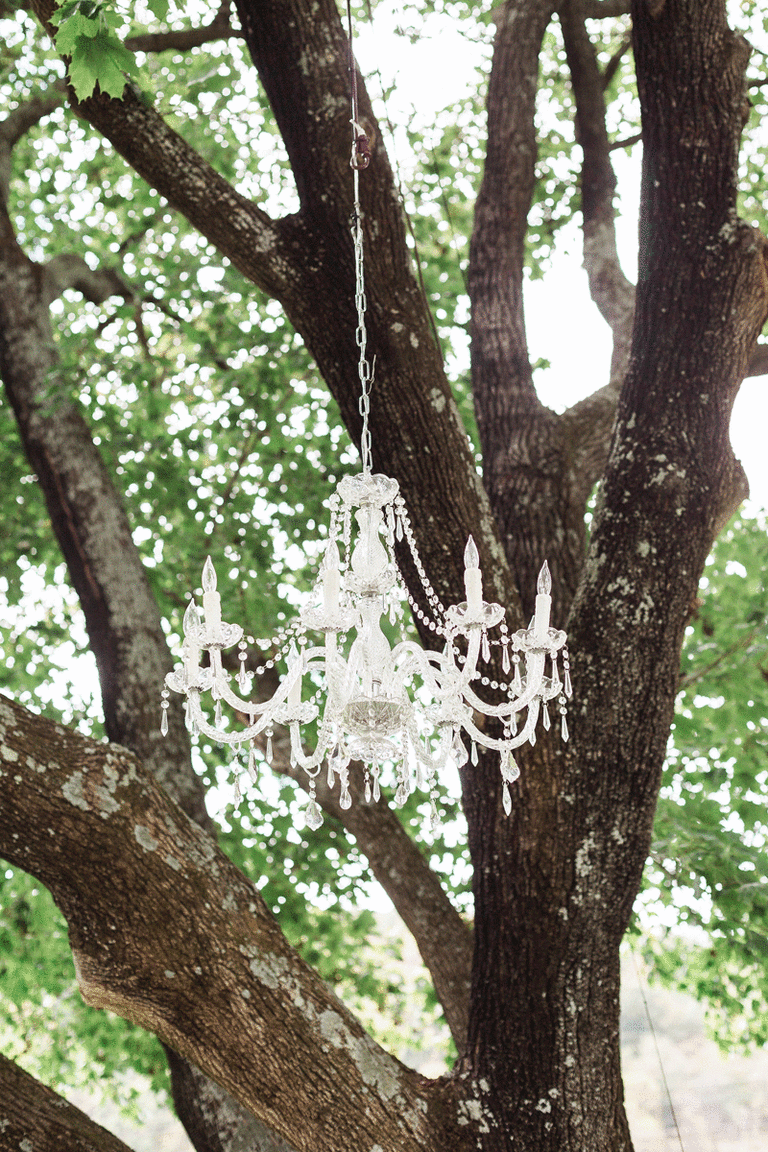 Add a jeweled touch to natural leaves with chandeliers that hang from the trees.
From the album: A Rustic Glam Wedding at Beech Spring Farm in Orrtanna, Pennsylvania
7. Dual Duty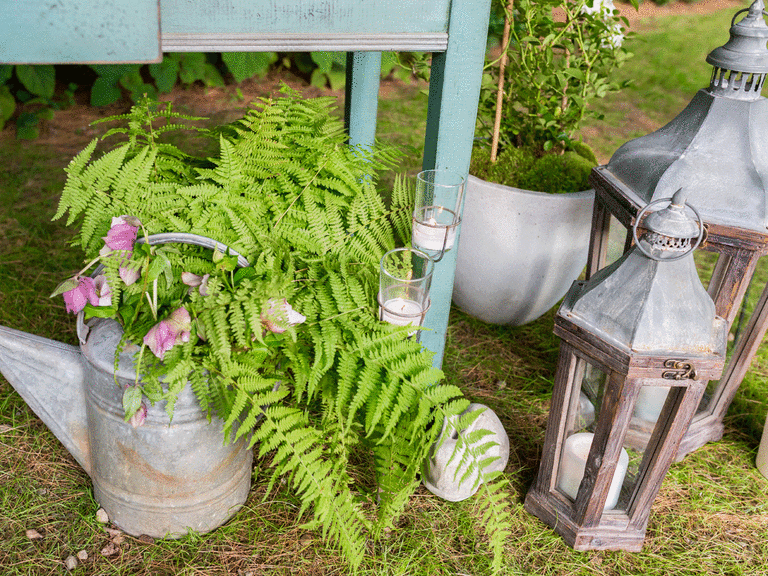 The same way a little water helps plants grow, a watering can can do the same for your wedding decor.
From the album: A Backyard, Garden-Themed Wedding at a Private Residence in Dover, Massachussetts
8. Lemon Fresh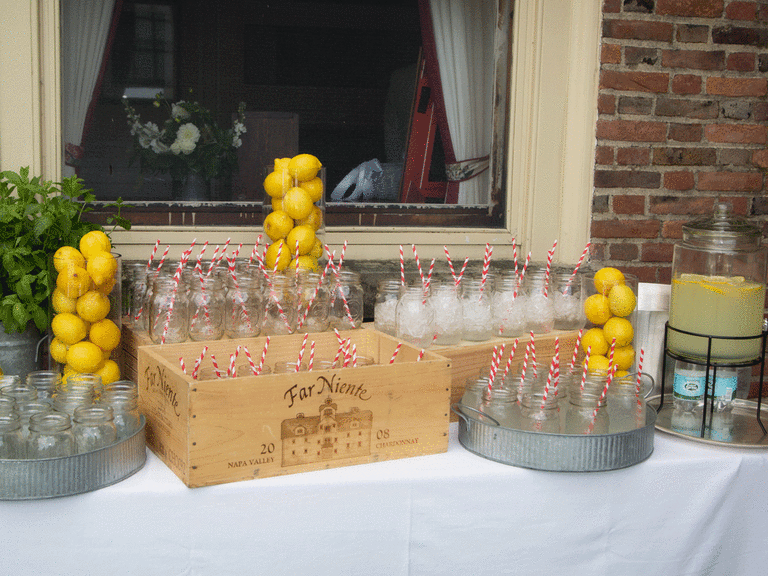 Person Killian Photography
Chilled, freshly squeezed lemonade is always an instant crowd-pleaser.
From the album: A Rustic, Chic Wedding at The Crane Estate in Ispwich, Massachusetts
9. Lawn Games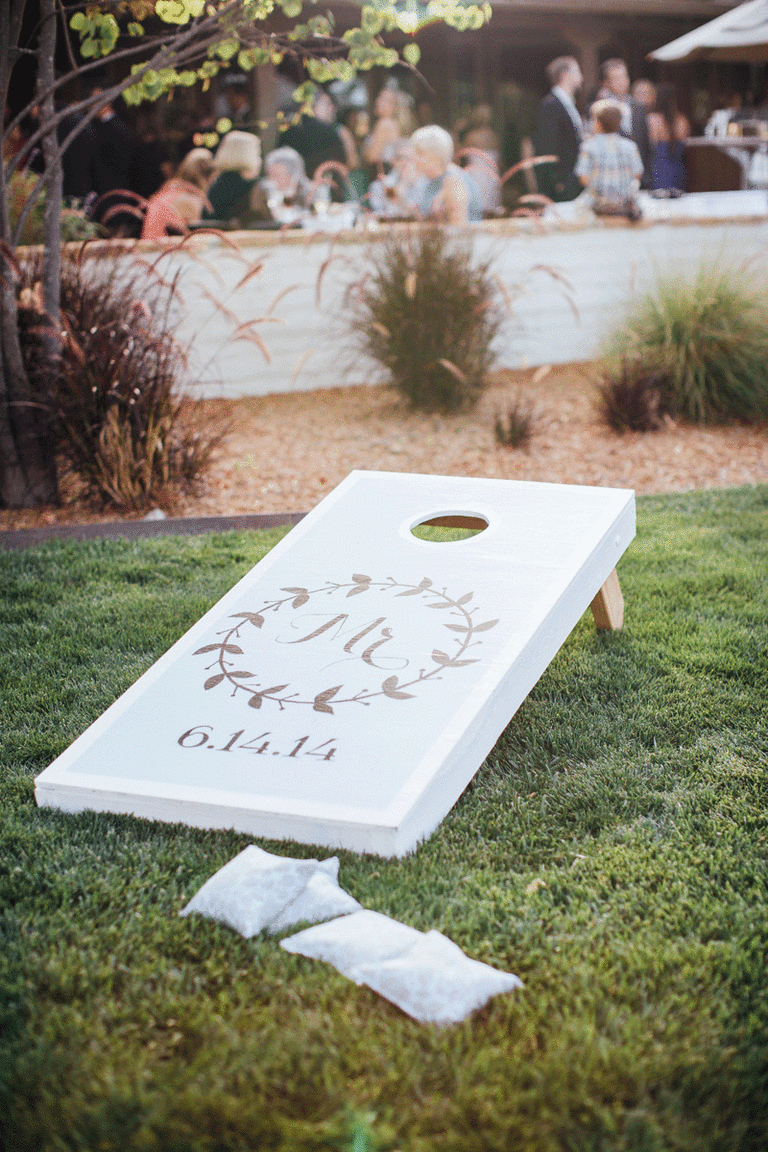 Keep guests entertained with backyard games, like this custom cornhole set.
From the album: A Romantic, Garden-Inspired Wedding at Arroyo Trabuco Golf Club in Mission Viejo, California
10. Moss Monogram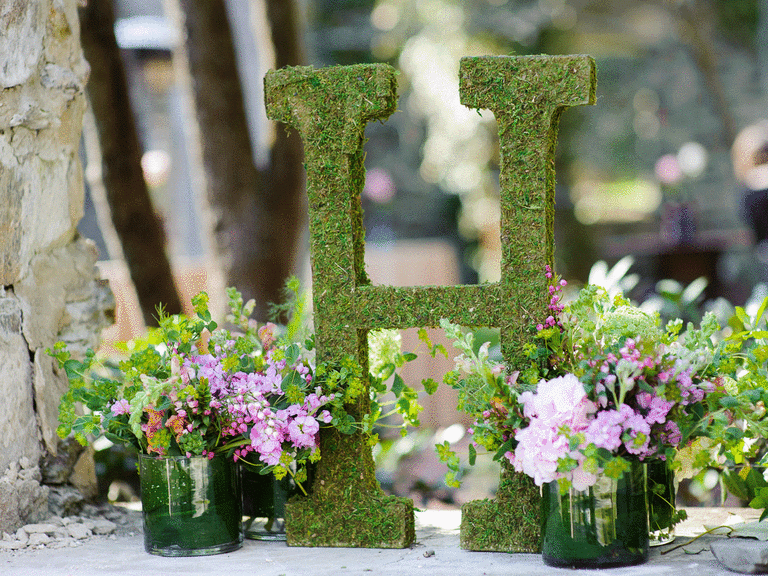 Rebecca Barger Photography
Natural green moss turns a marquee letter into outdoor decor that beautifully celebrates your new shared last name.
From the album: An International, Garden-Inspired Wedding at the Old Mill in Rose Valley, Pennsylvania
11. Swing Away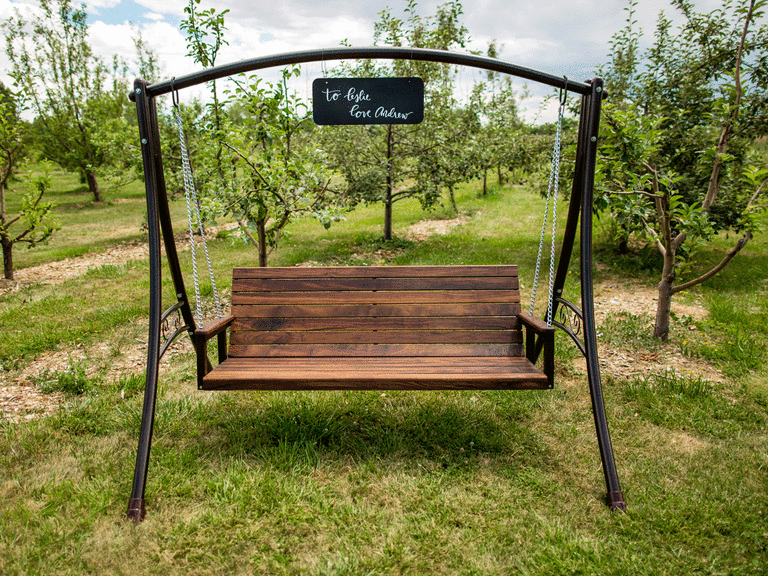 Get creative with casual guest seating using an outdoor swing that can double as your new home's backyard decor.
From the album: A DIY Country Wedding at Ya Ya Farm & Orchard in Longmont, Colorado