As a fashion and beauty editor, I spend a lot of time in the beauty closet. It probably goes without saying I'm a beauty junkie, and my own collection of products is pretty extensive (if not a little crazy!). When I went to Antigua for my honeymoon, it seemed like the perfect opportunity to see how some of my favorite beauty picks for summer stood up against travel, a tropical climate and even a snorkeling trip. Keep scrolling to see mascara that won't budge—even underwater—and the makeup setting spray you won't want to live without.
SPF Protection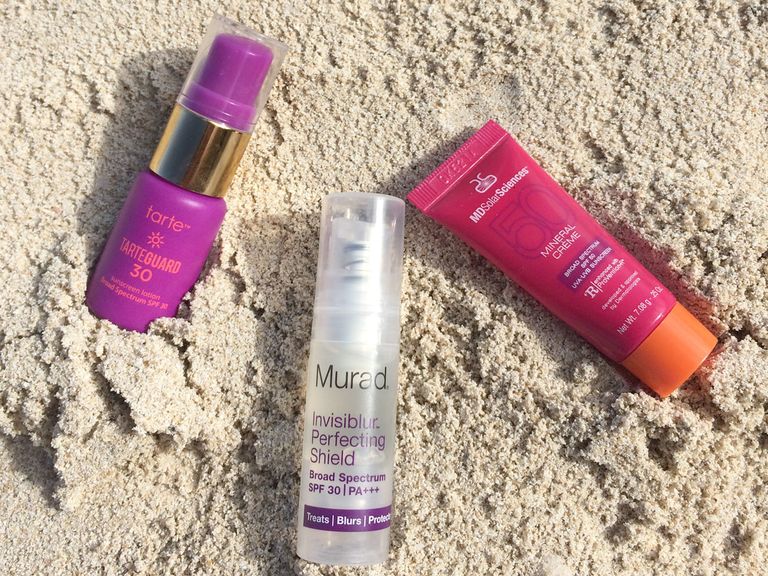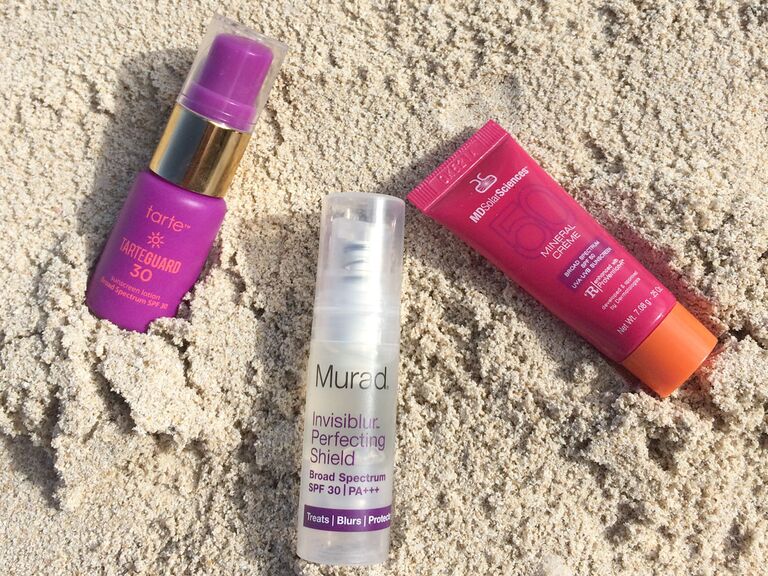 Tarte Tarteguard 30 sunscreen lotion broad spectrum SPF 30: Staving off sun damage is super important to me. This fun-size bottle makes SPF touch-ups throughout the day easy. Its lightweight formula can even go on top of makeup, and it didn't leave behind a sticky residue. $32 Sephora.com
Murad Invisiblur Perfecting Shield broad spectrum SPF 30 PA+++: I'm officially obsessed with this product. It's SPF infused but works like a primer and left my skin feeling velvety. What's even more amazing is it blurs out blemishes, and gave my skin an airbrushed appearance (who doesn't want that?). From $65, Sephora.com
MDSOlarSciences Mineral Creme broad spectrum SPF 50 UVA-UVB sunscreen: This was the first sunscreen I put on every day, and the creamy mineral formula was hydrating and left my skin soft. Another plus? It didn't budge—even after hours of snorkeling. From $30, Sephora.com
Waterproof Makeup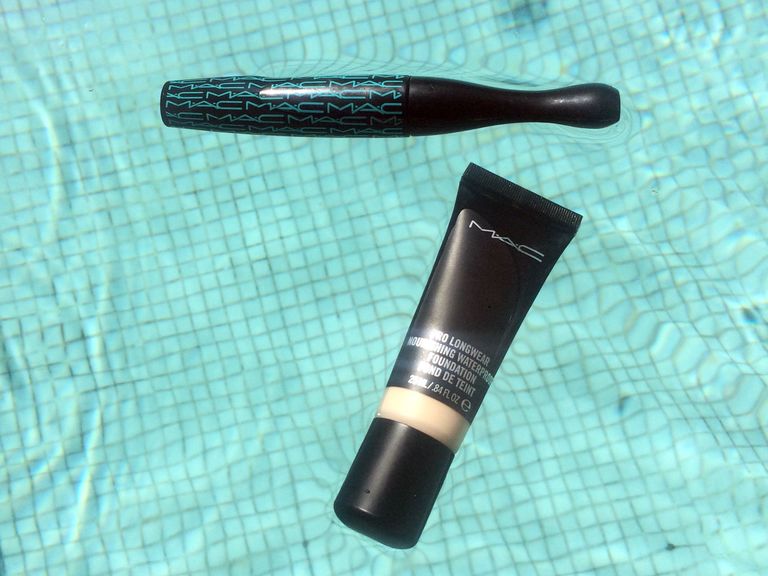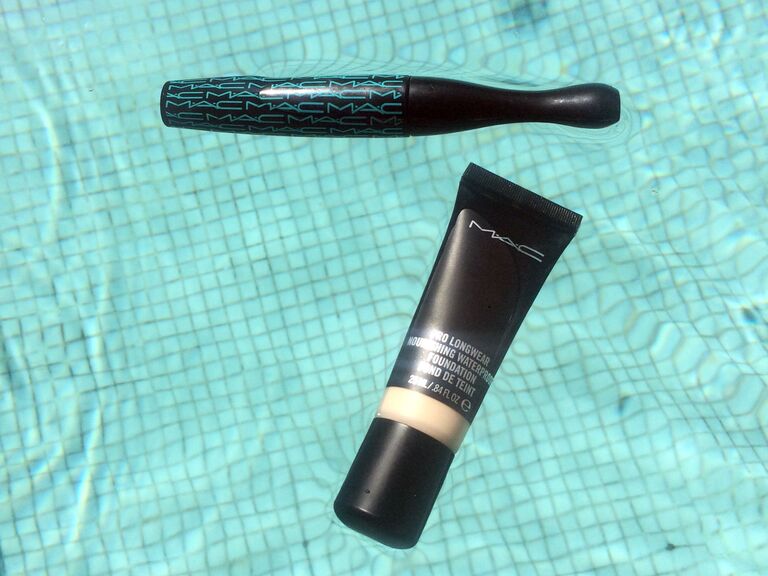 MAC In Extreme Dimension waterproof mascara: If you're looking for a waterproof mascara that truly repels water (or happy tears on your wedding day), this is the one for you. I spent the day snorkeling and swimming in the ocean, got saltwater in my eyes and rubbed them vigorously, and this product still didn't run, smudge or even flake off. I'm officially a believer in the power of a good waterproof mascara. $23, MACCosmetics.com
MAC Pro Longwear Nourishing waterproof foundation: I love the versatility of this foundation. It's substantial enough to also work as a light concealer, and it doesn't melt off in the heat and humidity. $34, MACCosmetics.com
All Day Essentials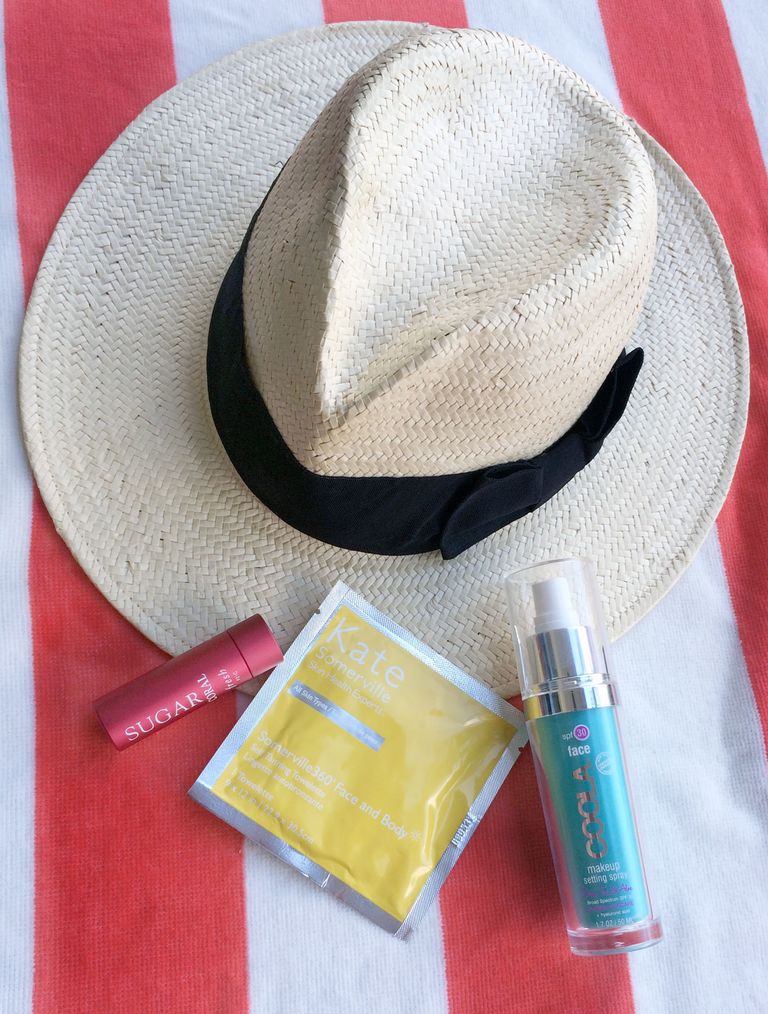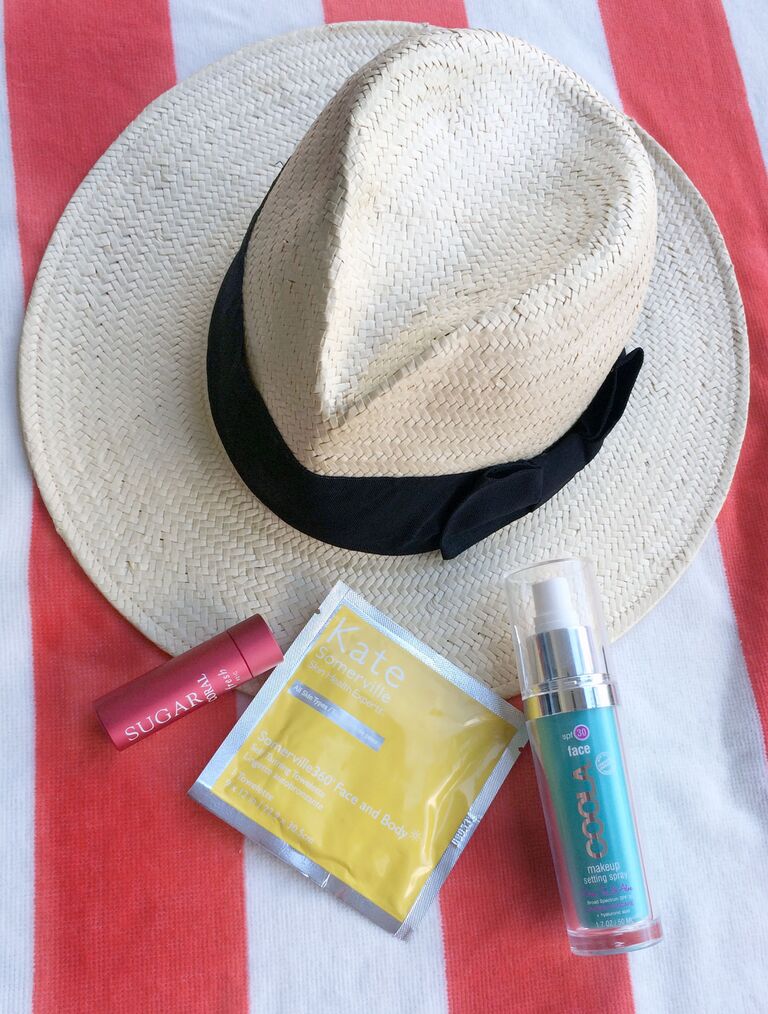 Kate Somerville Somerville360 face and body self tanning towelettes: While I'm an avid supporter of SPF, I also enjoy a good faux glow. Kate Somerville's self tanner is easy to pack and always goes on flawlessly. (Trust me, my pale skin has seen some not-so-flattering shades of orange in the past, but this product has never done me wrong.) I applied this early in the morning before my flight and was poolside ready by the time I arrived. I also packed some in my suitcase for touch-ups. Just keep in mind it doesn't contain SPF, so even though you'll look tan, sunscreen is still a necessity. $48, KateSomerville.com
COOLA Makeup setting spray SPF 30: If you want to add some coverage before you hit the beach, apply this soothing, aloe-infused spray over your foundation to keep your makeup in place. Even if you plan to go makeup free, this spray is still worth the investment—it's SPF 30 and tightens your pores. $36, COOLASuncare.com
Hydration Solutions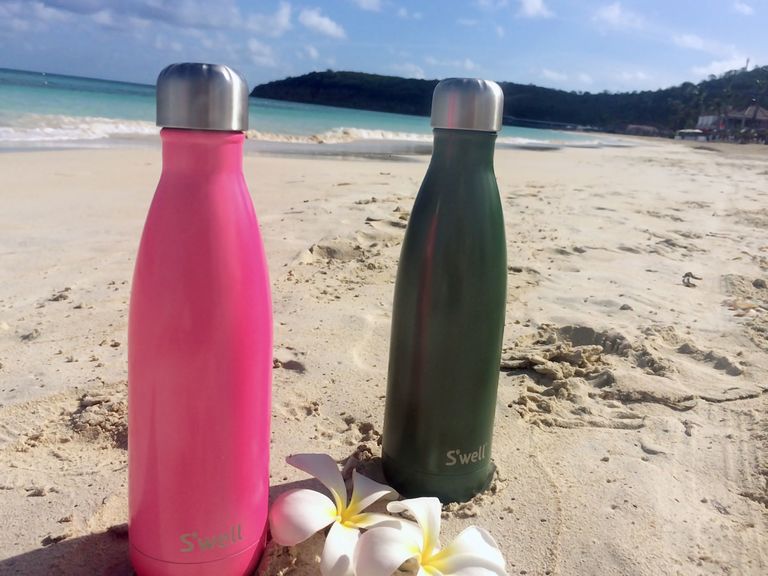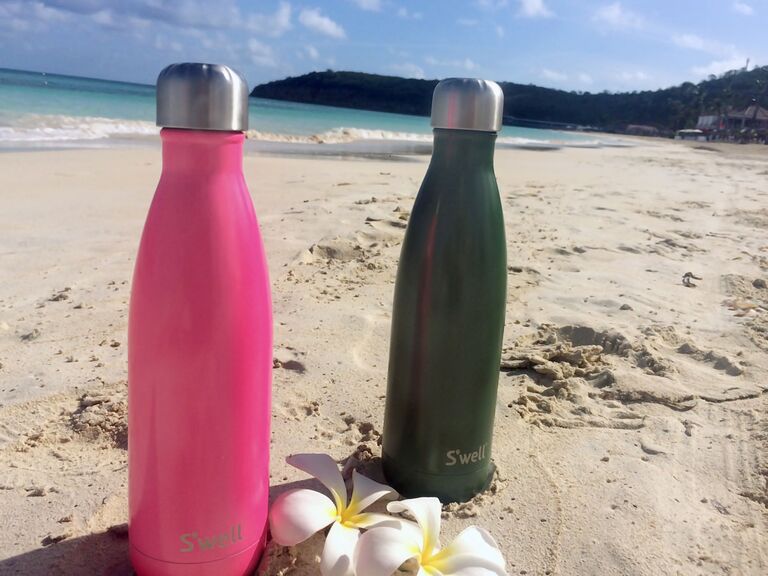 S'well Satin collection in Bikini Pink and Hunting Green: If you're planning to spend a lot of time catching rays, it's important to stay hydrated—especially if tropical cocktails are involved. These pretty bottles claim to keep water cool for 24 hours. While I was skeptical at first, they actually worked and kept our water from getting warm even in 80-degree weather. If you're cheesy like me and my husband, go for "his" and "hers" bottles. $35 each, SwellBottle.com
Colorful Lip Care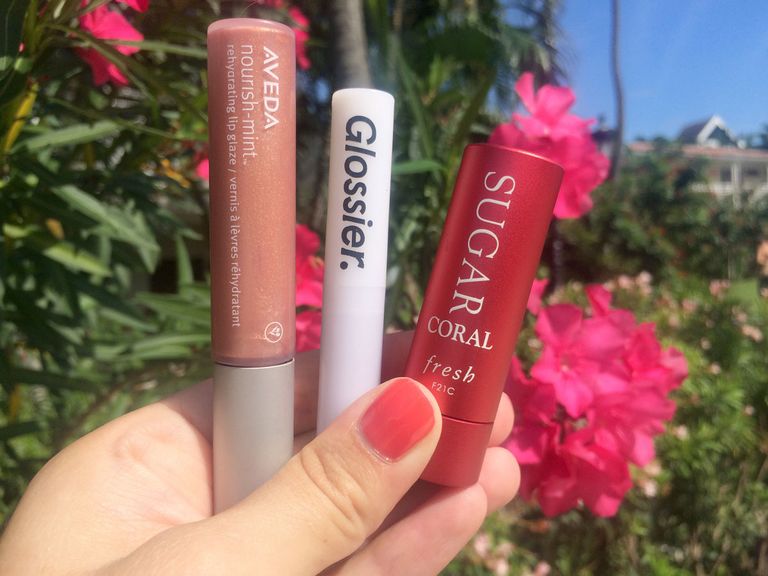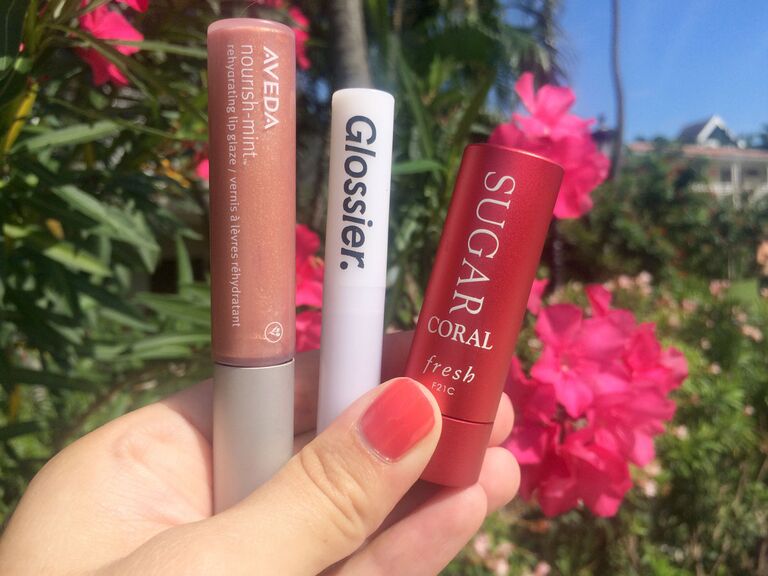 Aveda Nourish-Mint rehydrating lip glaze: The minty fresh essential oils in this universally flattering shade not only kept my lips nourished, but the subtle shine was perfect for daytime. $19, Aveda.com
Glossier Generation G Crush: This lipstick adds an amazing amount of pigment to lips with a refreshing barely there feel. The formula is so light and airy I kept forgetting I was wearing a lip stain—and that's an awesome feeling. $18, Glossier.com
Fresh Sugar lip treatment sunscreen SPF 15: If you can only take one lip balm on your honeymoon, bring this one. It's the perfect combination of SPF protection, hydrating oils and a pretty pop of color. $24, Sephora.com
Travel Fragrance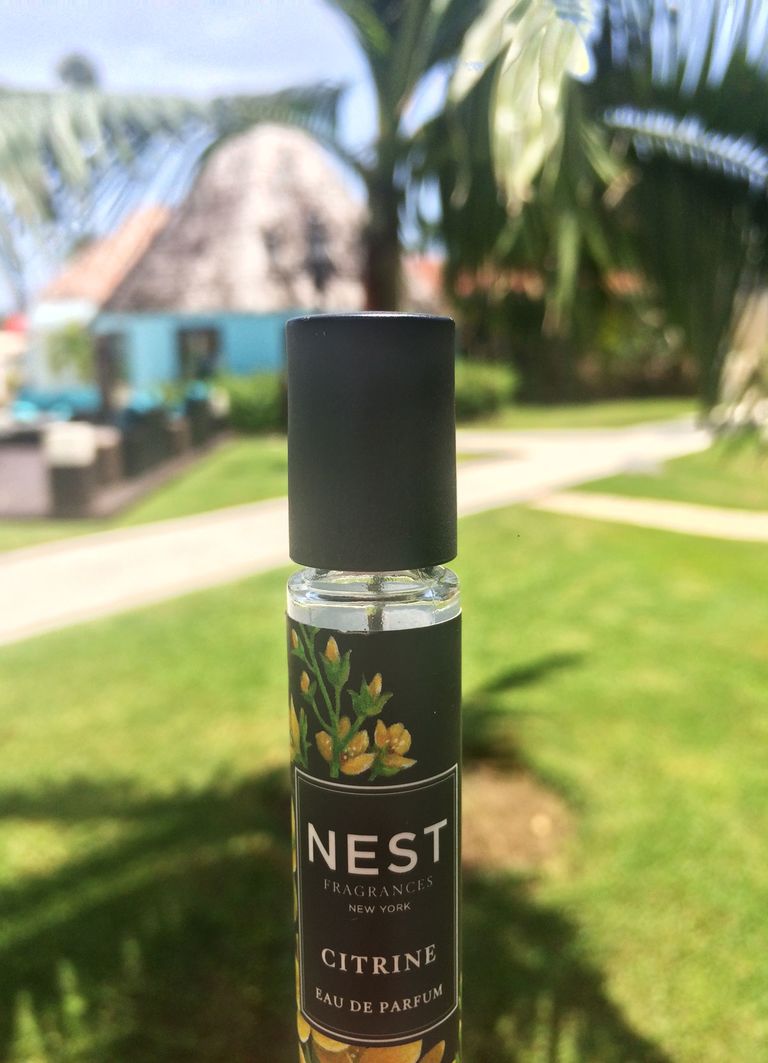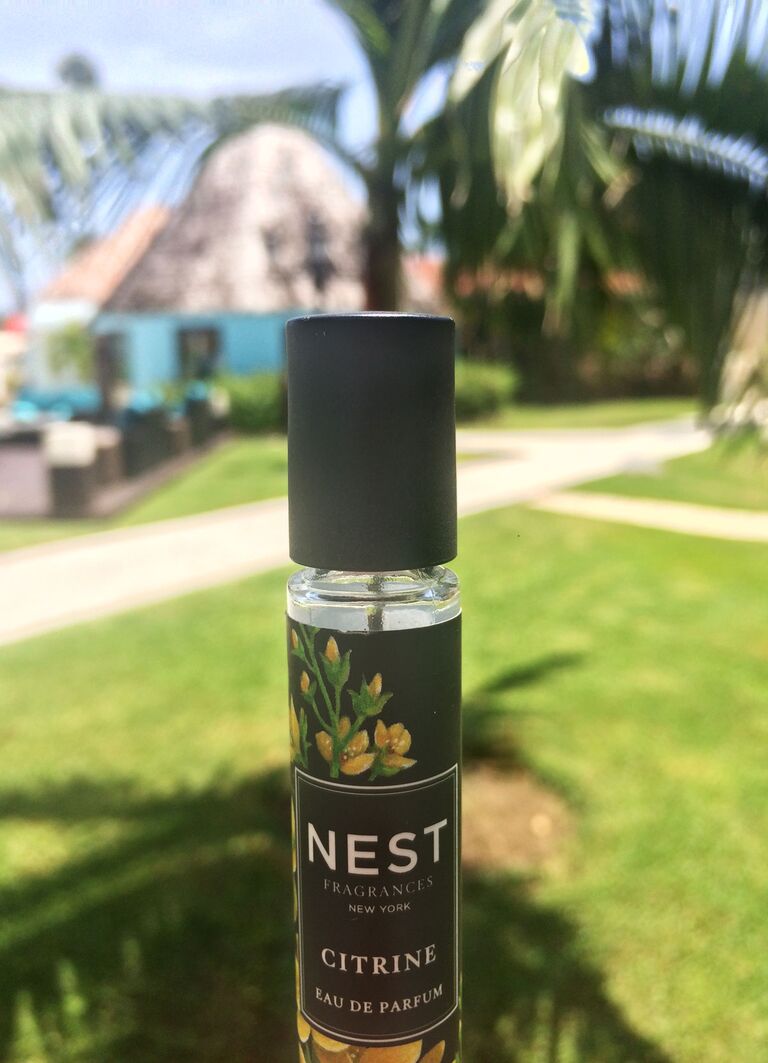 NEST Citrine rollerball: I normally wear tropical scents on beach vacations, but I'm glad I went for this fresh, citrusy one. It was sophisticated enough for nightly dinner dates, but not too heavy. And now, I have a delicious-smelling reminder of our crazy-awesome week in Antigua! $25, Sephora.com
Want more honeymoon inspiration? Right here!