For a twist on the traditional all-white wedding cake, try chocolate. You'd be surprised how many creative ways there are to design a unique and fabulous wedding cake using chocolate. Maybe it's because there are so many different forms that chocolate can take on a wedding cake—marzipan, ganache, buttercream powder—need we say more? Check out some of our favorite chocolate wedding cakes below.
1. Sweet and Simple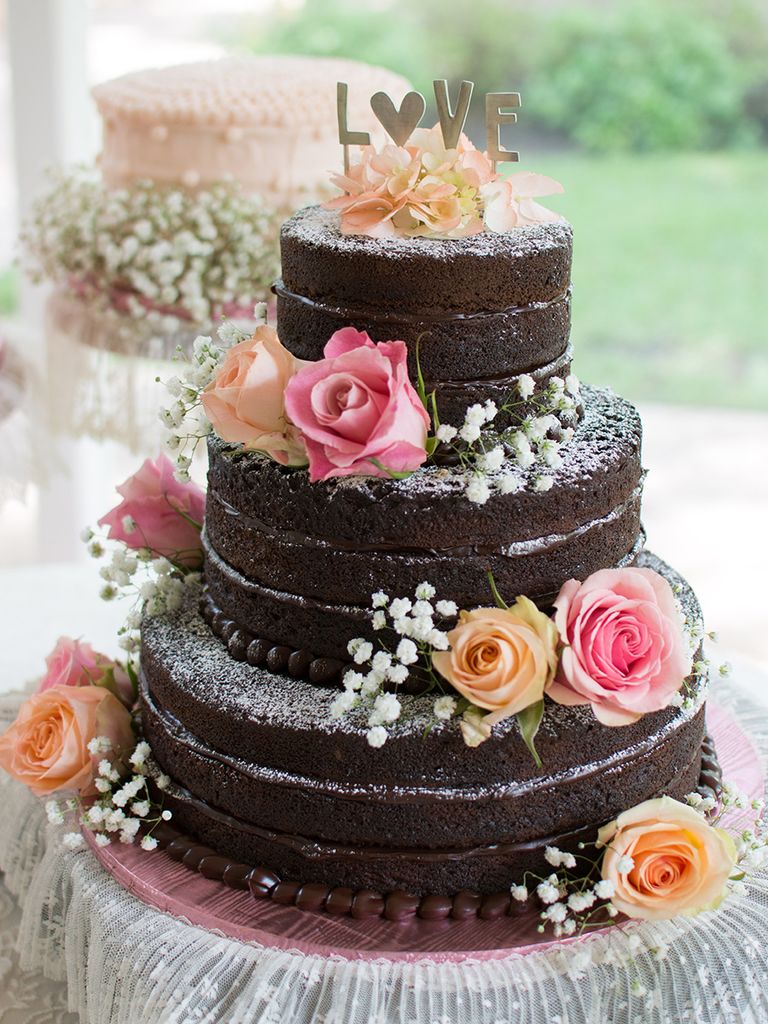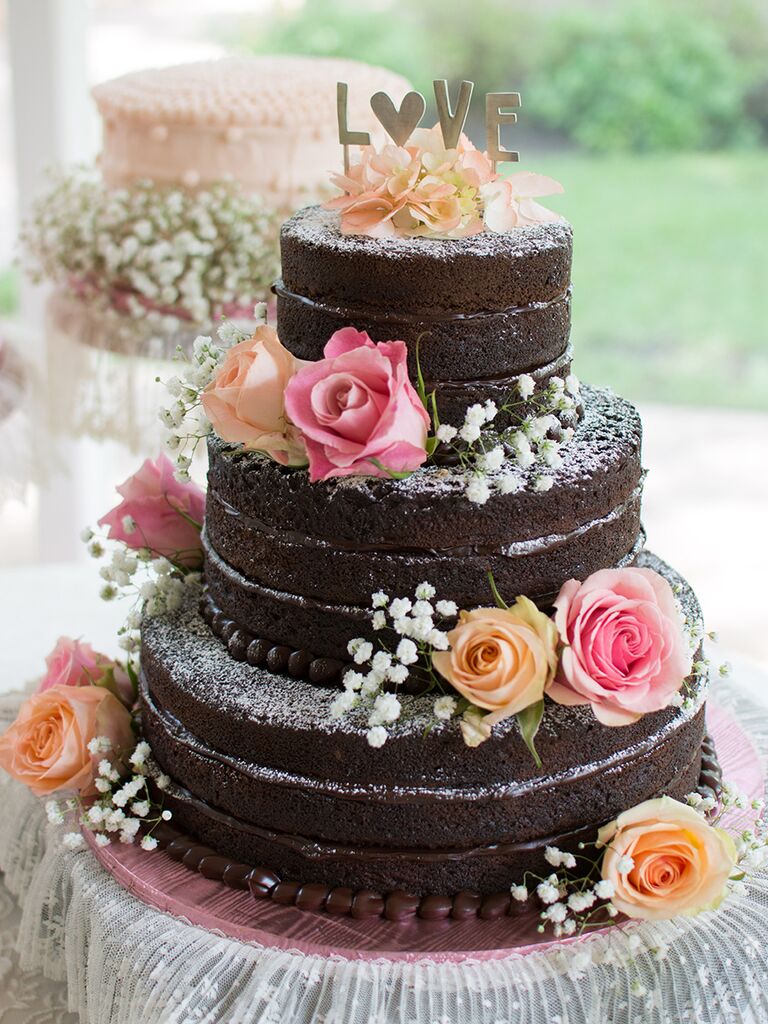 Keep it sweet and simple with a naked chocolate ganache wedding cake. Sprinkle powdered sugar onto the tiers, decorate with colorful, fresh flowers, and finish it off with a simple cake topper. Add a sweet fruity filling for a taste bud surprise. 
From: A Whimsical, Casual Lawn Wedding at the Hodge Podge Lodge in Montgomery, Texas
2. Classy Colors


Build your chocolate cake with your color scheme in mind. Then surprise your guests with a chocolatey surprise when you cut into it. 
From: A Classic Fall Wedding at Rust Manor House in Leesburg, Virginia
3. Over the Topper

Make a bold statement with an over-the-top cake topper. Go with a festive hand fan with hand-crafted fondant florals cascading down the tiers for a themed wedding, or choose something more special to represent you and your partner's relationship.
4. Chocolate and Berries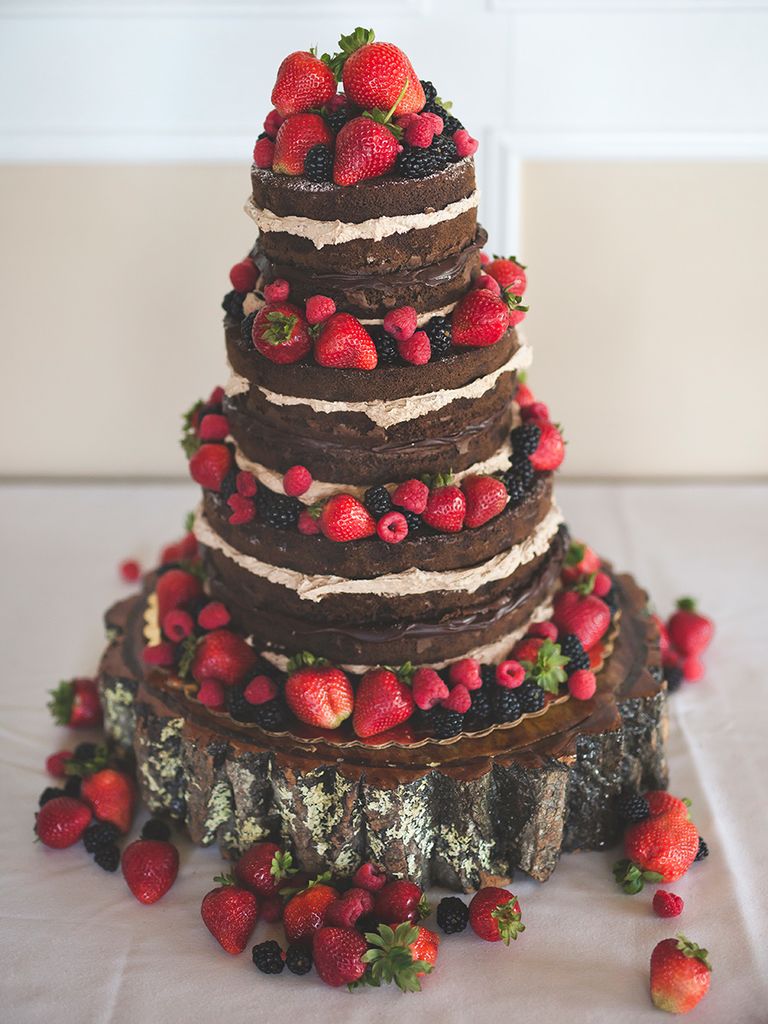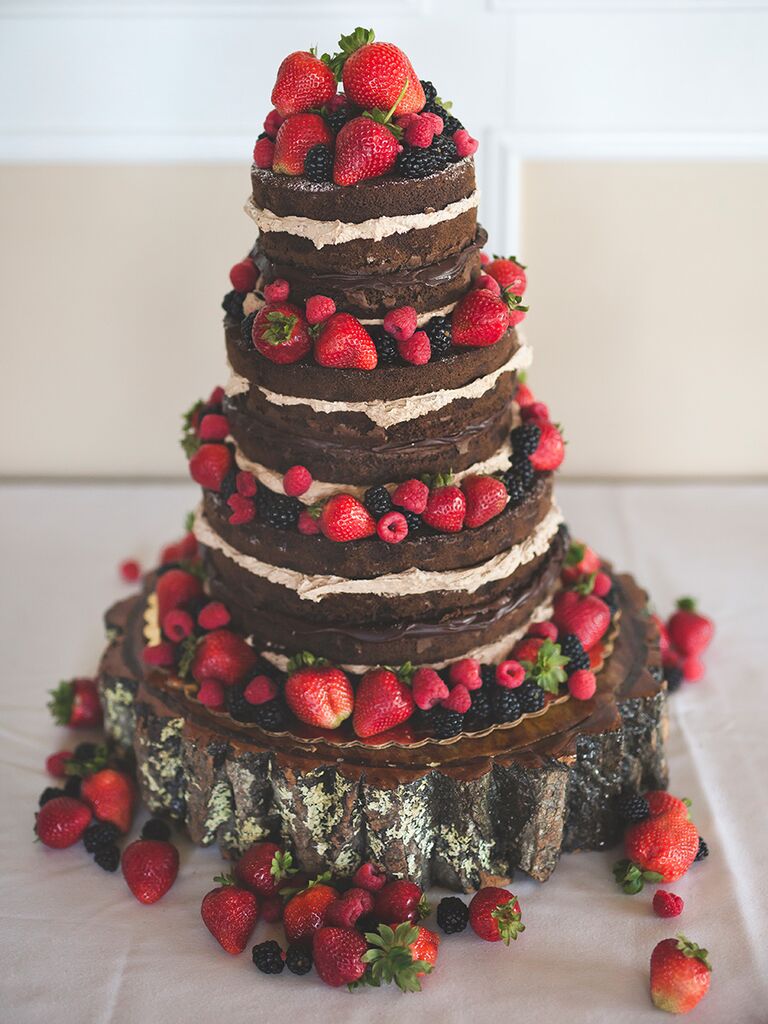 Pair your chocolate naked wedding cake with seasonal berries. Add Belgian chocolate icing and chocolate ganache filling for chocolate overload.
From: A Vintage, Intimate Wedding at Landmark Inn in Marquette, Michigan
5. On the Hunt for Chocolate


Woodland wedding cakes are all the rage. To get the look, start with a light brown chocolate fondant. Then drizzle a decadent dark chocolate glaze over the tiers. Play up the cake display with antlers on the table, whimsical feathers and lots of greenery for a woodsy touch. 
From: An Eclectic Fall Wedding at the Witte Museum in San Antonio, Texas
6. Layers Exposed


Go au naturel for your wedding day with a naked chocolate cake. Stack layers of sponge cake with white whipped frosting in between for a confection that's a feast for the eyes.
From: A Romantic, Modern Wedding at Mulvaney's Building & Loan in Sacramento, California
7. Chocolate Tower

Don't hesitate to add a little bit of chocolate everything to your wedding cake. Experiment with different styles and flavors to get the perfect combination. (We recommend fudge, peanut butter, chocolate and chocolate truffle with ganache and raspberry preserves.)
From: An Elegant, Holiday-Themed Wedding at Black Dolphin Inn in New Smyrna Beach, Florida
8. Dipped in Chocolate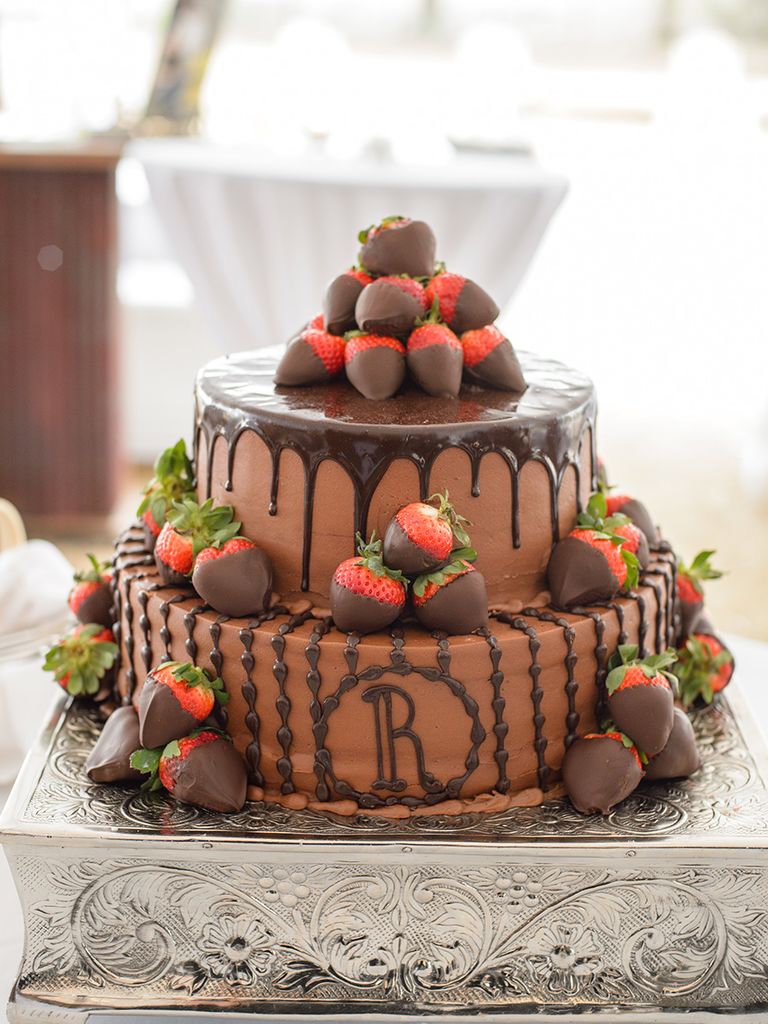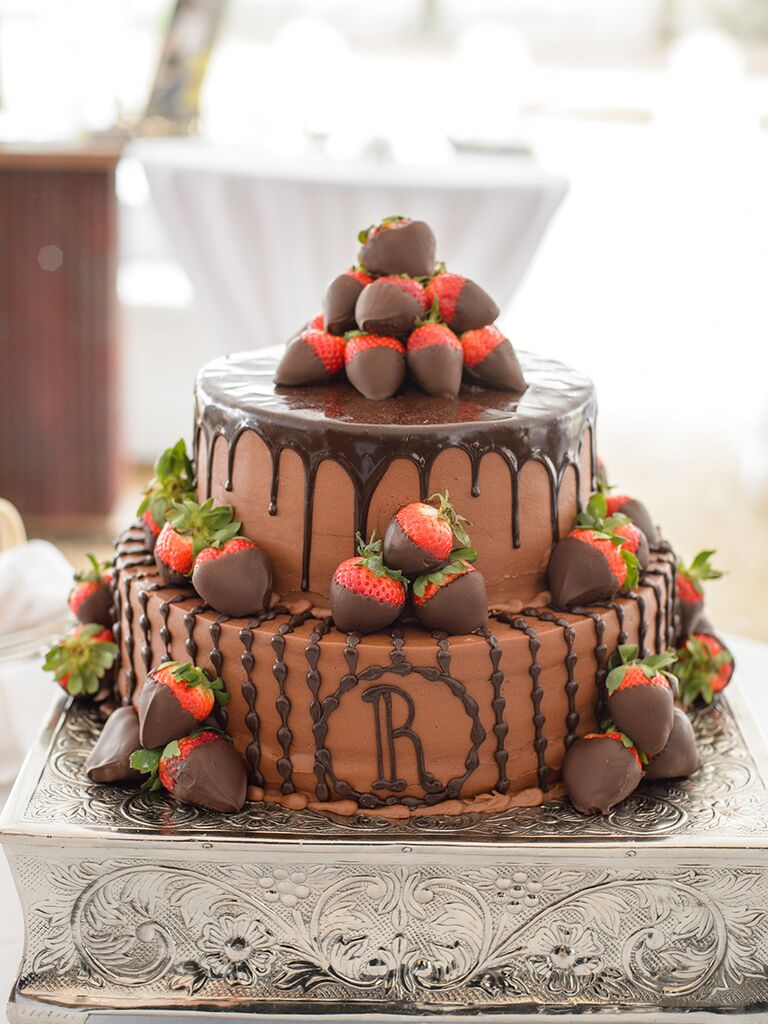 There's nothing better than a fresh, juicy strawberry dipped in chocolate. Take the classic treat to the next level by incorporating it into your wedding cake. Add intricate frosting designs as well as your monogram for an even more decadent confection. 
From: A Garden-Style Wedding at Pursell Farms in Sylacauga, Alabama
9. A Golden Touch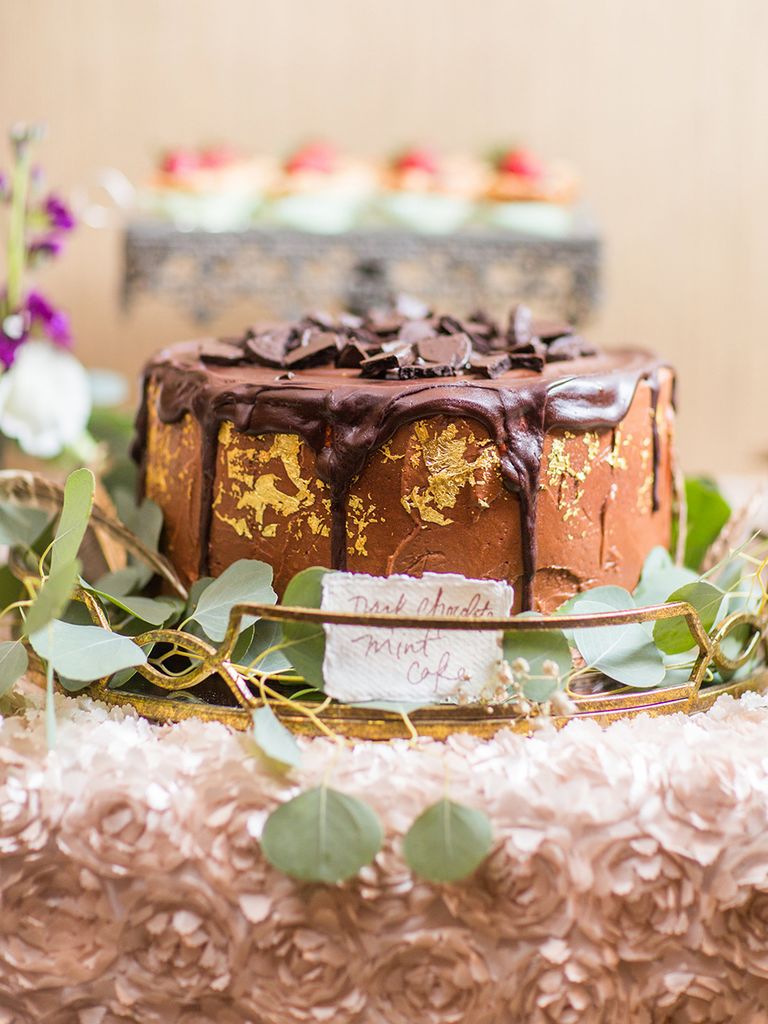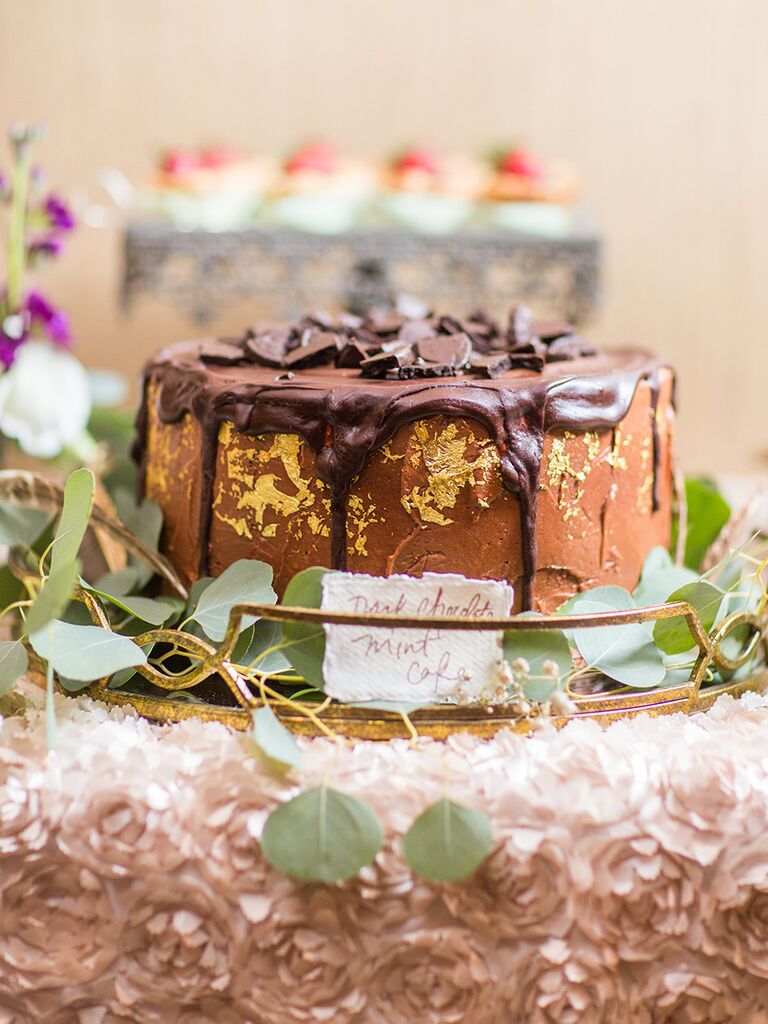 If you're a fan of Thin Mints, you'll absolutely love a dark chocolate mint cake for your wedding. Add a few gold details and eucalyptus for a touch of richness and glamour. 
From: A Chic, Vintage Wedding at One Ocean Resort and Spa in Atlantic Beach, Florida
10. Ascending Florals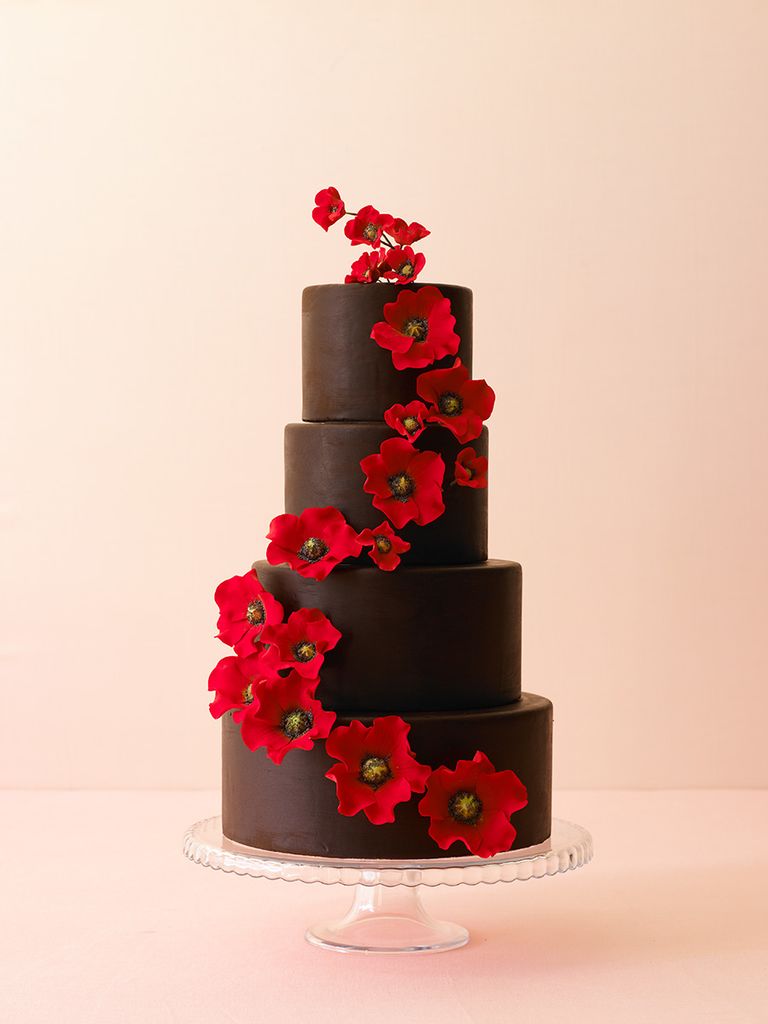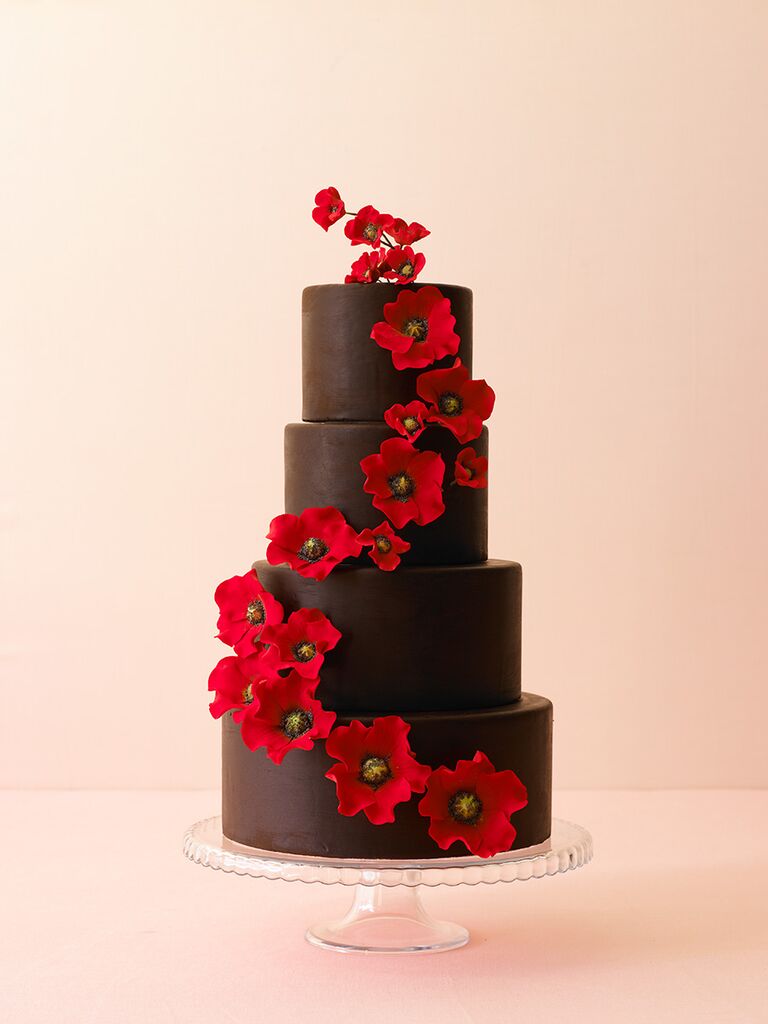 Stay true to a traditional all-tiered wedding cake with a chocolaty twist. Scale bold, fresh flowers along the tall tiers for a look that's romantic and a cost-effective alternative.
11. Simply Chocolate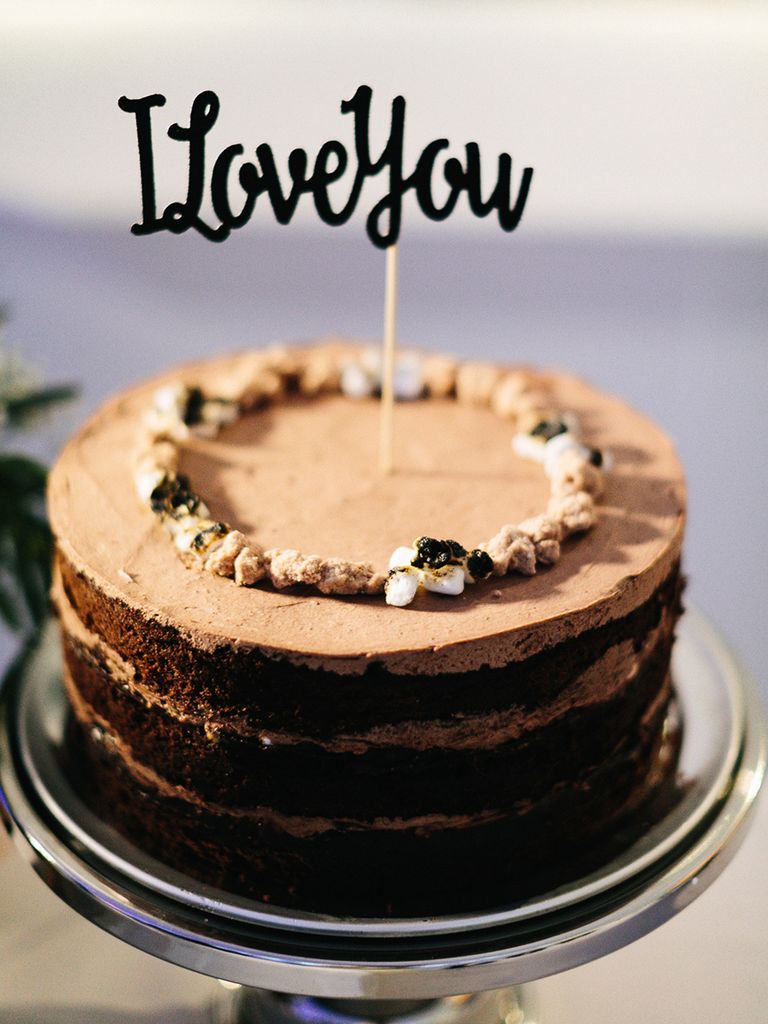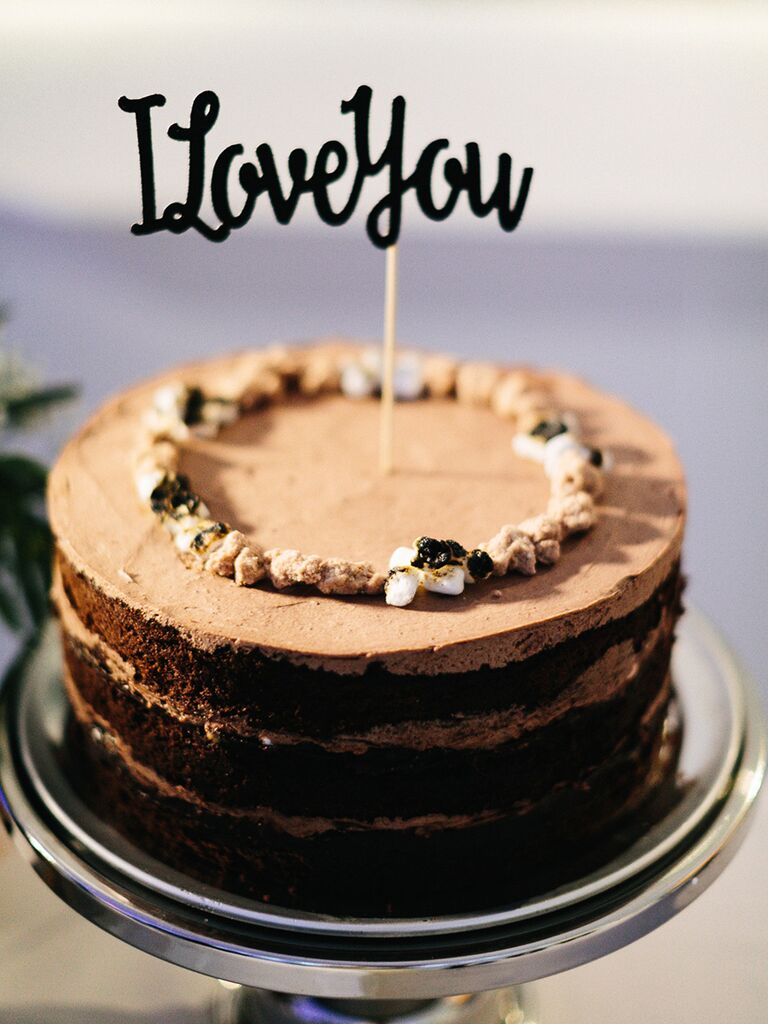 Opt for a simple chocolate cake with chocolate frosting that all of your guests will love. Jazz up your confection up with a fun, alternative cake topper, like a favorite movie quote. Add a scoop of vanilla ice cream or mint chocolate chip to each individual serving for extra sweetness. 
From: A Movie-Themed Wedding at the Museum of the Moving Image in Long Island City, New York
12. A Taste of Nature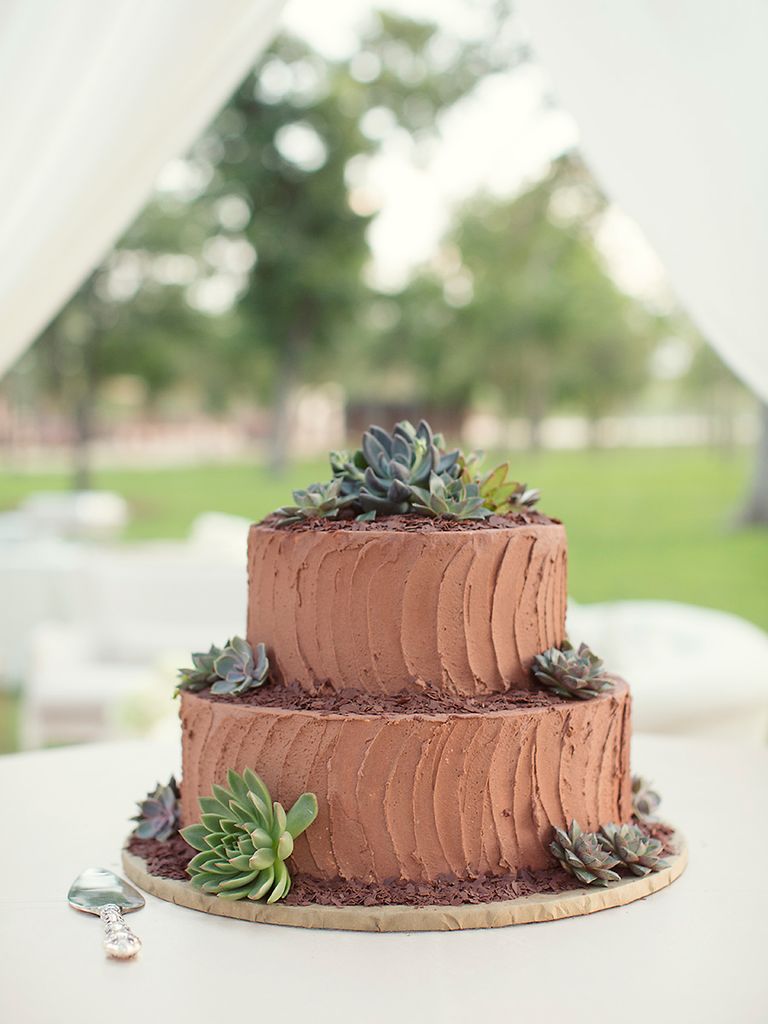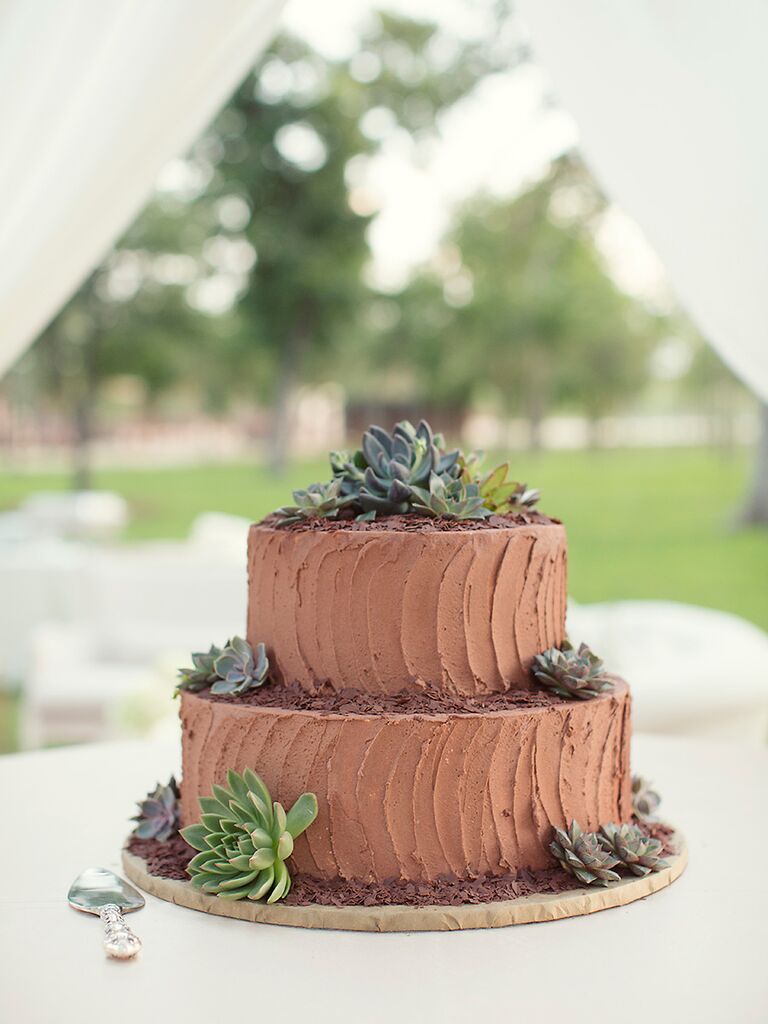 A classic chocolate cake with buttercream frosting could be a fabulous touch to an organic wedding. Surround each tier with chocolate shavings and scatter succulents around the cake to channel the natural wedding style. 
From: A Chic Green and White Wedding at Heart of the Ranch in Fort Worth, Texas
13. Flower Crown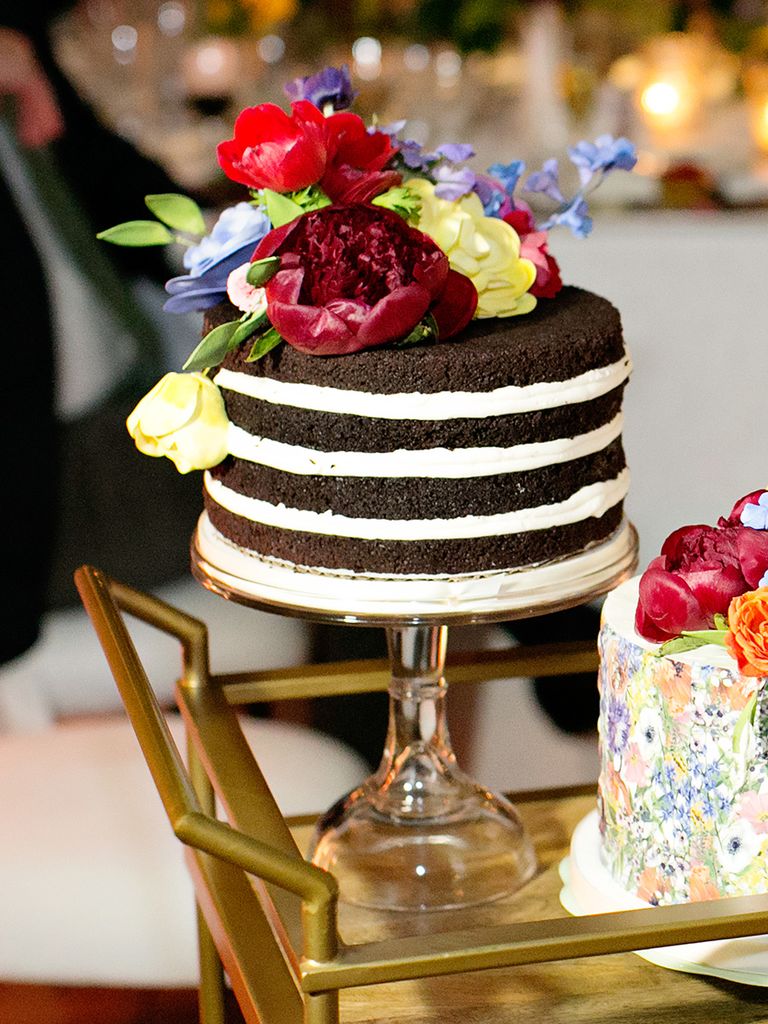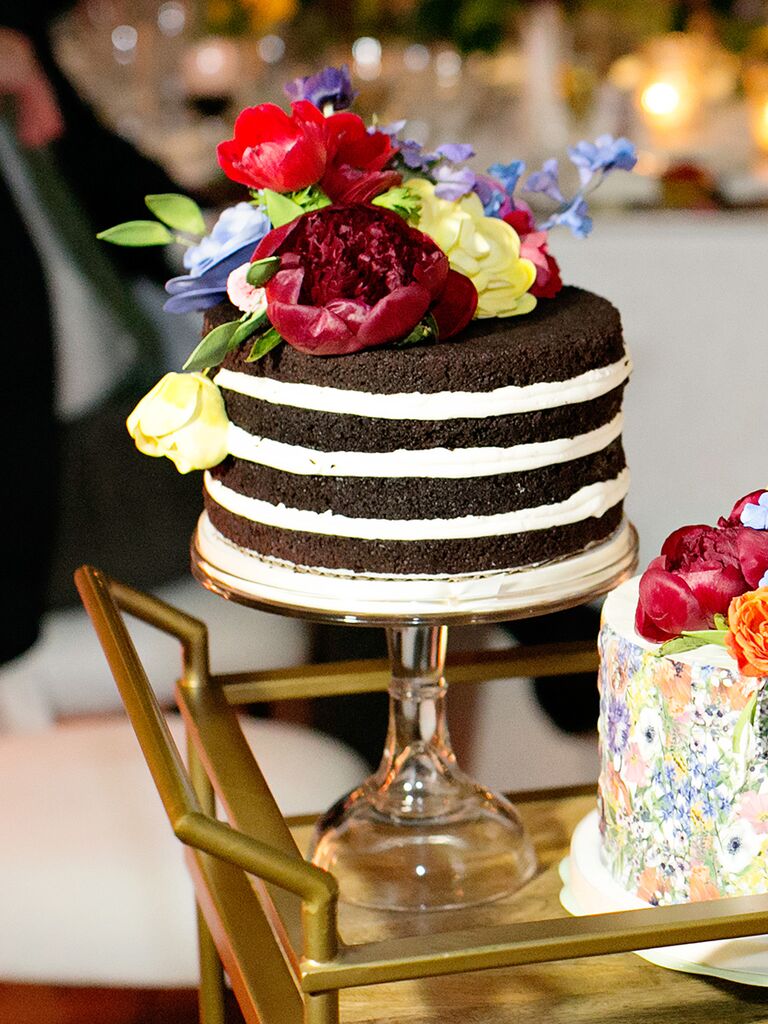 Top your dark chocolate wedding cake with bright, fresh flowers for a confection that's garden inspired and green thumb approved. Consider a naked chocolate sponge cake with a vanilla cream filling to really make the flowers stand out as your cake topper. 
From: A Garden Party Wedding at Chicago Botanic Garden in Chicago, Illinois
14. Simply Succulent 


Succulents are a unique and unexpected cake topper that will look fabulous at your outdoor reception. Succulents won't wilt in the summer heat and will have your cake still looking picture-perfect by the time you're ready to cut in. 
From: A Backyard Wedding at a Private Residence in Smithfield, Utah
15. A Geometric Twist


Play with the texture of your cake with super-unique geometric patterns. Angle chocolate truffles along the tiers made of chocolate fondant for a cake that's chic and delicious.