Why do we love edible wedding favors, you ask? For starters, they never get left behind and there's no way a guest already has one sitting at home (think: a deck of cards or bottle opener). If you're a seasoned DIYer or baker, you might even want to take them on yourself.
Edible wedding favors mean it's a good idea to order or make extras, since it's possible guests could take more than one. For every 100 guests, have at least 10 backups. Also consider dietary restrictions and allergies—we're guessing there's a good chance you might have a guest with a gluten intolerance or nut allergy, so offer a safe alternative for them to enjoy too. Get inspired by 15 of our favorite edible wedding favor ideas, below.
1. S'more of That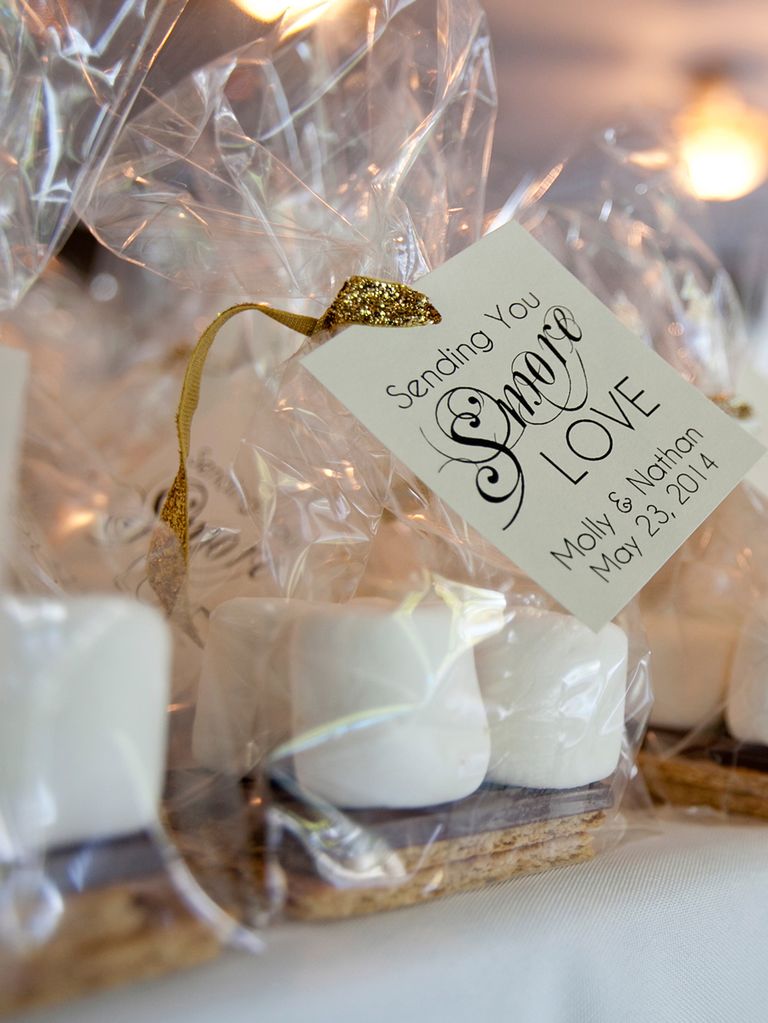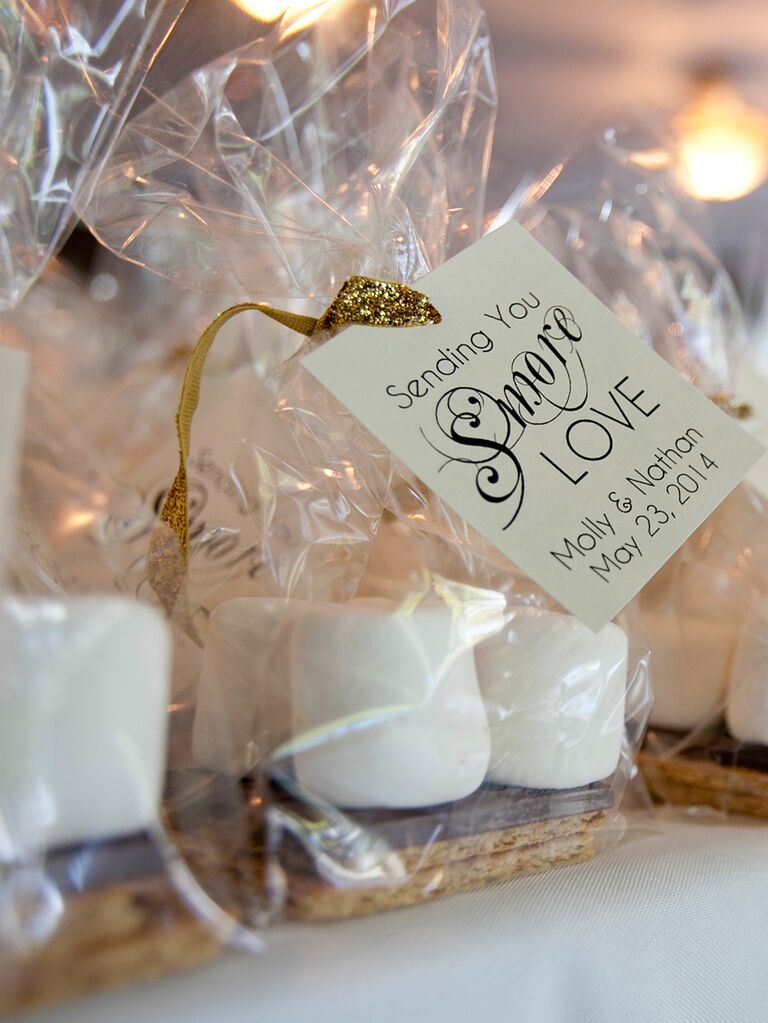 Package up a childhood favorite for your edible wedding favors—s'mores! This is an especially perfect parting gift if your after-party includes a fire pit. Place all the ingredients in a cellophane bag or clear box and finish with a custom tag.
2. Specialty Brew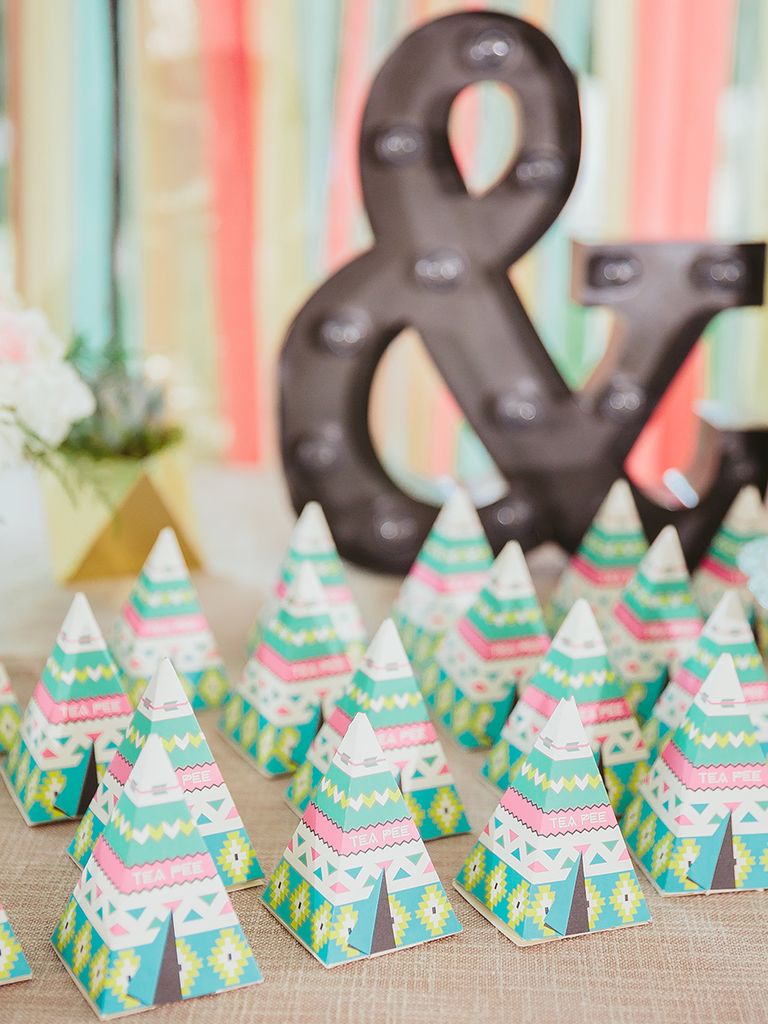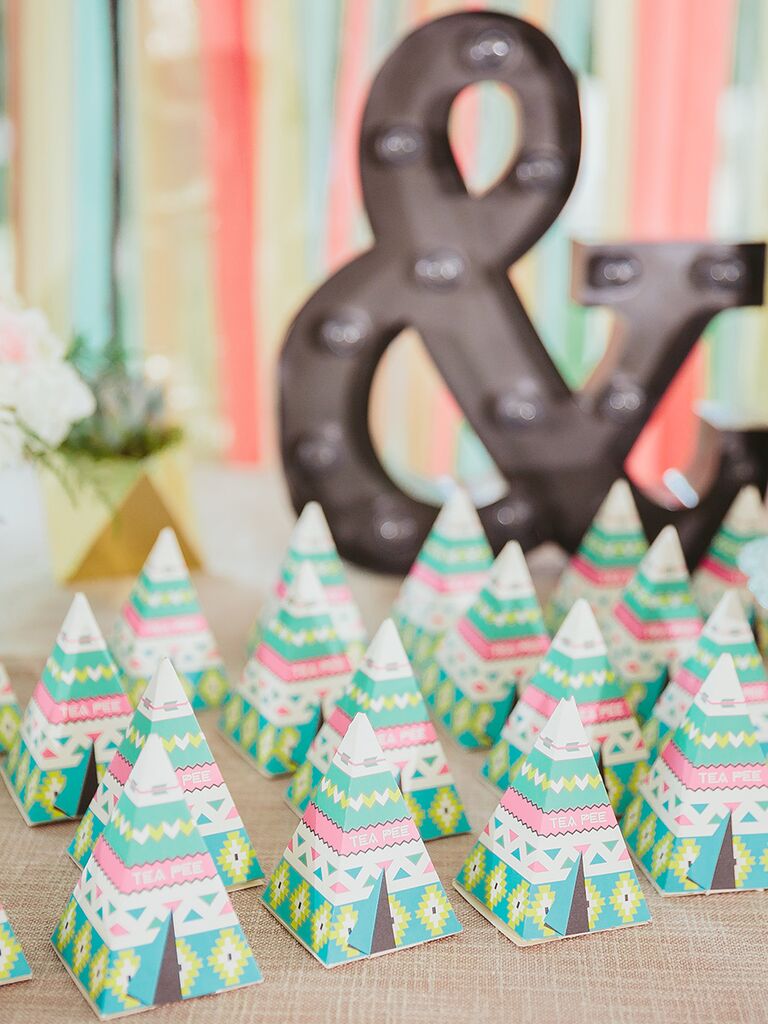 Gift a special brew of tea that'll either help guests drift blissfully to sleep after a long night of dancing, or wake up energized and ready for the postwedding brunch festivities. Don't forget to finish them off with a personalized element, like a custom sticker.
3. Something Sweet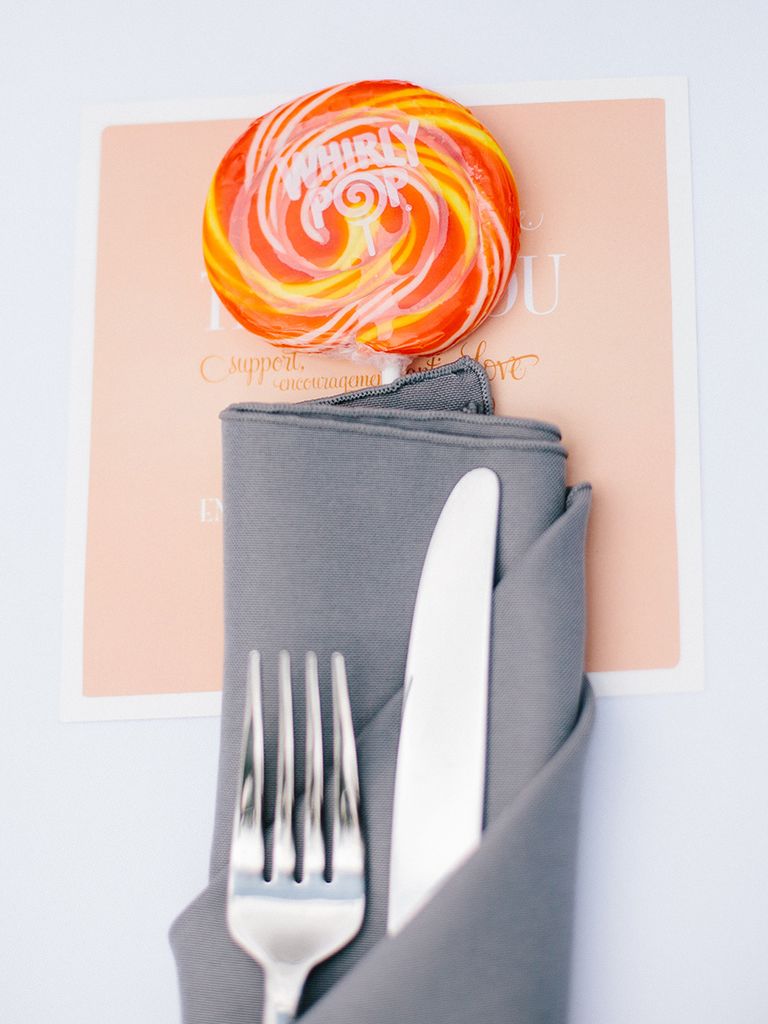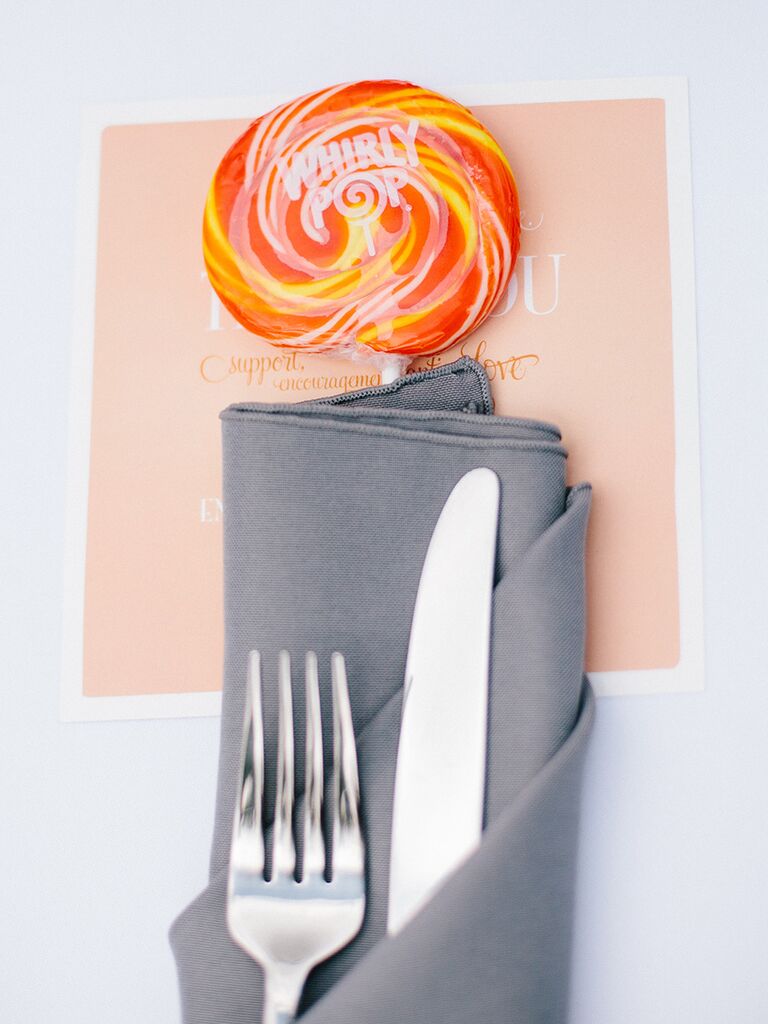 Send guests home in sweet euphoria with a jar of honey from a local farm, pinned with a personalized tag inspired by the location of your "I dos." Customize the wedding favor packaging to reflect your wedding style—burlap for a casual or rustic affair, or elegant gold lid jars with wood honey dippers for something slightly more formal.
4. Hometown Pride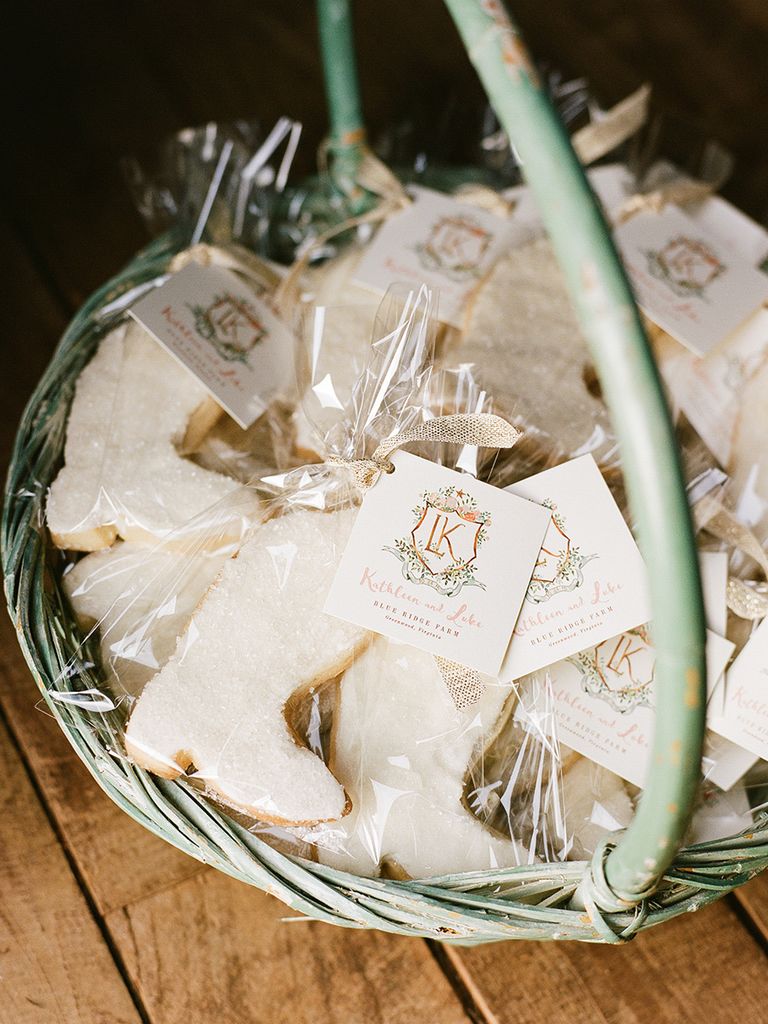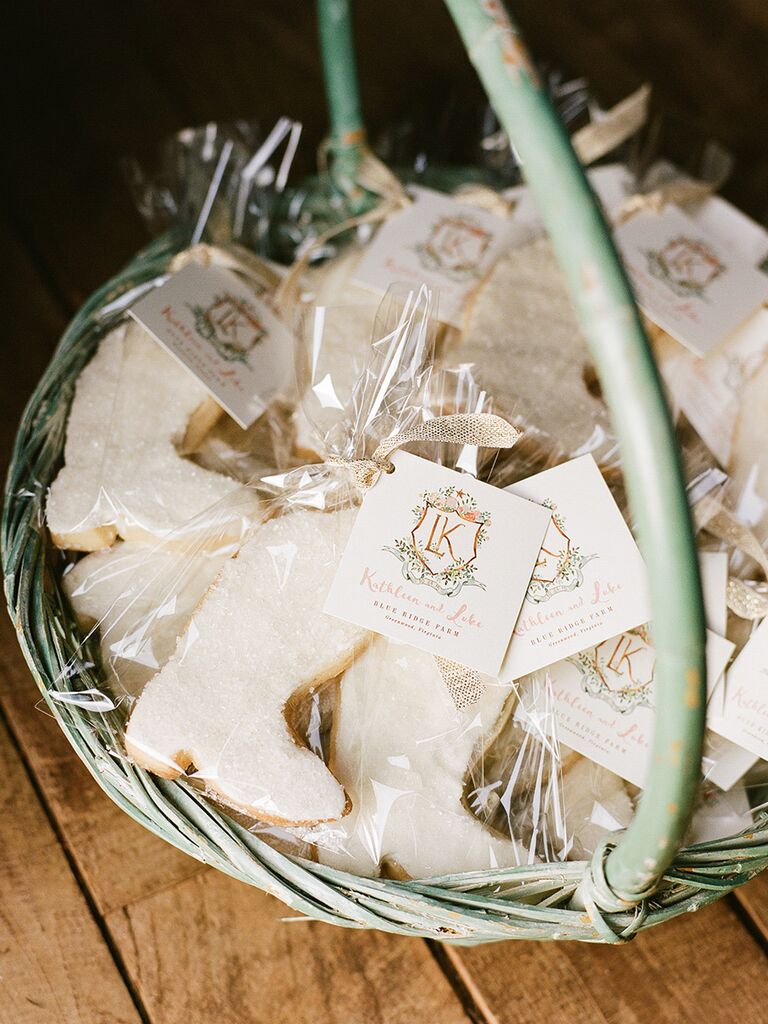 Hometown goods such as locally baked cookies, maple syrup, candies or anything sweet that originated in the city where you'll wed always make for ultra-memorable edible wedding favors. Is your town known for a monument? Opt for chocolate lollipops or cookies in the shape of the famous spot wrapped with personalized ribbon and cellophane. 
5. Totally Pickled


Try your hand at the latest foodie craze for your edible wedding favors—pickling. You can brine just about anything, from mushrooms to beans or beets in advance of your nuptial. Opt for cute jars and custom tags to make a personalized statement at your reception.
6. Gourmet Dessert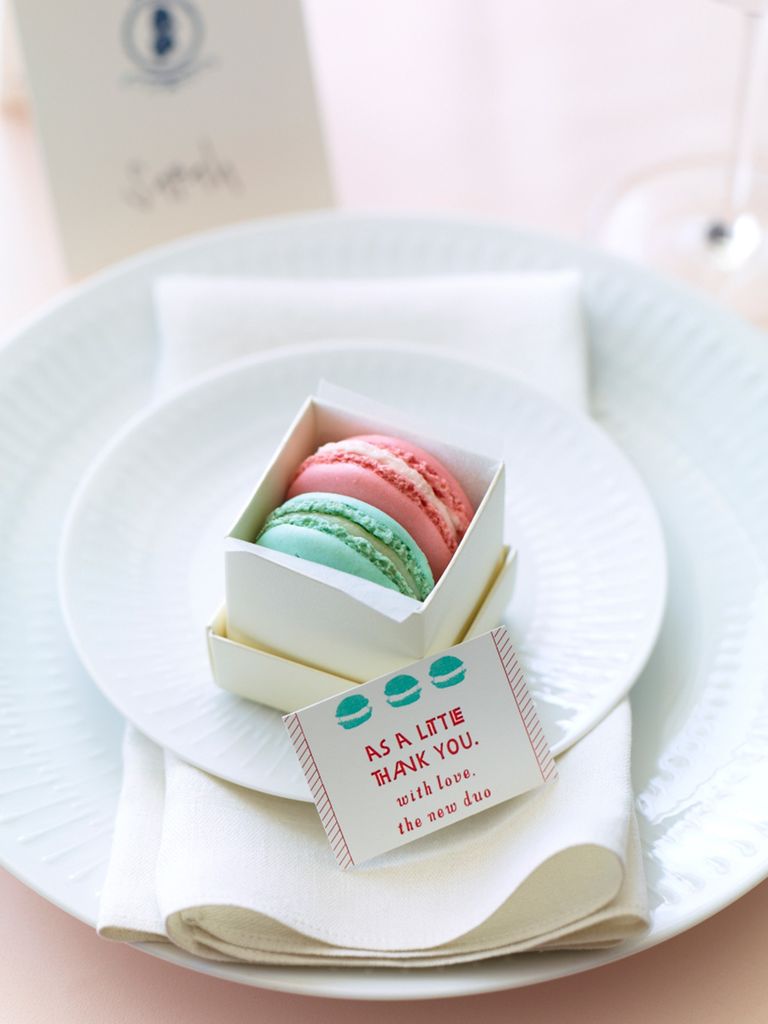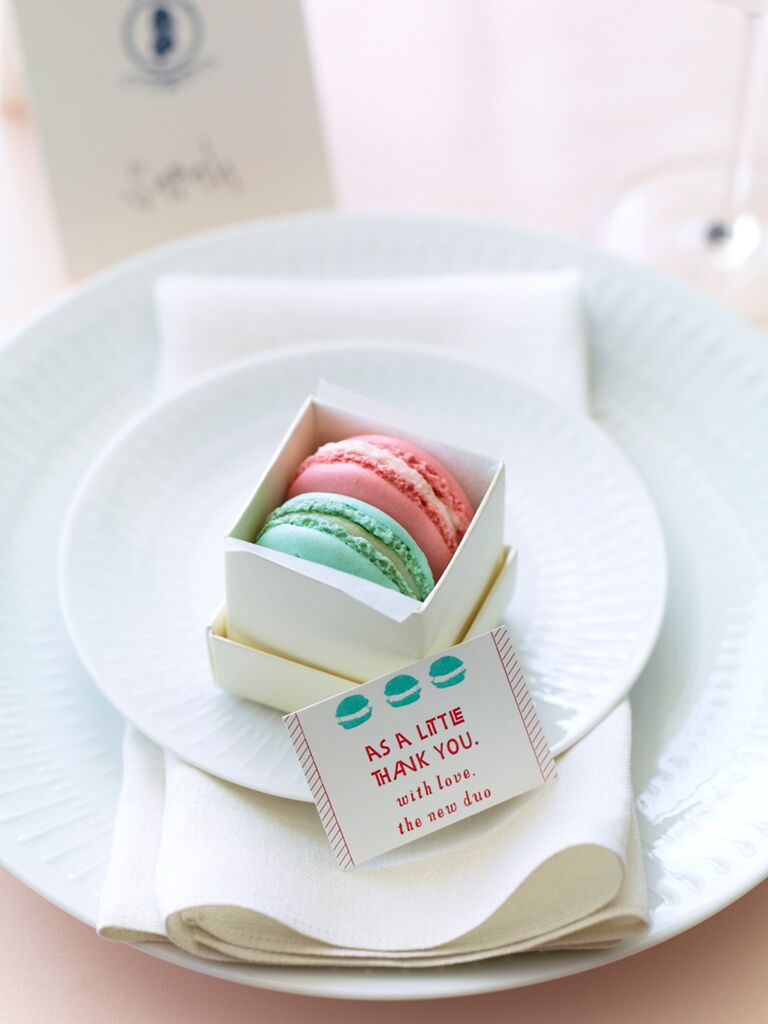 Who would pass on Parisian goodies? A small box of macarons or madeleines are sure to impress. Or explore other European specialties, like tiramisu, Polish cookies or Hungarian cream puffs for your edible wedding favors.
7. Customized Keepsakes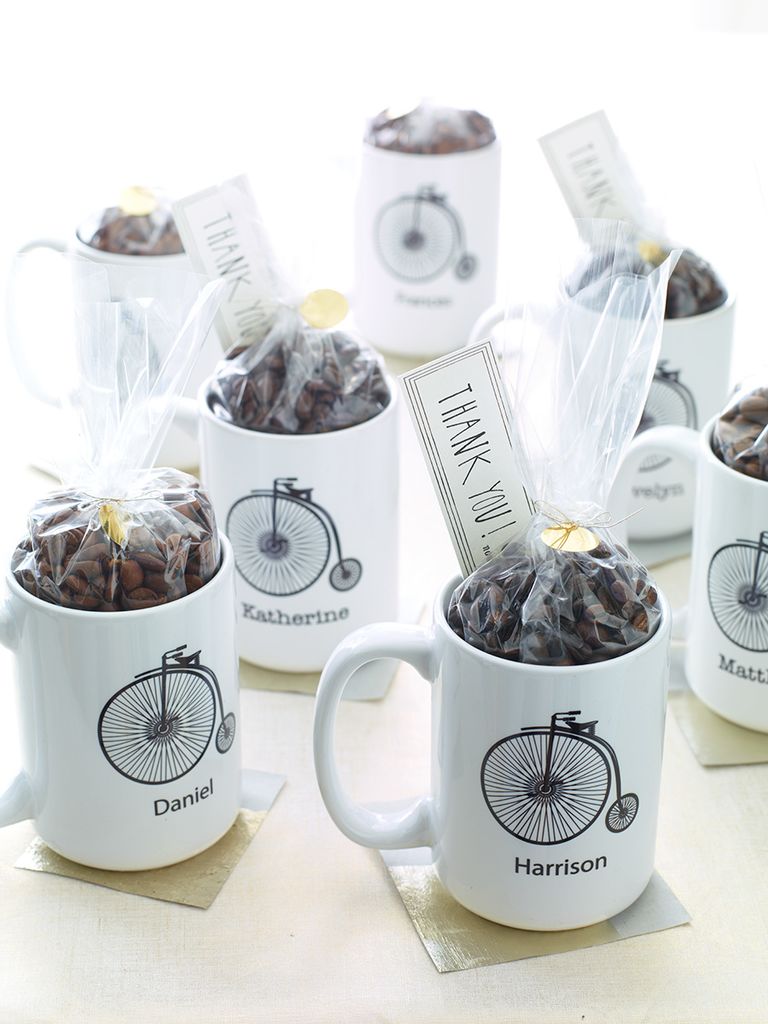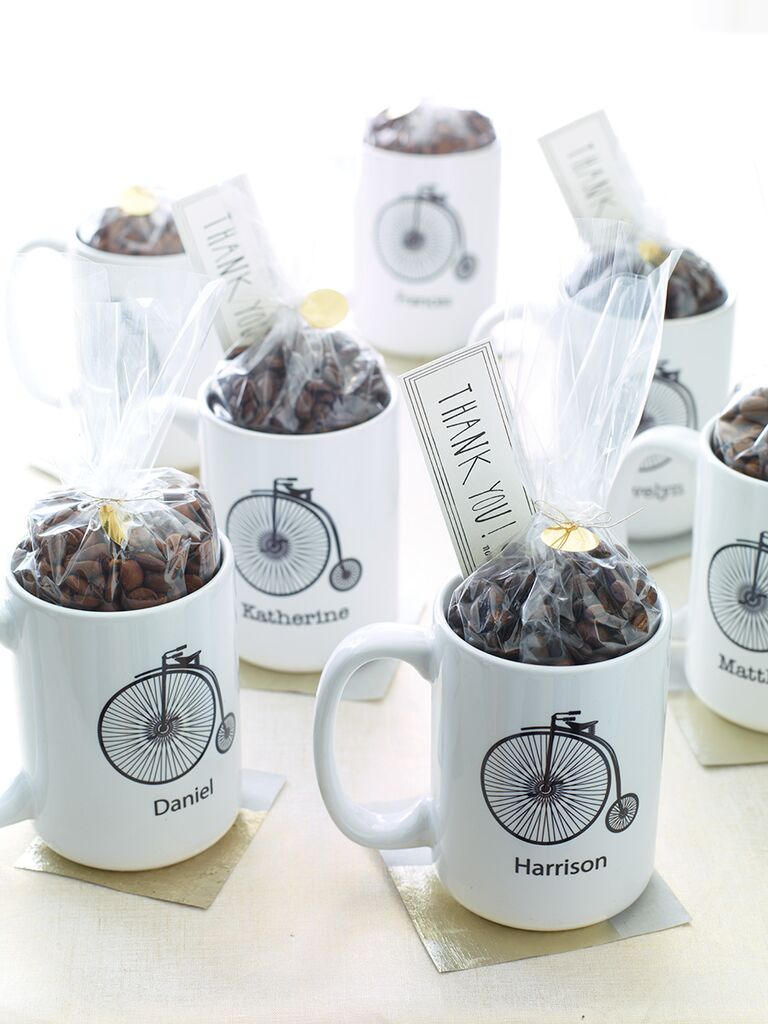 Make each guest feel special with a personalized mug or glass that can be used over and over again. Fill it with edible favors like special hot chocolate mix, coffee beans or a simple snack that can be enjoyed on the way home. 
8. A Midnight Snack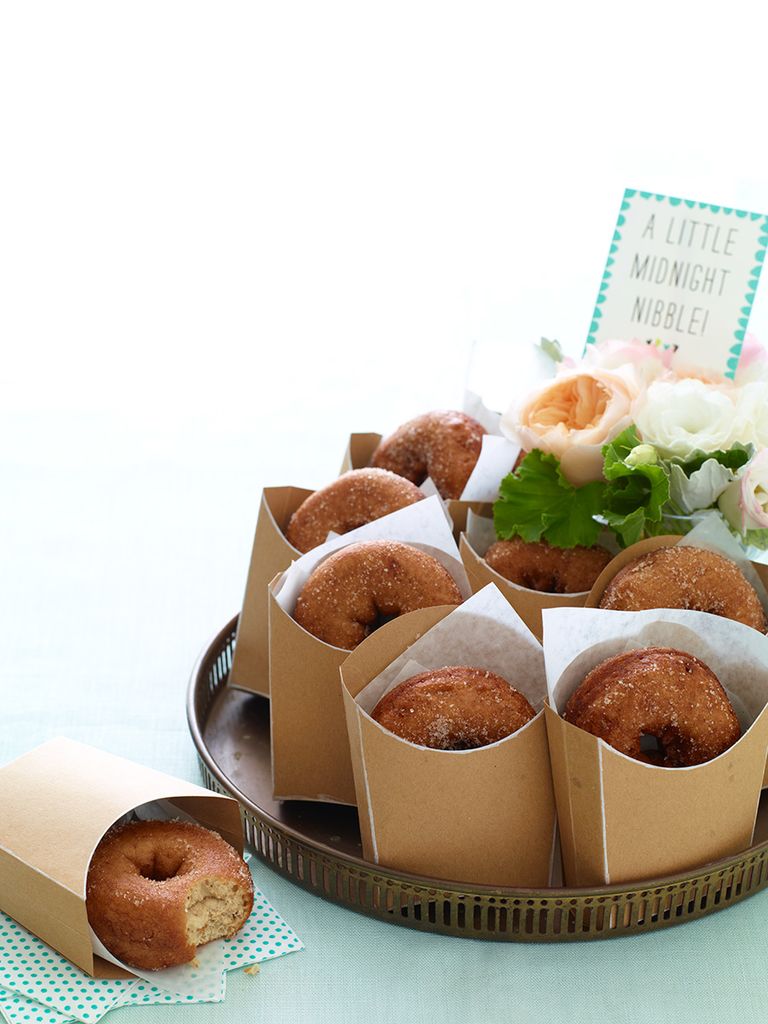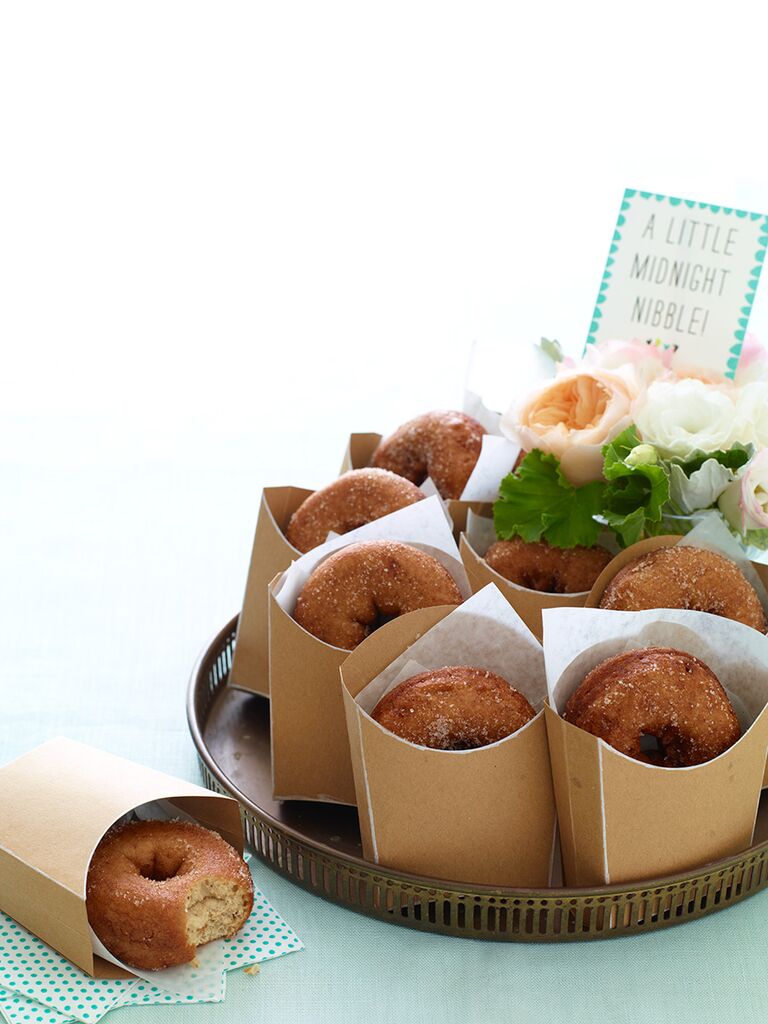 Keep family and friends fueled well into the after-party with an edible midnight snack. We love the breakfast trend sweeping weddings, and really, who can resist a warm cinnamon donut wrapped in a cute custom napkin? Set up a station near the dance floor or ask waiters to serve guests on their way back to the hotel (because it's never too early for breakfast).
9. A Seasonal Treat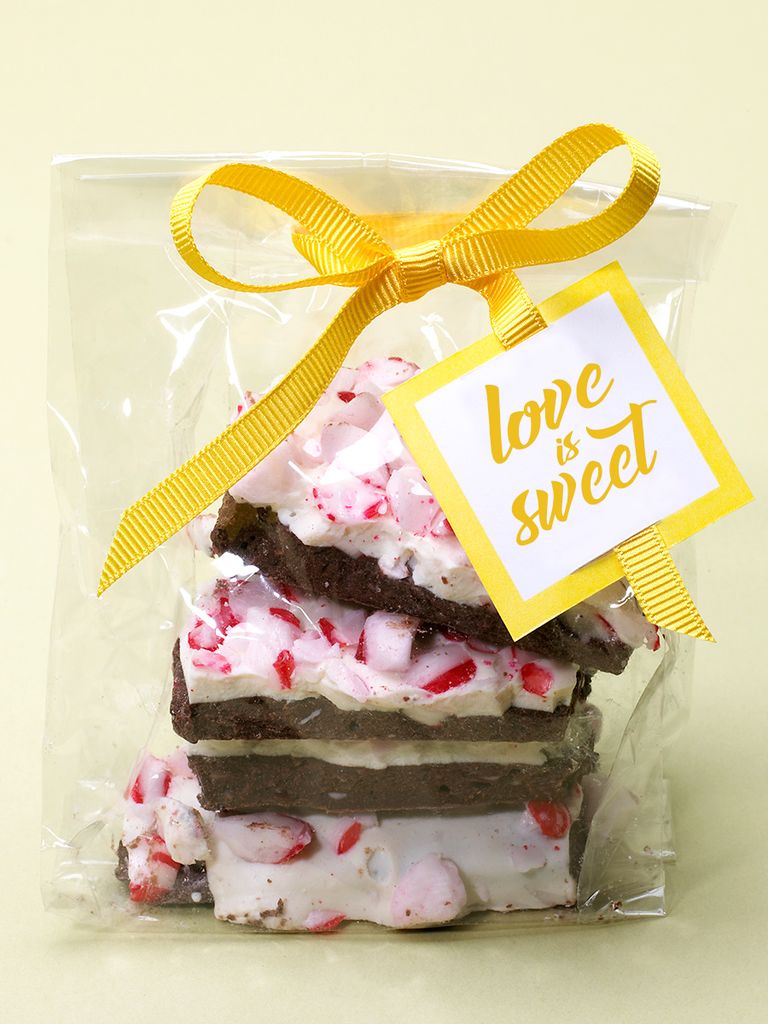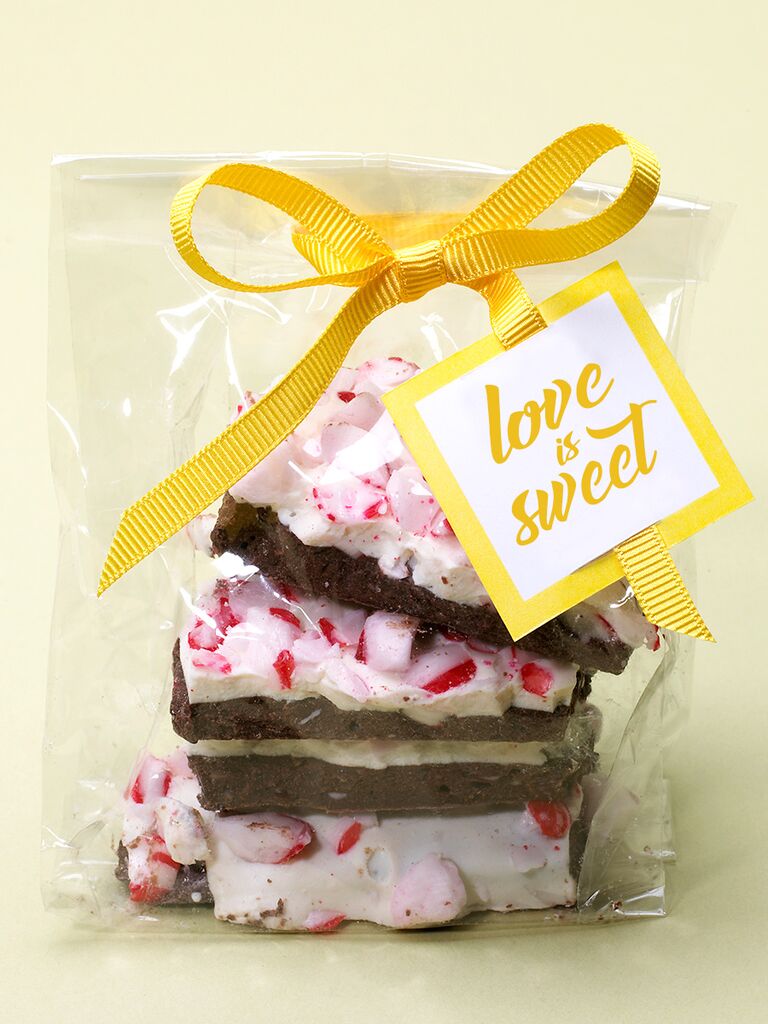 Consider gifting guests an edible wedding favor that reflects the season, like mini apple pies in the fall, strawberry jam in the spring or peppermint bark in the winter. If you're a novice in the kitchen, enlist the help of your caterer or a local bake shop. Make the edible wedding favor yours by adding a personalized tag or custom packaging.
10. A Nod to Your Heritage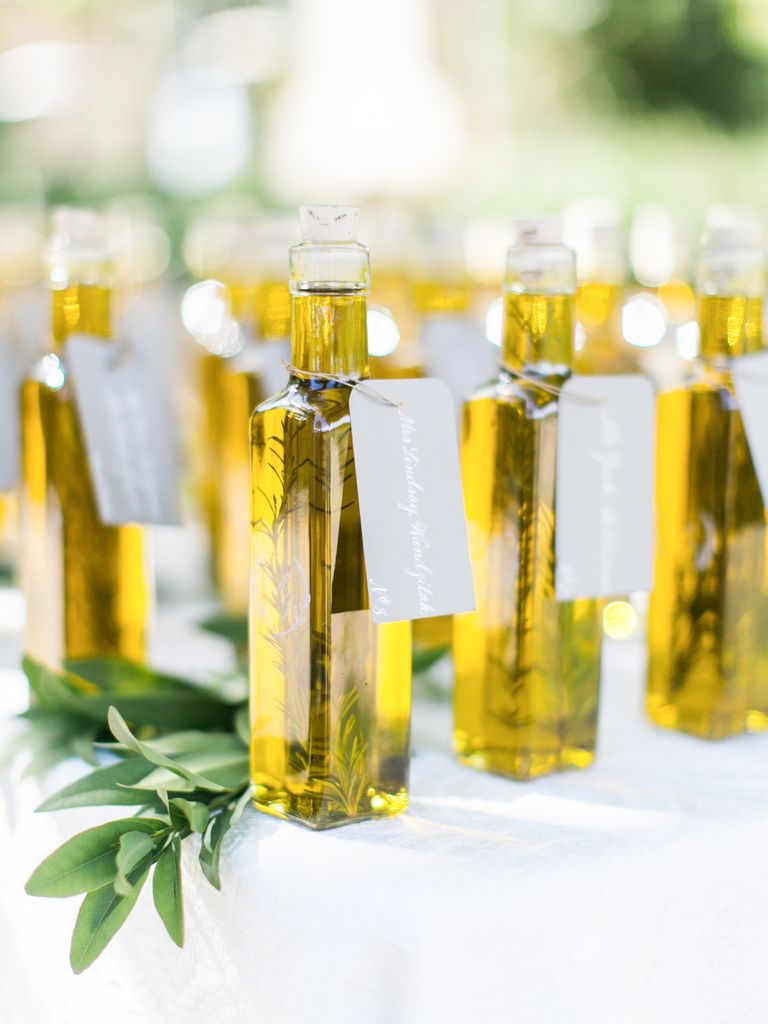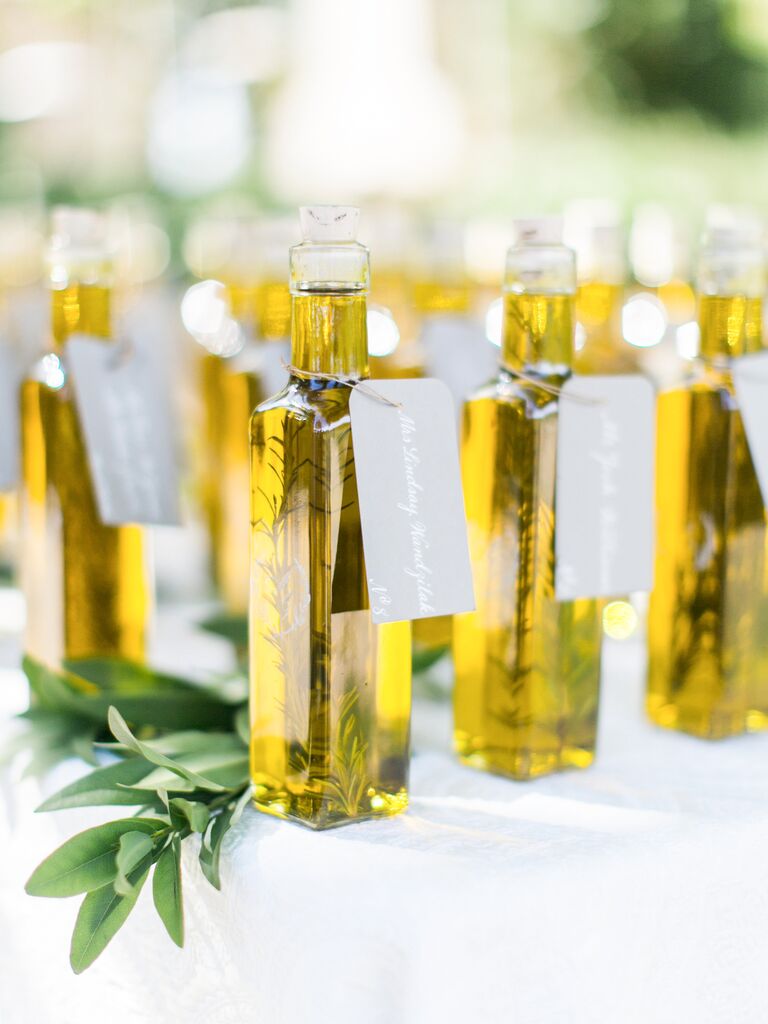 Pay homage to your roots. Opt for something symbolic of your family's heritage for your edible wedding favors, like bottles of olive oil pressed in your grandmother's native Italy or chocolate chip cannolis served on sleek silver trays at the end of the night. Consider celebrating both families throughout the evening—if you're honoring your family with the edible wedding favor, try adding something from your other half's culture to the dinner menu.
11. Hot and Saucy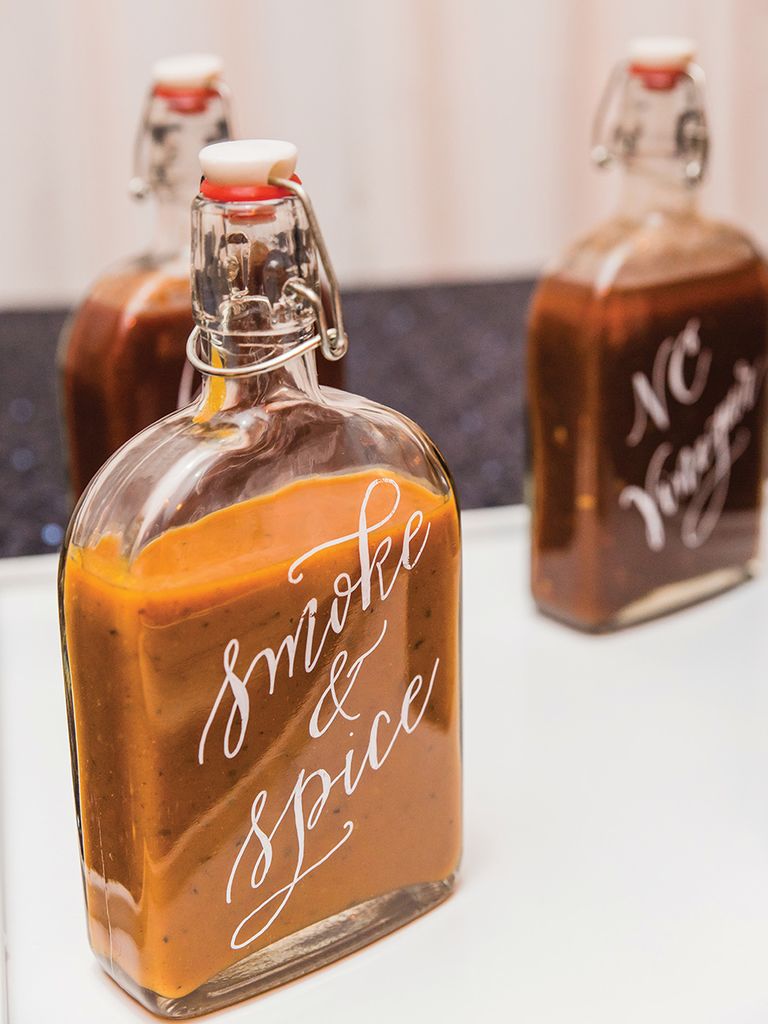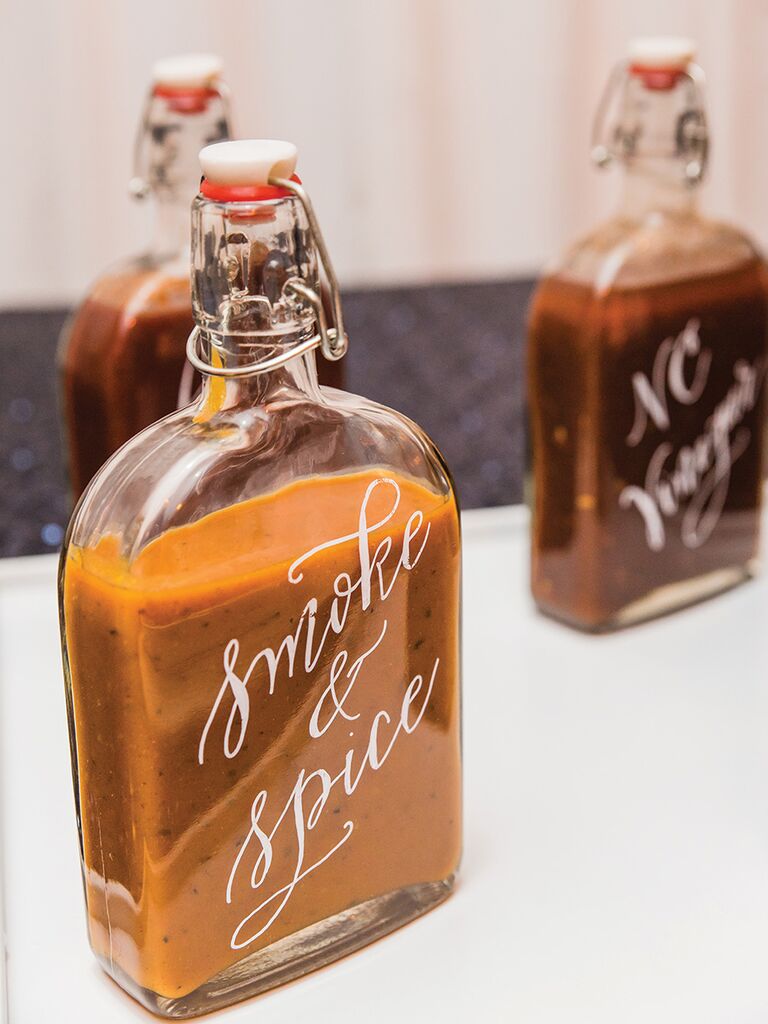 Looking for something spicy for your edible wedding favors? Send guests home with a bottle of your favorite hot sauce (some specialty and local vendors will even customize the labels with your names and wedding date). Give your sauce a unique name or include a recipe for a Bloody Mary or spicy salsa.
12. For a Good Cause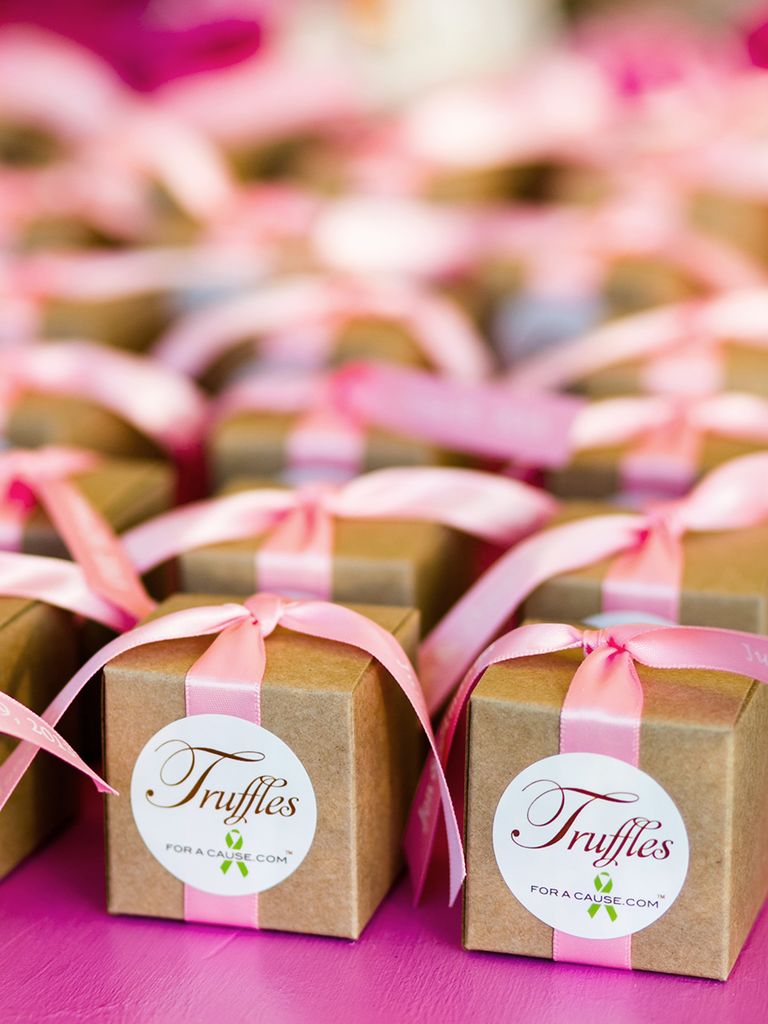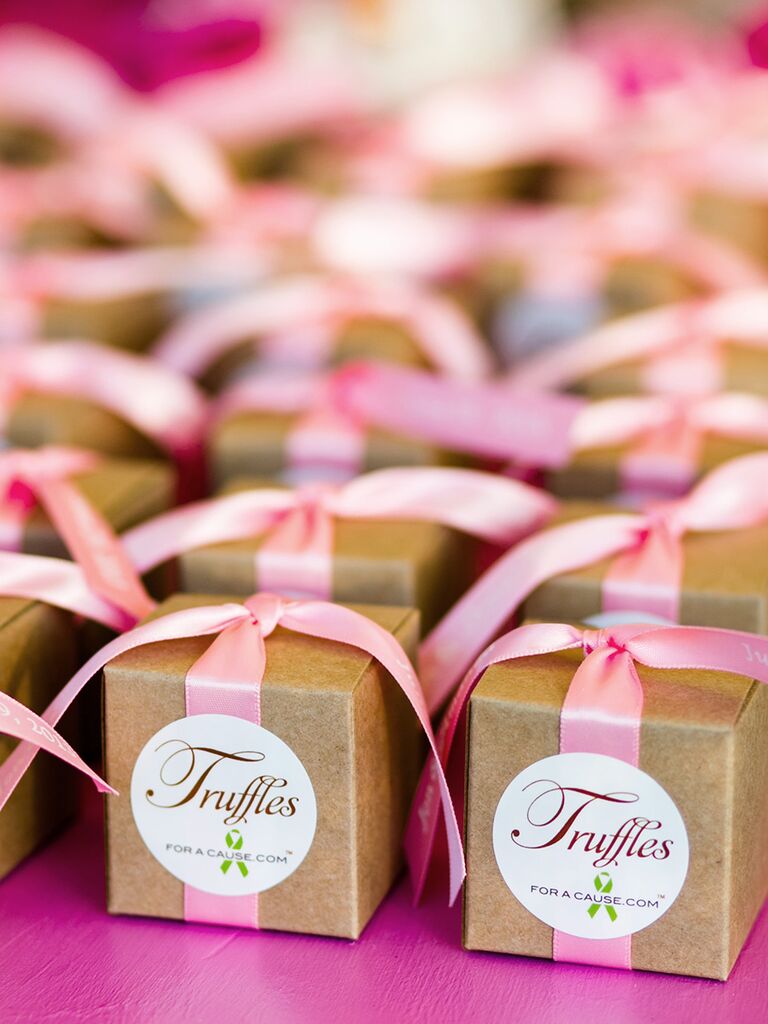 There are plenty of edible wedding favor options that give back, donating part of the sale to a charity. If you have a cause that's dear to you, do a little bit of research and see if there are any businesses you can work with to give back. Cookies for Kids' Cancer, Truffles for a Cause and L.A. Burdick Chocolate are just a few ideas to get you started. 
13. Secret Recipe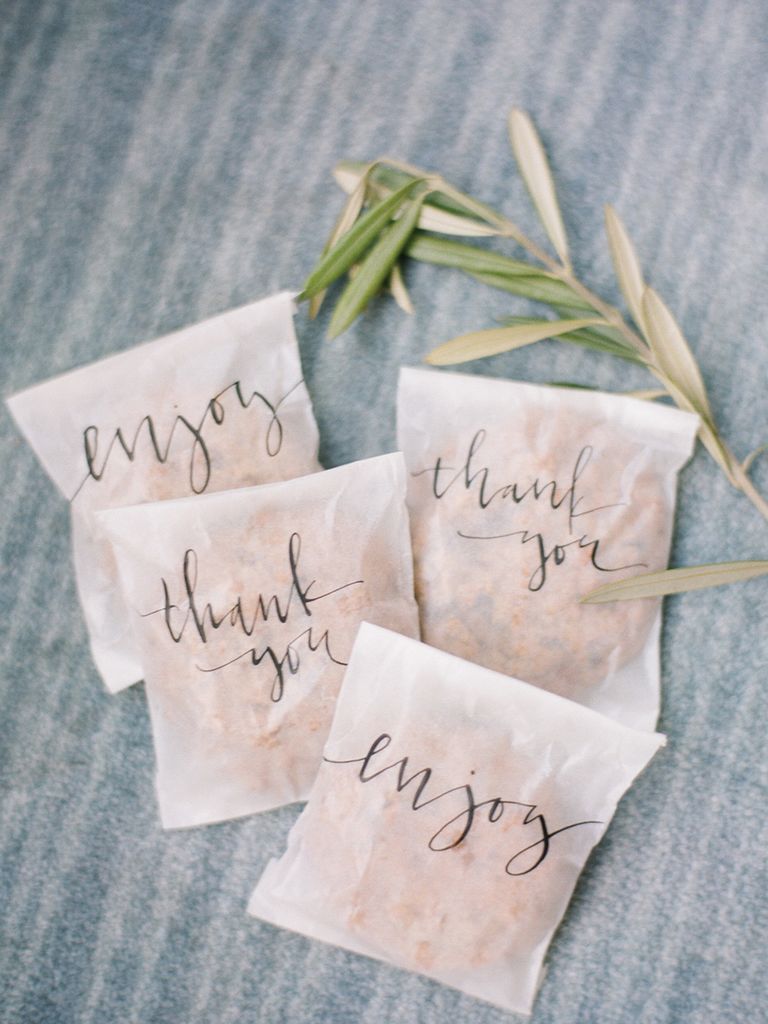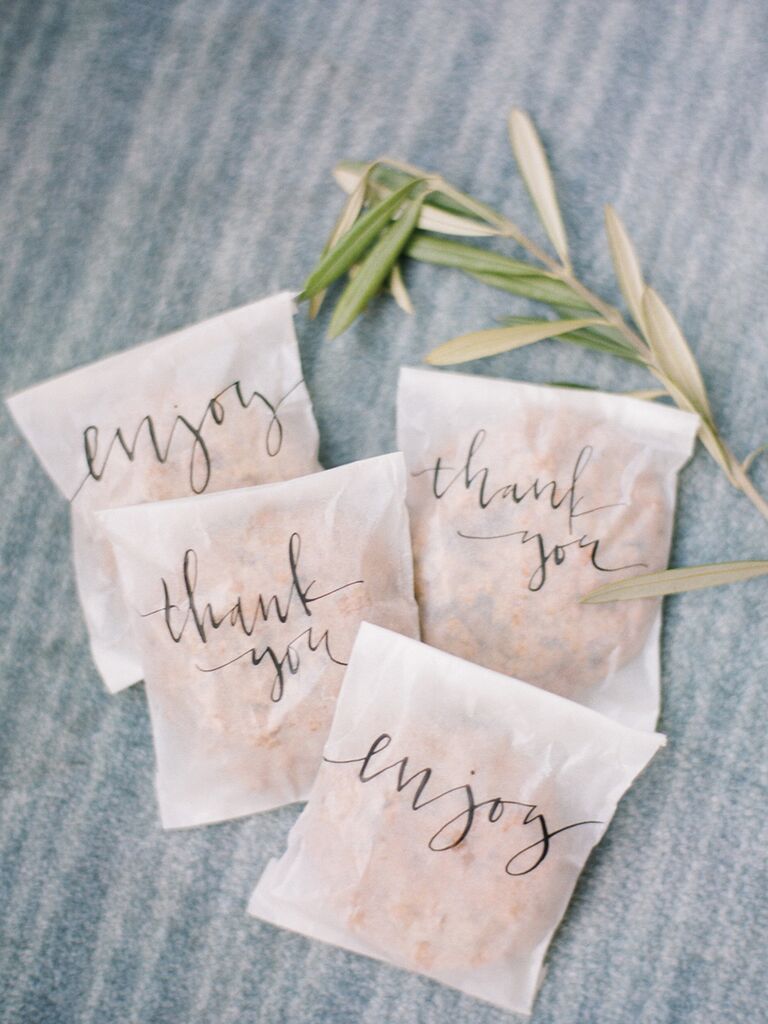 Does your family have a secret recipe people go nuts for? Whip up a batch of your famous oatmeal cookies, toffee or fudge for your edible wedding favors. Package the treat to reflect your wedding style, and if you're feeling really hospitable, let your guests in on the recipe.
14. Childhood Nostalgia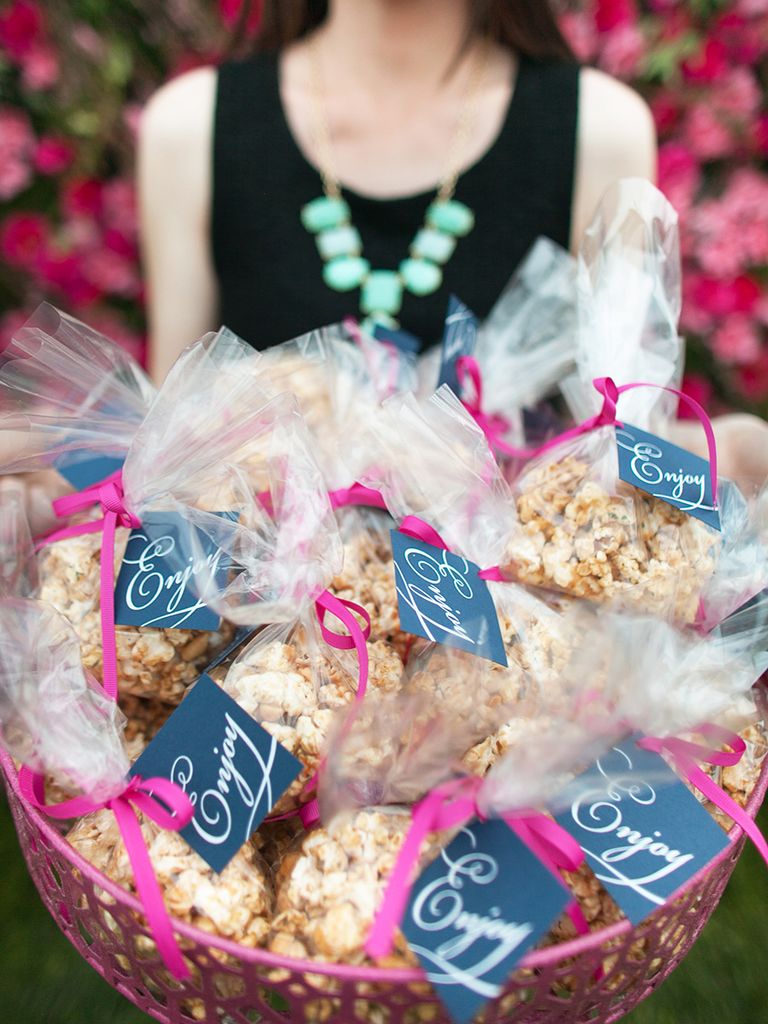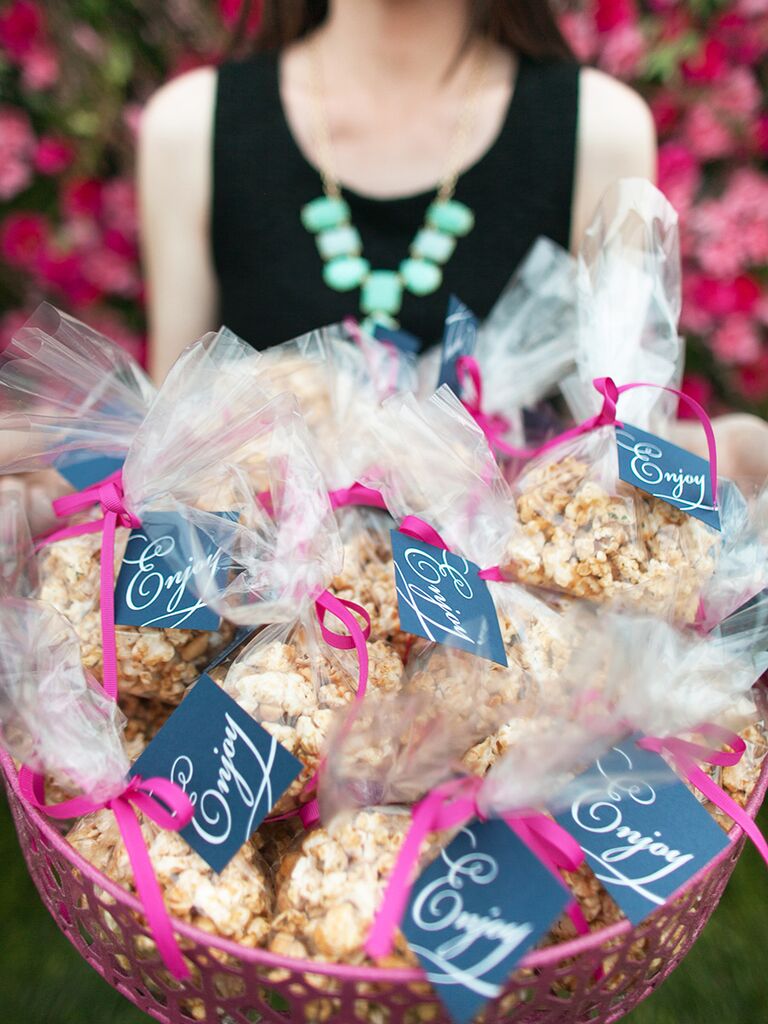 Delight guests with a childhood favorite like caramel popcorn or cotton candy for your edible wedding favors. It'll spark some old memories and story swapping, especially with neighbors or friends you grew up with. 
15. A To-Go Drink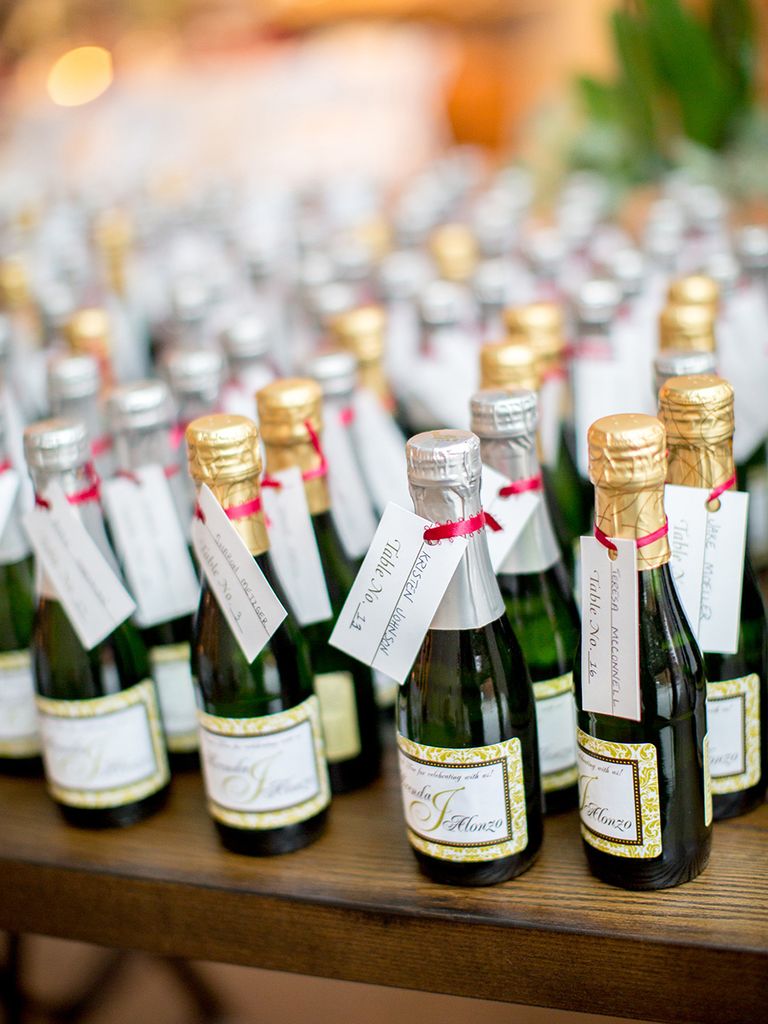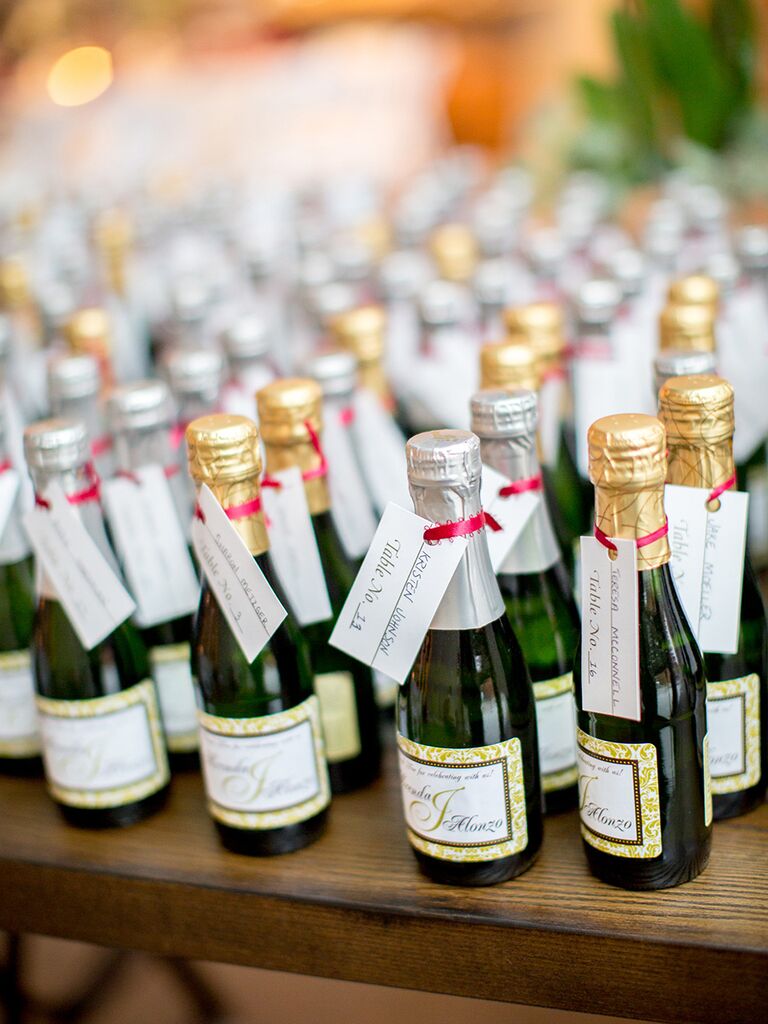 A split of champagne or wine with a custom label can do double-duty as both an escort card and favor. That way, guests can get a jump-start on the party by enjoying a drink as soon as they sit down.
Still looking for the perfect favors? Find yours right here.