If you've crossed choosing a wedding cake off your list—congrats! That's no small feat. Now, the next step is finding a cake stand that's equally as amazing. There are ones out there for all shapes, sizes, colors and designs, and they're the final piece in completing your cake display. As you select one, think about it as an investment, since you can continue to use it for years to come to showcase other sweet treats, decorations and flowers in your newlywed nest. Shop our favorite wedding cake stands for all kinds of reception themes and tastes (pun intended) below. Once you've found the one you love, double-check with your baker to make sure your cake works with that stand, especially if it's super tall or a unique shape.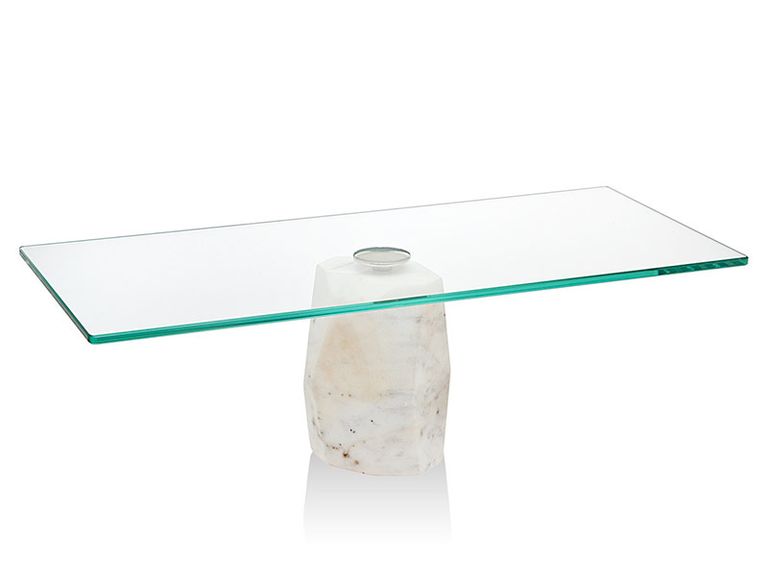 Marble and glass combine to create this rectangular-shaped stand with an edge (literally) that'll complement any modern theme.
Godinger agate rectangle cake plate, $168, LordandTaylor.com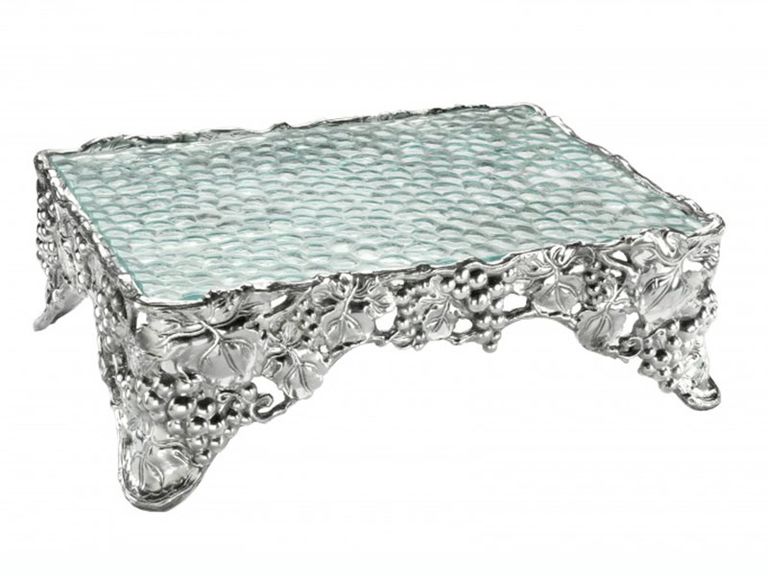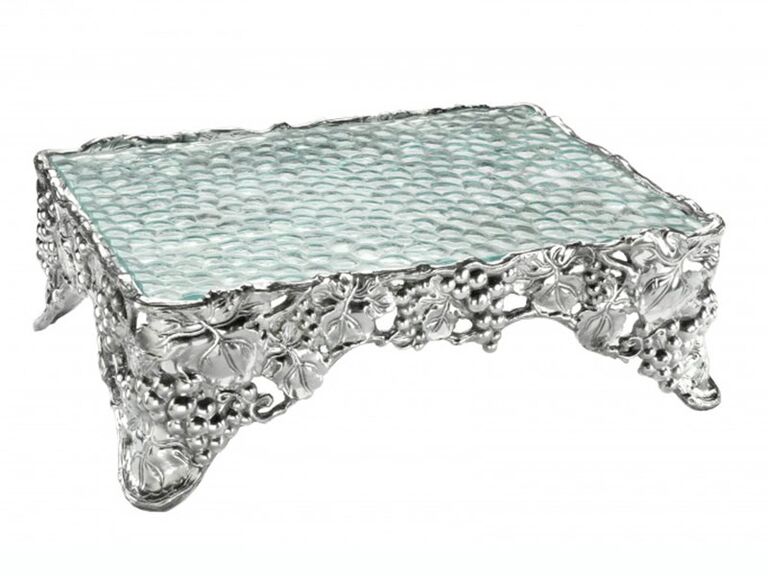 If multiple tiers don't suit your style, this aluminum and glass stand will accentuate any one-tier cake without taking away from its design.
Arthur Court Designs aluminum grape cake pedestal sheet stand, $185, Jet.com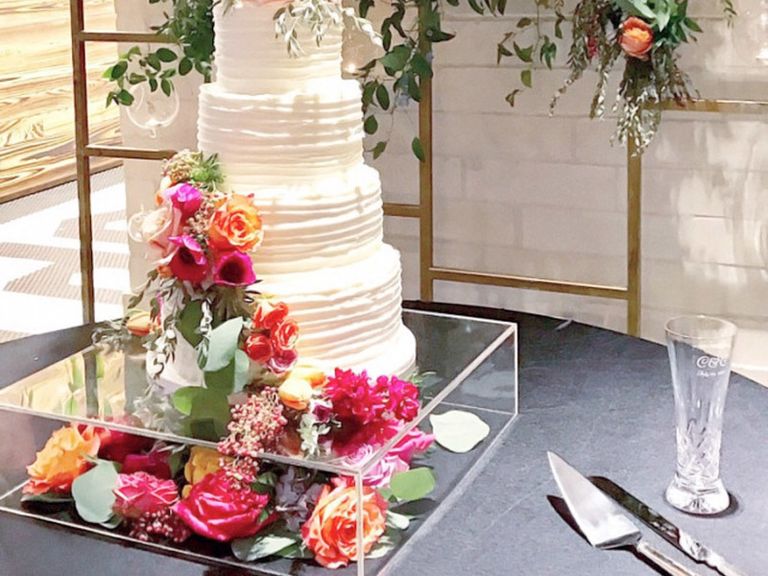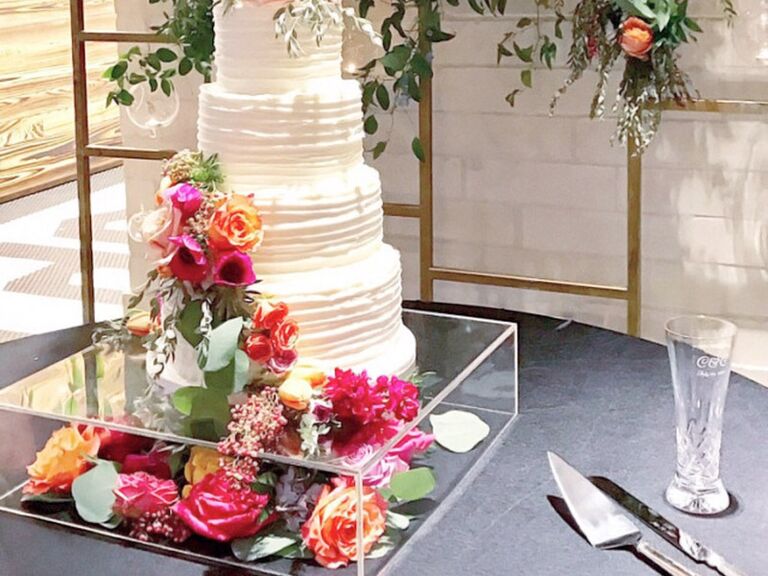 Fill this clear box with floral arrangements, seashells or sentimental momentos representative of you and your new spouse before placing your cake on top for a unique and unexpected stand.
NGOdesignworks clear acrylic flexiglass cake stand, from $130, Etsy.com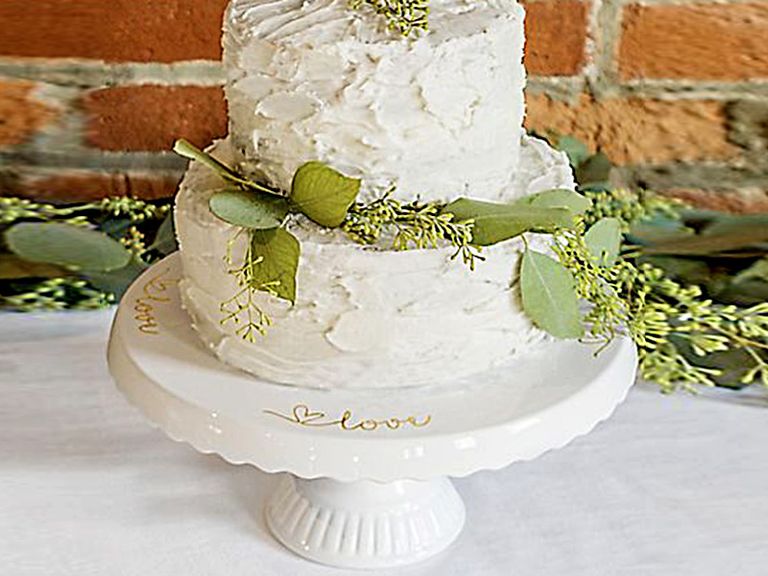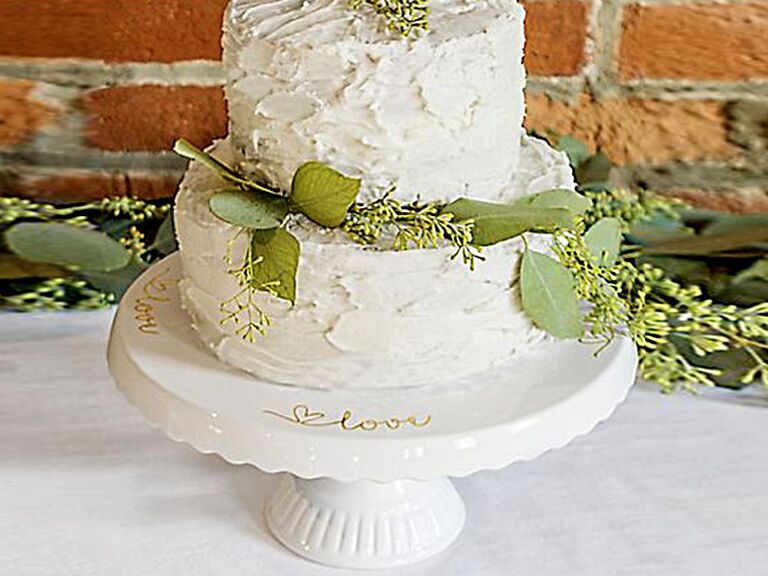 This elegant white stand says it all with a gold-foil-stamped "love" script around the edge. It accommodates smaller cakes with a 10-inch diameter, which is ideal for more intimate receptions.
David's Bridal scalloped ceramic love cake stand, $40, DavidsBridal.com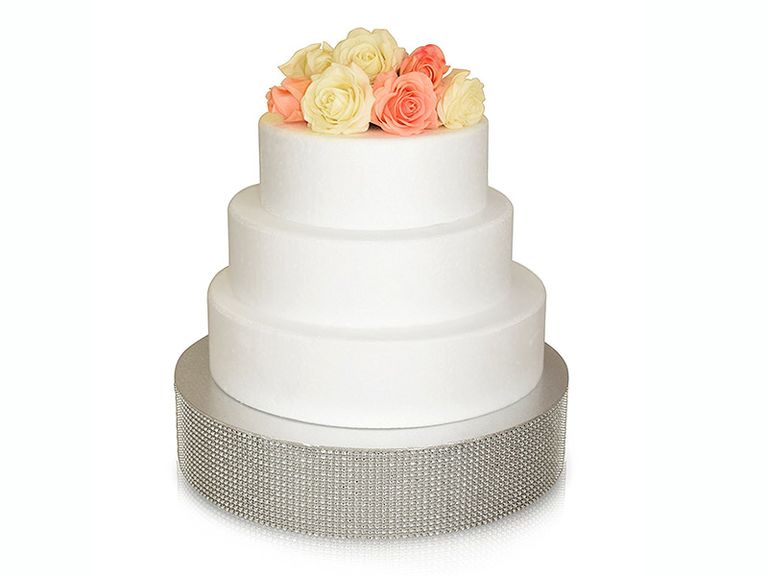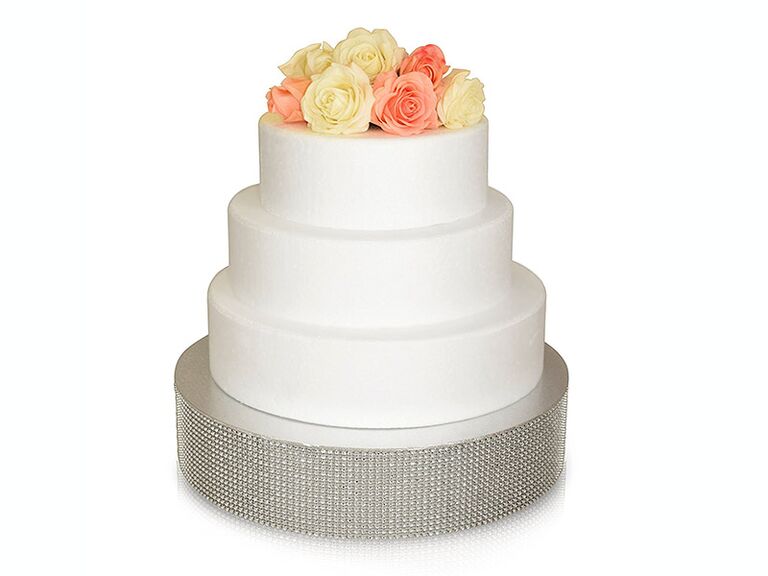 If your cake is minimal, rely on this decked out stand to dress it up. Faux rhinestones adorn the perimeter for maximum decoration. Select everything from the size to the shape, and even the color, to best suit your theme.
Occasions Finest Plastic Tableware bling wedding cake stand, starting at $31, Amazon.com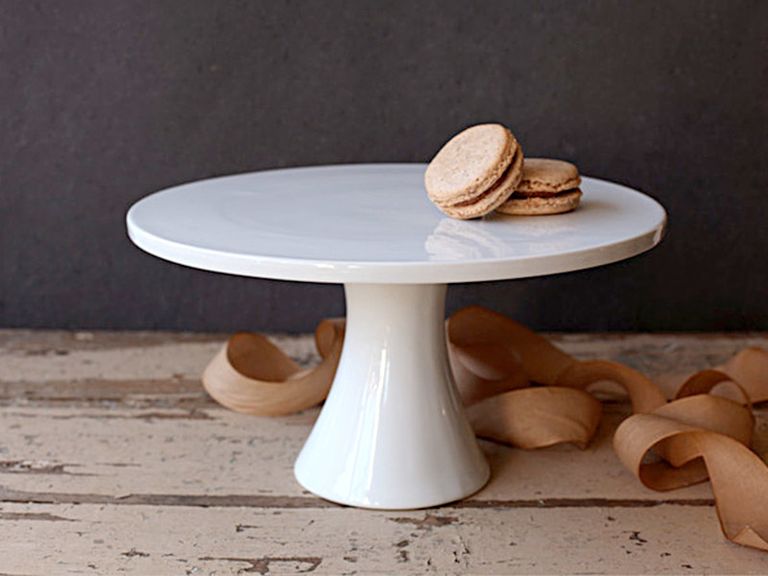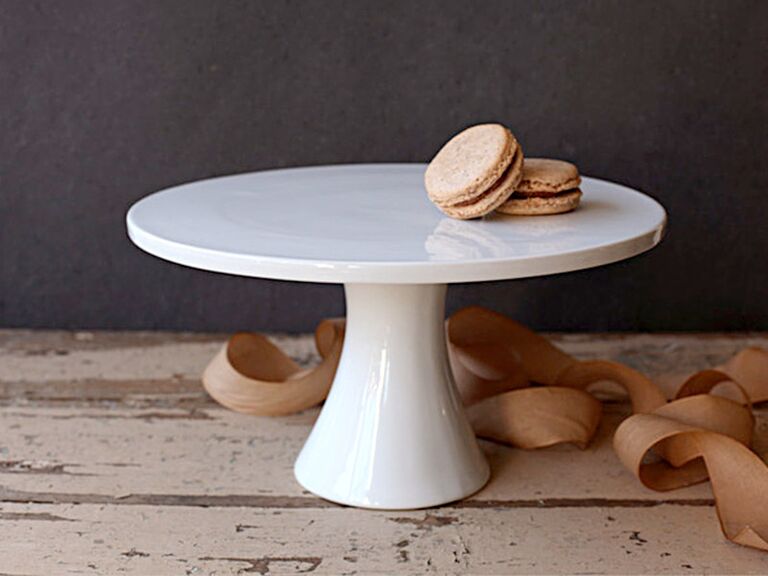 Let your cake shine by placing it on top of this simple, white ceramic stand that also adds a bit of height. And it won't clash with any of your decor.
Minted large modern white cake plates, $35, Minted.com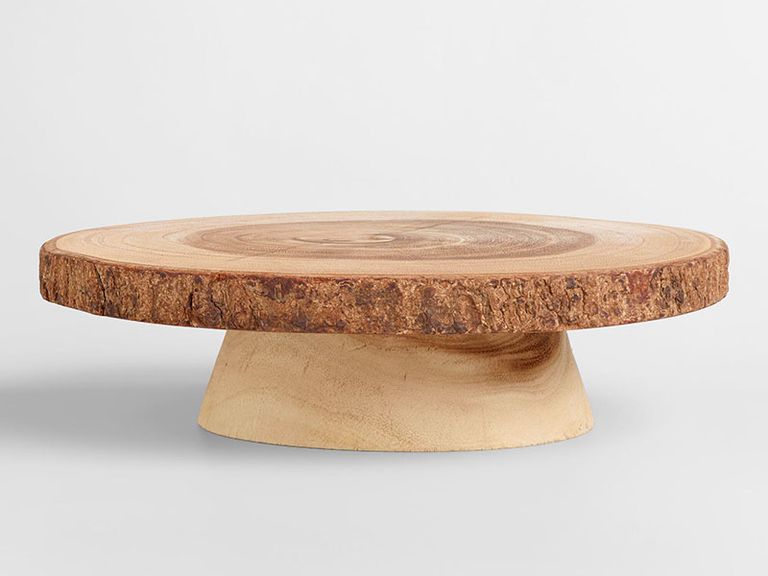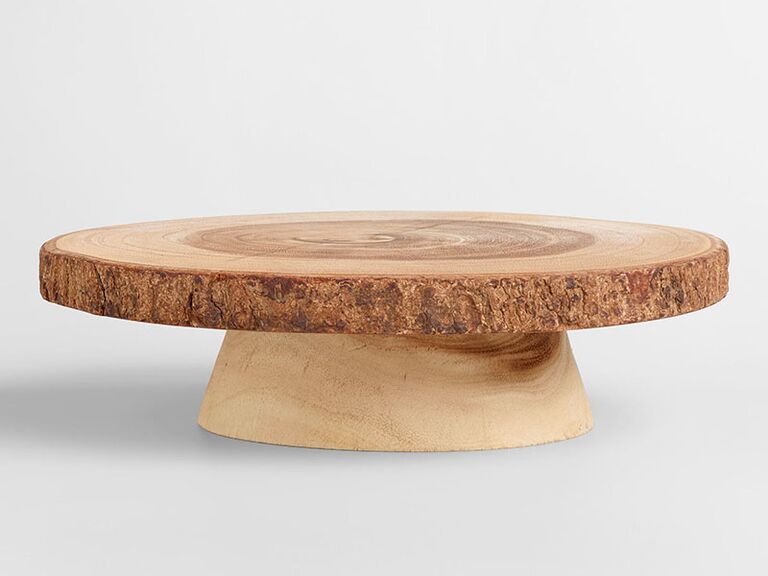 Cut from an actual tree trunk, a wooden stand like this one helps you incorporate natural elements into your wedding. It's a perfect complement to an outside reception, or can help bring the outdoors in.
World Market wood bark pedestal stand, $30, WorldMarket.com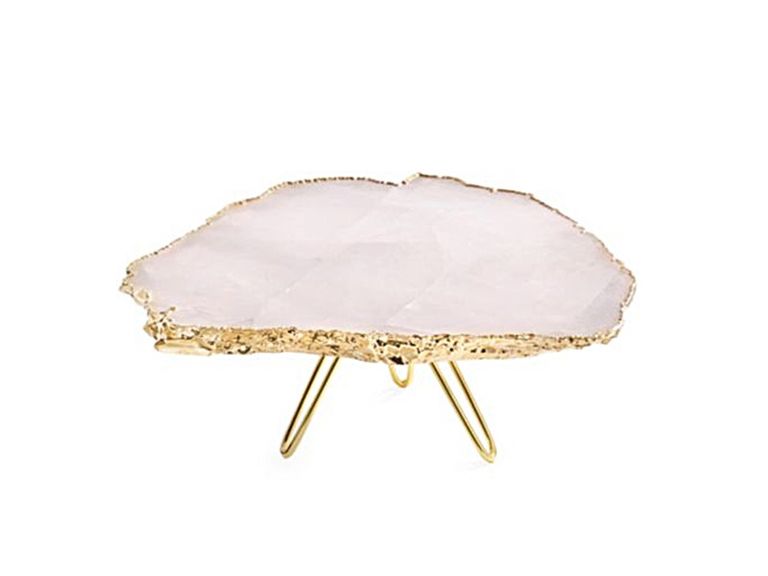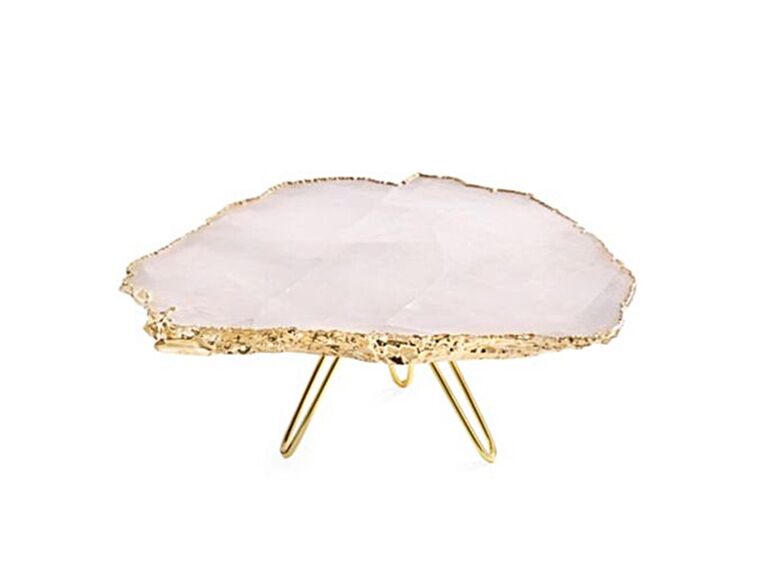 This immaculate cake stand crafted from agate creates a beautiful base for your cake that others will take notice of. 
Rad Labs torta cake stand, $625, SaksFifthAvenue.com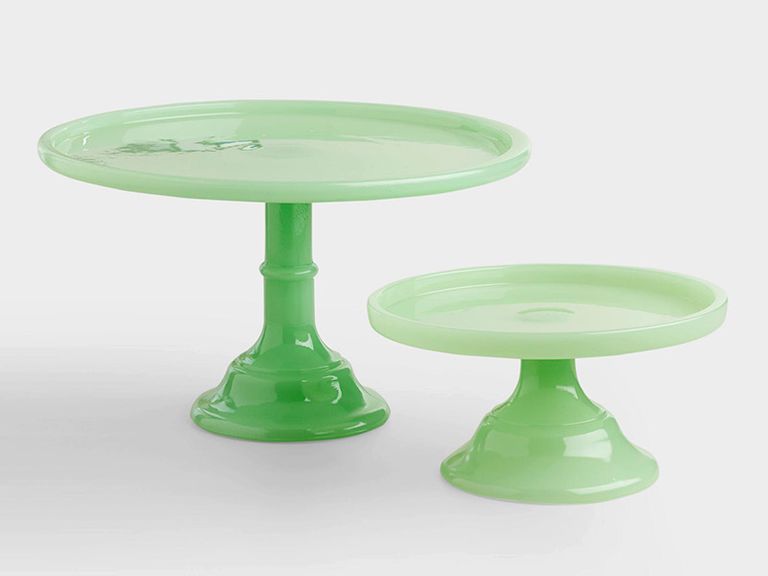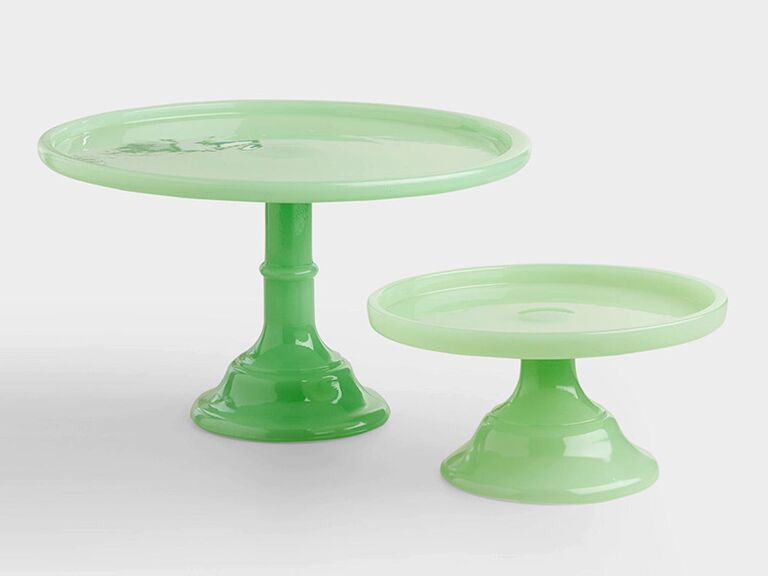 If you think you've seen this cake stand before, it's because you probably have—in your grandmother's kitchen. The retro jadeite-inspired design proves it's a timeless piece you'll want to have long after the wedding.
World Market jade colored glass pedestal stand, $30, WorldMarket.com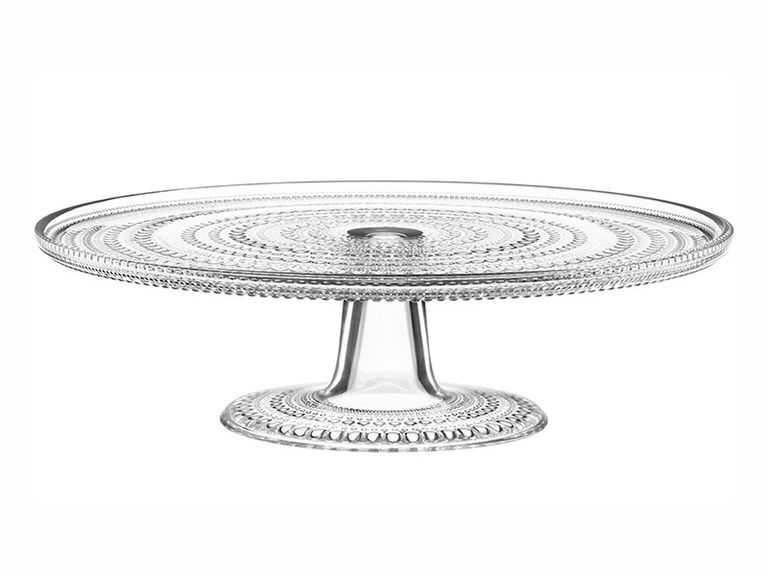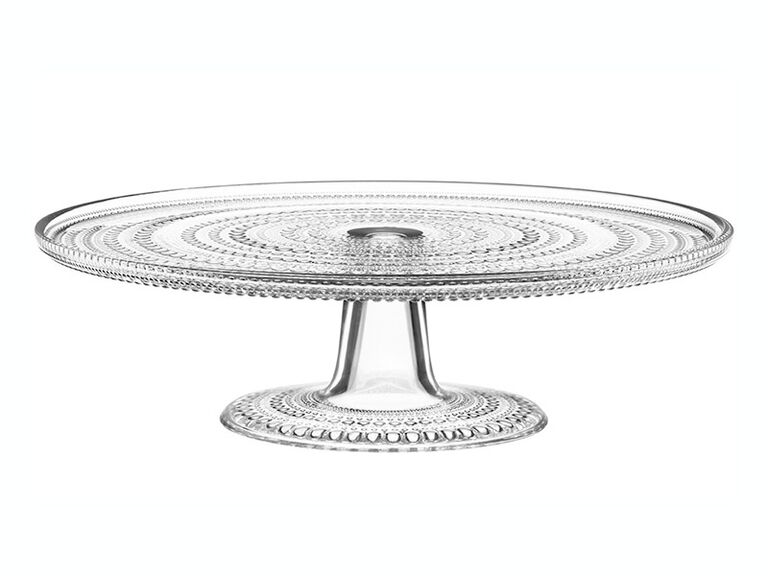 A fresh, unique take on cut crystal, this cake stand features glass bead accents modeled off of dewdrops, meshing both old and new styles.
Oiva Toikka Kastehelmi cake stand, $70, HiveModern.com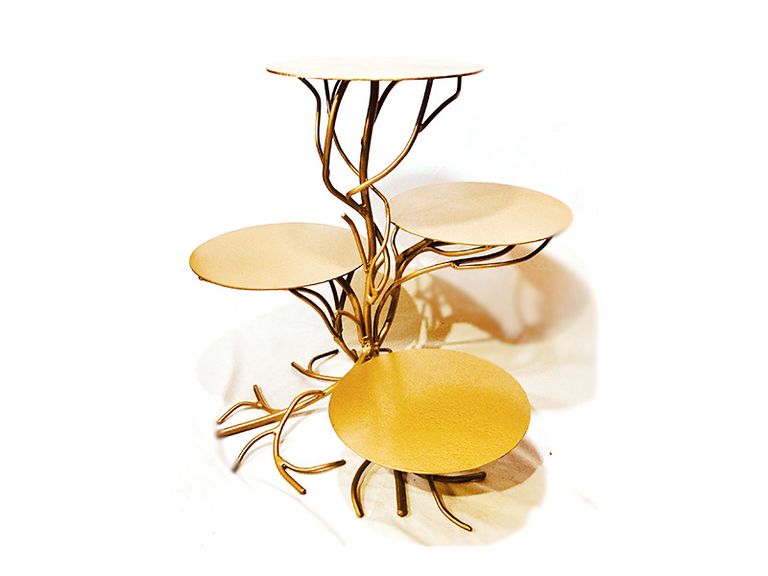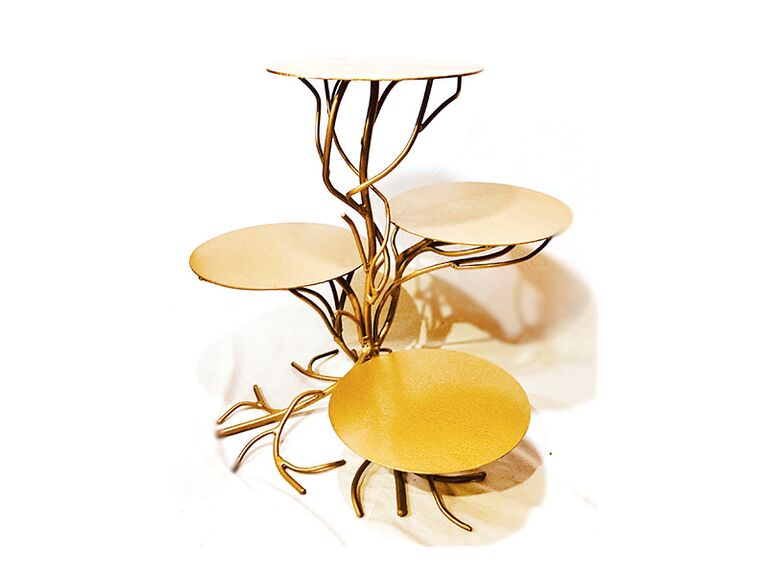 Not all cake layers have to be stacked on top of each other. A tiered stand with different arms, like this one, allows you to display the various portions (and perhaps flavors) of your cake separately.
RobinsGardenArt iron 4 tiered cake stand, $300, Etsy.com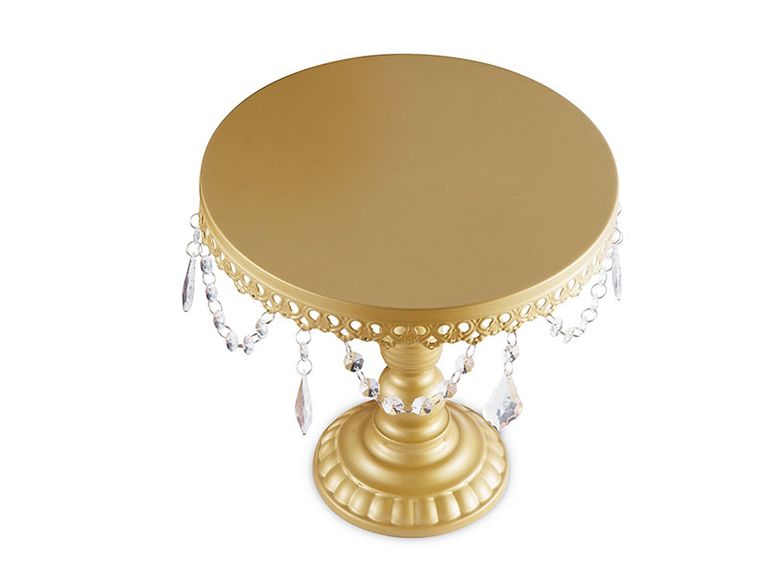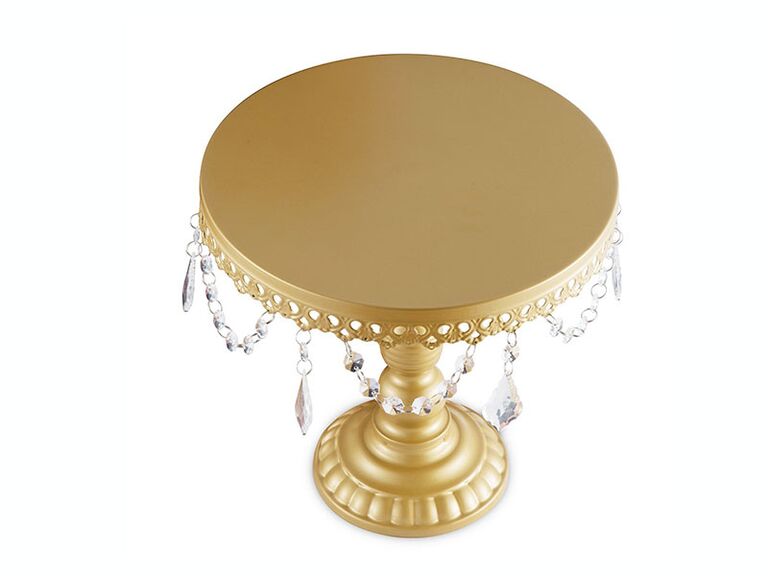 The ornate details of this cake stand—an antique-gold-brushed finish, mirrored glass top, scalloped base and dangling faux crystal beads—will rival any chandelier.
URANMOLE 18K gold antique metal cake stand, $30, Amazon.com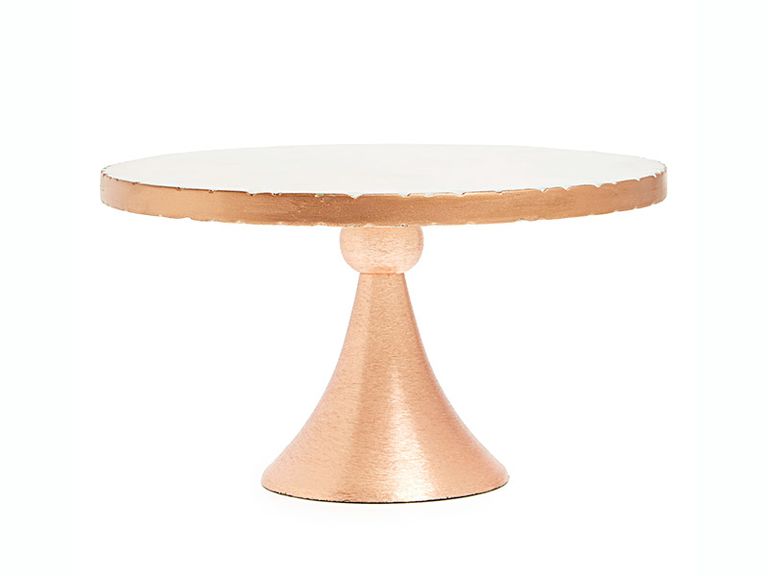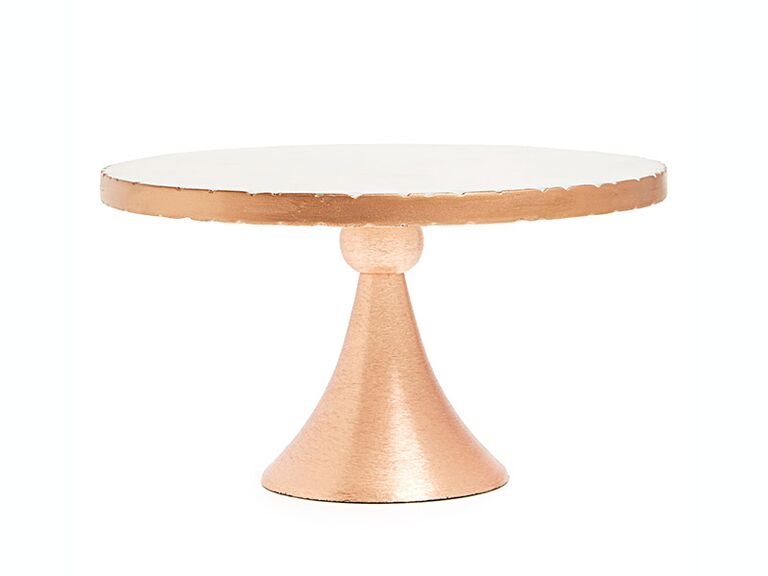 Classic and modern features come together in this copper and marble cake stand, making it easy for everyone to agree on.
Nordstrom at Home marble and copper cake stand, $89, Nordstrom.com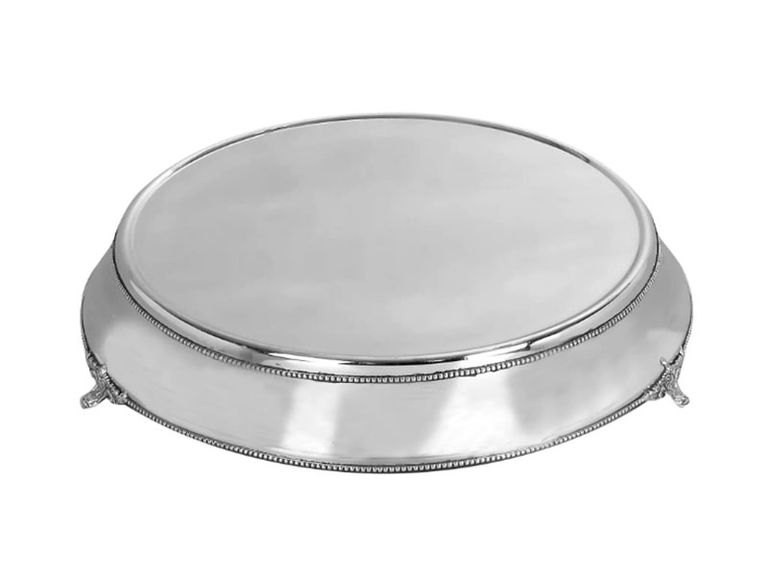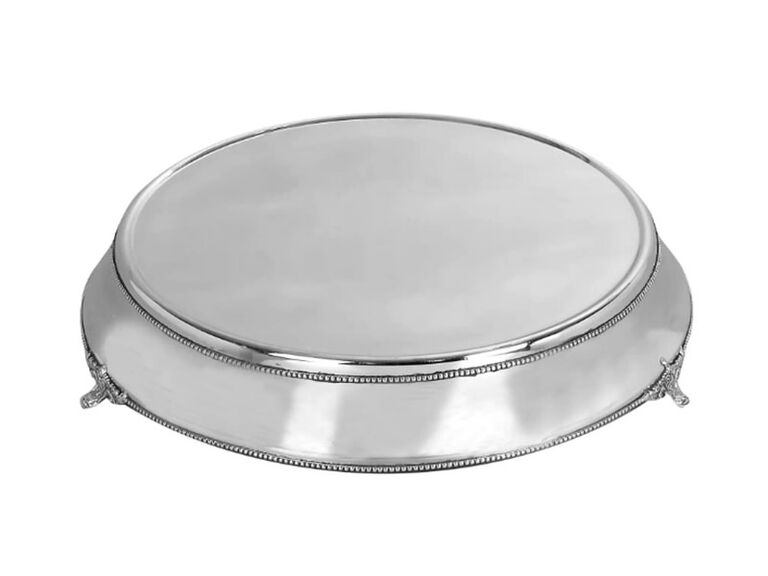 Decorative trim and legs elevate this silver cake stand's simple skirt design for an understated elegance that pairs well with any theme.
Studio 350 stainless steel cake plate, $127, Overstock.com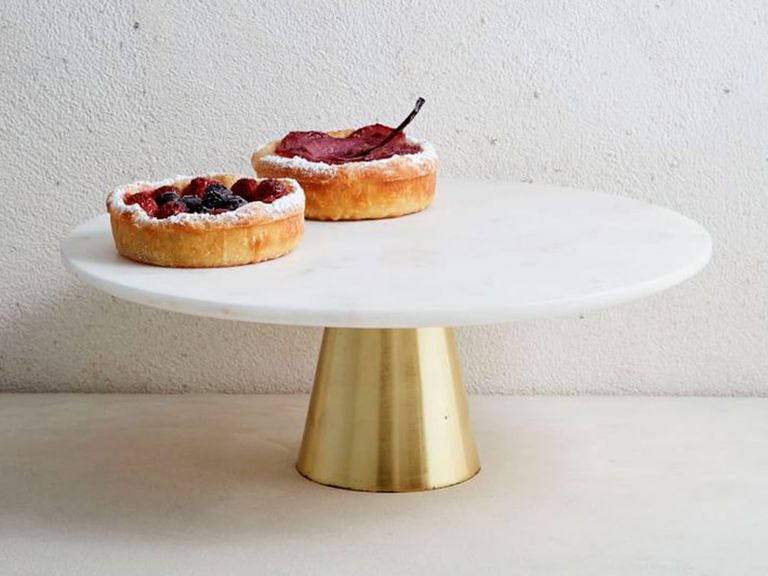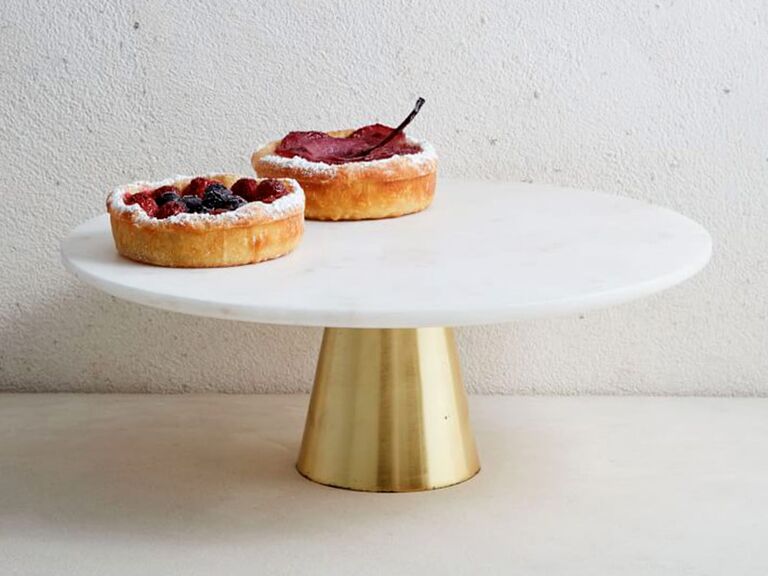 Timeless but still stylish, a marble cake stand won't contrast with any cake design on top of it. The brass stem on this one adds a mid-century modern touch too.
West Elm marble and brass cake stand, $39, WestElm.com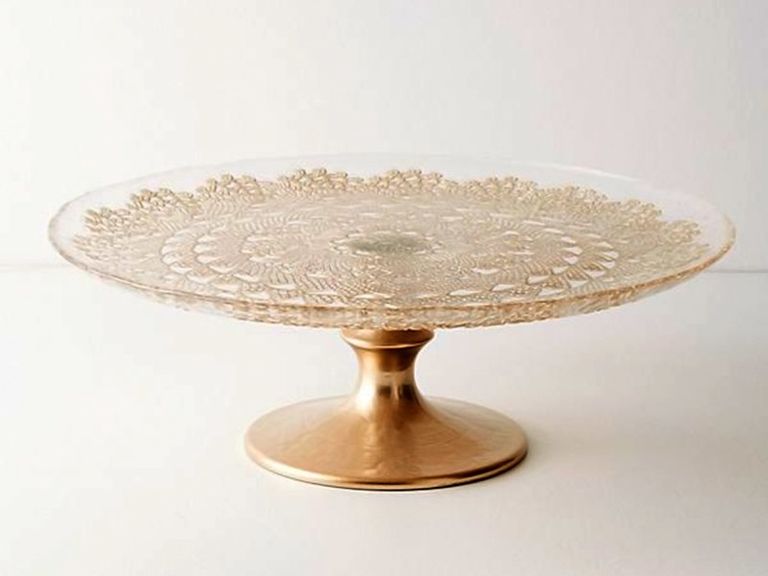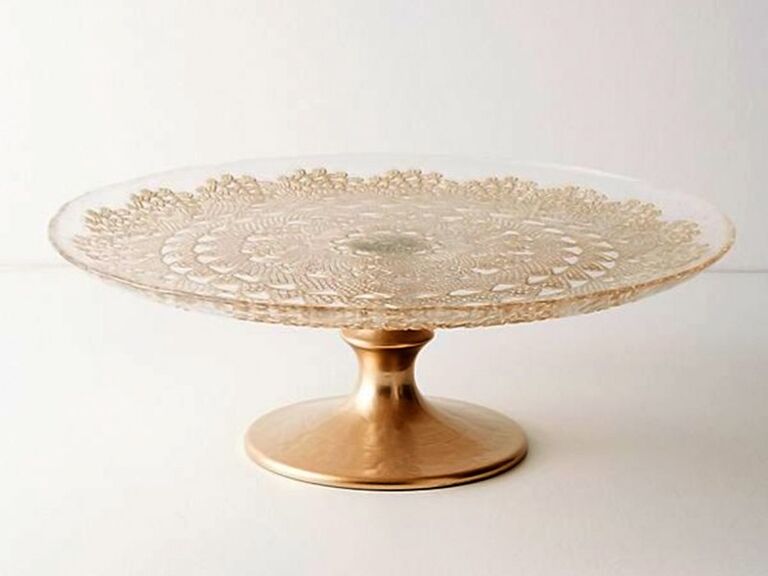 Opposites attract in this cake stand with a metal gold bottom and glass plate featuring a beautiful lace overlay.
Anthropologie metallic lace cake stand, $32, Anthropologie.com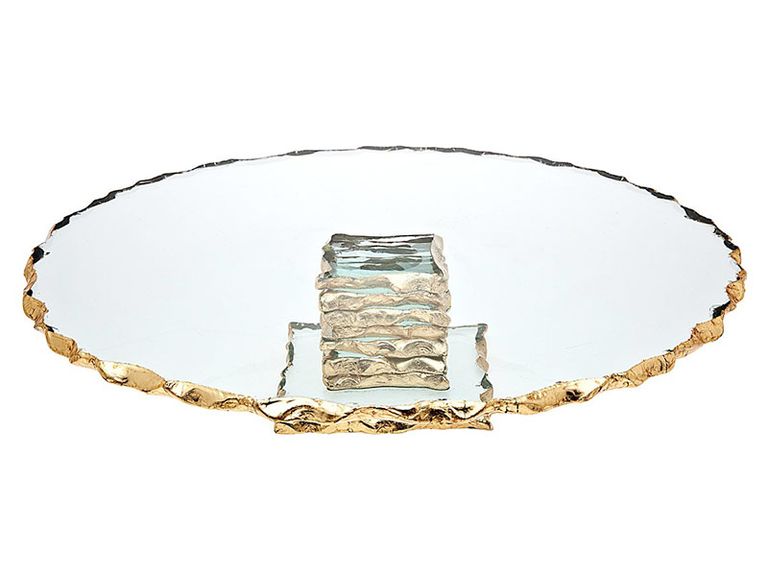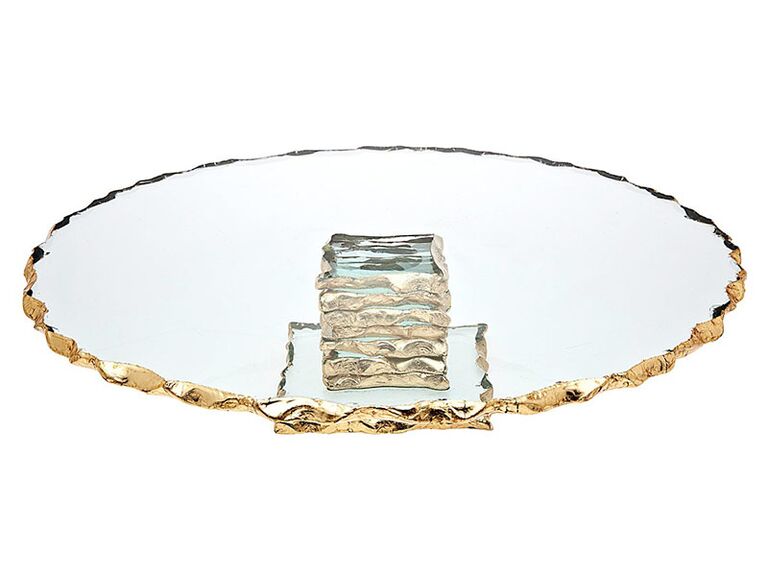 The square base of this glass cake plate contrasts its round shape. Gold, scalloped edges give it a luxurious, high-end feel—without the high price tag.
Godinger Silver Art Co Harper cake stand, $50, Wayfair.com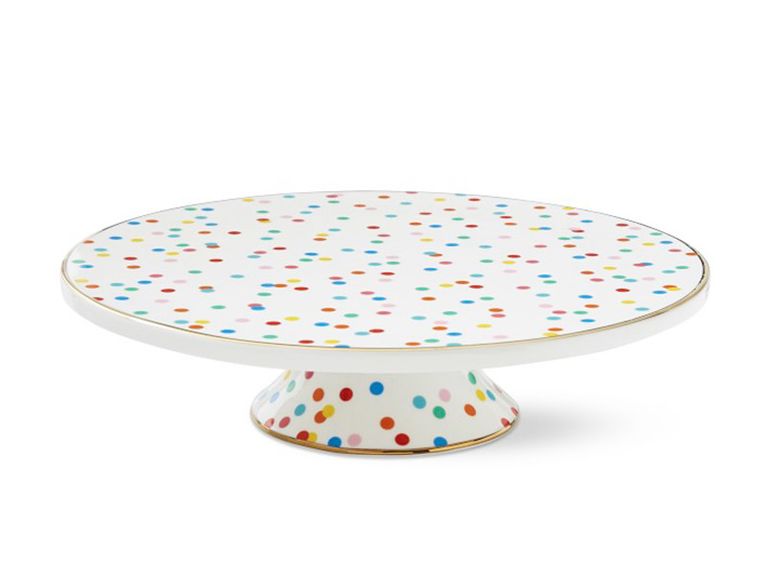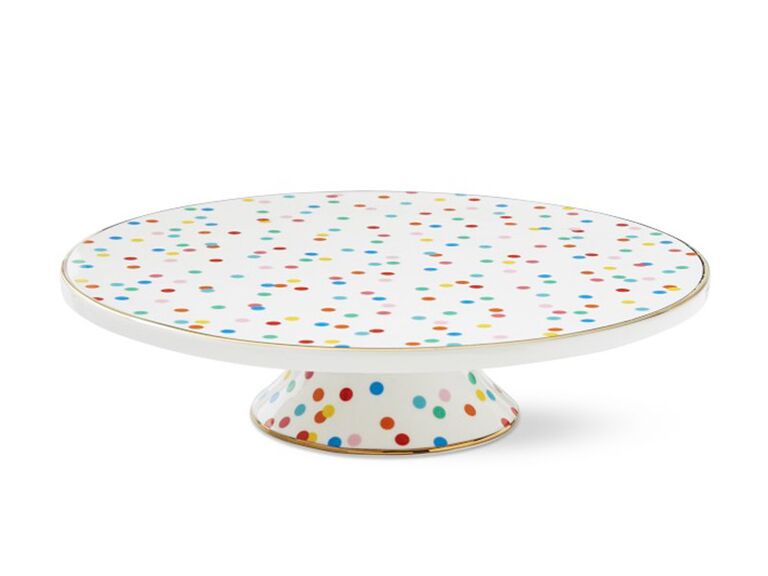 Cake is supposed to be delicious and your wedding a fun, celebratory moment, so a cake stand like this one with candy-colored dots and a gold trim will fit in perfectly with any quirky-themed reception.
Dylan's Candy Bar cake stand, $70, WilliamsSonoma.com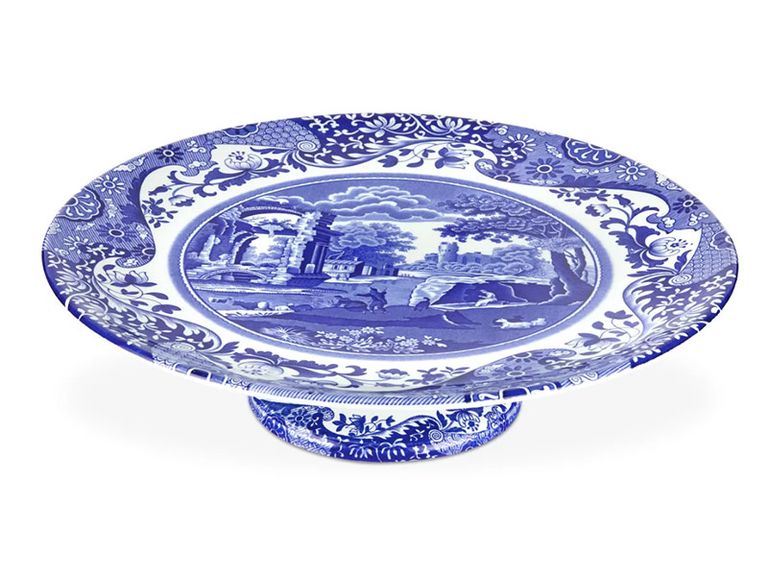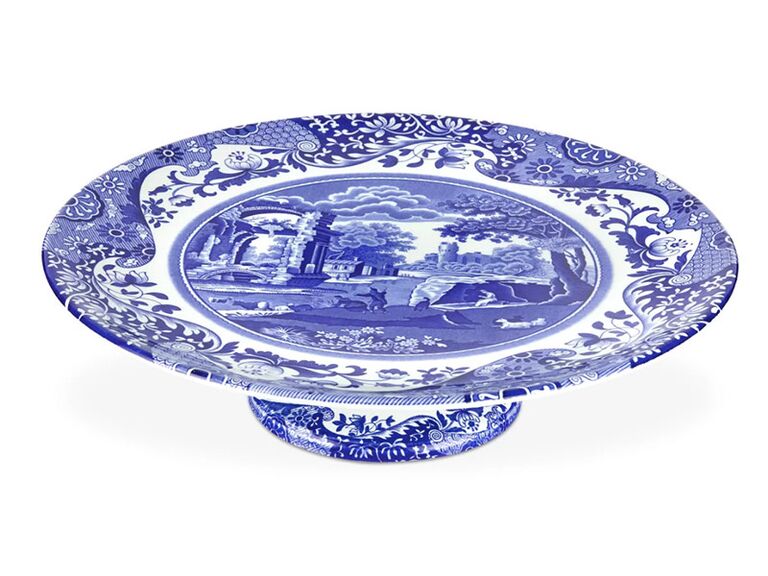 Simple in shape but intricate in design, this cake stand comes from a well-known homewares brand that's been creating pottery since the 18th century, bringing an old-world charm to your wedding.
Spode blue italian cake stand, $61, BirchLane.com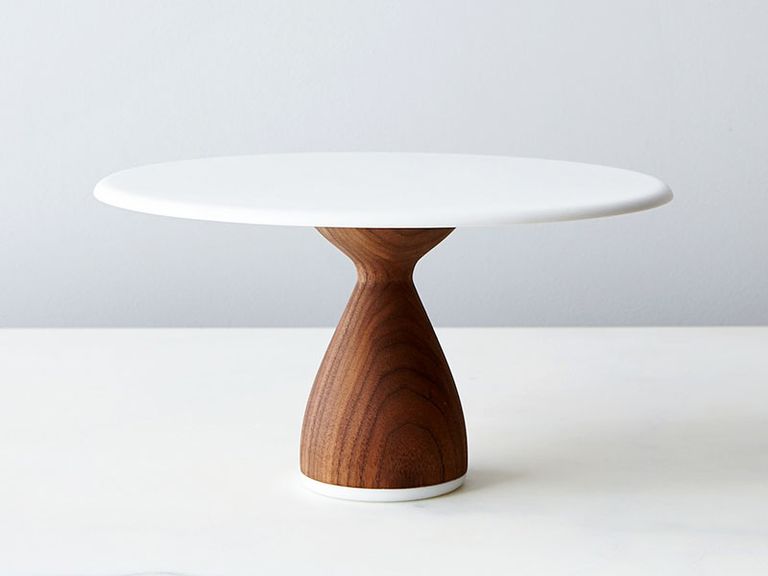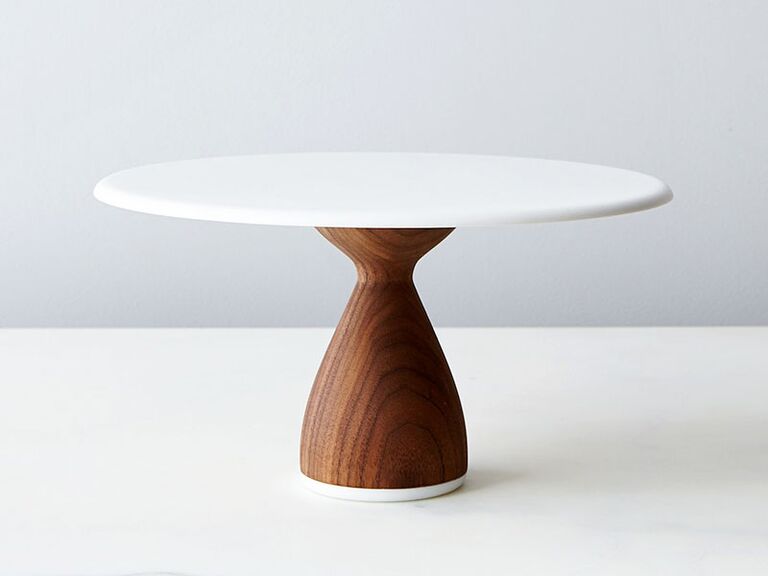 No matter how many cake tiers you stack on this stand, it's weighted to hold them all. The sturdy wooden base in a sleek cut and solid white plate help create an impressive display at any rustic reception.
AHeirloom walnut cake stand, $70, Food52.com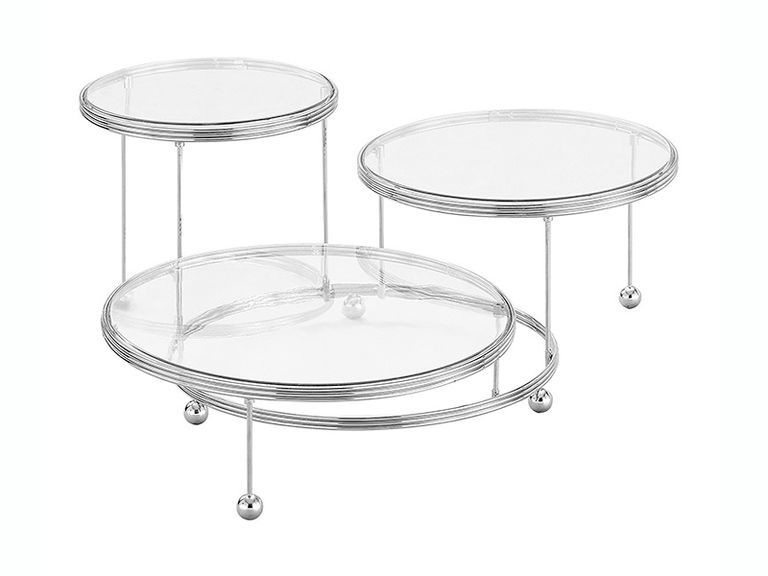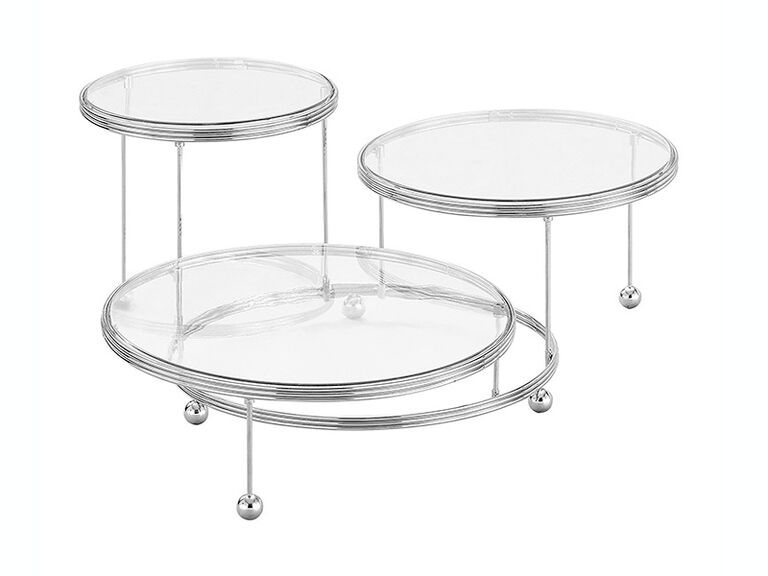 One tier there, another there, and some cupcakes on the third—the options are endless with this multi-piece display set. Your wedding cake maker will have lots of fun playing around with the setup.
Wilton Cakes-and-More 3-tier party stand, $35, Amazon.com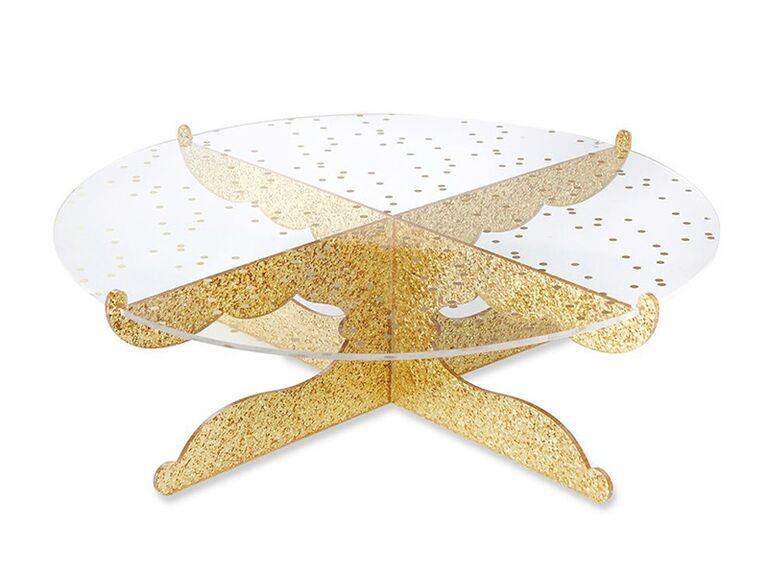 Get a high end look without the expensive price with this sparkly cake stand with an acrylic plate and gold polka dots.
Kate Aspen party time gold glitter acrylic cake stand, $37, Amazon.com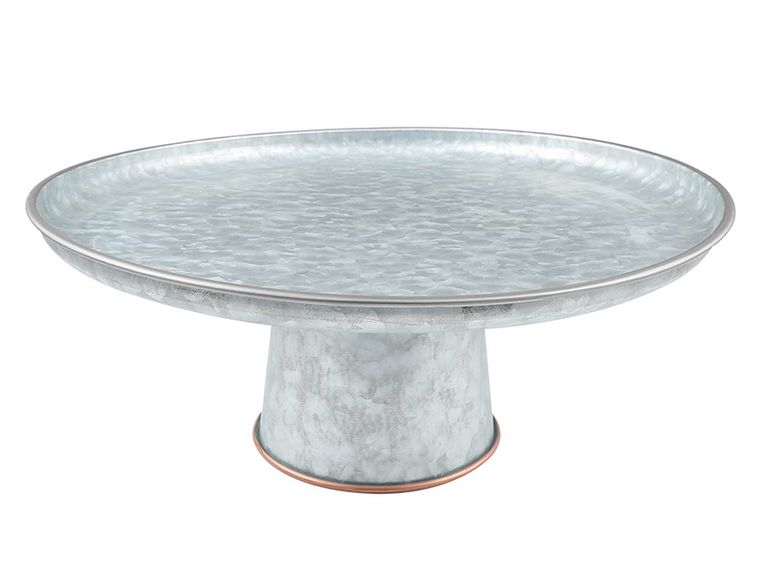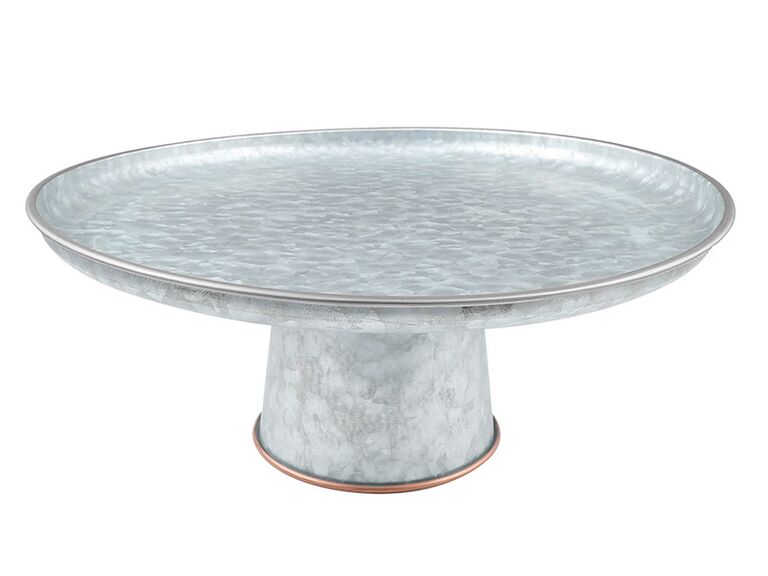 Hop on the urban farmhouse trend with this galvanized metal stand trimmed with copper accents, combining both rustic and industrial elements.
Thirstystone galvanized metal and copper cake stand, $20, BedBathandBeyond.com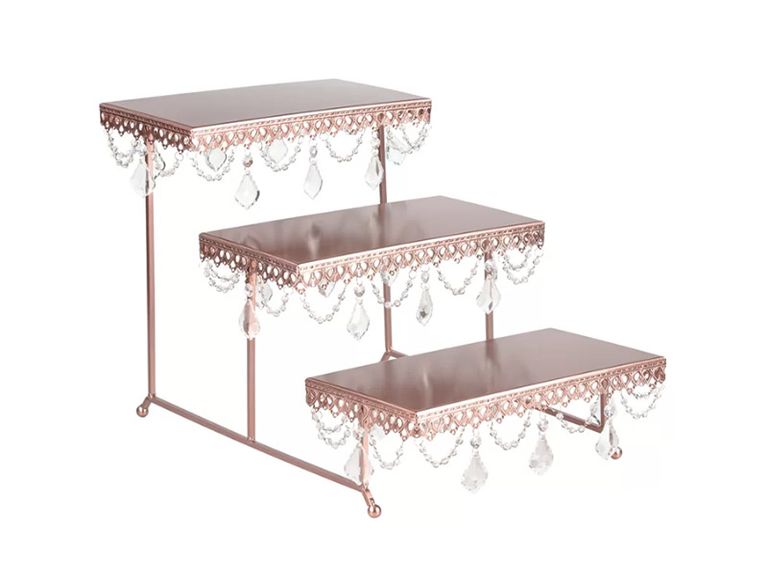 You're not limited just to multi-tiered cakes for your wedding. Enjoy and display delicious cupcakes on this three-tier, horizontal stand in pretty rose gold.
Rosdorf Park beck 3-tiered tiered stand, $100, Wayfair.com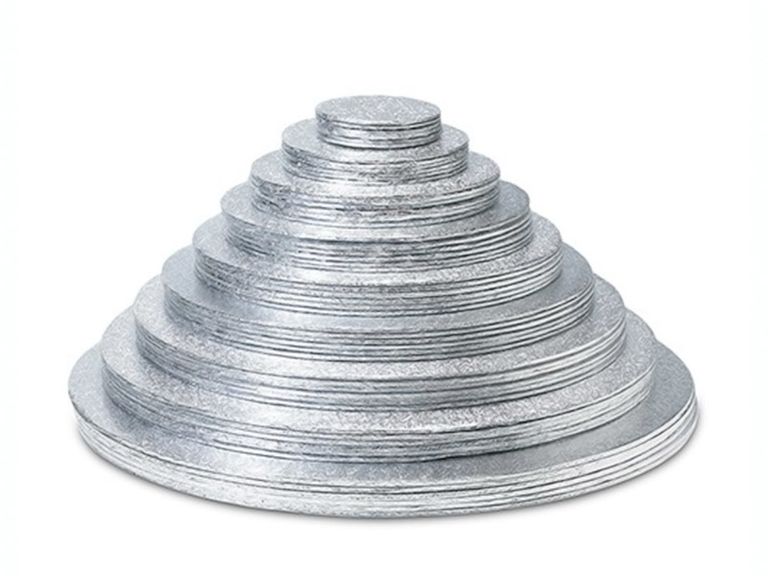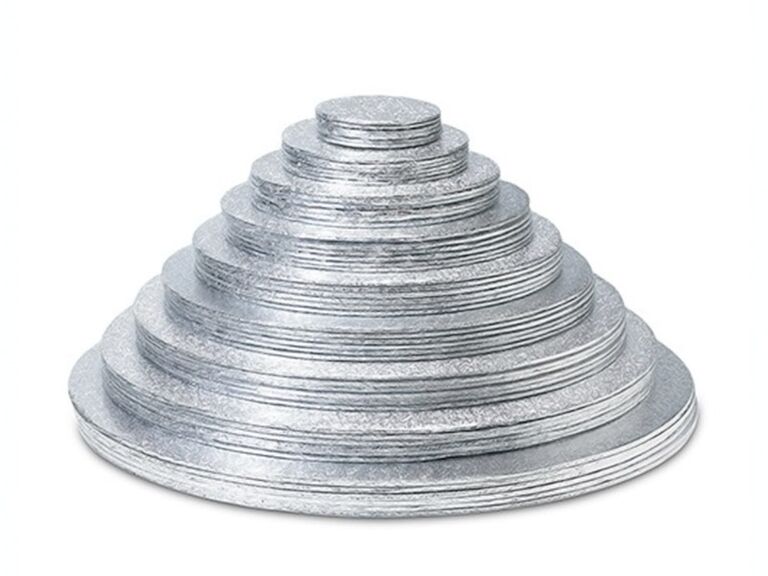 These cake boards with silver foil offer a simple but elegant support system for your confection.
The Knot Shop round foil wrapped cake boards, $60 for 6, WeddingShop.TheKnot.com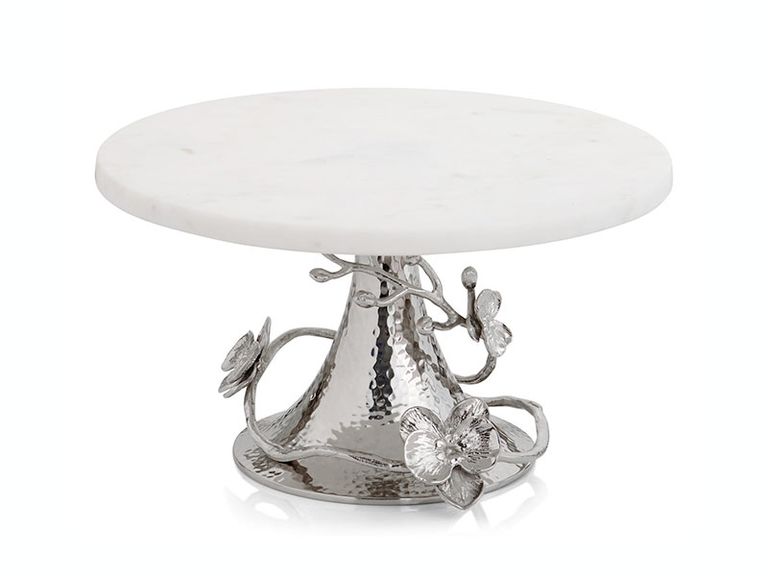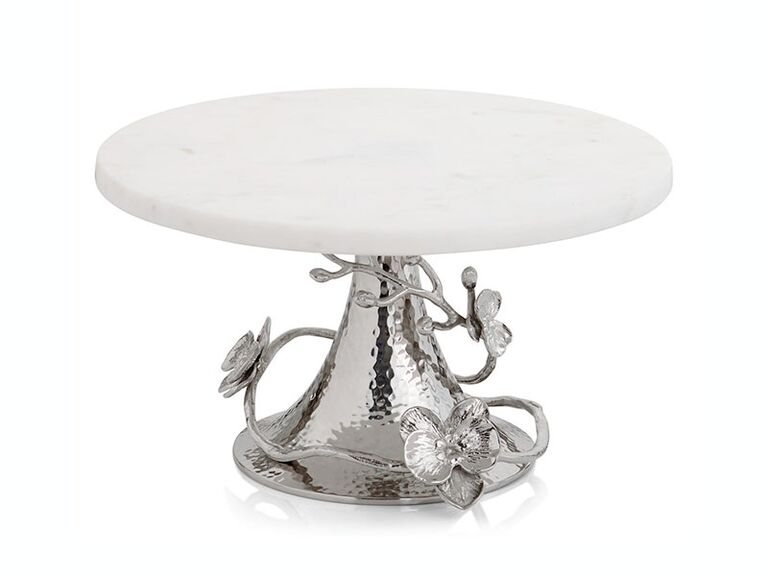 Want to go all out? This striking marble plate cake stand with an orchid-adorned base is a statement piece on its own.
Michael Aram white orchid cake stand, $250, Nordstrom.com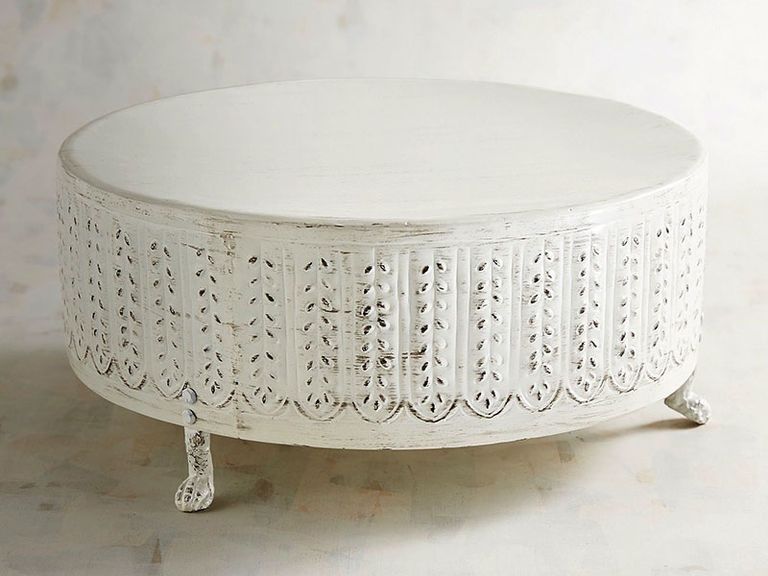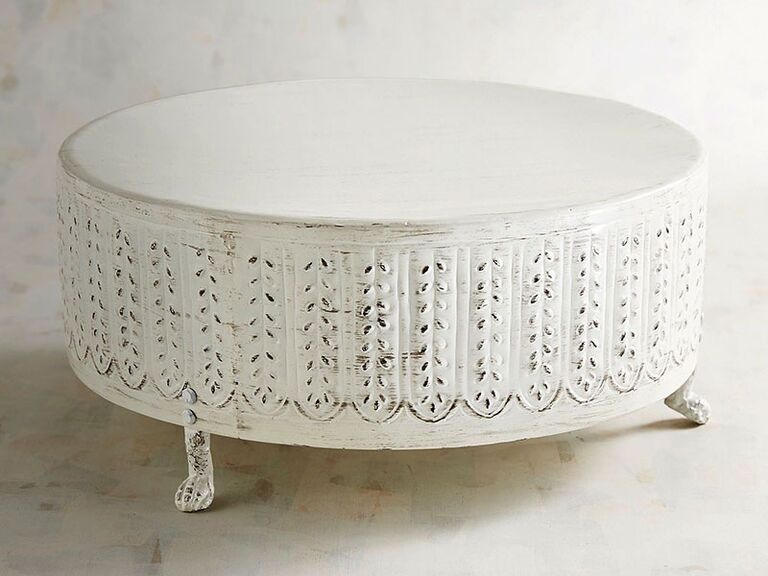 Both rustic and shabby chic, a cake stand like this one in a weathered, embossed design is ideal for a summer wedding with a retro feel.
Pier 1 Imports large embossed cake stand, $35, Pier1.com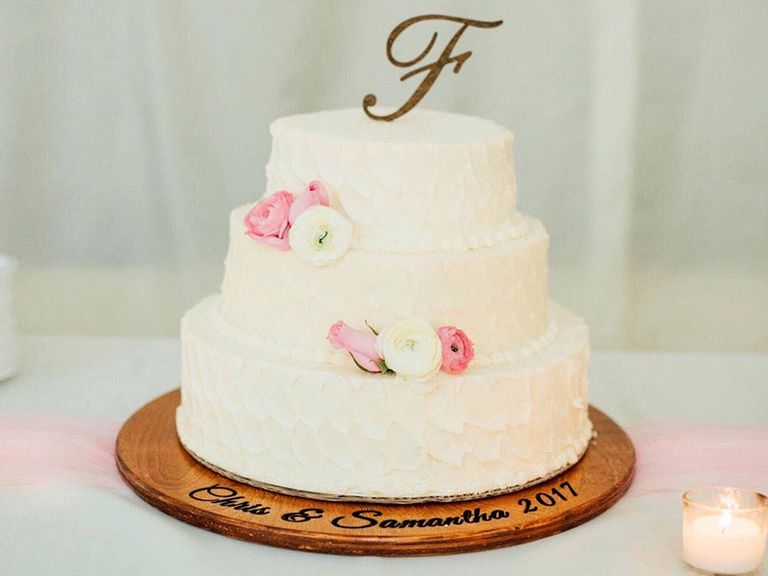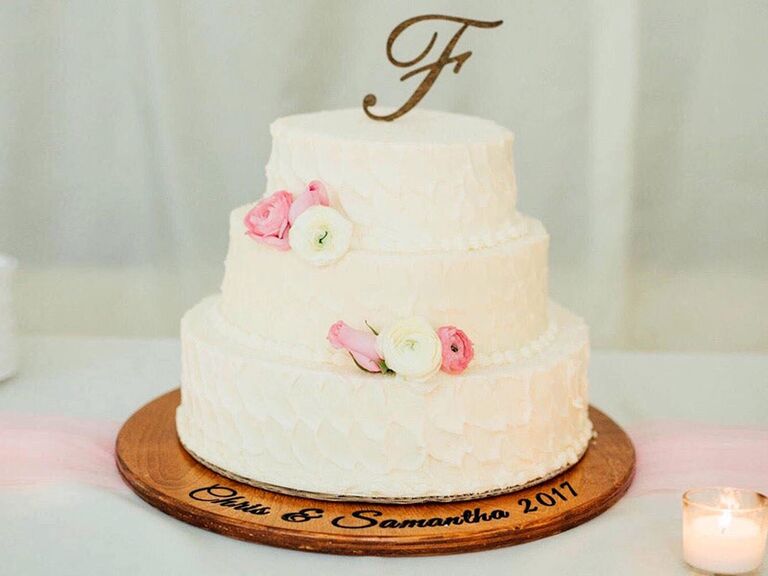 The day is all about celebrating spending the rest of your lives together, so why not get a cake stand that reflects that? This personalized wooden one comes monogrammed with your names and wedding year. It makes for a great décor piece in your home afterward too.
YouandICollection wedding cake stand, from $42, Etsy.com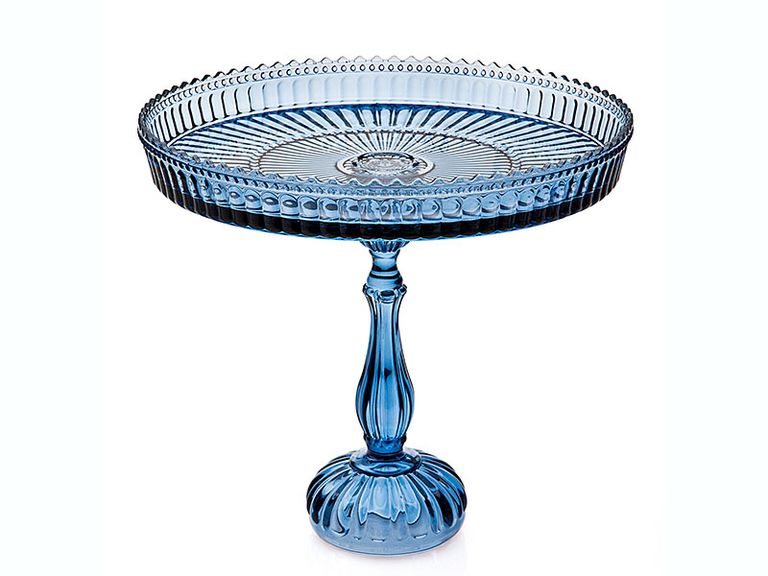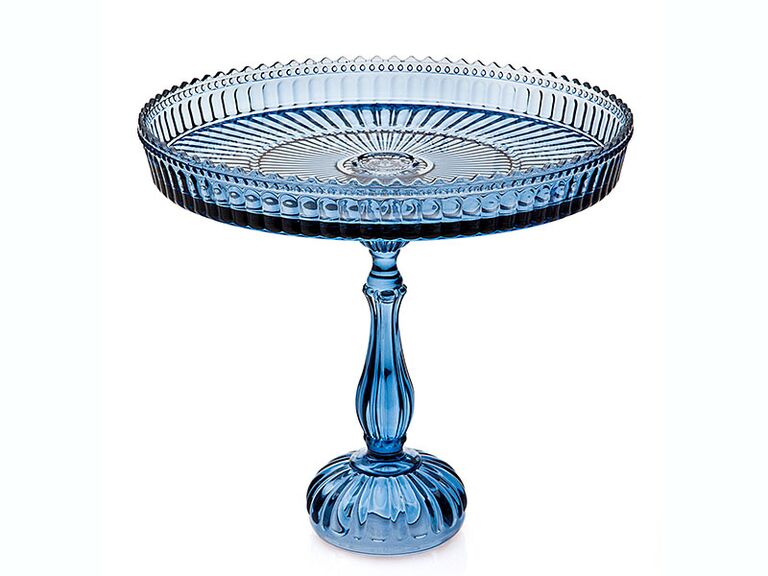 Fitting for wedding cakes of a similar style, this Victorian-esque stand with a long stem and pretty blue hue will help your cake stand out and look its best.
Godinger Victoria blue stemmed cake plate, $44, Jet.com
Disclosure: This post contains affiliate links, some of which may be sponsored by paying vendors.