On this mathematical holiday, we're celebrating numerical pi's delicious homophone, pie. Not only does pie pair perfectly with weddings, but it's one of the most seasonal foods around. Get inspired to add a little of pie's golden-brown goodness to your wedding day.
1. Pie Favors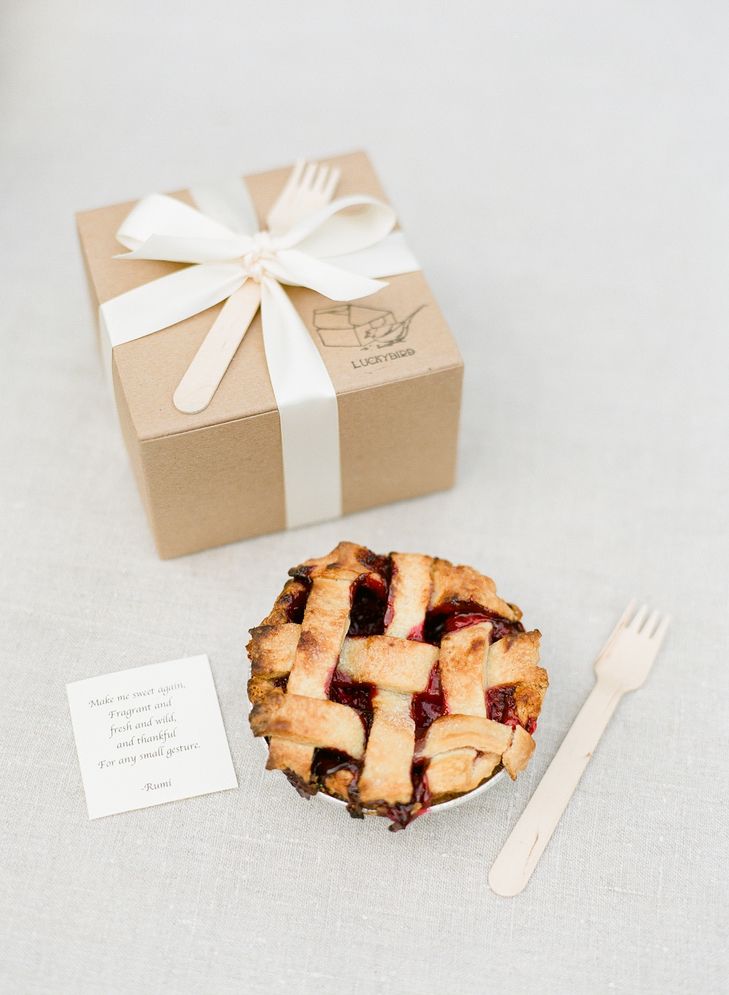 Who says pie can't be as elegant as its cake counterpart? Packed in a quaint to-go box and tied with ribbon, this favor is just as beautiful as a fondant-adorned personal pastry. You definitely won't have any guests leaving these favors behind.
From An Elegant, Bohemian Wedding at a Private Residence in Greenwich, Connecticut
2. Mini Pies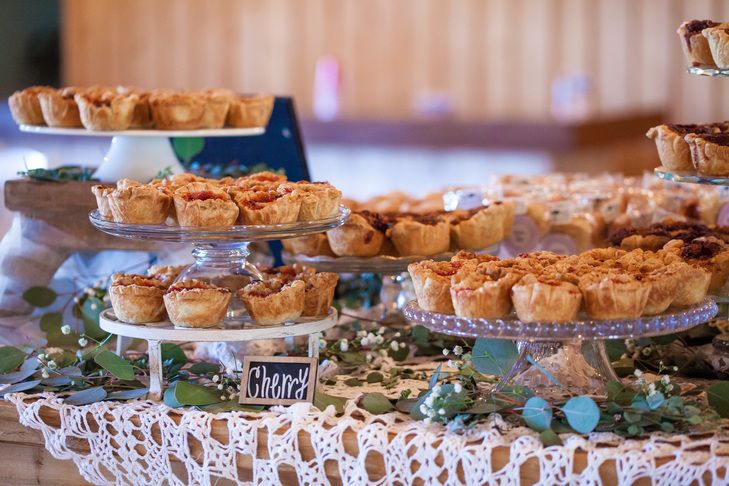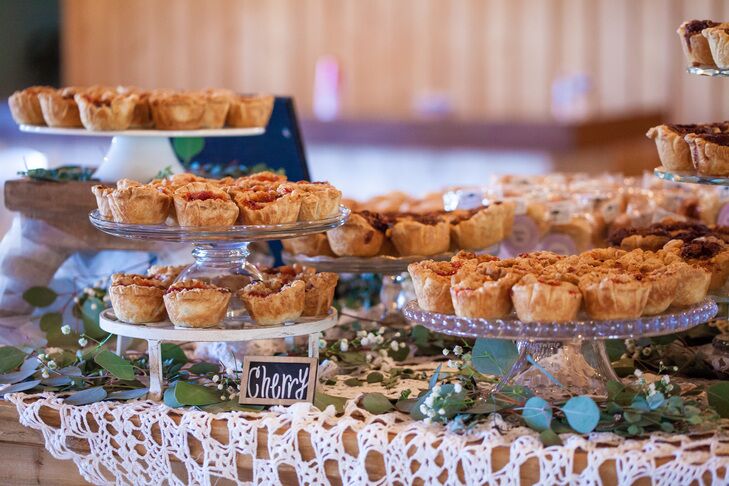 Jennifer Weems Photography
Smaller portions mean guests can try as many flavors as their hearts desire. We love the combination of the mismatched tiered dessert trays and eucalyptus garland, which comes together for a perfectly charming dessert display.
From A Whimsical Wedding at Gabriel Springs Wedding in Austin, Texas
3. Pie Place Cards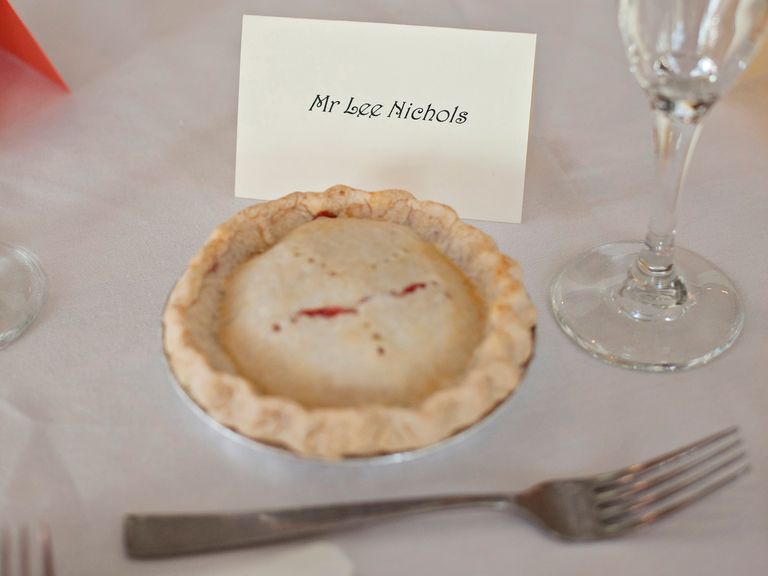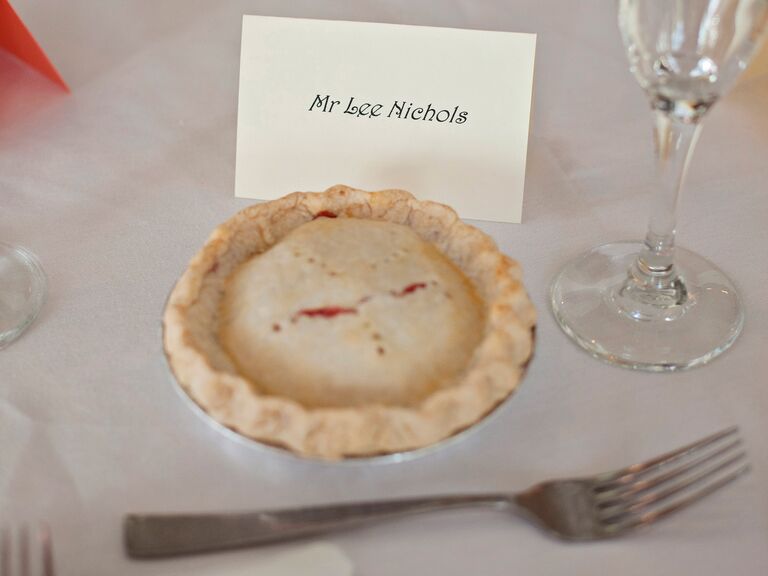 How excited would you be to find your place card displayed next to a personal pie? Life's short—let your guests eat dessert first if they want to!
From An Elegant, Natural Wedding at the Florian Gardens in Eau Claire, Wisconsin
4. Pie Dessert Bar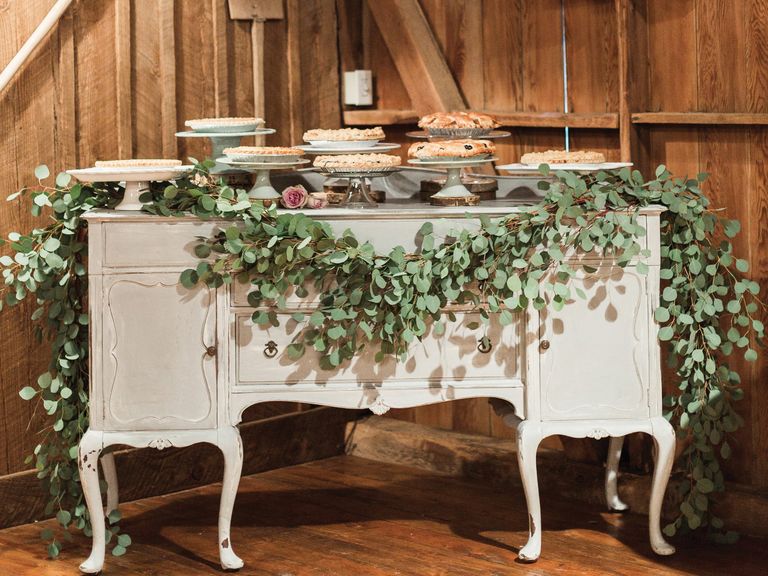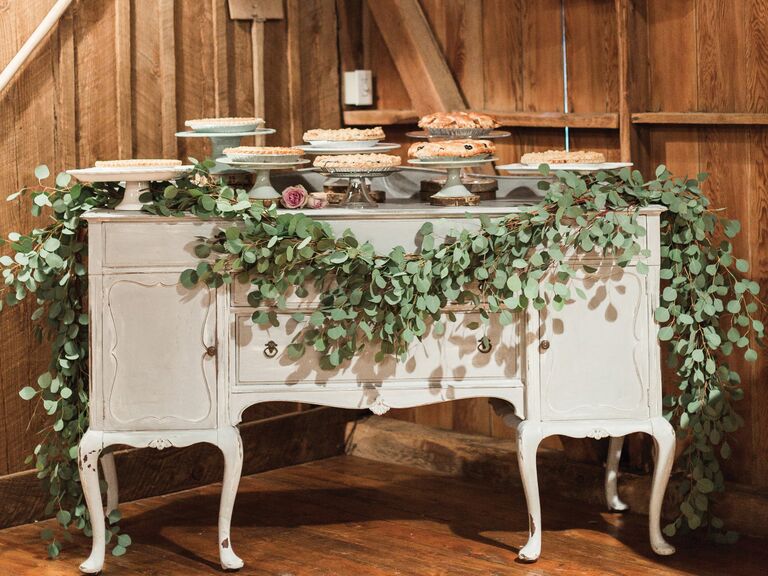 Instead of one big tiered cake, a display of multiple pies work just as well. By opting for separate pies (or cakes!) you can pick and choose multiple flavors that don't have to live together in one confection, and guests can select their favorites.
From A Rustic Glam Wedding at Beech Spring Farm in Orrtanna, Pennsylvania
5. Tiered Pies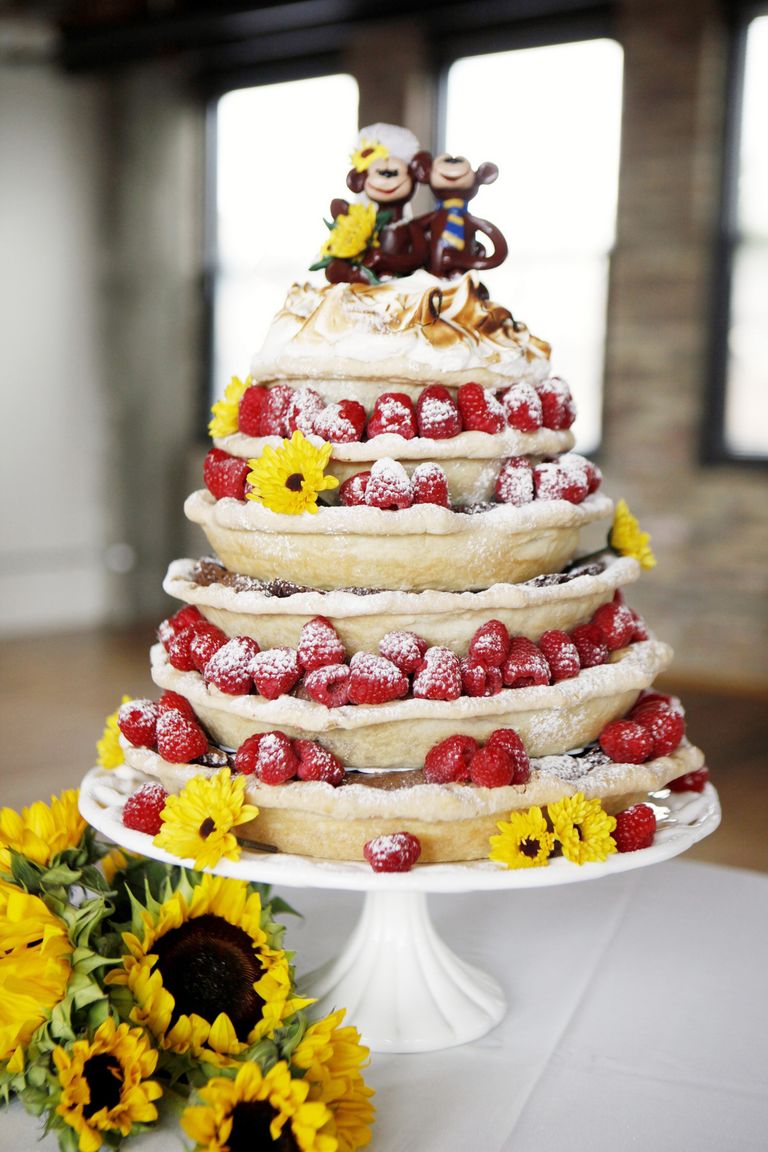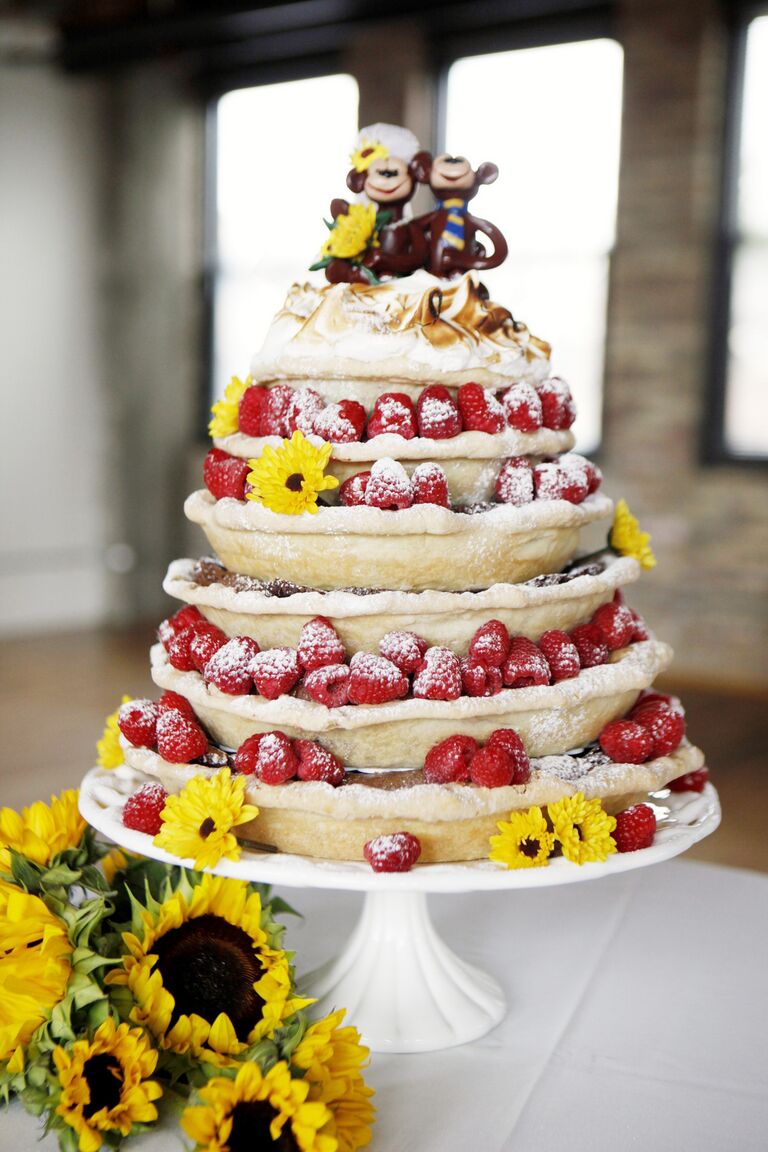 Jeremy Lawson Photography
Have your heart set on pies, but love the look of a tall cake? Stack 'em! You may need to get creative with cutting and serving, but for something this unique, it's worth it.
From A Wedding in a Factory in Chicago, Illinois
6. Pie Shooters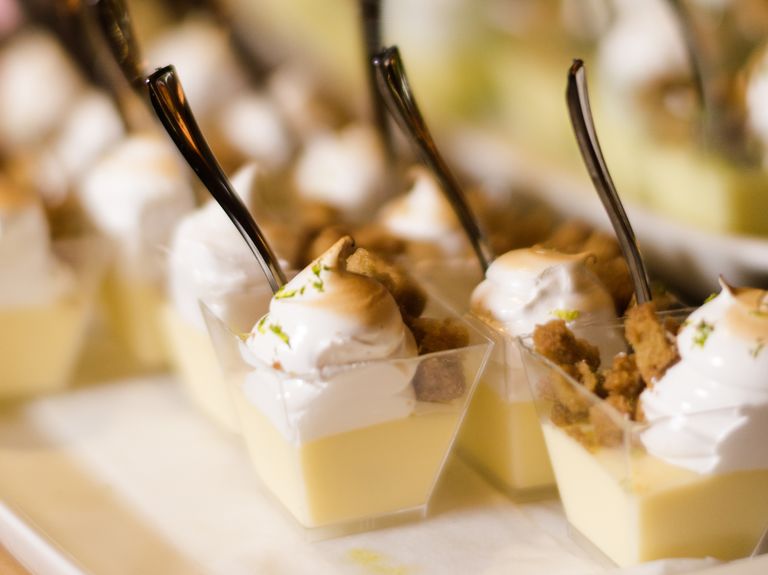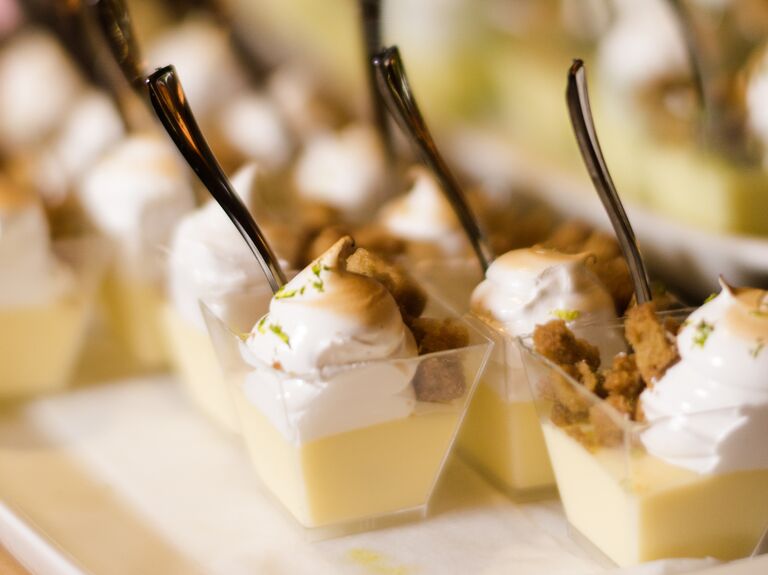 Key lime pie counts too. And an easy-to-eat shooter means guests can nosh and get their groove on at the same time. We're all about that.
From An Intimate, Garden-Inspired Wedding at David Burke Kitchen in New York, New York
7. A Cake That Looks Like Pie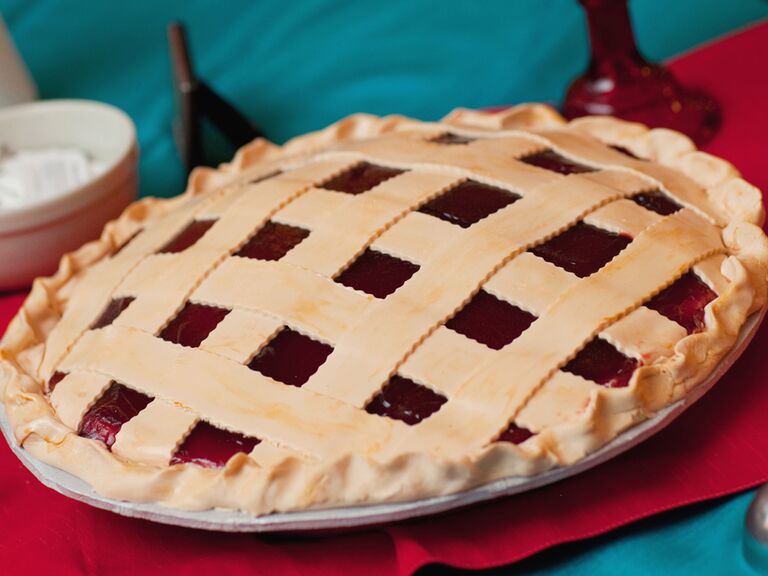 Jocelyn Filley Photography
Convincing basketweave fondant means you can have your pie-impersonating dessert and eat it too. That's right, this creative confection is actually a cake! You could even play up the pie theme in a filling like raspberry jam or lemon curd.
From A Vineyard Wedding in West Tisbury, Massachusetts
Want more?
> 7 pancake wedding ideas
> 225+ gorgeous wedding cakes
> 10 unexpected wedding cakes