A World Tour of Wedding Cake Traditions – Wedding cakes are a beloved tradition in many cultures around the world, each with their own unique style and symbolism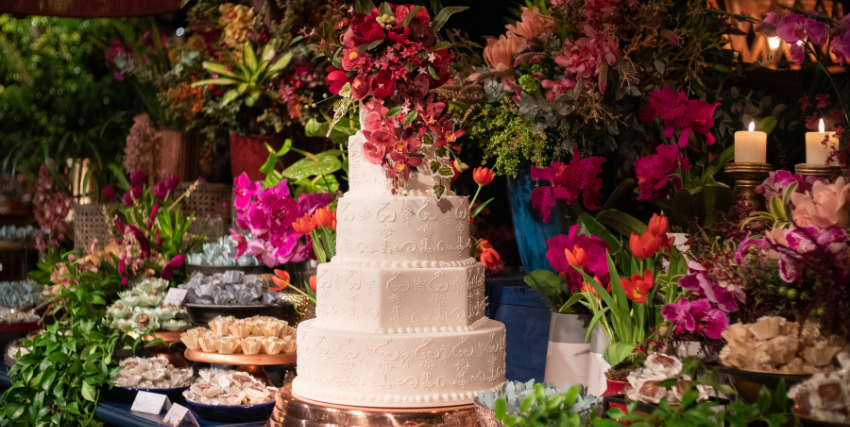 A World Tour of Wedding Cake Traditions
Ireland and Scotland: Fruitcakes are also popular in Ireland and Scotland, where the heady, three-tiered confection is often times laced with bourbon, brandy, or whiskey and each layer is spread with almond paste.
Indonesia: A cake typically served at weddings Indonesia weddings cake is a massive, multilayered creation known as kek lapis. The cake is typically made from layers of chocolate and vanilla and dates back to the Dutch colonial period; today's versions are often spiced with cinnamon and nutmeg.
A World Tour of Wedding Cake Traditions
Japan: Many Japanese actually use imposter cakes at wedding receptions. Made of artificial rubber, these faux confections are iced with wax — and even feature a slot for the bride and groom to insert a knife.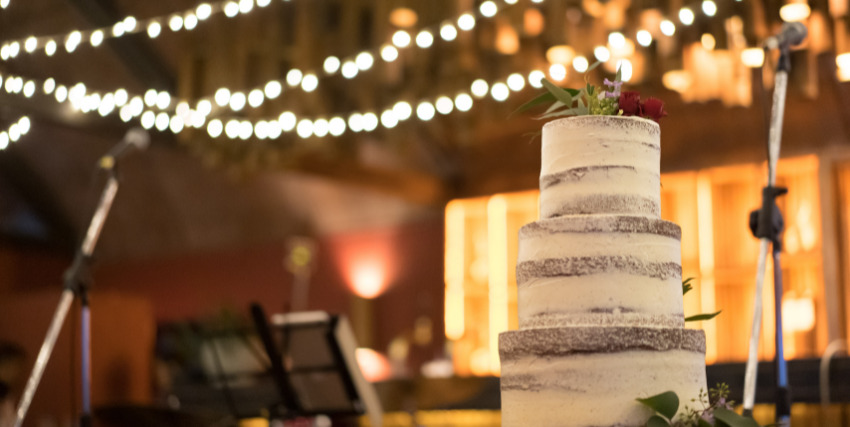 A World Tour of Wedding Cake Traditions
Believe it or not, some models have even been known to produce a puff of steam! Other dupes consist of elaborately frosted Styrofoam dummy cakes. While the imposters are just for show, sheet cakes hiding out in the kitchen are cut and served to guests.
A World Tour of Wedding Cake Traditions
Korea: Many American-style wedding cakes would be considered too sweet for Koreans. They opt instead for a cake made of ground steamed rice covered in red bean powder. A tiered sponge cake covered in nondairy whipped cream is also a popular treat.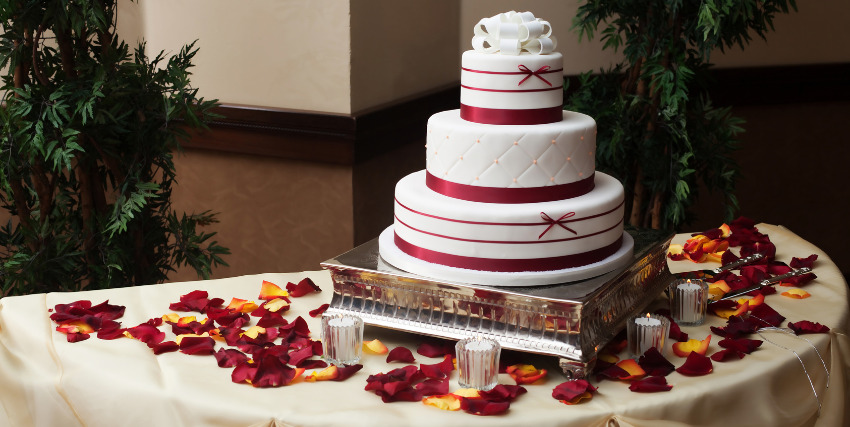 A World Tour of Wedding Cake Traditions
Italy: A popular choice for an Italian wedding is a zuppa inglese. Scrumptiously filled with chocolate custard, vanilla custard, rum cream, and fruit, tiers of pound cake are elaborately trimmed with flower blooms of royal icing.
Greece: These days, most Greek couples prefer a flourless almond cake, which is filled with vanilla custard and fruit, and covered in sliced almonds. The traditional rendition of a Greek wedding cake consists of honey, sesame seed, and quince, which is said to symbolize the couple's enduring commitment to each other. Sourdough wedding bread decorated with beads and blossoms is also a traditional treat.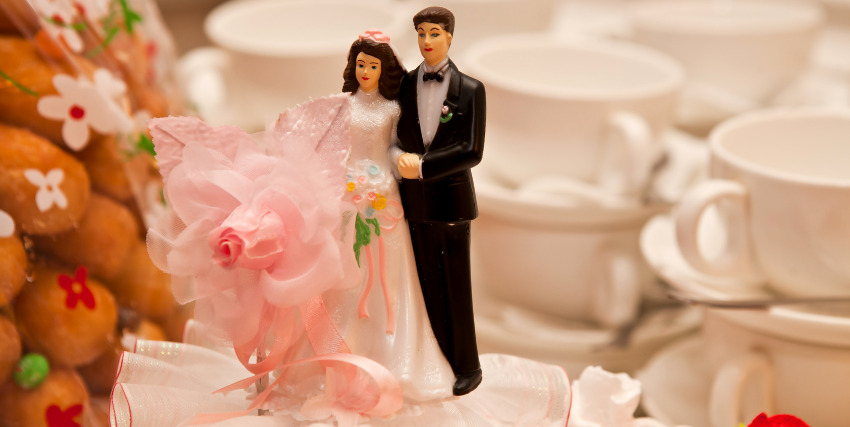 A World Tour of Wedding Cake Traditions
Bermuda: In Bermuda, it's common to have a small cedar sapling top off a wedding cakes. The sapling is said to symbolize the couple's growing love, and is usually replanted after the ceremony.
Caribbean: Caribbean couples traditionally feast on fruitcakes. The cake is often dark and filled with dried fruits and sherry, wine, or rum.West Indies: Party guests in the West Indies pay for a lucky peek at the wedding cake hidden under a fine white tablecloth. Here a rum-laced fruitcake is the sweet of choice.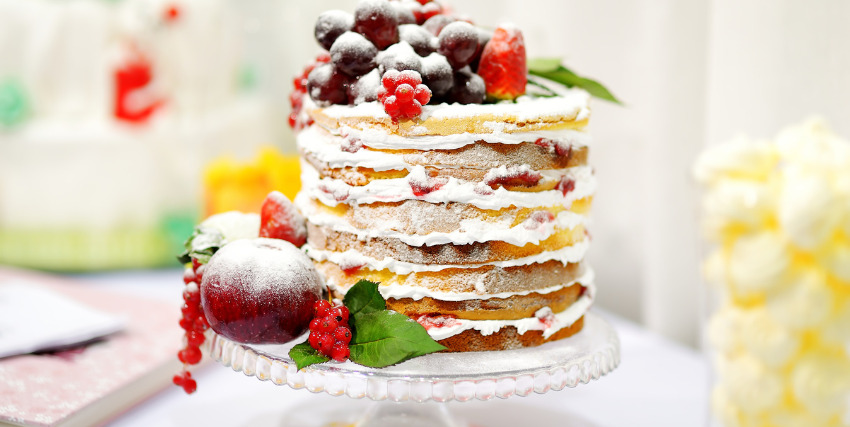 A World Tour of Wedding Cake Traditions
Norway: Shying away from cake altogether, Norwegians serve brudlaupskling, a type of wedding bread first developed when white flour was a rarity on farms in Norway. Any food containing wheat was once highly prized, so the wedding bread was considered a true treat. Topped with cheese, cream, and syrup, this unique bread is folded over and cut into small squares and served to all the guests.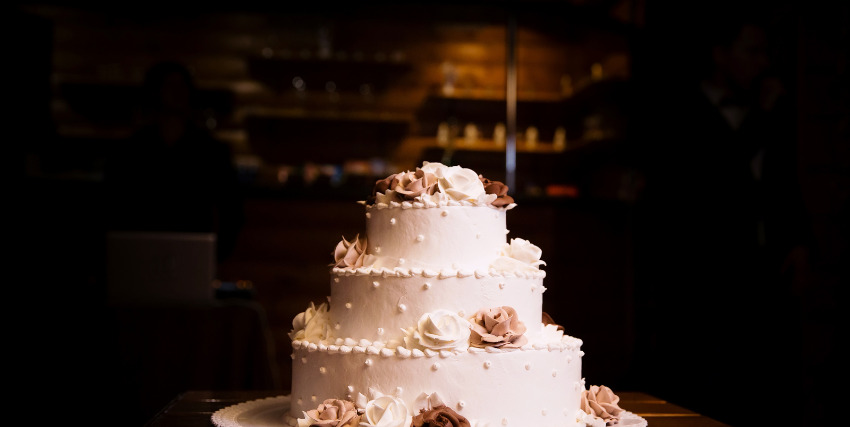 A World Tour of Wedding Cake Traditions
Denmark: The Danish are known to feast upon a cornucopia cake. Made of almond cake and marzipan, the ring-shaped confection is decorated with pastilage and filled in the center with candy, almond cakes, fresh fruit, or sorbet. Sometimes marzipan portraits of the bride and groom are attached to the outside of the cake. To avoid bad luck, the newlyweds cut the cake together; all the guests must eat a slice.
Iceland: Icelanders enjoy a kransakaka at weddings. Made up of ring-shaped almond pastries piled on top of one another to form a pyramid, the hollow center of the tower is filled with fine chocolates or candies.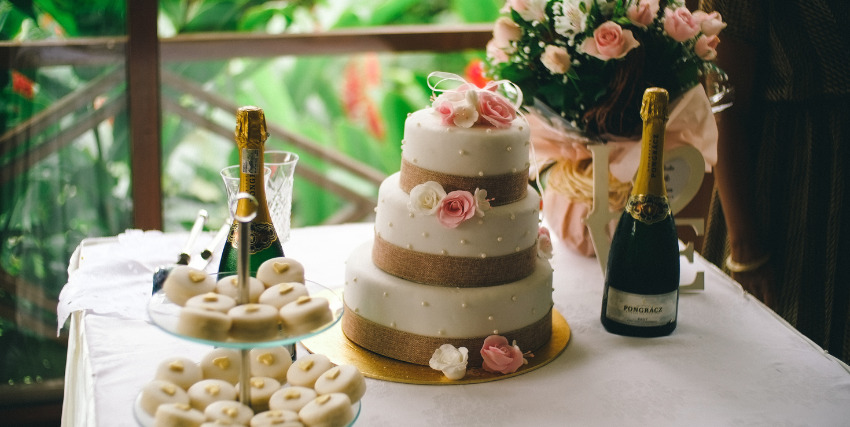 A World Tour of Wedding Cake Traditions
France: The French traditionally serve up what is known as a croquembouche. This tall tower of cream-filled pastries is coated in caramel and formed into a pyramid shape, and makes quite a statement.
Germany: Though American-style wedding cakes are slowly making their way into Europe, countries such as Germany are hanging onto their own traditions. German couples often serve up a rich nut genoise or sponge cake to their guests. The cake is usually laced with liqueur or syrup; filled with jam, marzipan or nougat; and covered in fondant or ganache. Any use of artificial coloring on a cake is considered a major faux pas.
Italy: Wedding cakes are regional in Italy, and in some areas cake is not served at all. At those where they are, taste trumps decoration. In many areas, the custom is to serve a mille-foglia, an Italian cake made from layers of light filo pastry, chocolate, and vanilla creams, and topped with strawberries.
Lithuania: In Lithuania, the wedding cake is actually a cookie-like pastry shaped into a Christmas tree. Baked to a sunny yellow hue, the pastry, called a sakotis, displays fresh flowers and herbs protruding from the top peak.
Ukraine: Ukrainian couples share a type of wedding bread known as Korovai. Decorated with designs representing eternity and the joining of the two families, the bread is considered a sacred part of the wedding feast.