Dating all the way back to ancient Greece, flower crowns are known for adding interest and personality to any wedding day hairstyle. In its many forms, flower crowns have come to symbolize everything from love and fertility to simple celebration. Today, incorporating a flower crown to an updo or loose locks is an easy way for brides to add subtle color, texture and natural beauty to a wedding day look. Not to mention flower crowns are a great accessory for young flower girls who may not be able to sit still through a long hairstyling. Pinning in a halo of flowers takes just a couple minutes, making for an easy alternative to formal hairstyles.

From the simple and understated to the oversize and hard-to-miss flower crown styles, simply choose a color scheme and start exploring the possibilities. Find all the inspiration you need right here to wear this beautiful wedding day accessory.
White Flower Crowns
Pink Flower Crowns
Green Flower Crowns
Blue and Purple Flower Crowns
Red Flower Crowns
Yellow Flower Crowns
Colorful Flower Crowns
Cutest Flower Girl Crowns
White Flower Crowns
1. White Tuberose Flower Crown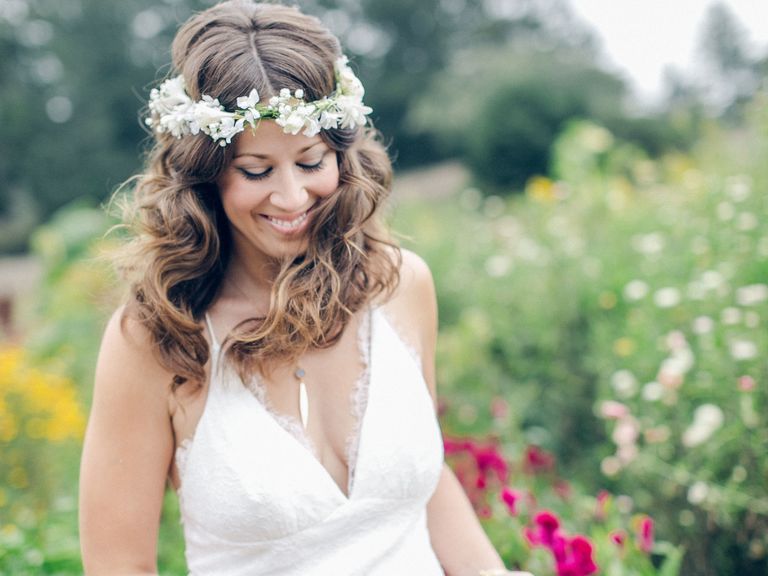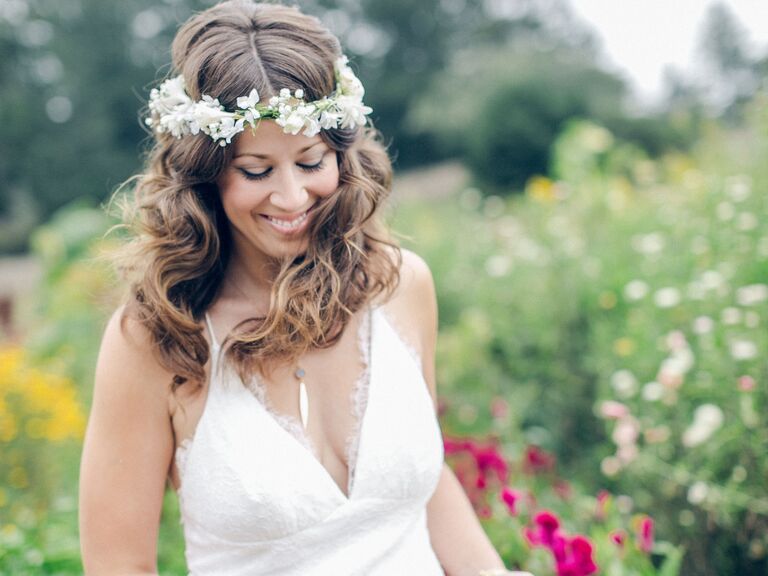 For an angelic, bohemian look, a crown made of white tuberose is an excellent choice. With a small bud and starlike bloom, tuberose flowers are delicate yet full, and pair well with a bride's loose waves.

2. White Wildflower Crown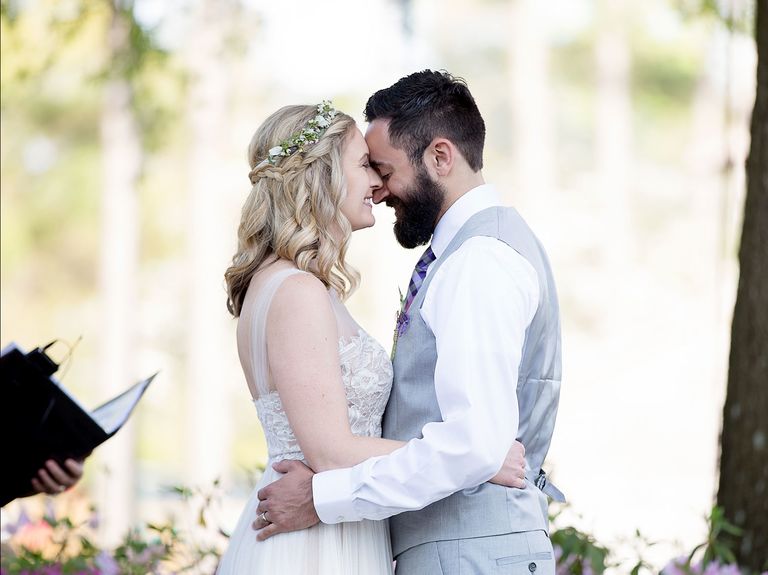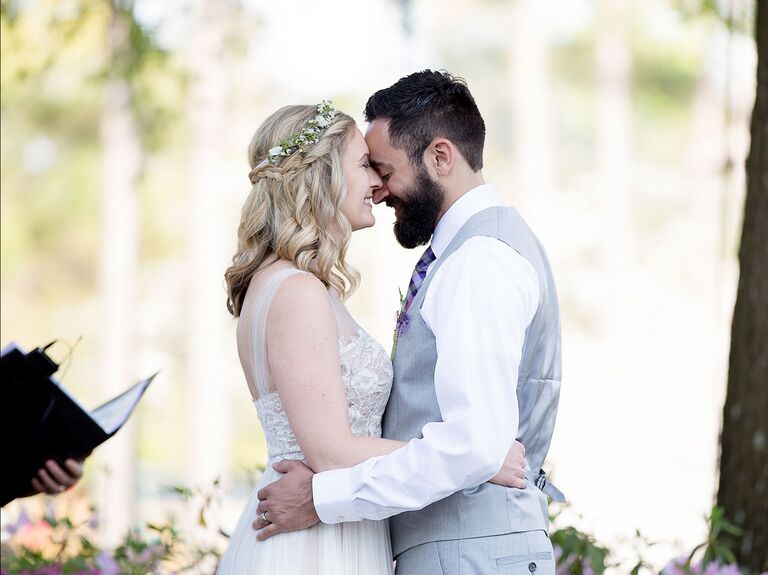 A simple DIY flower crown made of wild blooms is an easy way to incorporate your surroundings into your look. This crown of wildflowers looks natural when paired with a simple hairstyle of soft curls. White wildflowers differ depending on the region and season, making this delicate, cost-effective crown choice as distinctive as the wedding itself.
3. White Rose, Wax Flower and Gardenia Flower Crown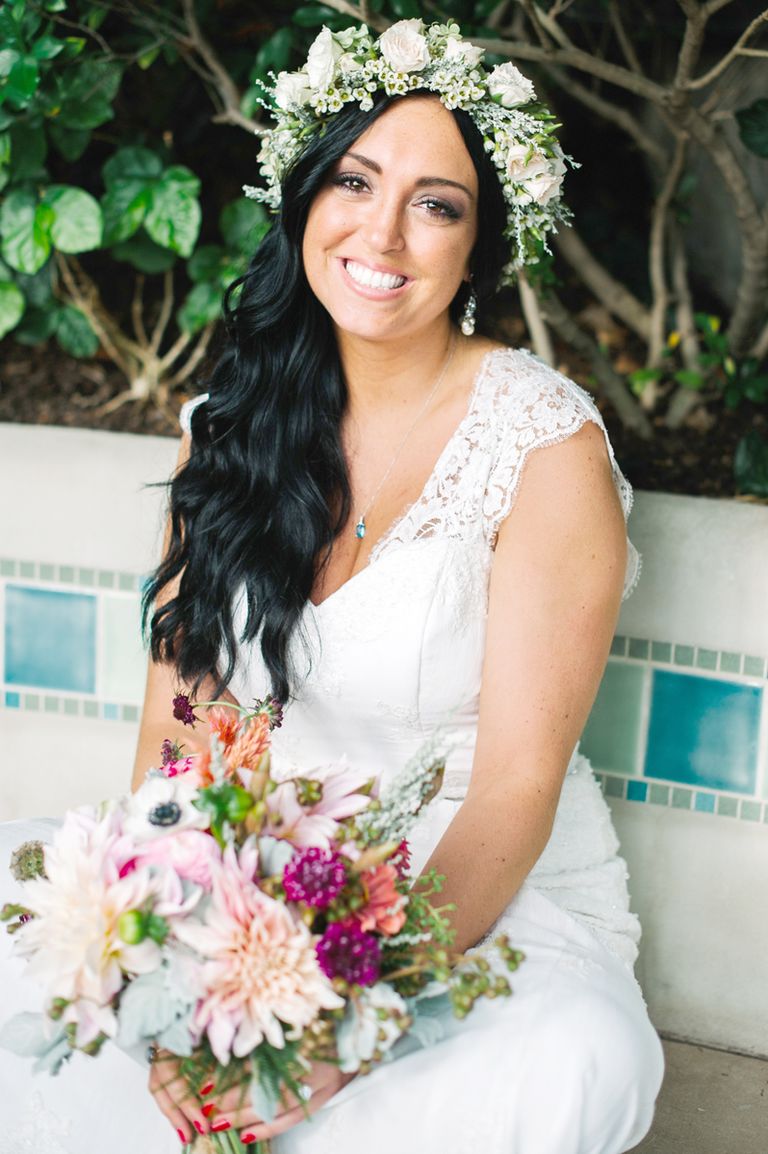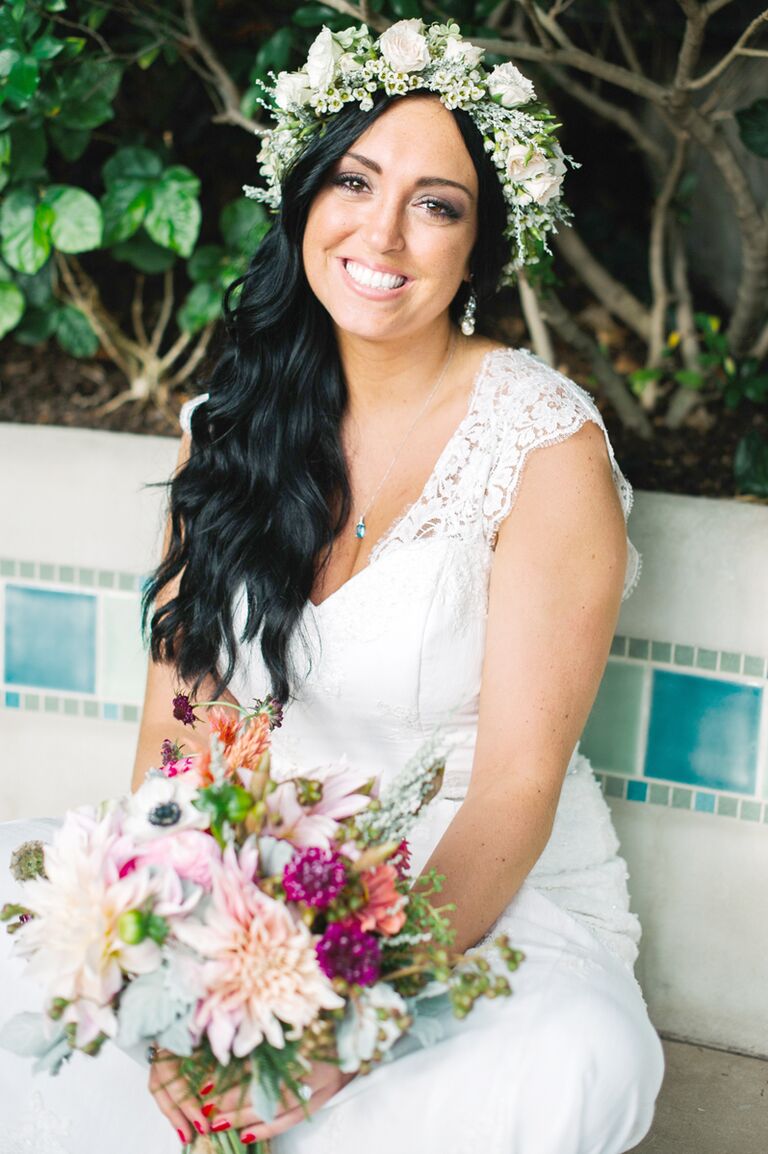 Veronica Varos Photography
Using a variety of white blossoms to form an extraordinary and personalized flower crown takes this accessory to new heights. The varying flower sizes add texture to the crown and stand out against the greenery of the other blossoms, making the flowers themselves easy to see and enjoy.
4. Oversize White Rose Flower Crown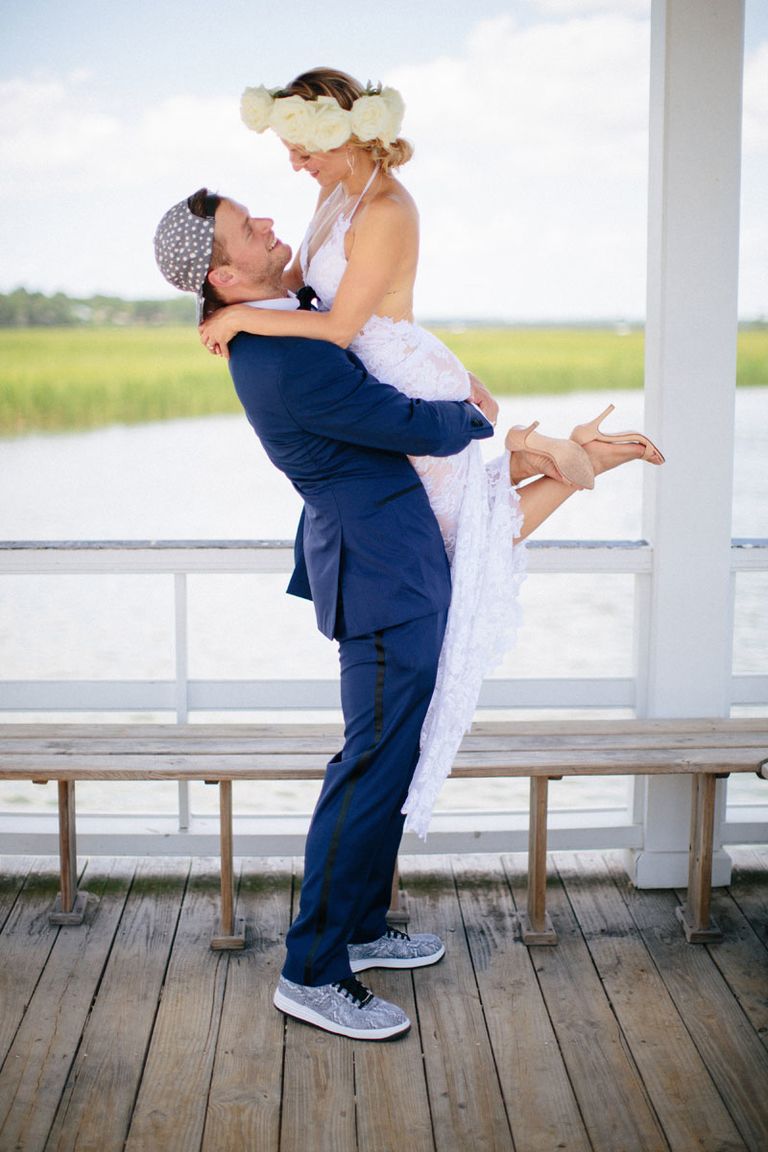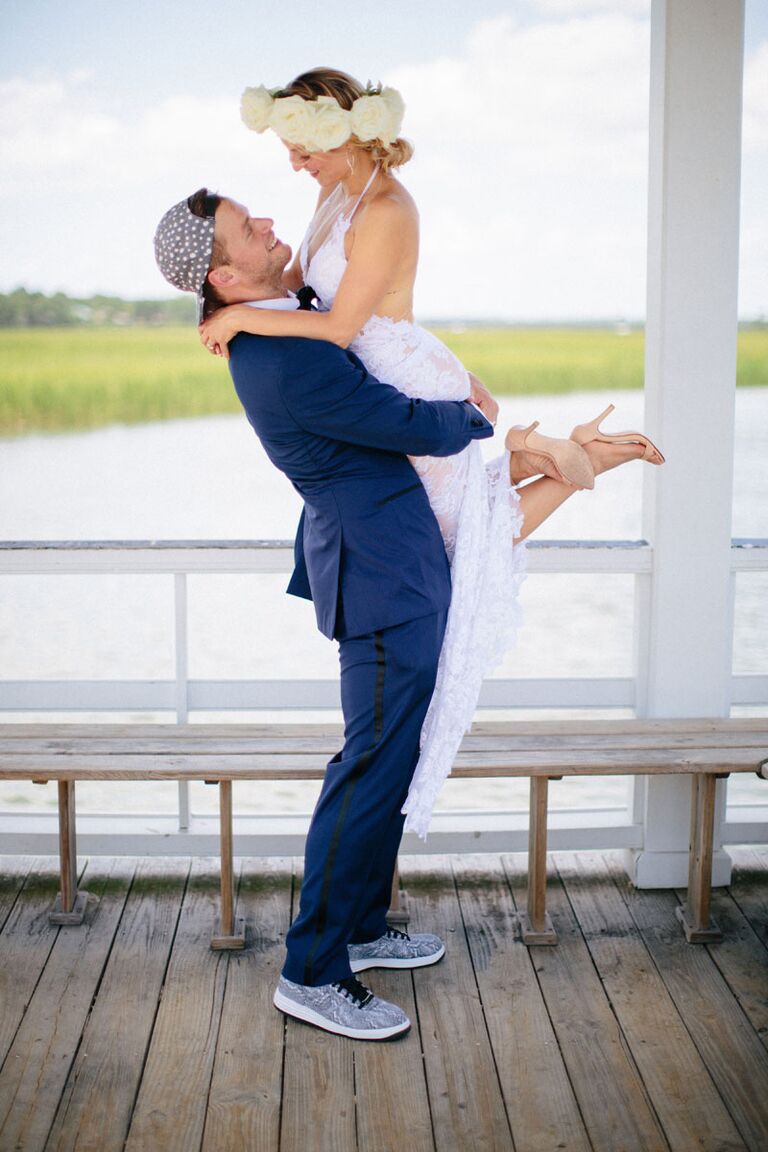 Make your flower crown the center of attention by choosing large blooms, such as these white garden roses. Paired with a simple style, this larger-than-life flower crown stands out in photos and is easy to remove without affecting the bride's low bun hairstyle.
5. Baby's Breath White Flower Crown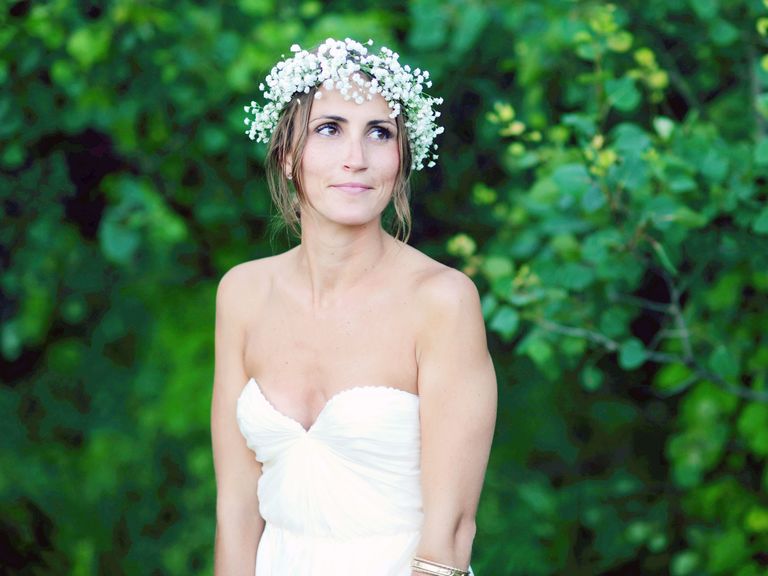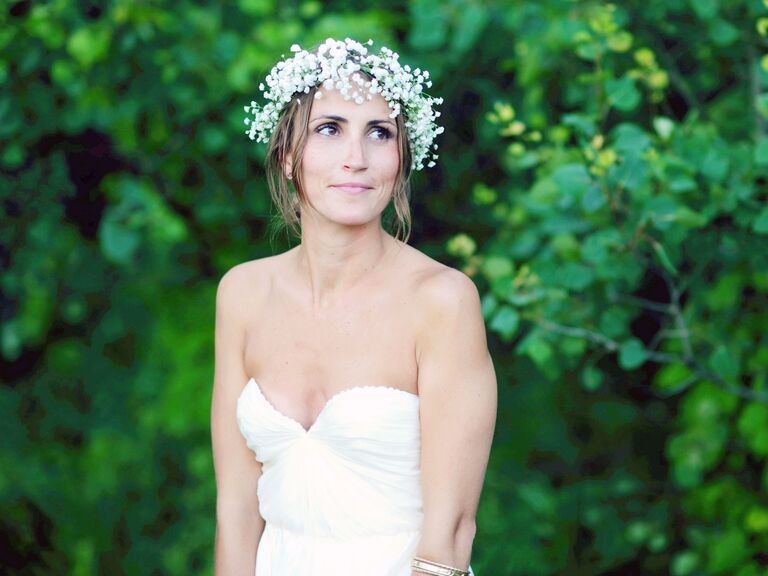 Just because it's often paired with other flowers doesn't mean baby's breath can't stand out beautifully on its own. This crown uses the delicate small flowers to create an almost ethereal look, especially when paired with the bride's loose updo.
6. Natural White Flower Crown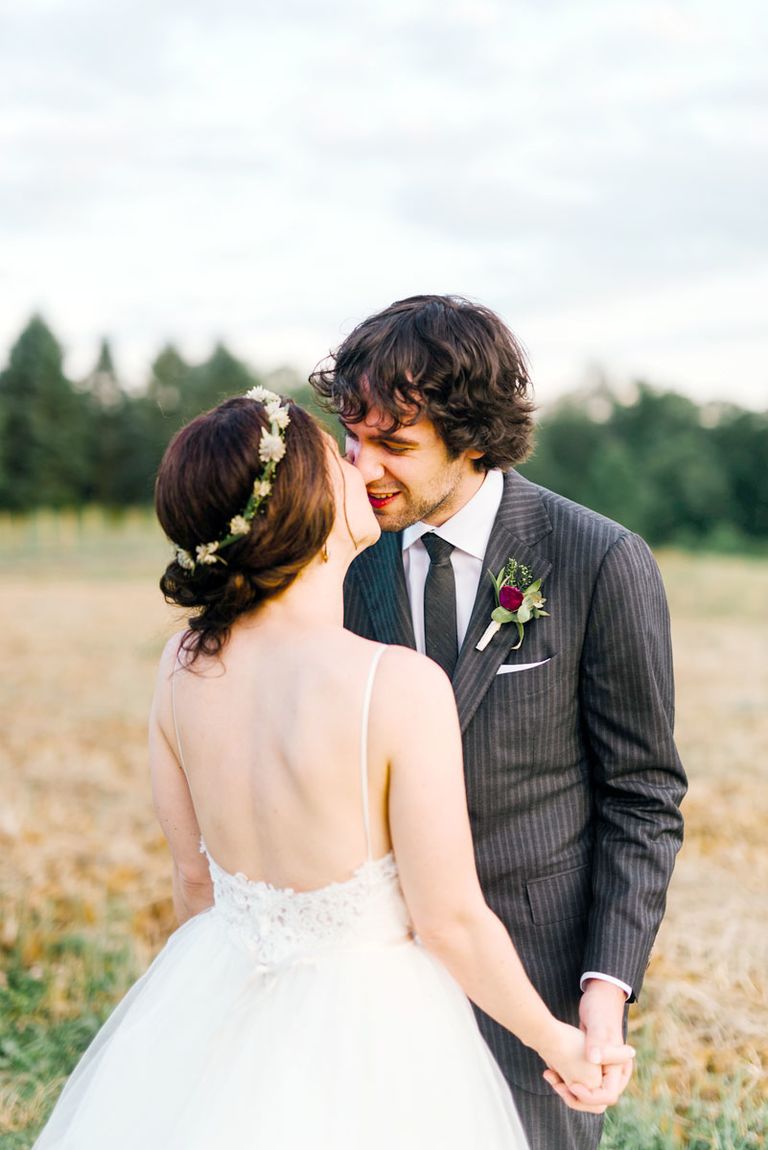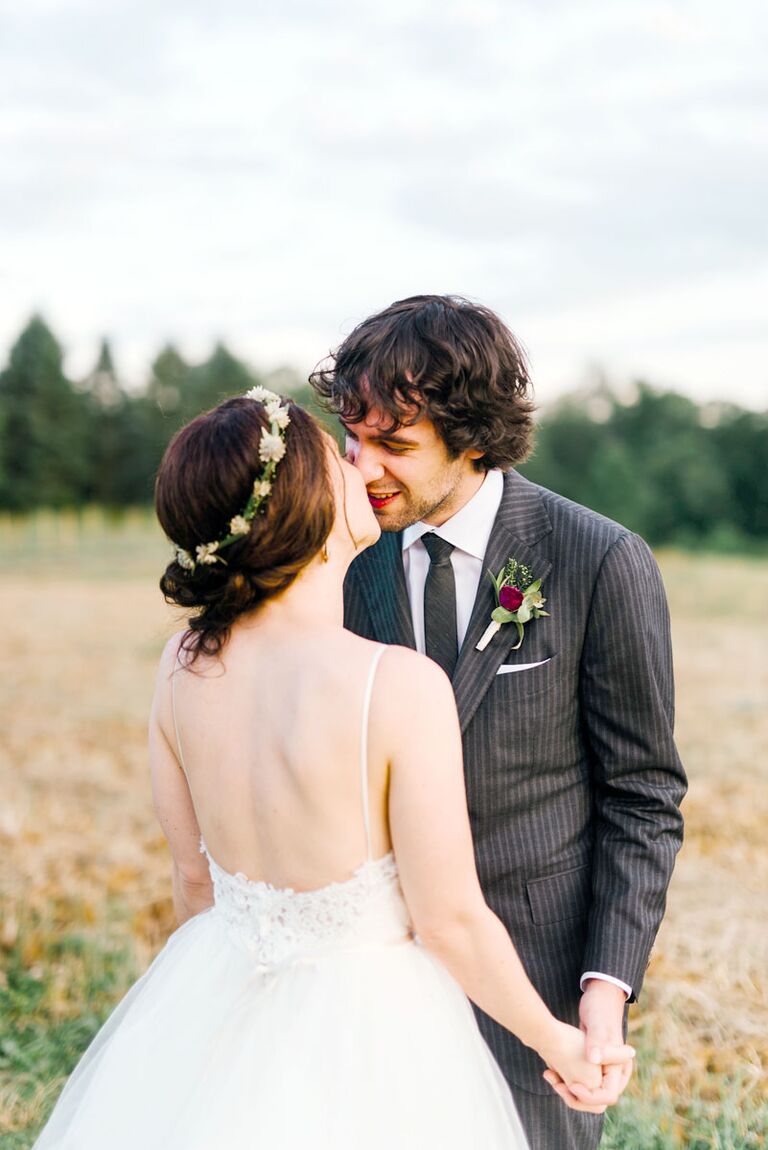 This natural white flower crown was designed by
A Garden Party in Elmer, New Jersey. Using simple white blossoms with thick green connections, this crown provides a beautiful natural element. Integrated with a loose-curled hairstyle, this crown sits naturally on a bride's head.
7. White Daisy Flower Crown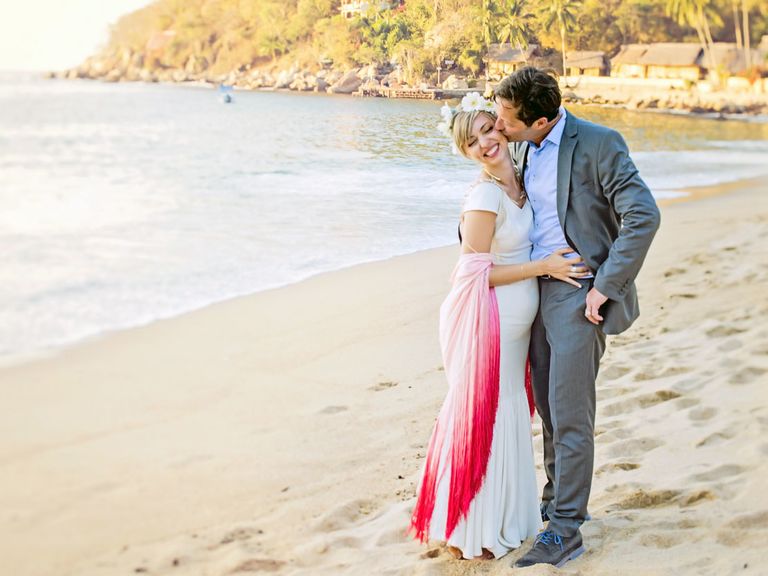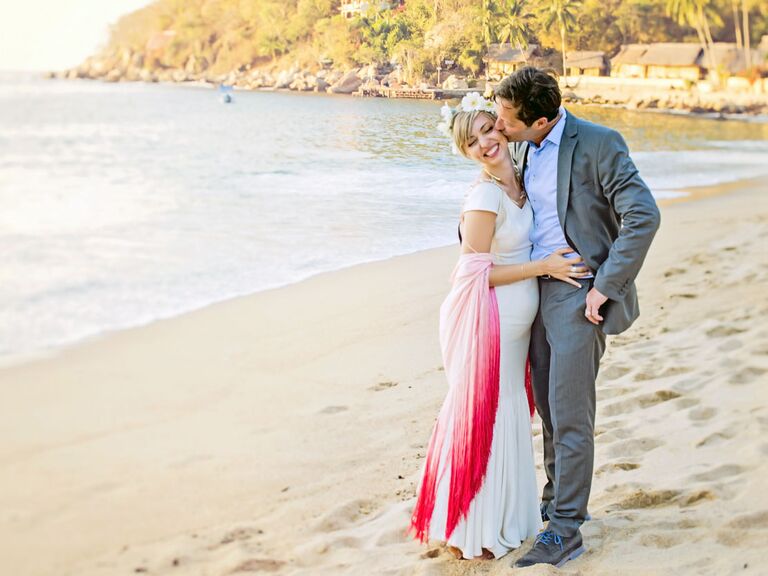 After selecting a beach wedding location, this bride chose a simple updo with sideswept bangs. By pairing this look with a fun and bright white daisy flower crown, she added a boho element to her outfit that was equal parts pretty and classic.

Pink Flower Crowns
1. Pink and White Rose Flower Crown With Baby's Breath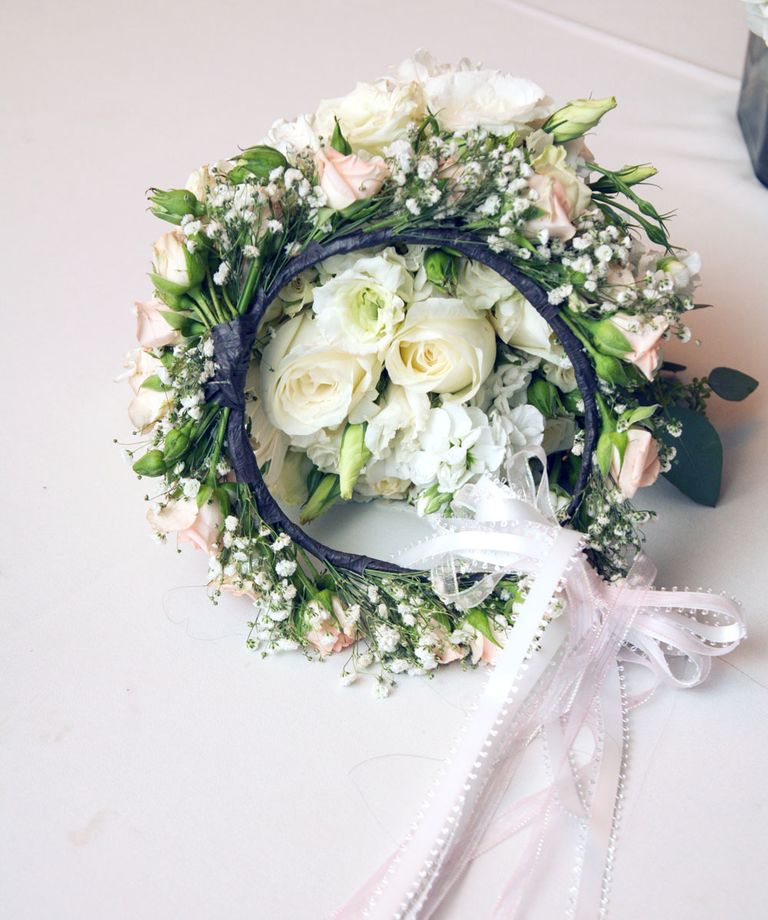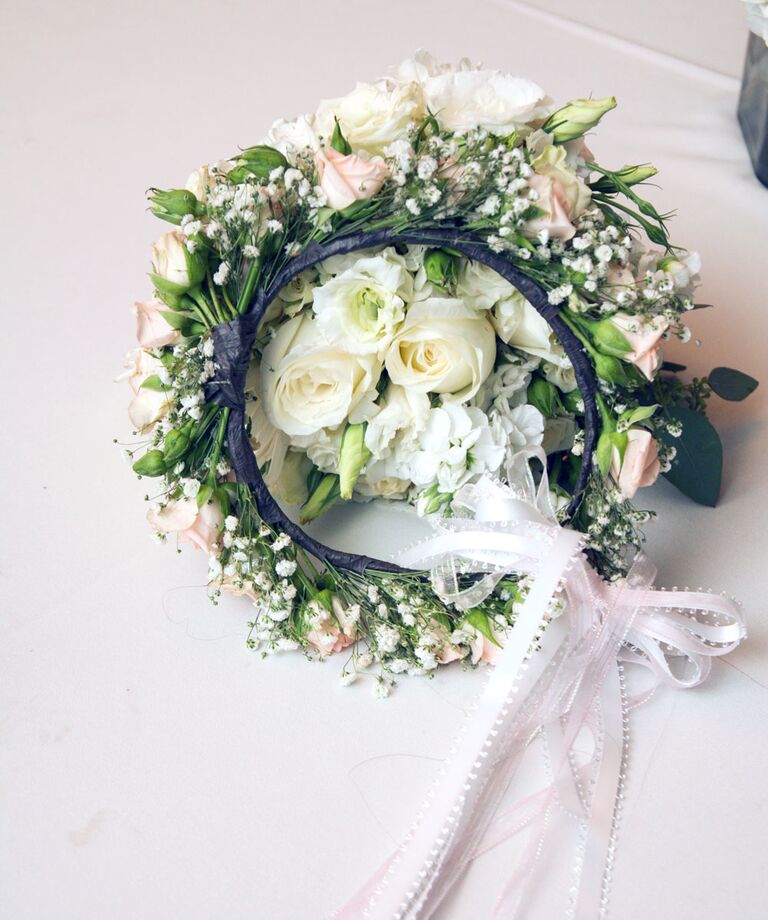 Sean J. Mason Photography
The combination of pink and white roses in this simple yet elegant crown creates a lovely contrast to help make the flowers stand out. Wispy baby's breath provides texture while adding greenery for additional contrast. Long ribbons down the back pair well with a simple updo or loose braid that contains the hair and allows the ribbons to flow behind the bride, like a veil.
2. Pink Habutai Silk Rose Crown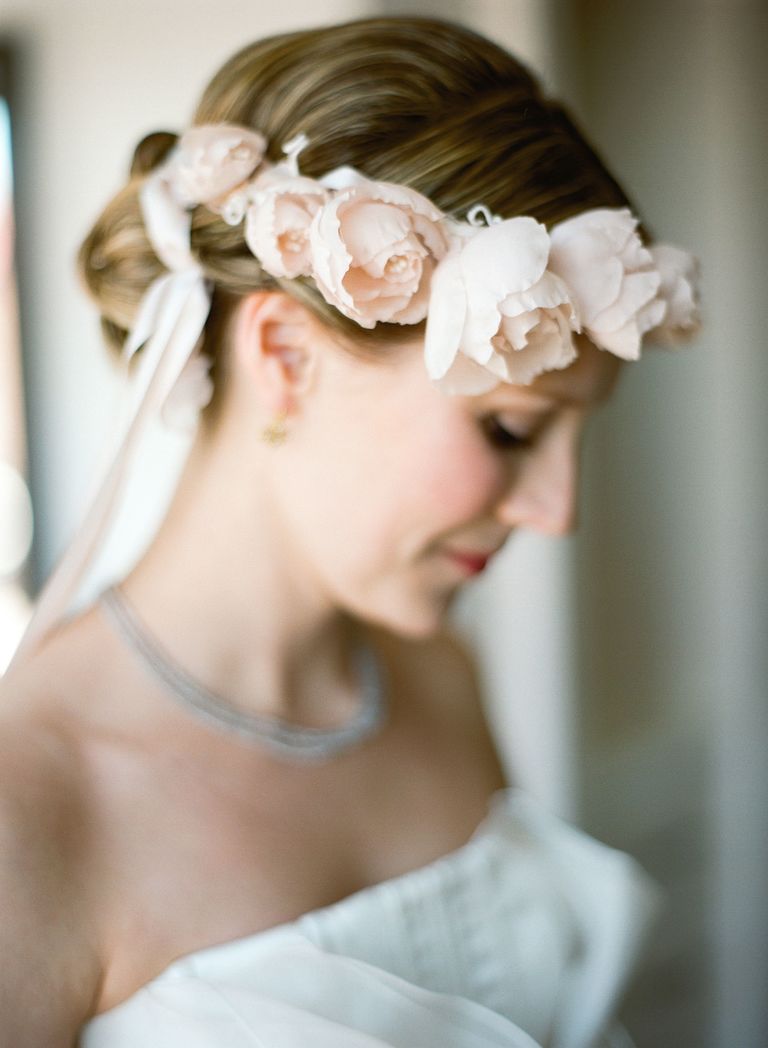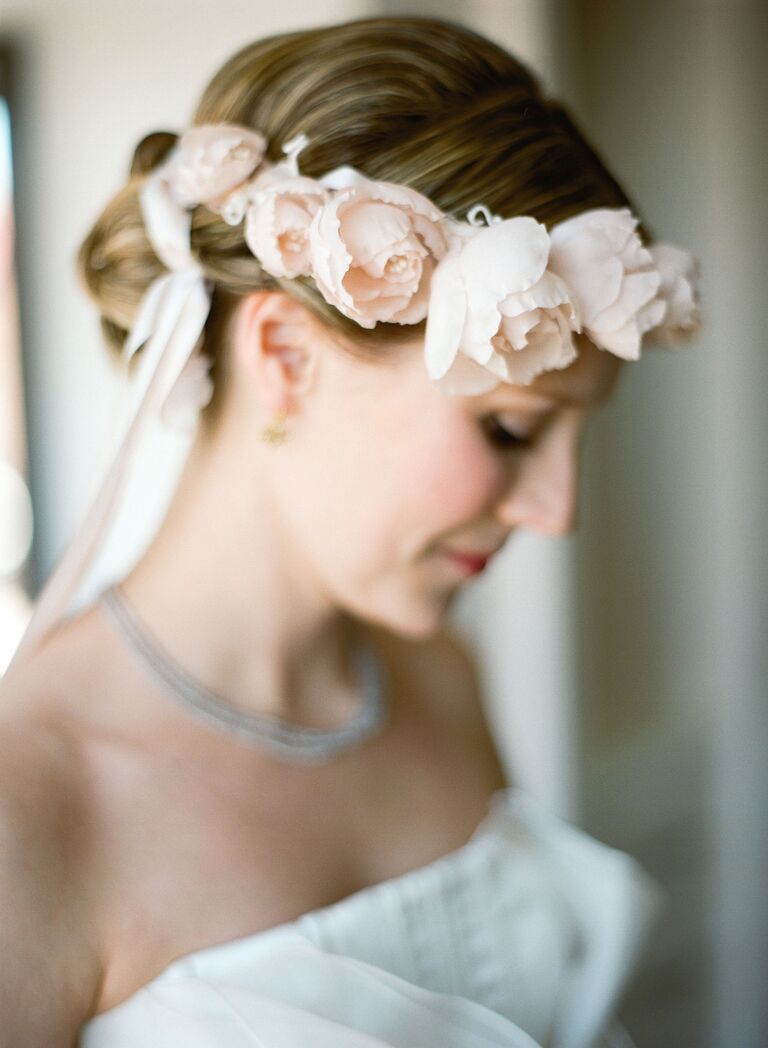 Unlike fresh flowers, the use of high-quality silk flowers in a flower crown offers brides a lasting souvenir of their wedding day. This handmade habotai silk rose crown, courtesy of
Erica Elizabeth Designs out of Los Angeles, was used for a wedding in Minnesota. Paired with a low bun, the crown includes long silk ribbons for an elegant look between the wedding dress and crown.
3. Bright Pink Rose Flower Crown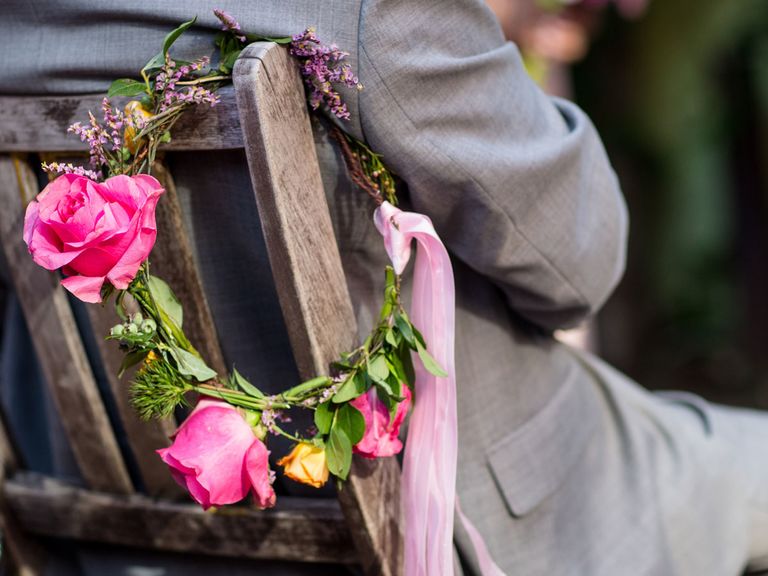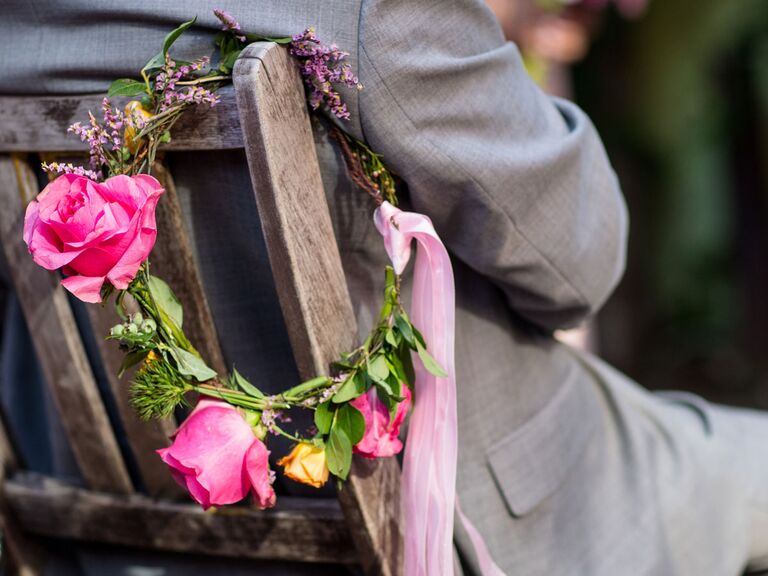 Though used here as an aisle decoration, this bright pink flower crown by
Gotham Florist in New York City could just as easily adorn the bride's head. The bold color of the fresh roses are eye-catching and go well with the wide pink ribbons designed to cascade down a bride's back. This type of bold crown pairs well with a simple updo, which allows the headpiece to really shine.
4. Blush Ranunculus Flower Crown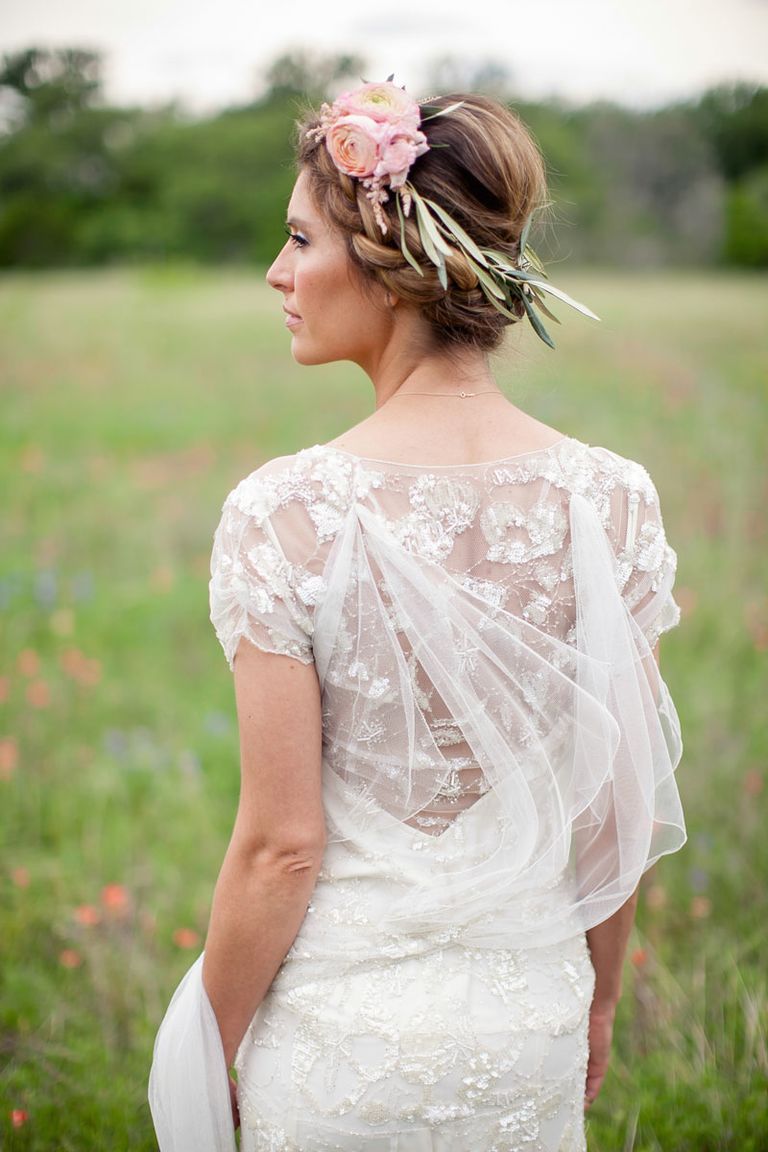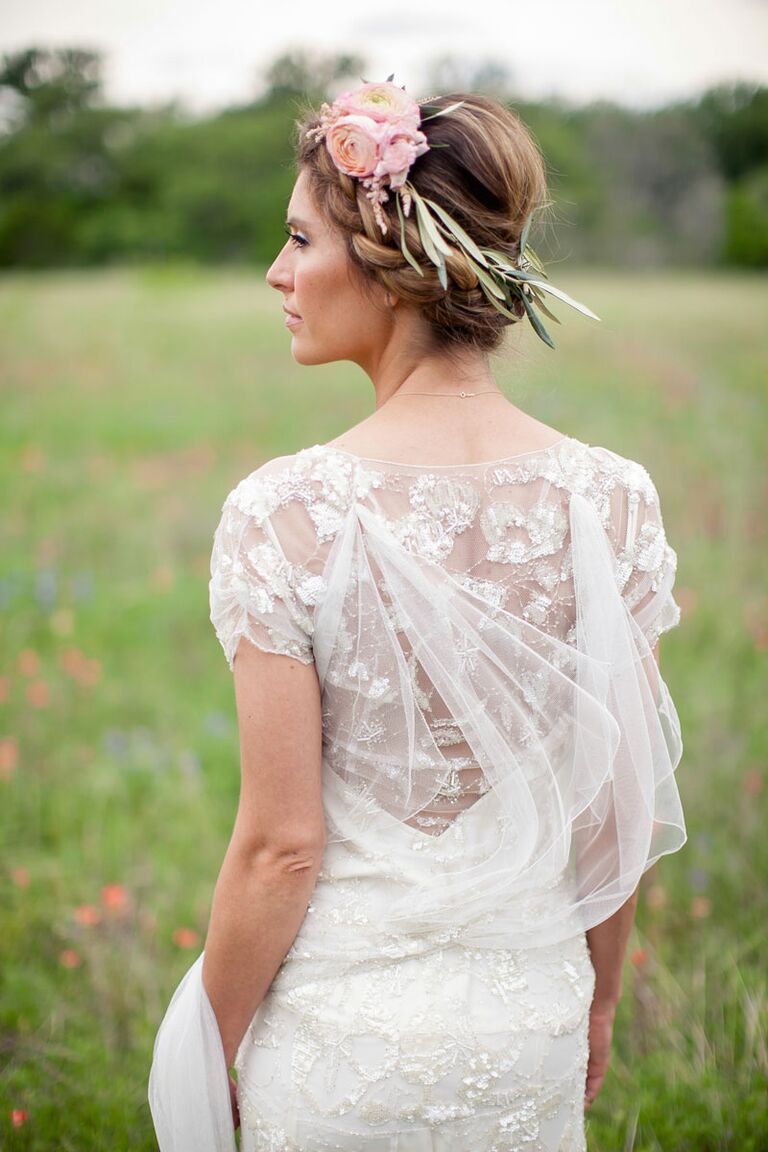 The combination of ranunculus and astilbe blooms in this romantic crown is truly one of a kind. It's held together with eucalyptus leaves, which help to accent the wide pleats of the bride's braided updo. The off-center placement of the flowers in this crown is a personal touch that allows the blooms to really stand out in the bride's hair.
5. Pink Wildflower Crown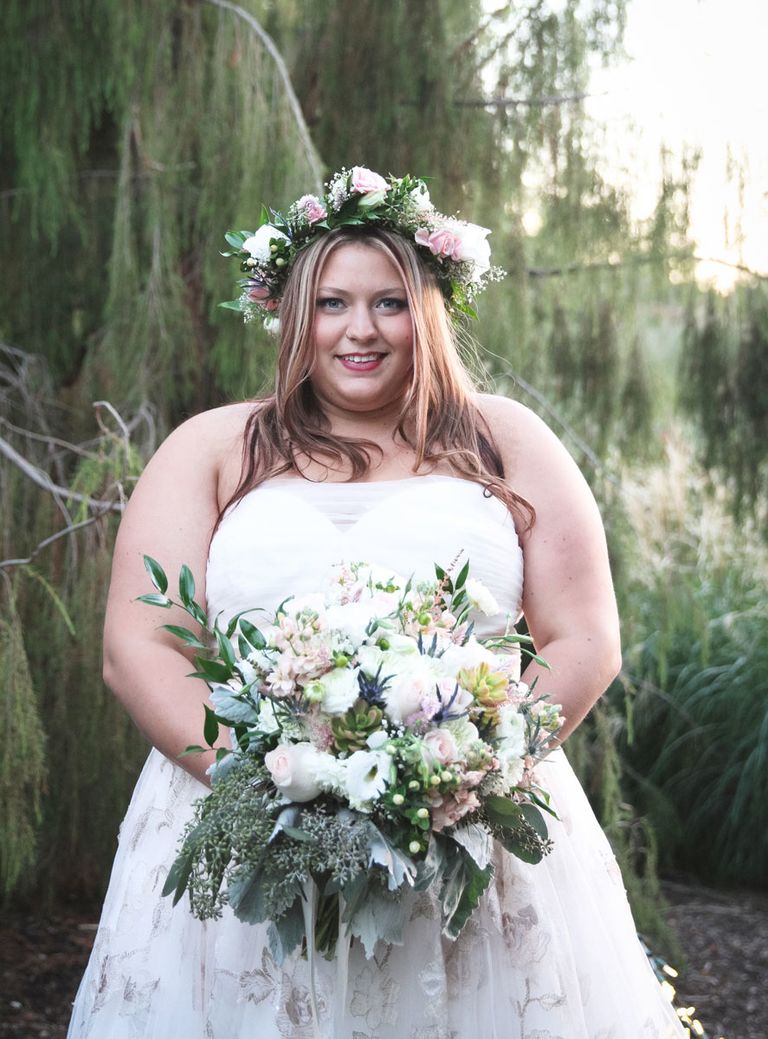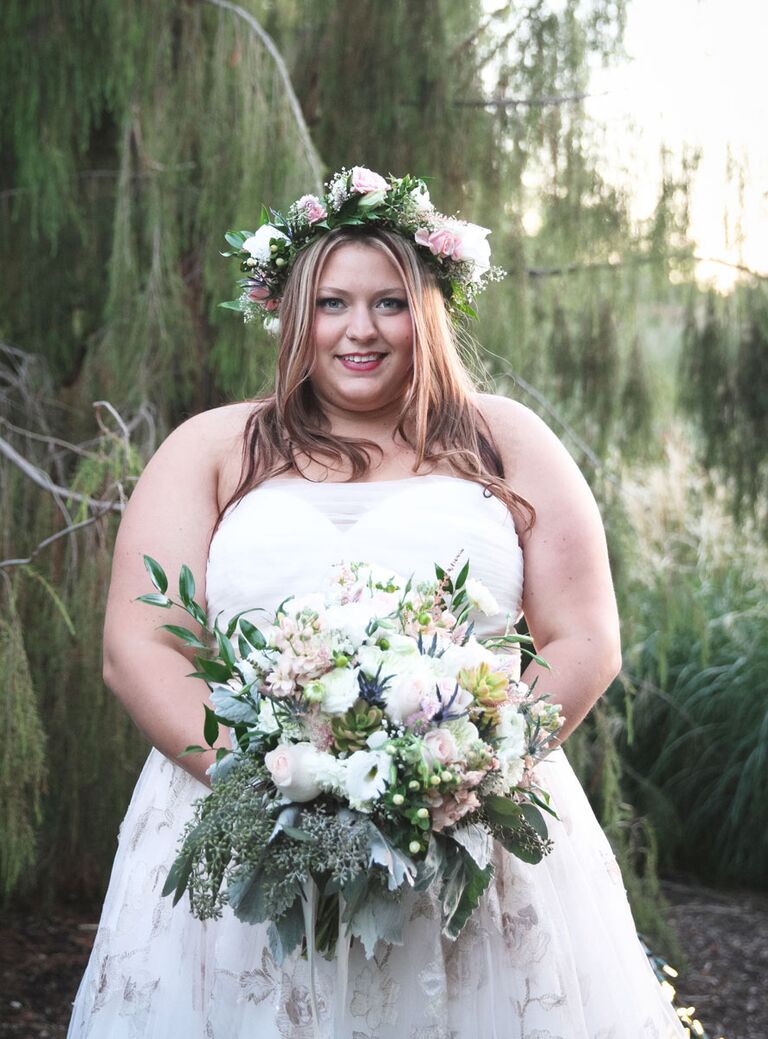 The lush pink wildflower crown and matching bouquet, paired with loose locks pull together this bohemian look. Pink buds stand out among the white and green, adding just the right amount of color to a flower-centric crown. The floral focus was perfect for this bride's garden wedding.
6. Bright Woven Pink Flower Crown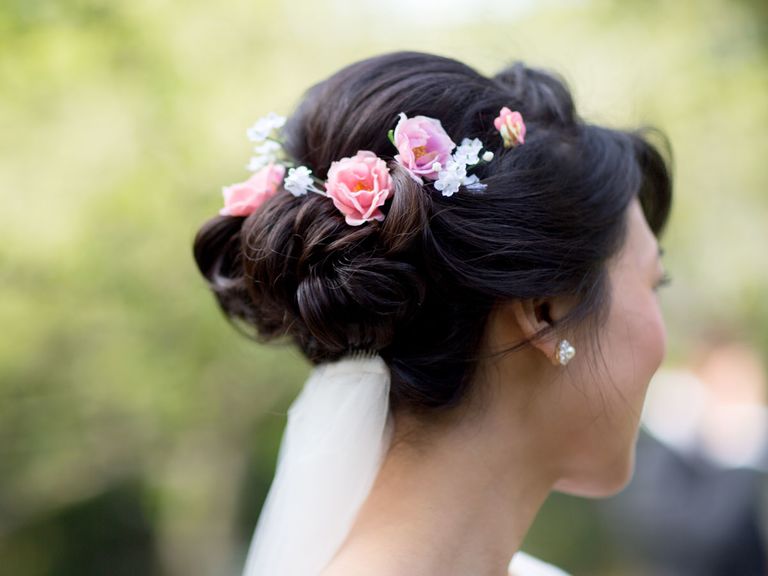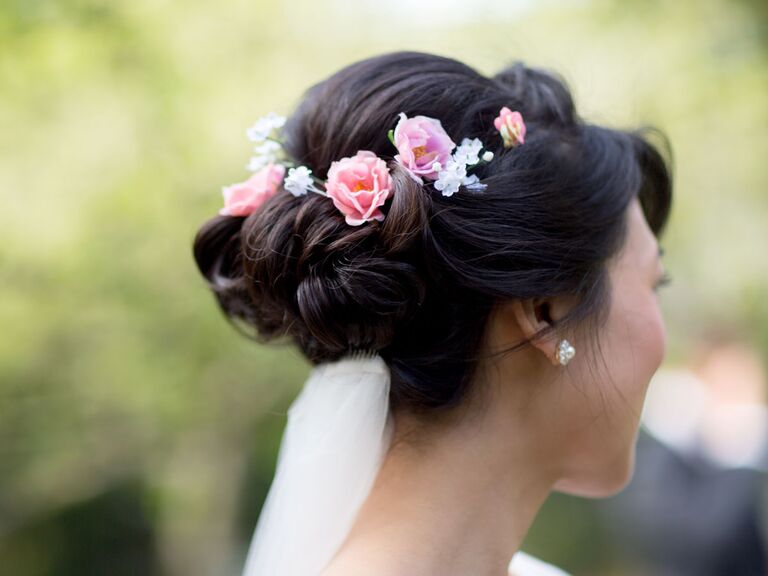 Janae Shields Photography
Using her braided updo as a canvas, this bride chose to have her flower crown woven into her hair to create a cohesive piece that pairs well with her veil. Using well-placed pink roses and small white flowers, this understated crown is classic and elegant.
7. Pink Rose and Lily of the Valley Flower Crown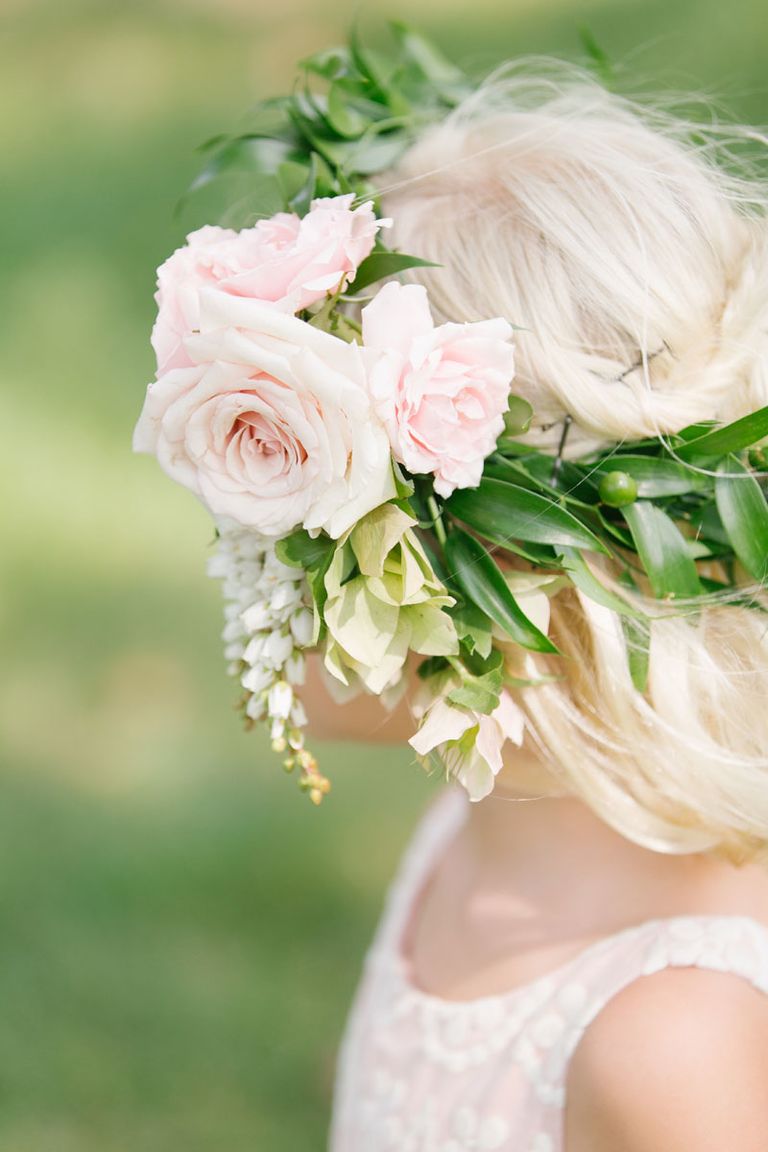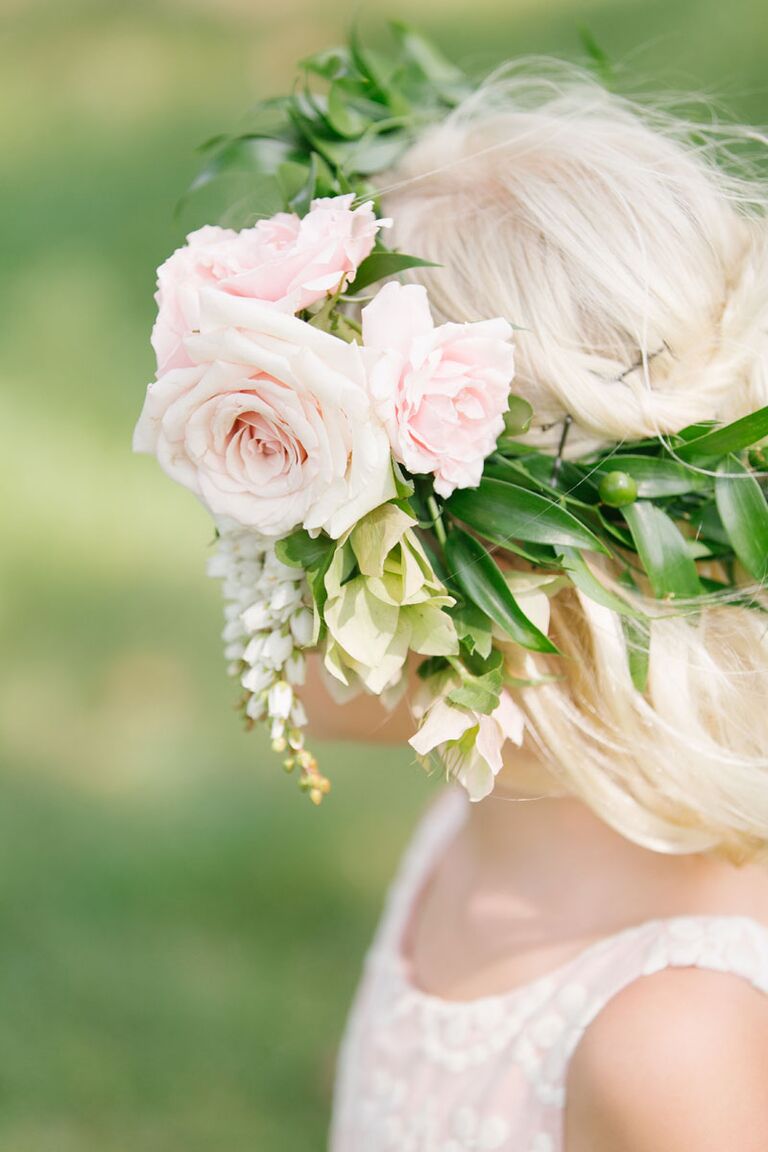 Kerinsa Marie Photography
Offering a soft pink accent against the green leaves and white-blond hair, this flower crown features pink rose blooms and delicate, white lily of the valley branches. It's pinned in place atop loose hair, creating an ethereal look that couldn't be prettier.
Green Flower Crowns
1. Green Fern Flower Crown With Baby's Breath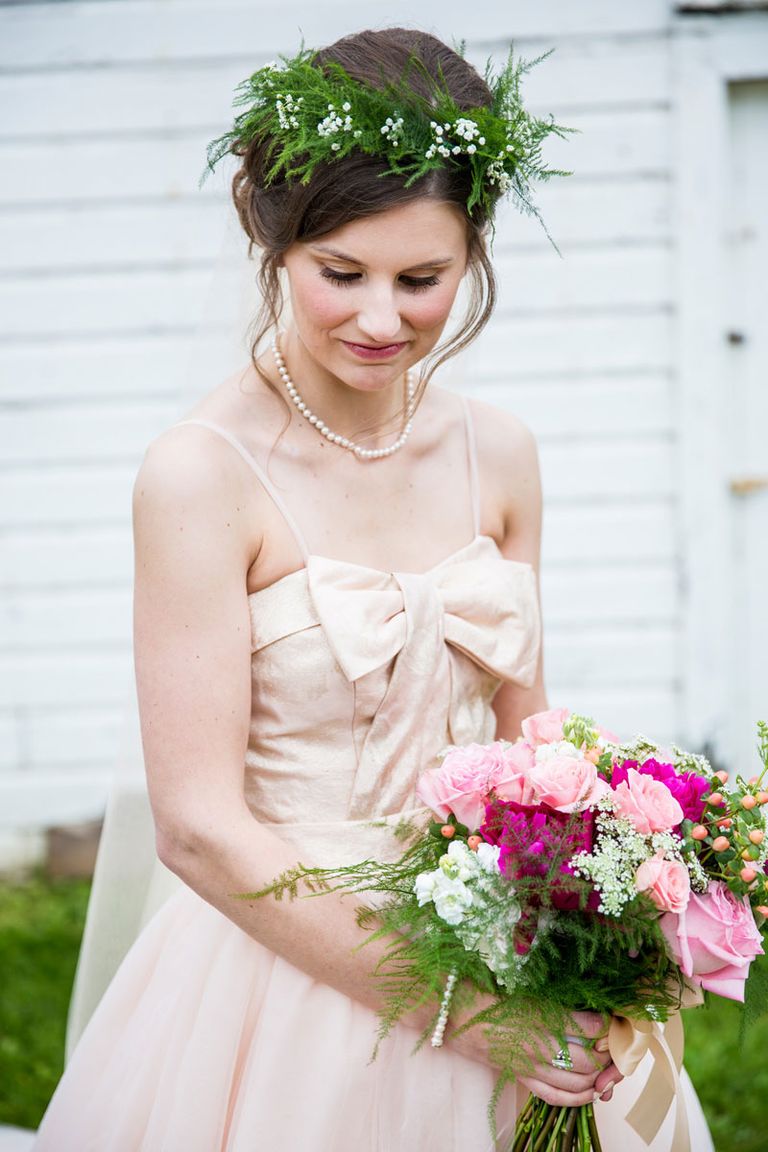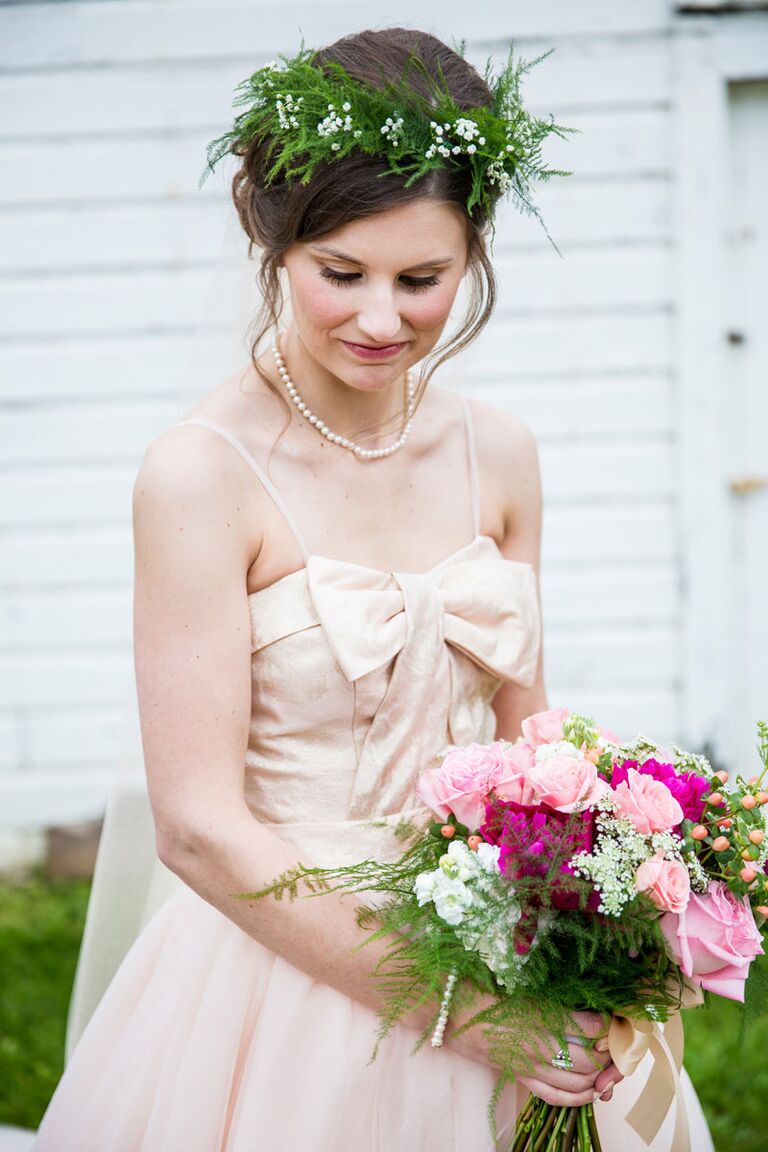 Krista Esterling Photography
This green fern flower crown has just enough interest with its sprigs of white baby's breath. Paired with a full updo and strategically placed loose tendrils, it creates a beautiful, natural look perfect for any wedding.
2. DIY Green Pine and Wheat Crown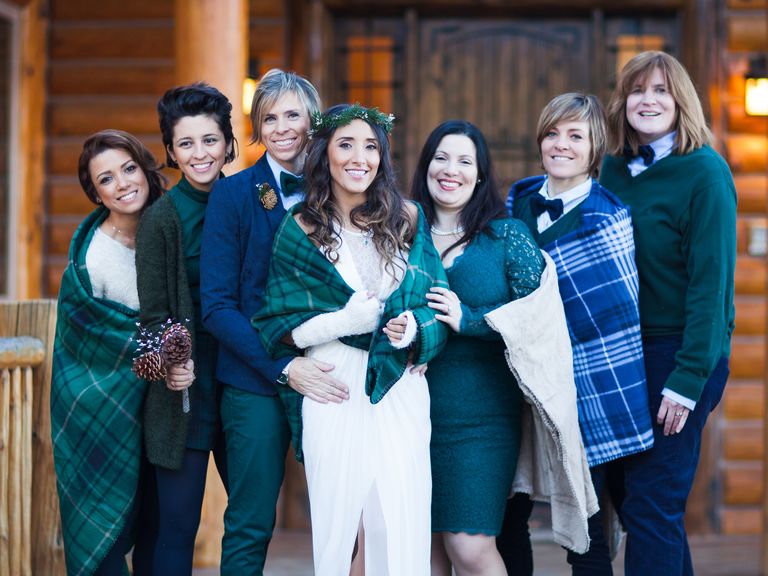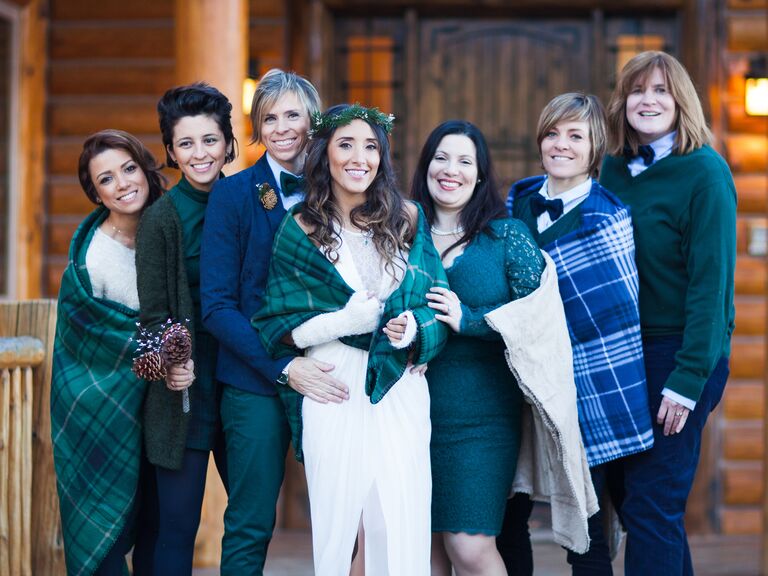 Using the lush surroundings of the woodlands of Big Bear, California, this bride made her own flower crown of green pine needles and stalks of wheat, woven around a flexible pine branch. She pairs this woodsy crown with a hairstyle of loose curls to match the natural environment of her wedding day.

3. Fresh Greenery Flower Crown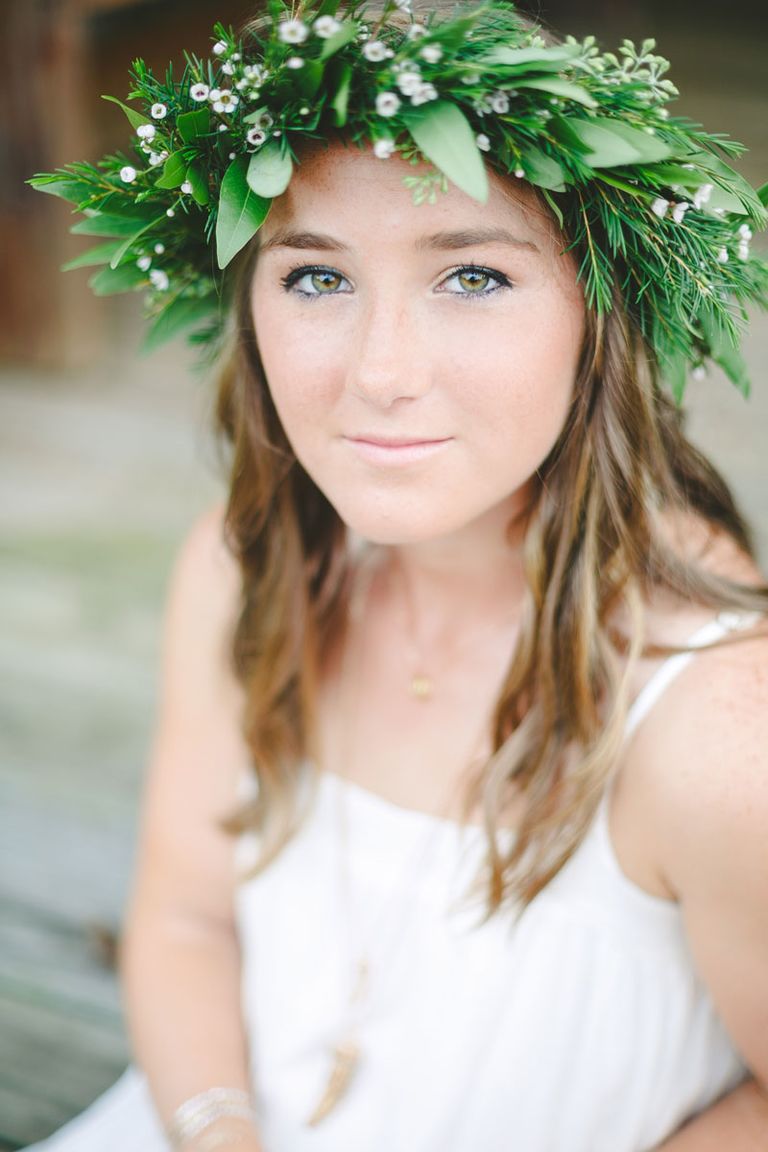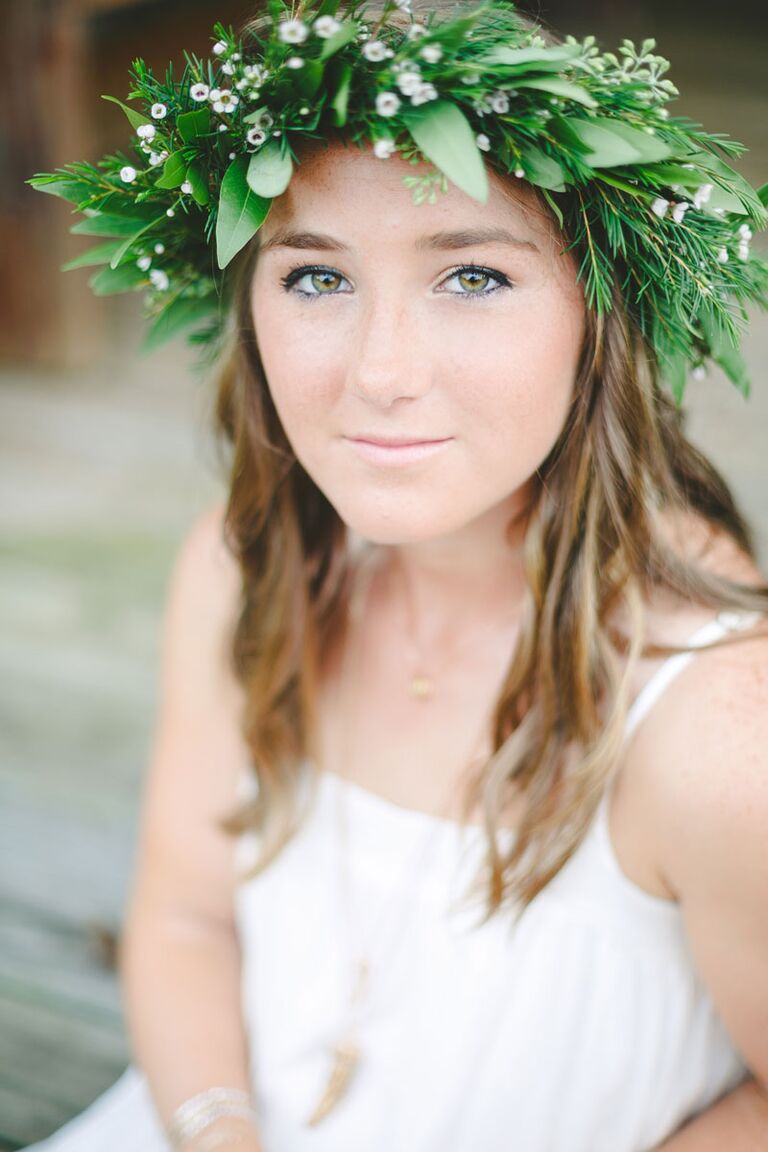 This lush flower crown full of fresh greenery is a beautiful and natural accent to any bride's wedding outfit. The miniature white wax flowers accenting this crown add a simple, yet elegant element that pairs well with an off-white dress and a loose, curled hairstyle.
4. Winter Greenery Crown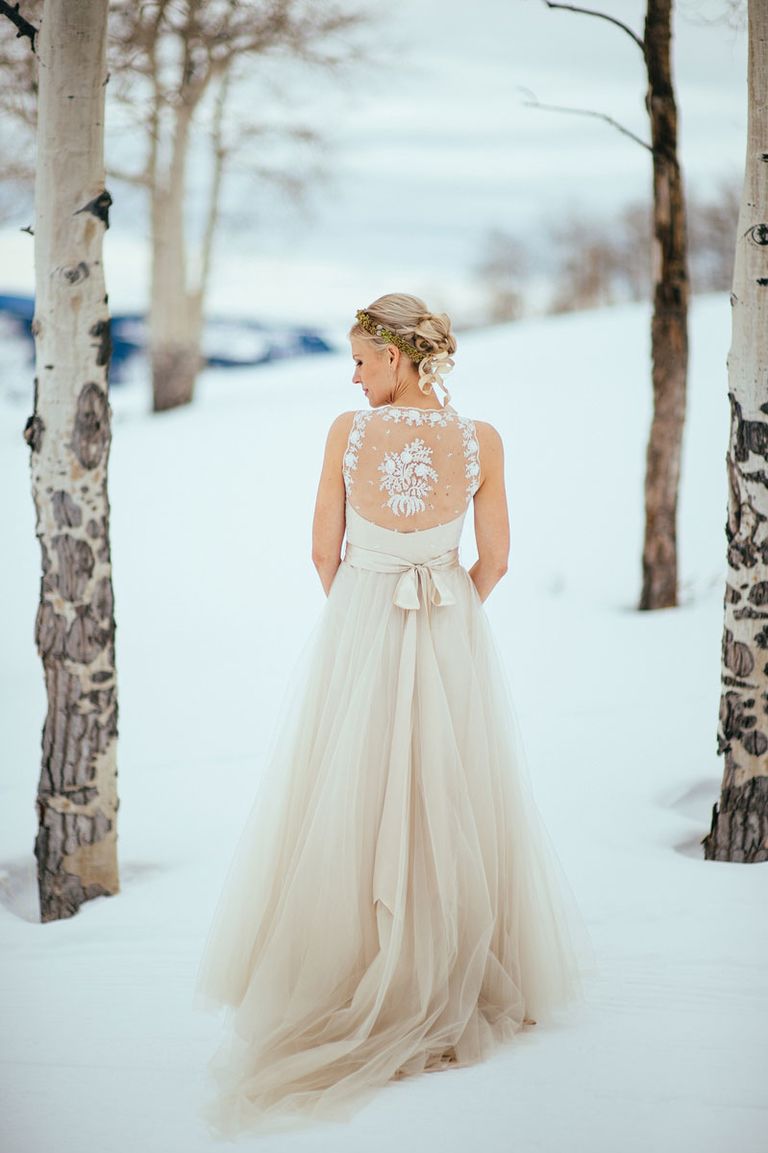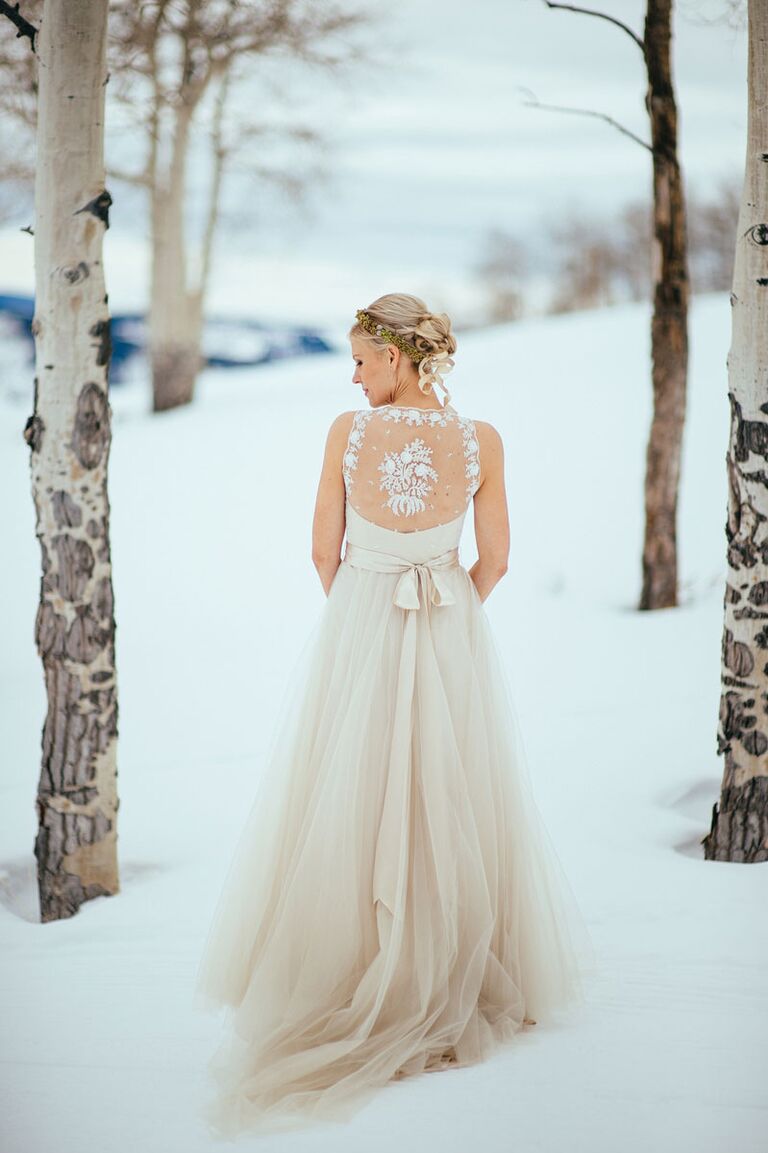 Steve Stanton Photography
Adding light to a winter wedding, this bride chose to accent her crown of winter greenery with gold flowers to go with a cream, peach, gray and gold palette. Made by
Vintage Magnolia florists out of Vail, Colorado, this flower crown pairs well with the bride's low-curled updo and blond hair, a design that matches with the curly ribbons securing the crown.
5. Boho Green Flower Crown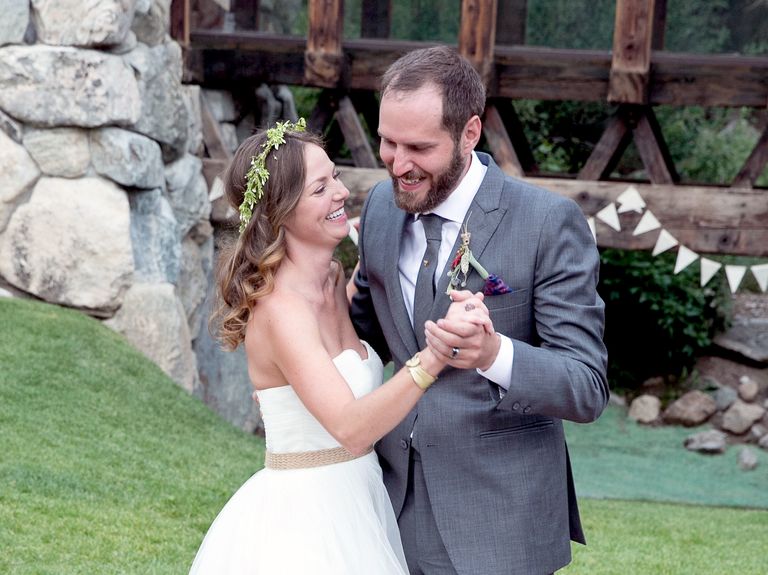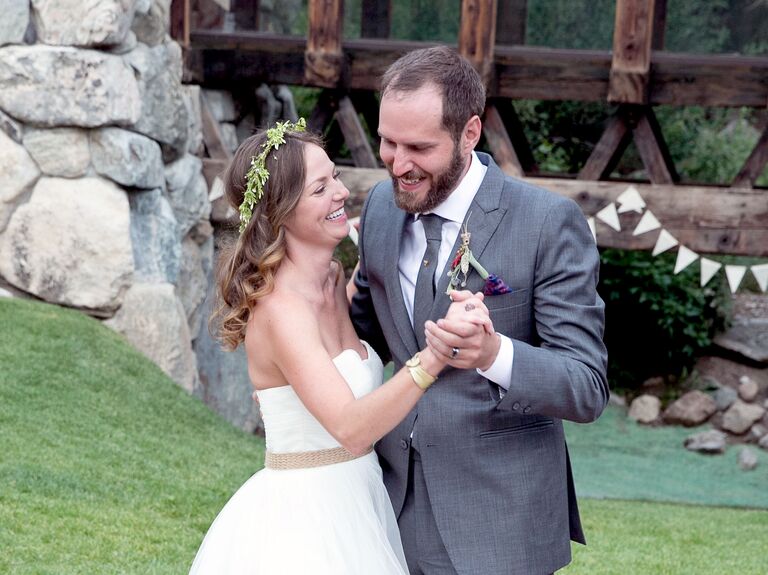 Hannah Hardaway Photography
For her backyard wedding in Jackson Hole, Wyoming, this bride took advantage of nature's elements and donned this simple green flower crown fit atop a loose curled hairstyle. Paired with a feather-accented dress and brown braided belt, this single-hued green crown offers the right amount of understated bohemian elegance.
6. Laurel Green Flower Crown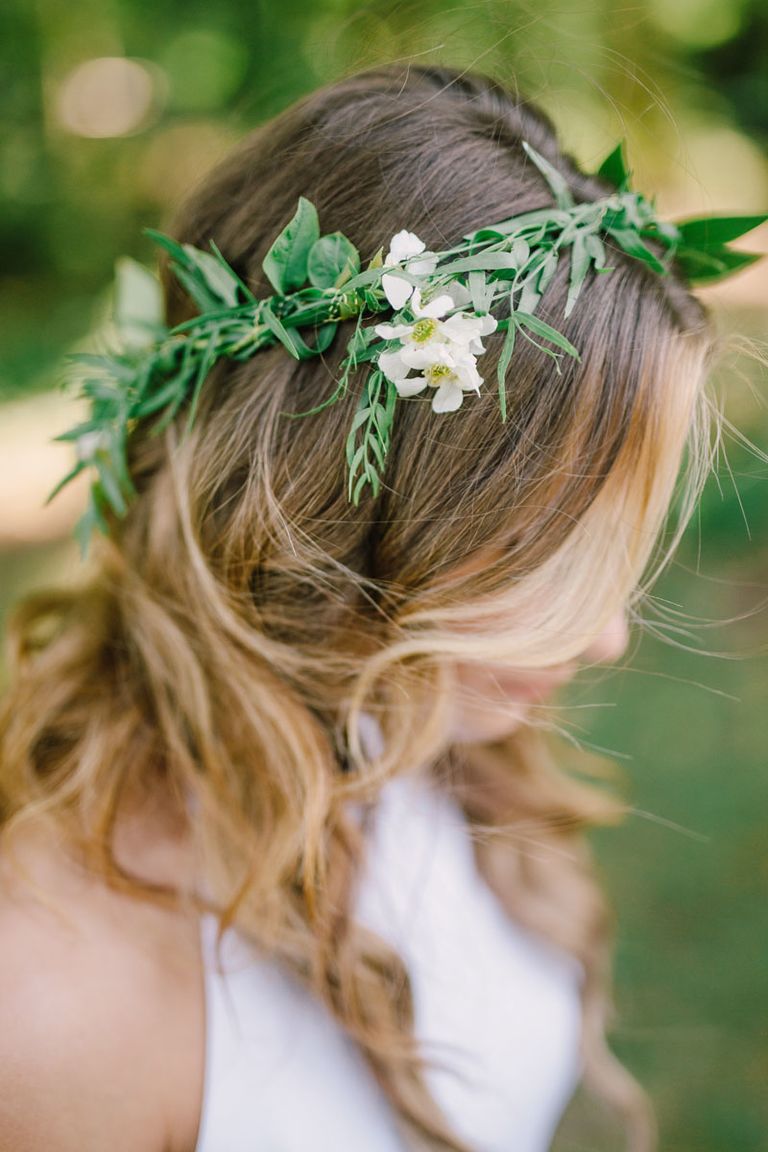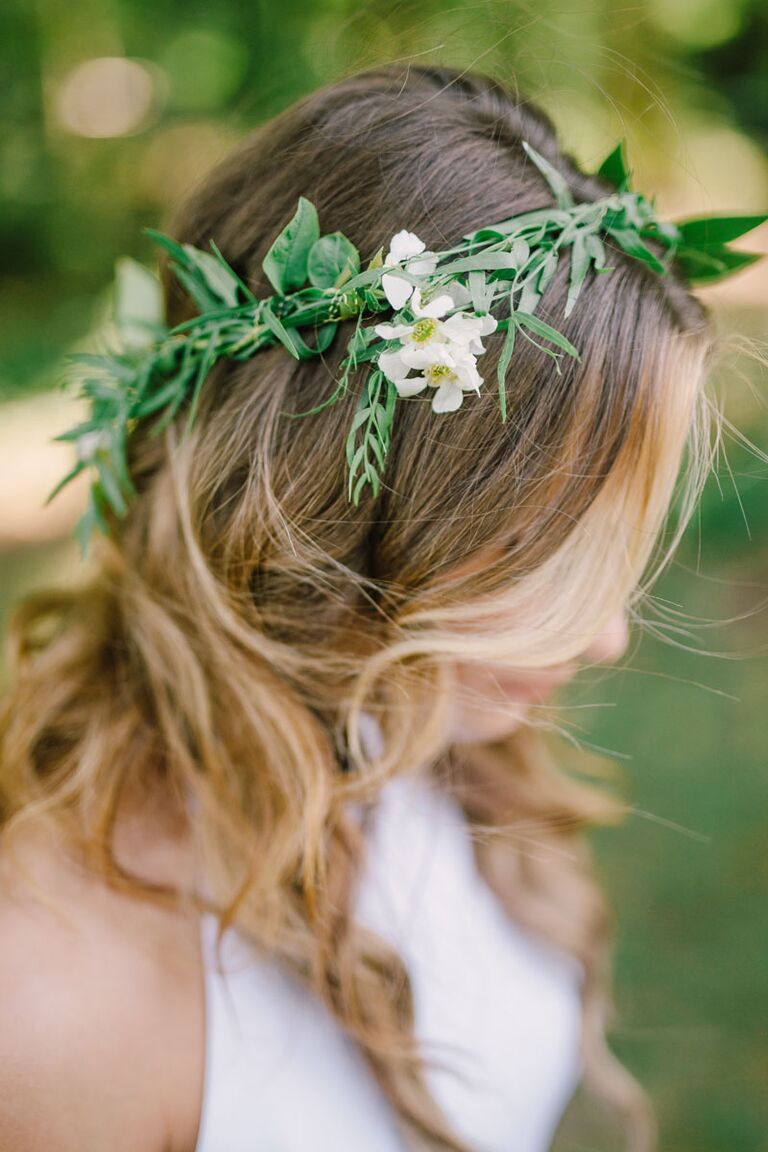 Channeling ancient Greece, this bride's green laurel flower crown is both classic and bohemian. It looks perfectly placed on top of loose curls, and the small section of white flowers add just the right amount of contrast to make this crown stand out.
7. Leafy Green Flower Crown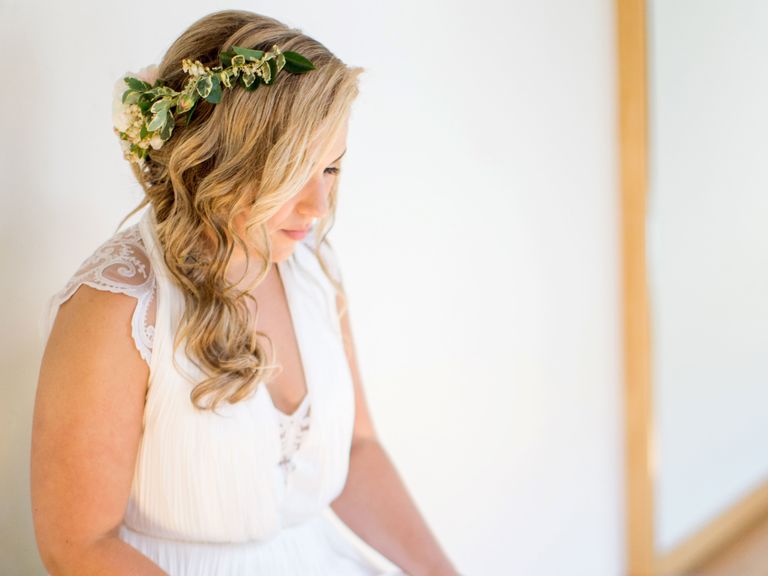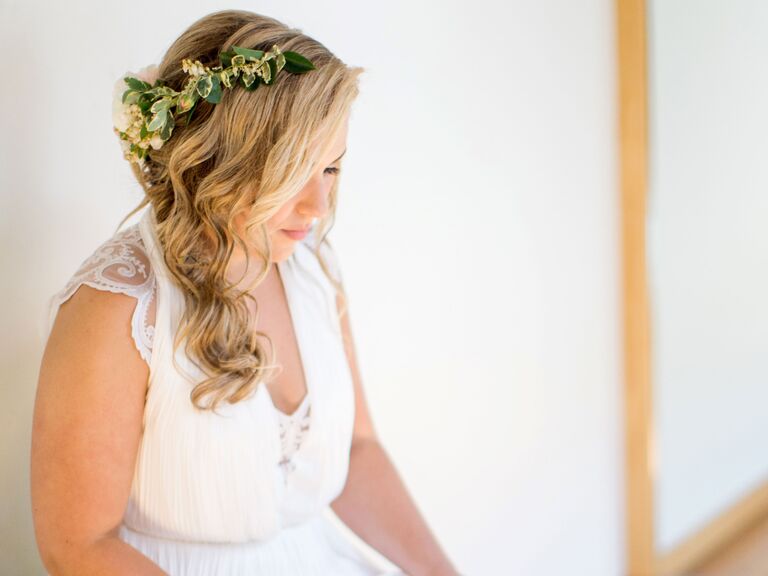 A romantic look that also offers a slight boho charm, this bride opted for a green leafy flower crown to match her bridesmaids. She pairs this with a simple side twist accented by romantic waves and cascading loose pieces.
Blue and Purple Flower Crowns
1. DIY Blue Fabric Flower Crown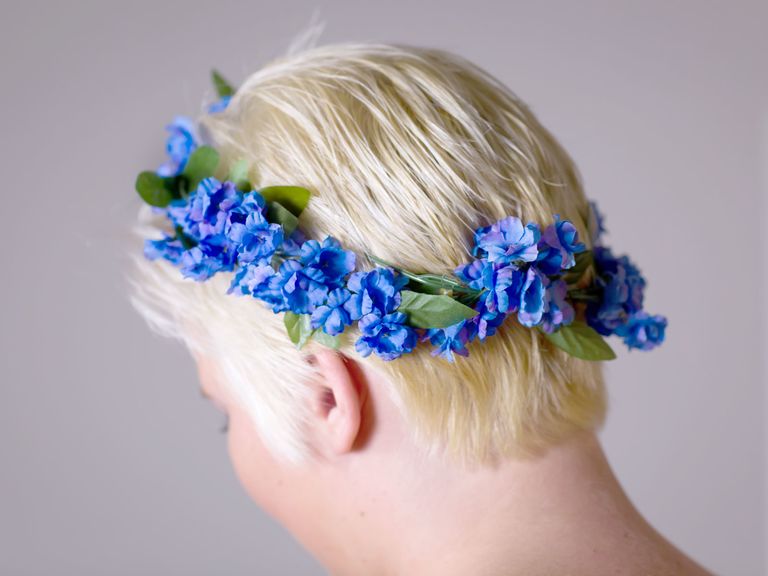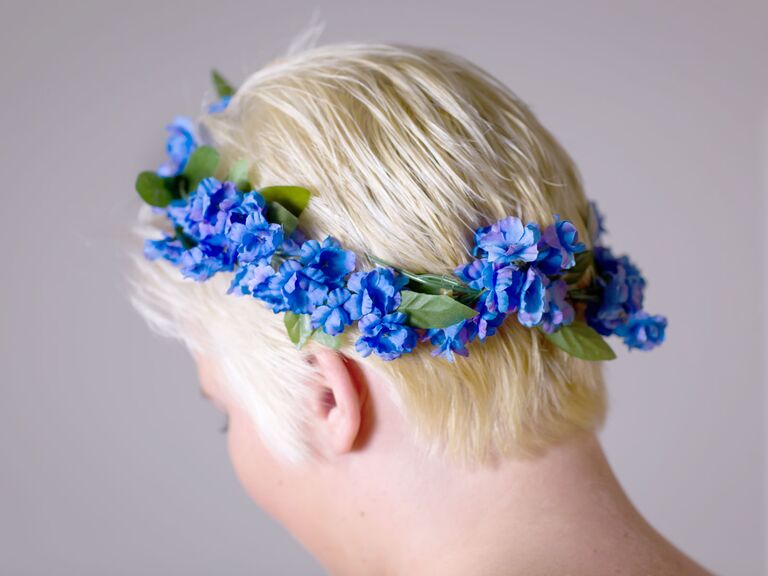 Tony Fitzgerald Photography
Everything blue is the theme of this wedding, where the bride accented her own hair with blue flowers and each bridesmaid wore a blue fabric flower crown. The blue dye in the fabric flowers is bright and bold, really standing in as a "hairstyle" all their own.

2. Southern Arrowwood Flower Crown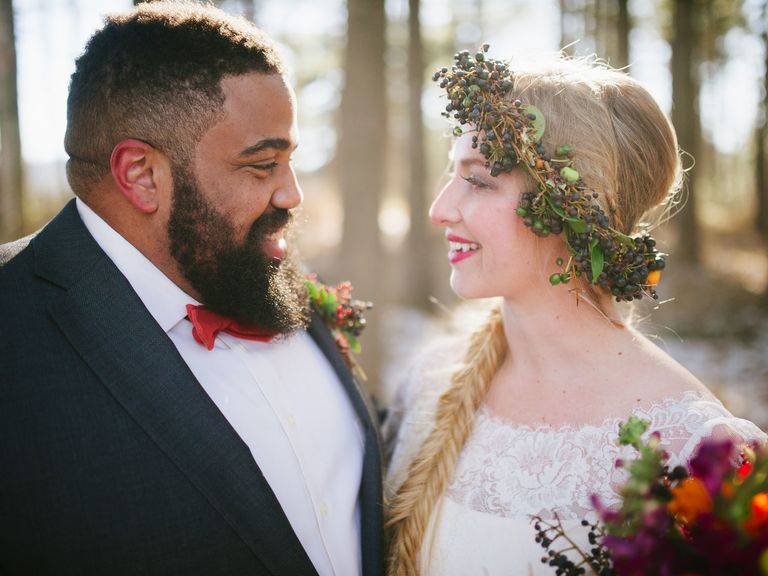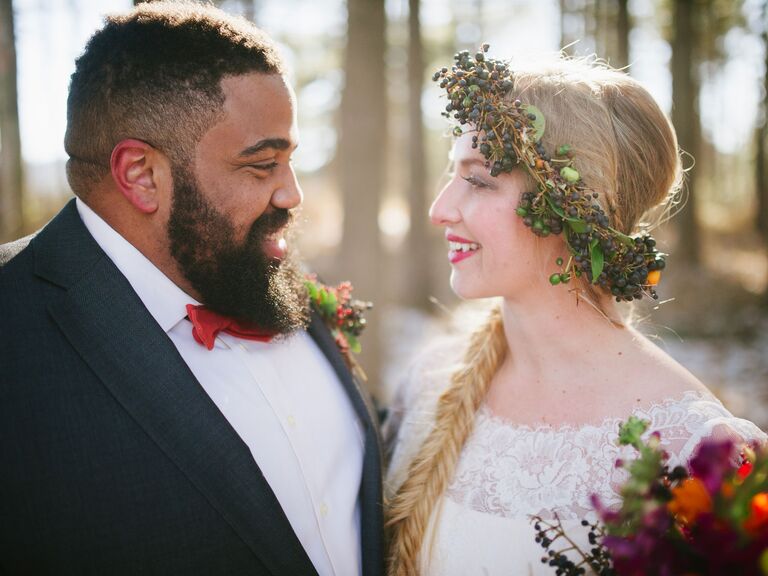 Rebekah J. Murray Photography
The deep blue of the southern arrowwood berry (aka viburnum) makes this flower crown a unique addition to the bride's style. With a hearty look that complements any winter wedding, the bride paired an earthy crown with a long fishtail braid swept over her shoulder for a style that's all her own.
3. Rose, Orchid and Delphinium Purple Flower Crown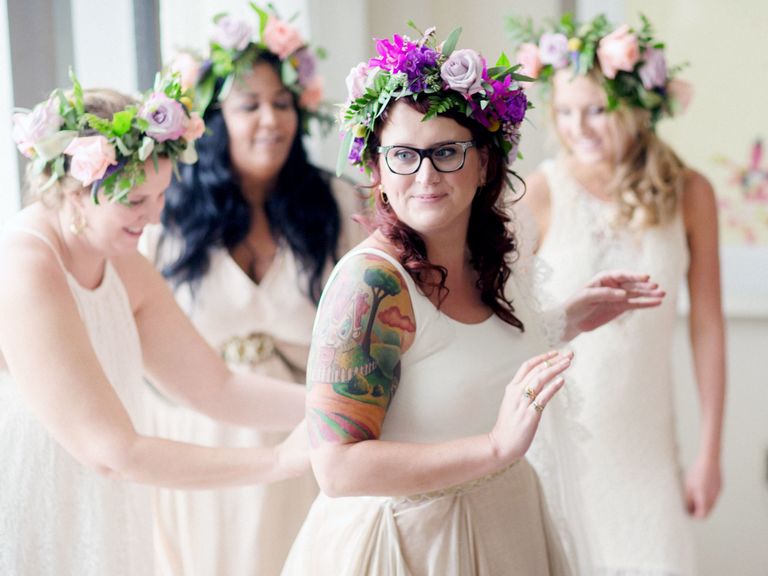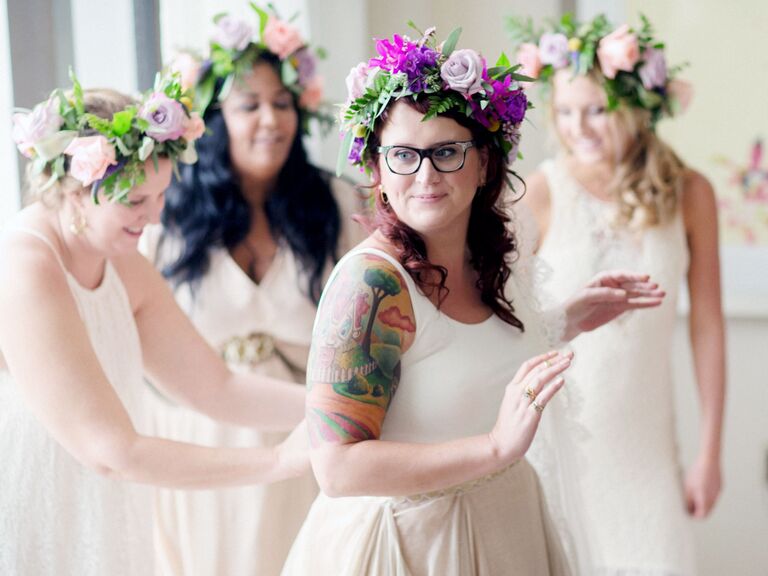 Adding a rich palette of colors to her off-white dress, this bride paired light lilac roses with purple delphinium and fuchsia orchids in this unique flower crown by
Tiger Lily Flowers in Sarasota, Florida. Because of the high humidity, she choose a loose curled hairstyle that allowed the flowers to take center stage.
4. Natural Green and Purple Flower Crown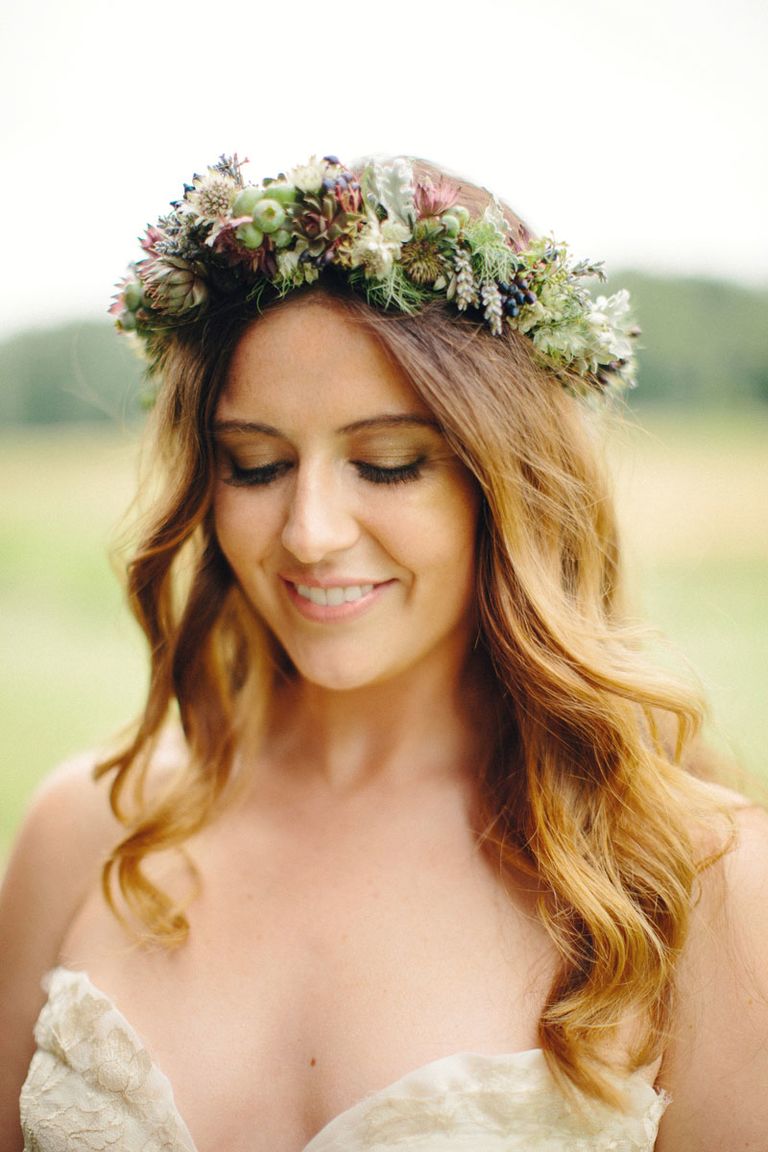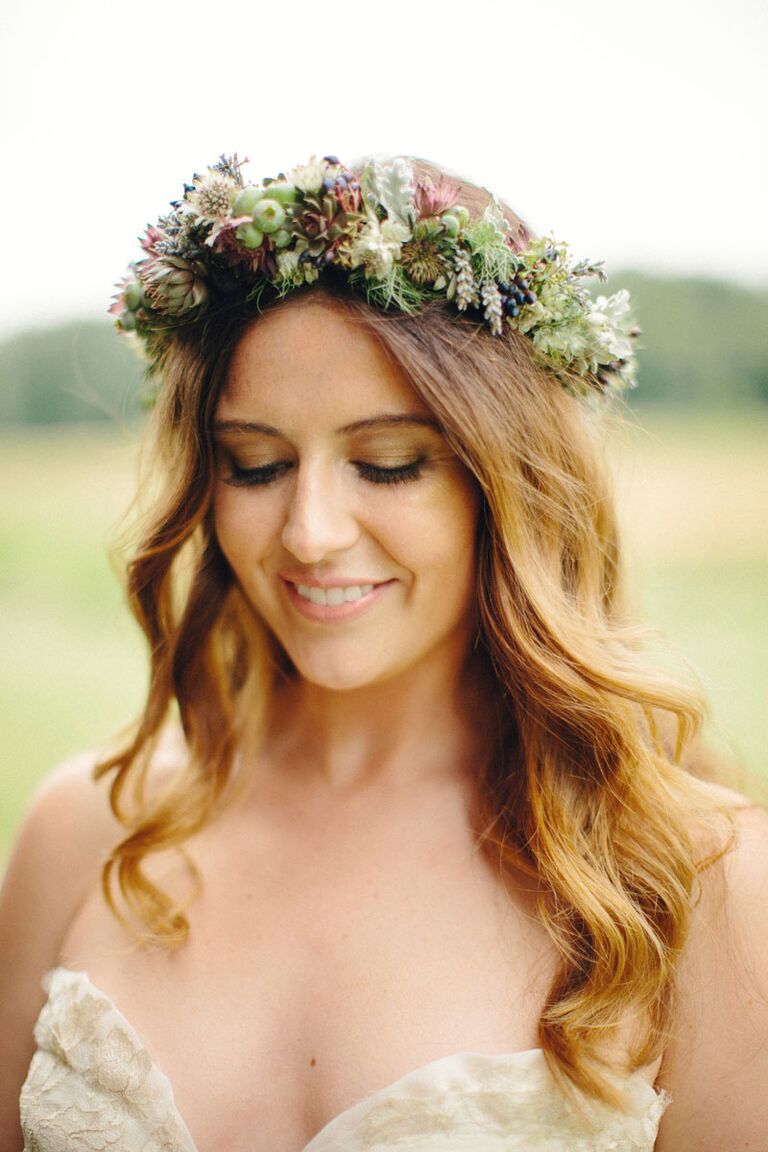 Adding a rustic look to this outdoor Michigan wedding,
Passionflower Florist in Ann Arbor designed this purple wildflower crown in lieu of a traditional veil. The bride wore it with a loosely curled casual hairstyle in order to highlight the bohemian vibe of her day.
Red Flower Crowns
1. DIY Purple Wildflower and Red Ranunculus Flower Crown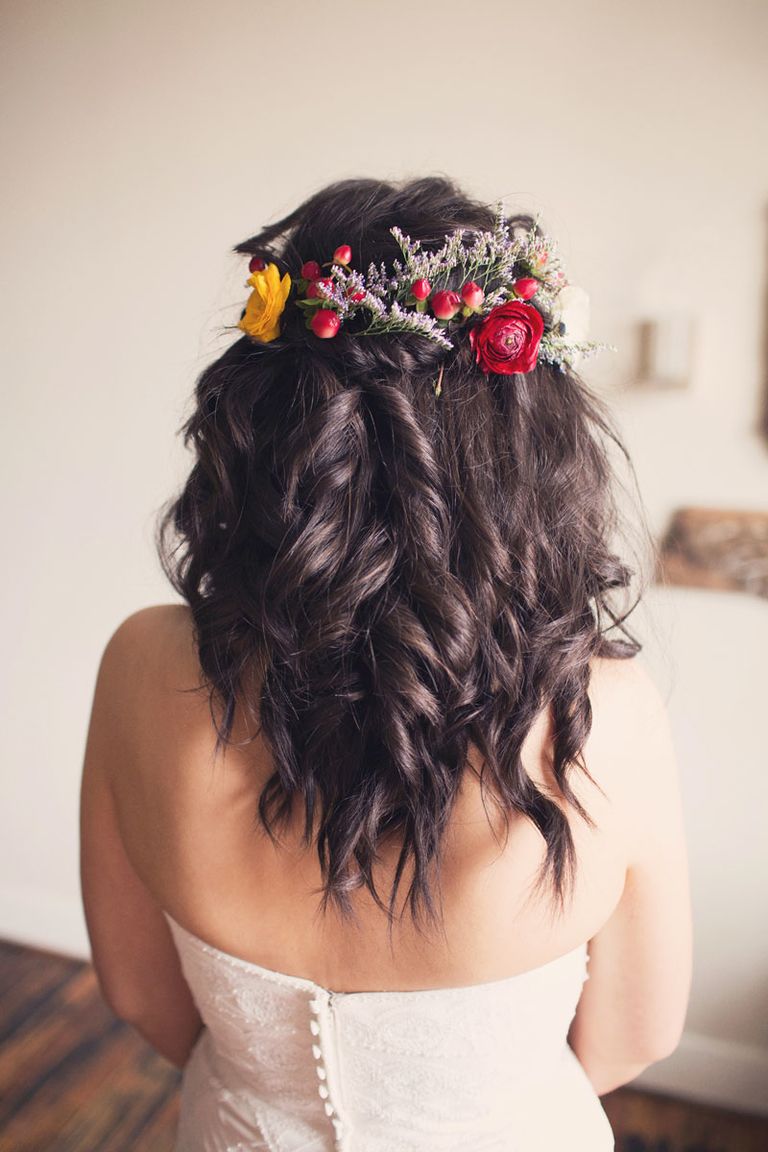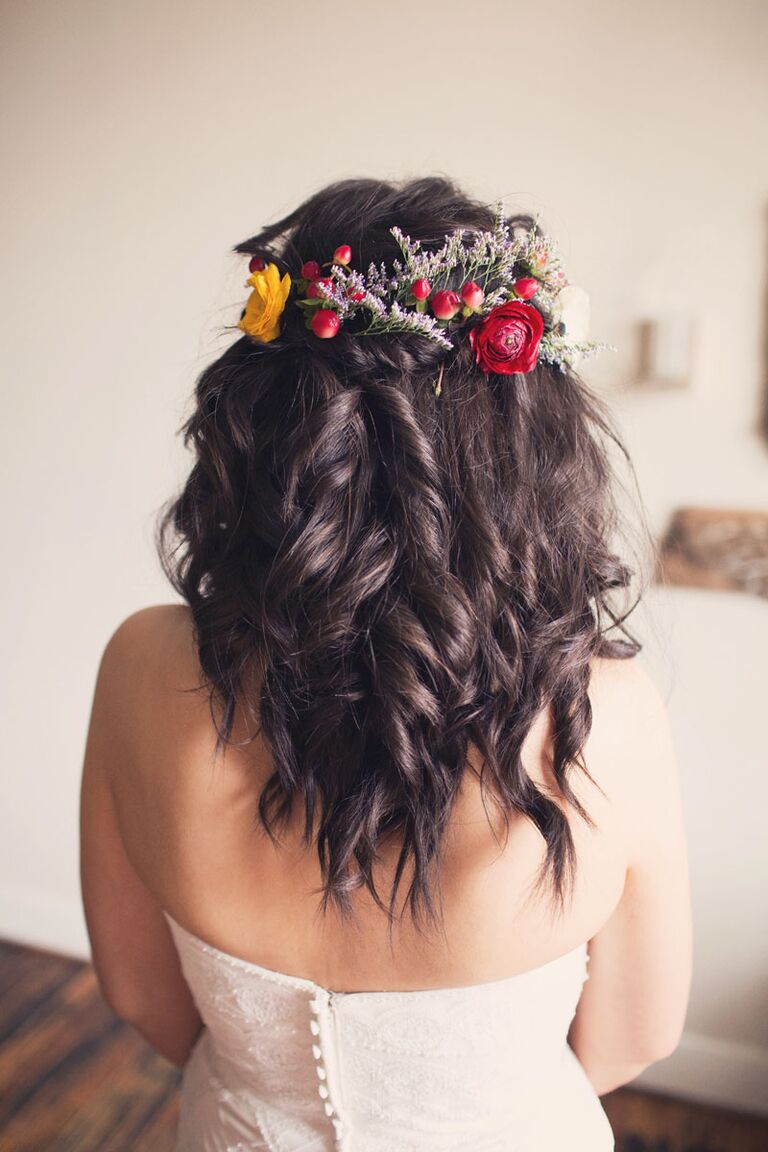 Ginny Corbett Photography
Mixing in small purple limonium with red ranunculus buds and a few blooms makes a bold statement with this bride's half-up, half-down curled hairstyle. The romantic look perfectly matches the free-spirited vibe of the couple's wooded outdoor wedding.
2. Patriotic Red Flower Crown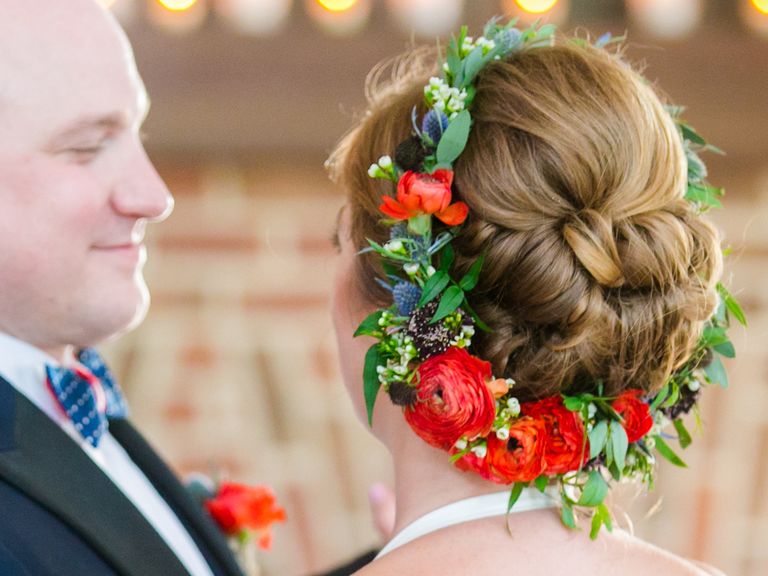 For her Fourth of July wedding, this bride took on the American colors of red, white and blue for her palette. Her bright crown, made by
Branch Design Studio in Mt. Pleasant, South Carolina, features bold red ranunculus flowers as its centerpiece, offset by blue, white and green accents. She pairs the crown with a curled bridal updo and a low bun to allow the flowers to be the center of attention.
3. Romantic Red Rose Flower Crown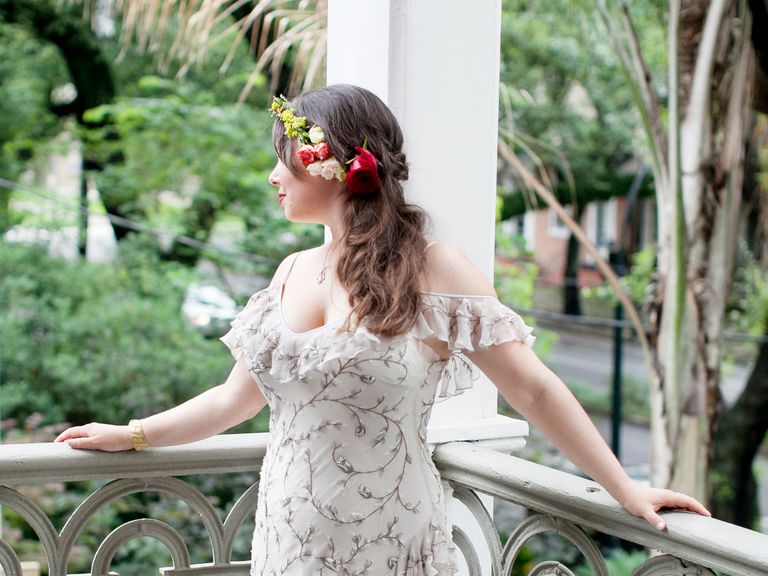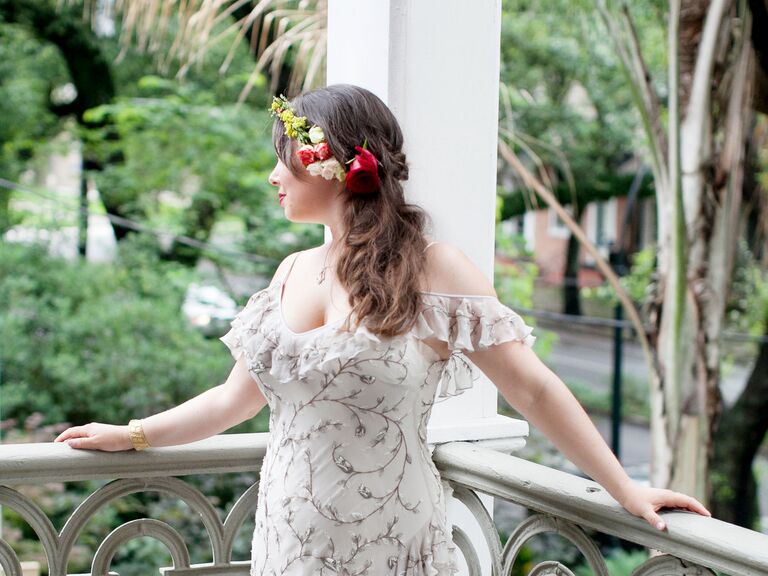 The bold red roses of this flower crown are the perfect romantic element that match this bride's vintage, detailed dress and sideswept, half-up hairstyle. The accents of white and green only serve to make the red roses stand out more, as does the contrast of the bride's dark hair and matching red lips.

Yellow Flower Crowns
1. White and Yellow Daisy Flower Crown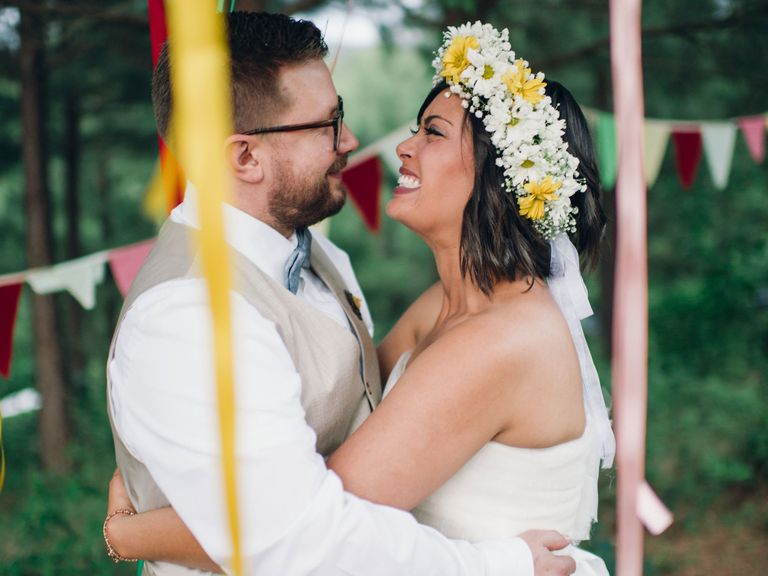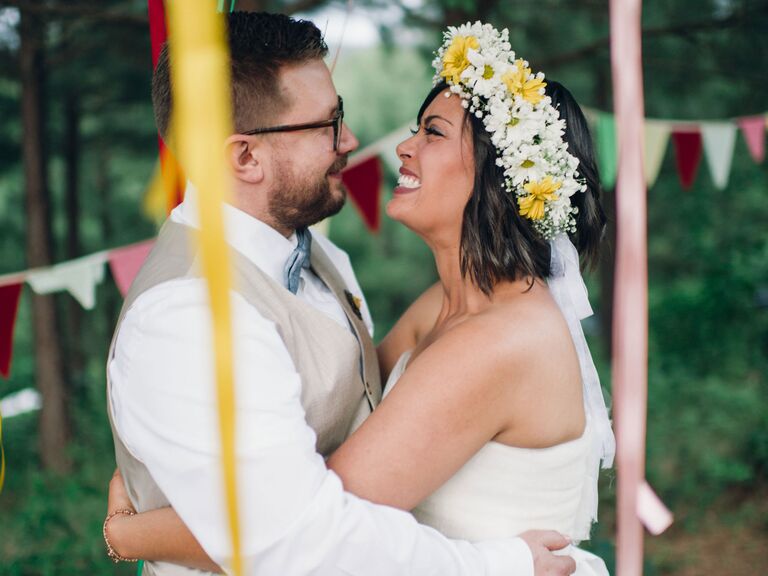 Used as accents among the simple white daisies, the yellow in this flower crown stands out from the rest of the bride's look. With short cropped hair, minimal styling was needed. The bride's polished but natural look and simple white ribbon are perfect against her dark hair.
2. Yellow Rose and Ranunculus Flower Crown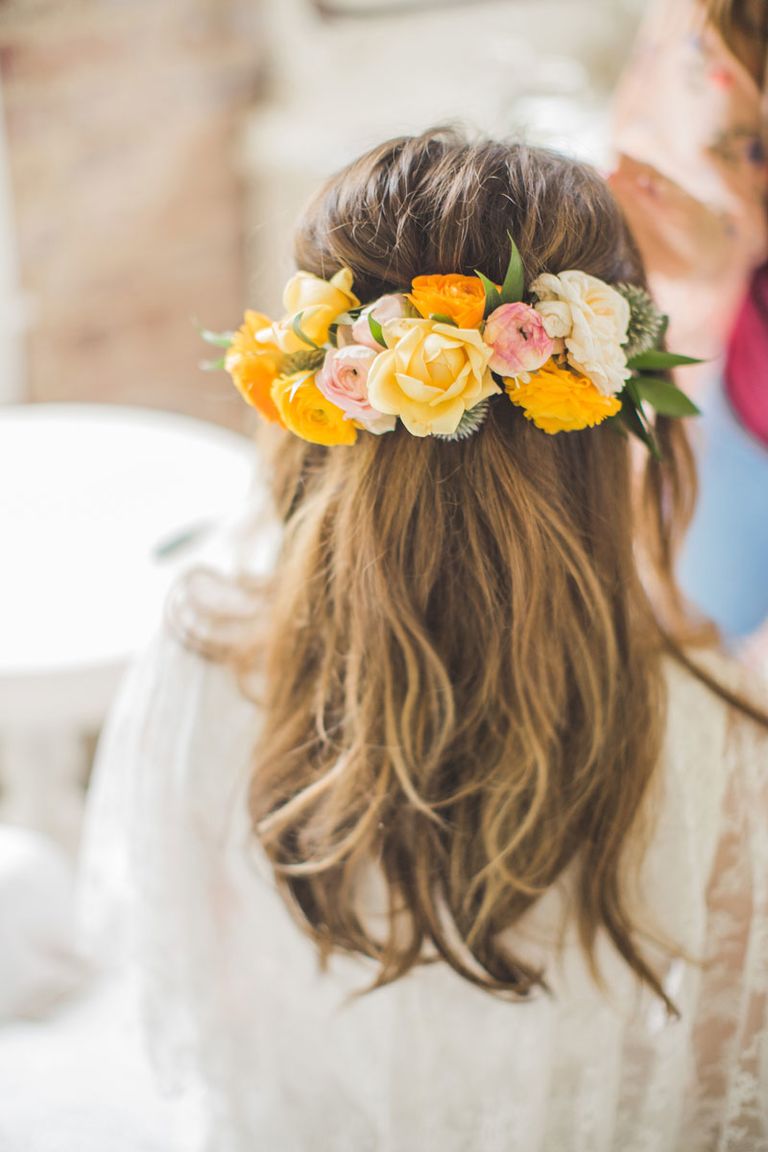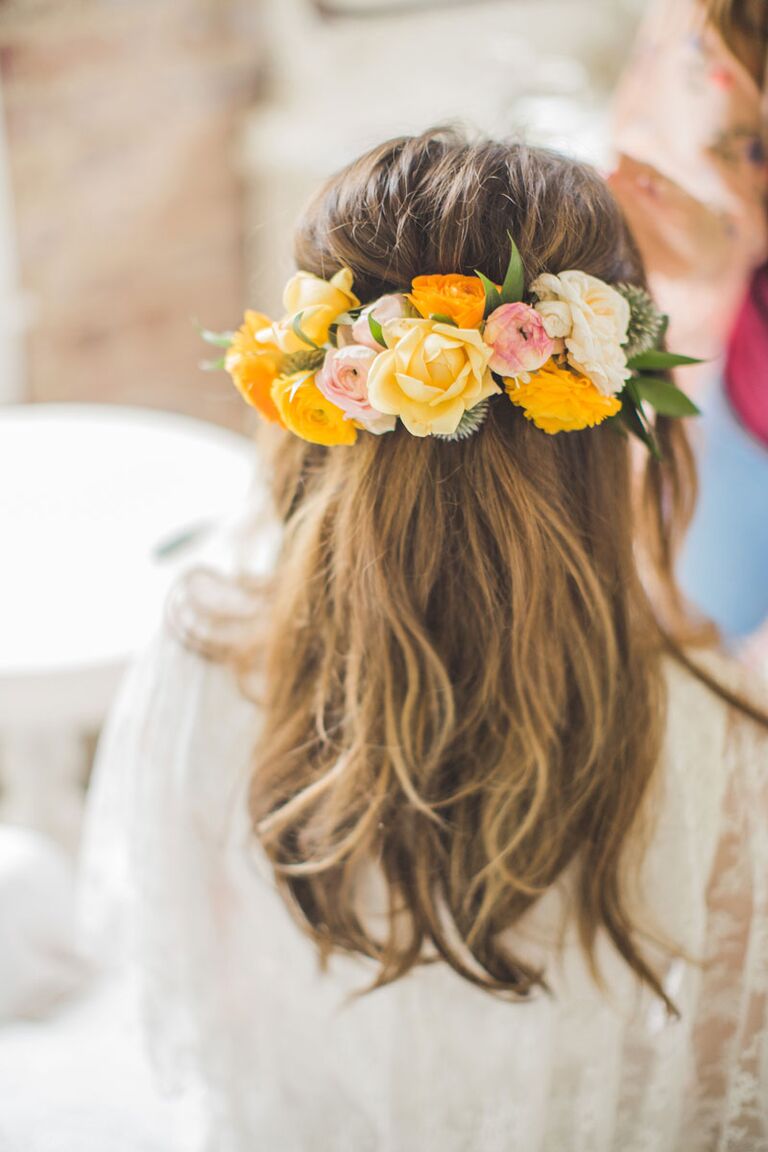 Using different shades of yellow throughout the crown, this yellow rose and ranunculus headpiece is a true homage to a happy and bright palette. Mixing in some cream blooms, this bride paired her flower crown with a loose pinned hairstyle for a truly romantic look.
3. Half-Moon Yellow Flower Crown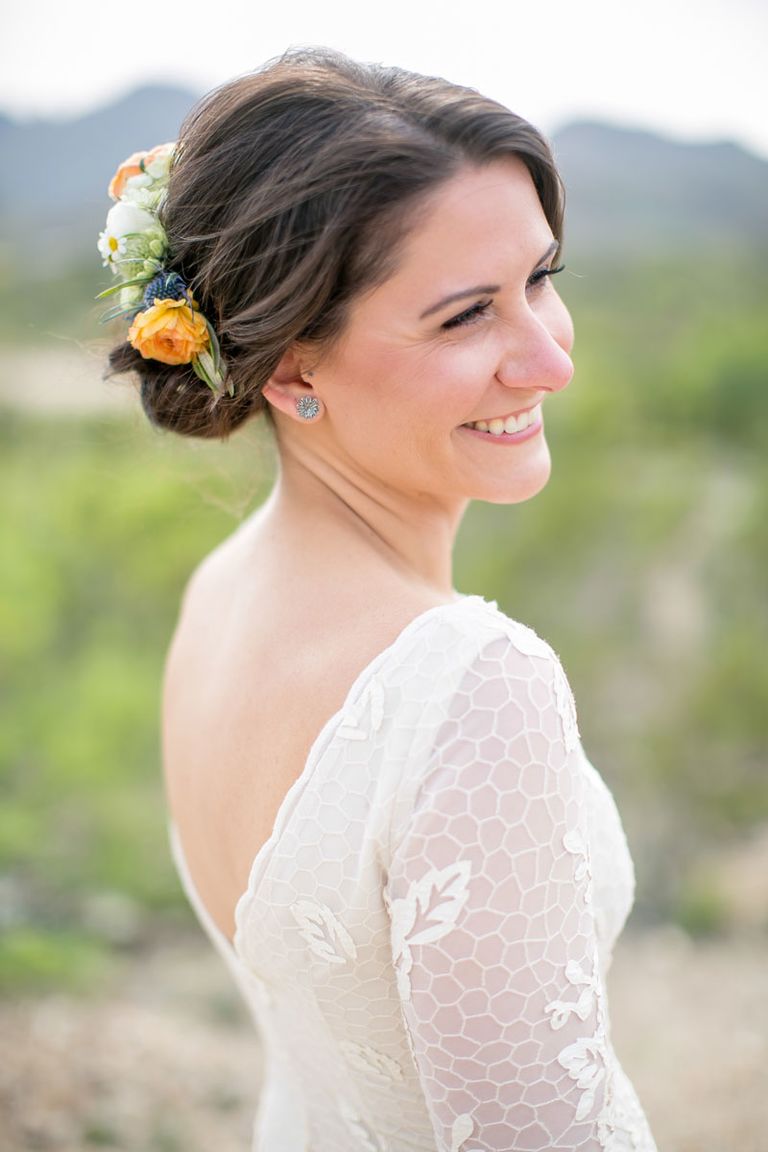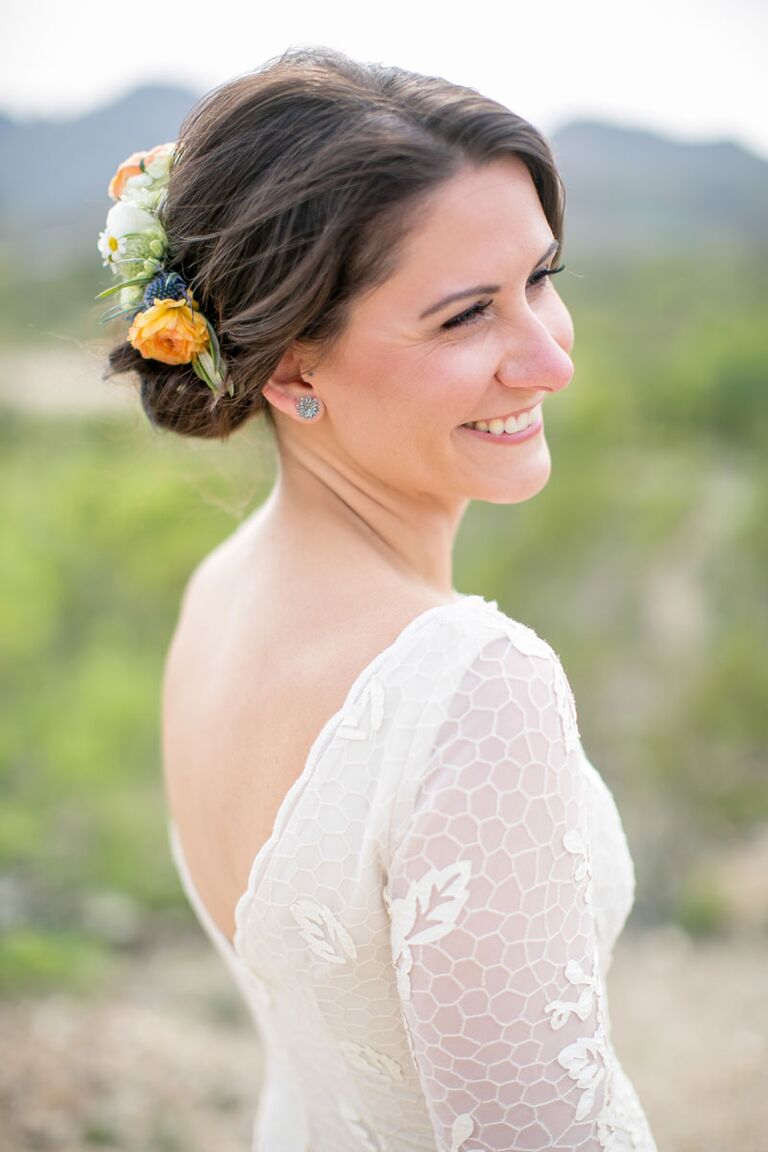 This elegant half-moon flower crown features small ranunculus blooms and miniature daisies. Paired with a loose chignon style, the smaller profile of the half-moon crown adds a natural element to the bride's look without taking away from the details of her dress.
Colorful Flower Crowns
1. Peach Rose and Eucalyptus Flower Crown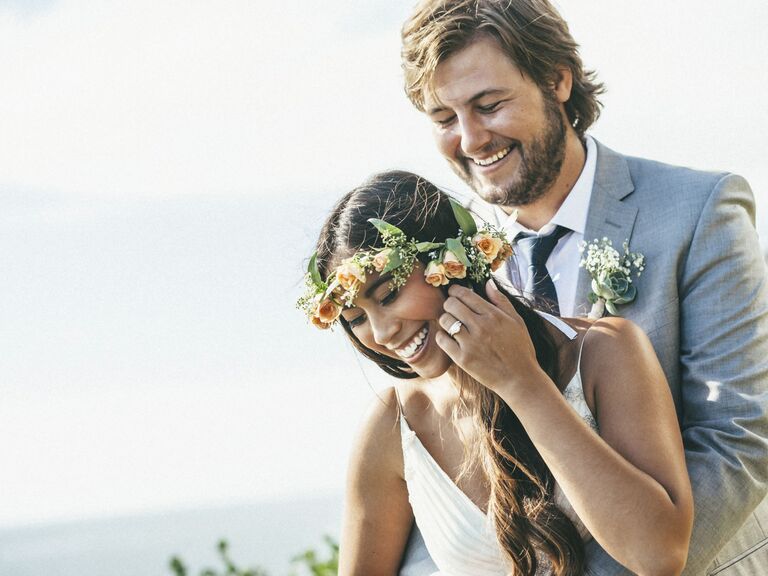 The subtle and elegant contrast of green eucalyptus leaves with peach roses makes this bride's relatively simple multicolored flower crown stand out. Handmade by the bride and her attendants, the bohemian feel of this wedding pairs perfectly with the bride's free-flowing waves.
2. Colorful Tropical Flower Crown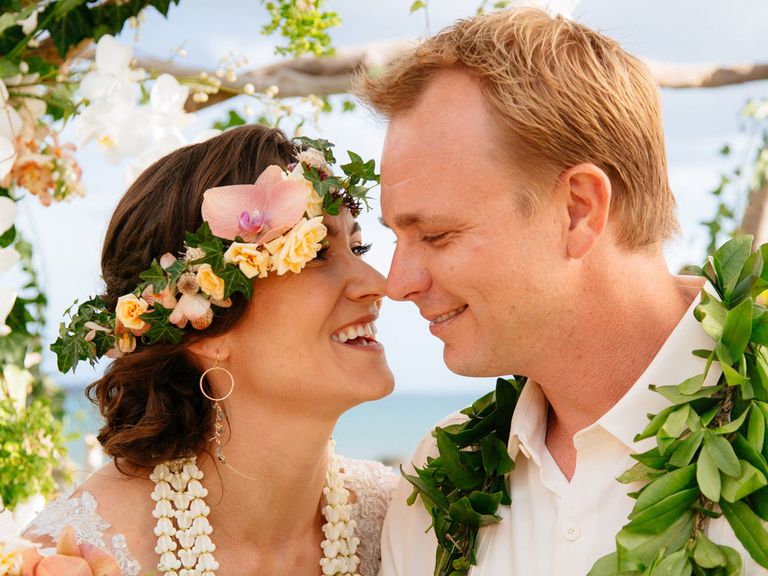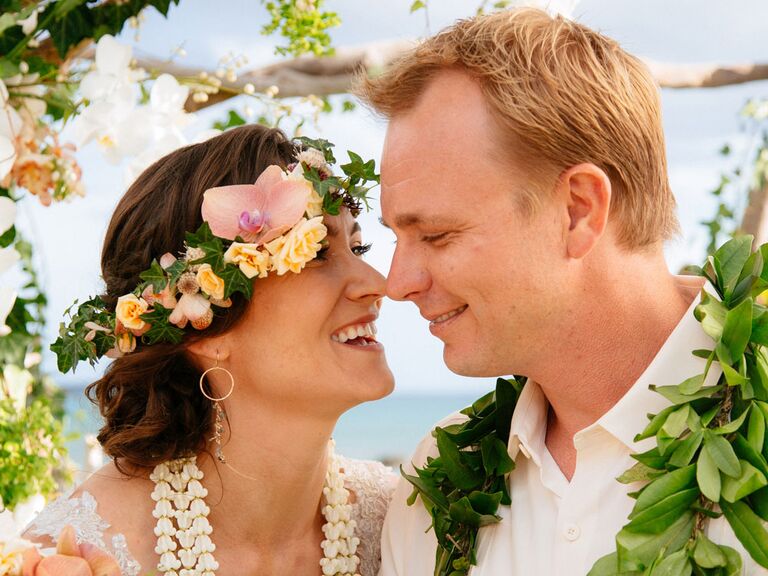 Chris J. Evans Photography
Emphasizing the tropical locale of her Hawaiian wedding, this bride chose a flower crown of roses, orchids and various tropical flowers native to the islands. She paired it with a loose, low chignon style that adds depth to the crown and follows its off-center placement.
3. Colorful Bohemian Flower Crown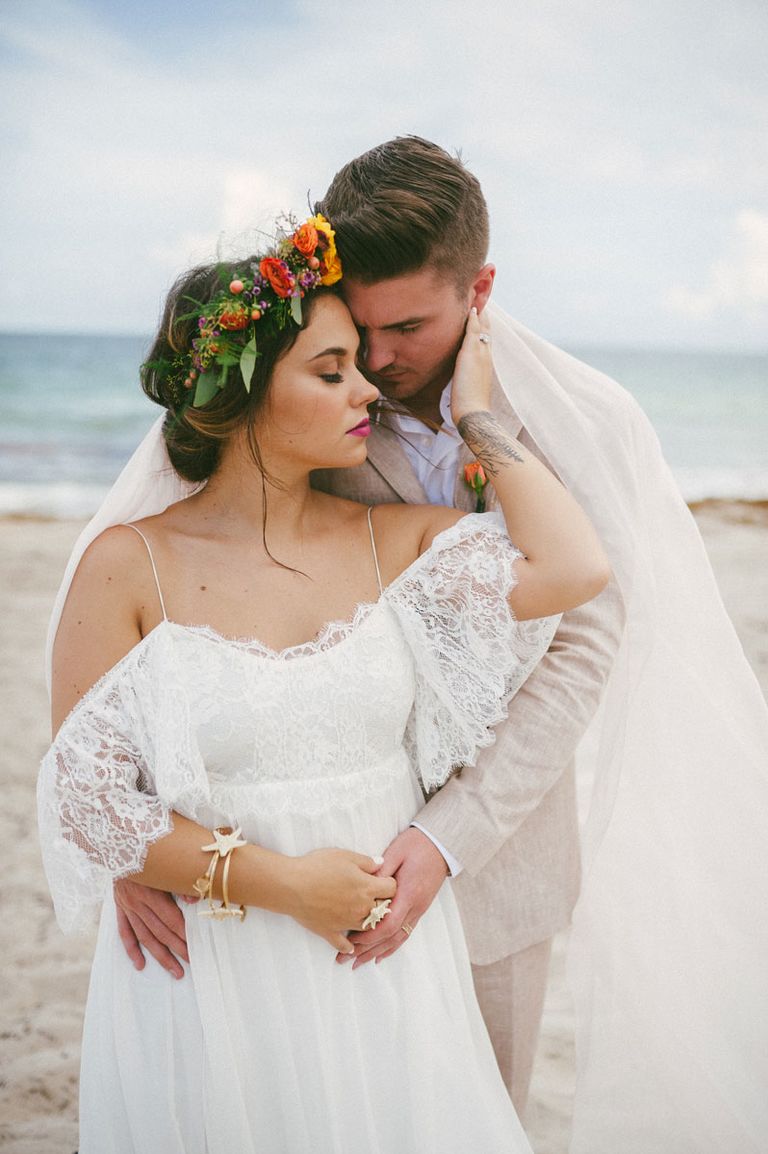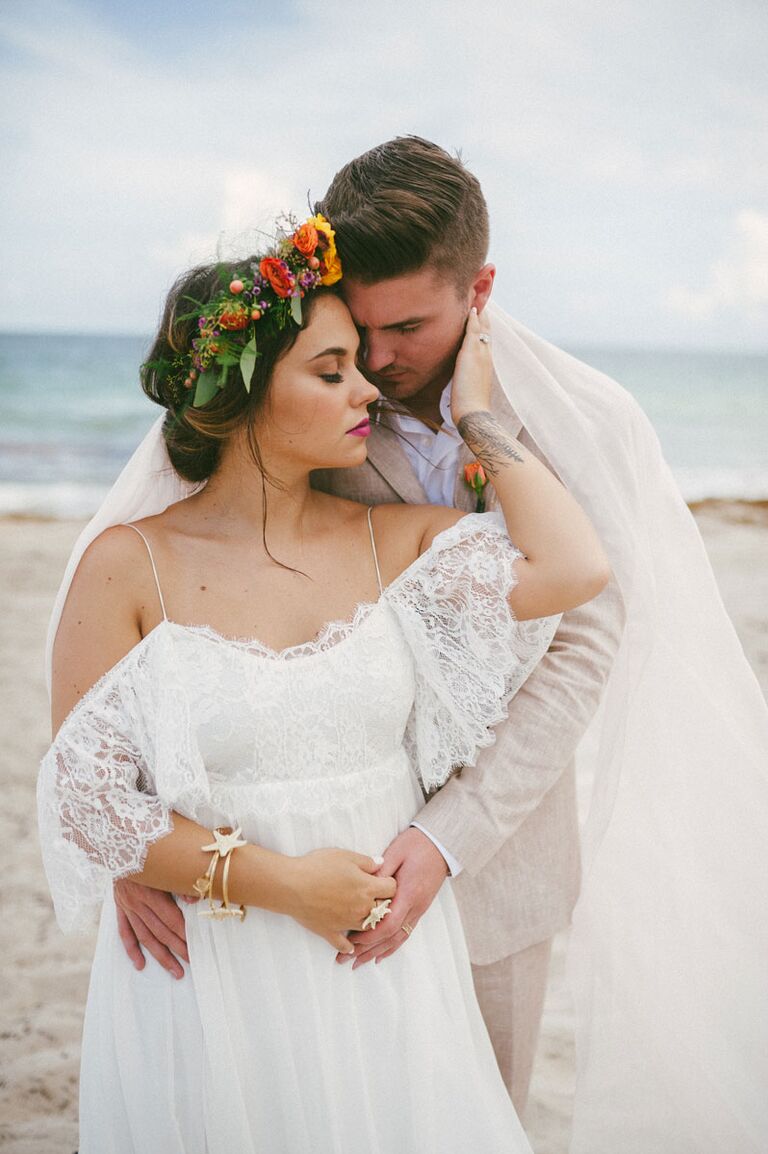 Ian Joseph Jones Photography
This bride pairs a chic chignon updo with a variety of colors and flowers in her crown. Blooms include eucalyptus, orange ranunculus, pink hypericum berries and a variety of wildflowers. This bold flower crown adds a pop of color to her beachy boho dress and bridal look.

4. Bright Bohemian Flower Crown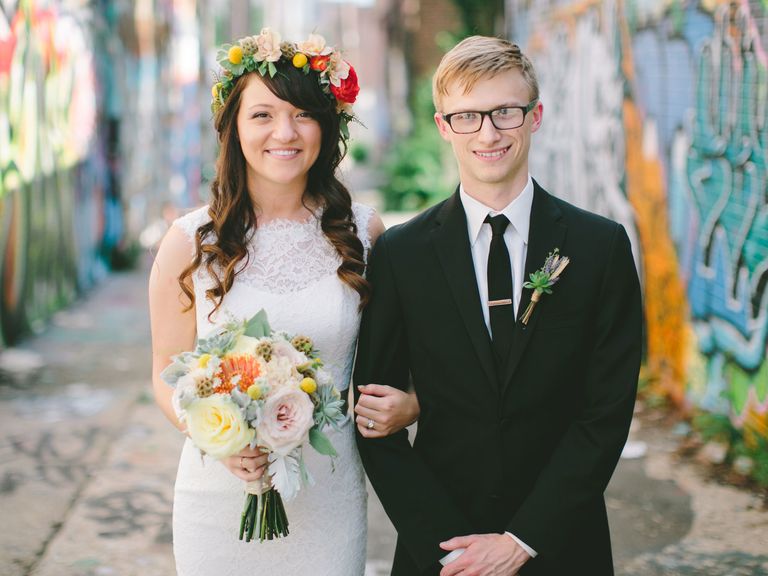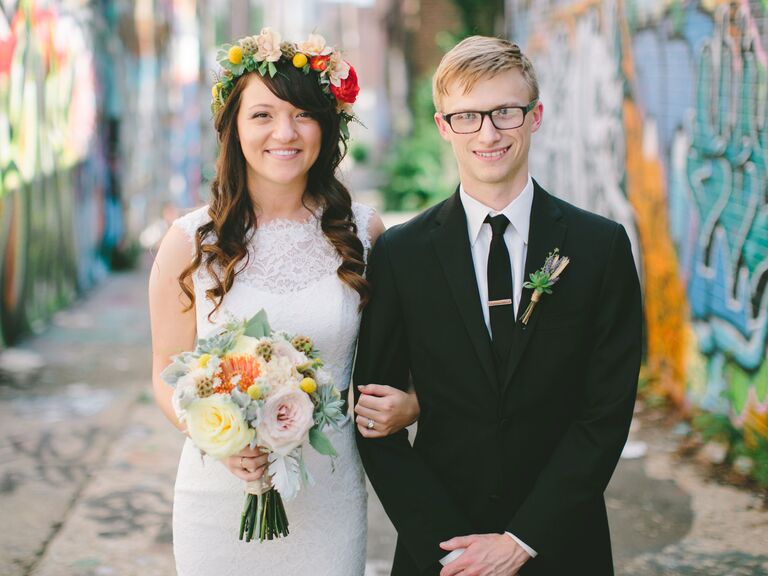 Steven Michael Photography
A mix of classic with eclectic, this bride chose both pale and bright colors for her flower crown, which includes peach, yellow, red and green. It sits atop romantic waves, creating a whimsical cascade that transitions to a more traditional lace bodice on her dress.

5. Bold Yellow and Purple Flower Crown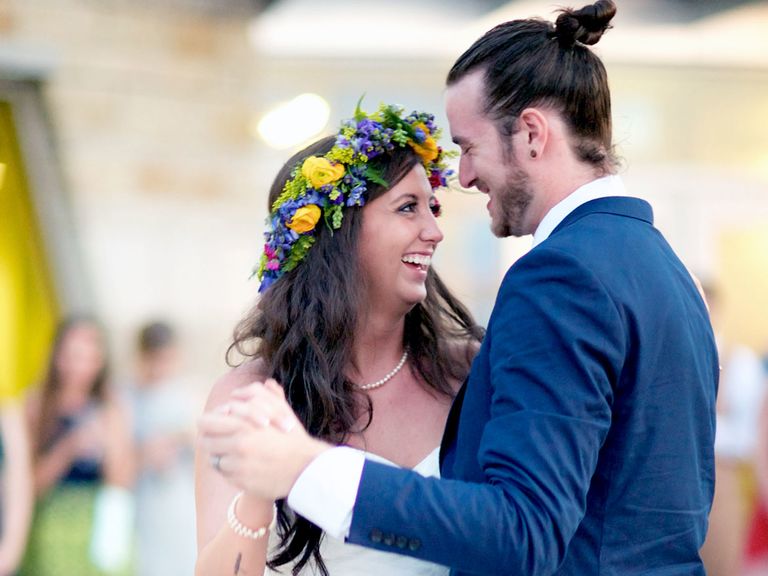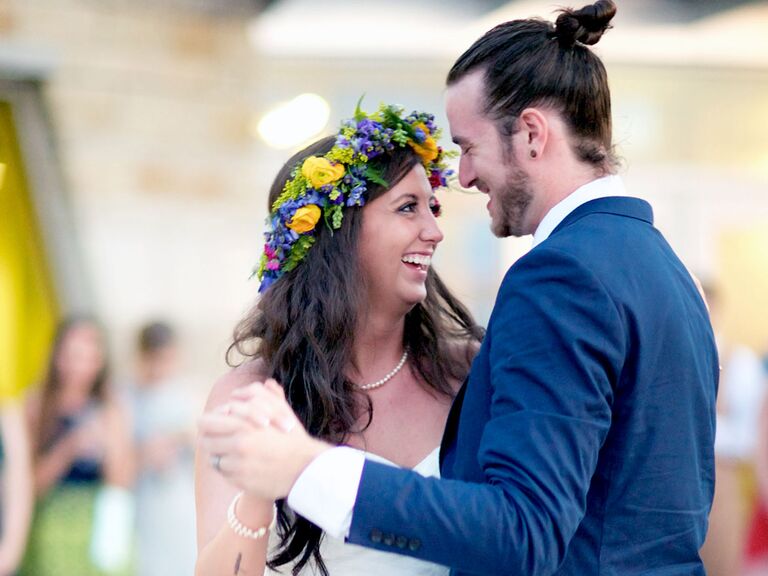 Lindsay J.C. Lack Photojournalist
In order to match with the palette of her wedding, this bride chose a bold mix of colors for her flower crown. Bright yellow and purple flowers stand out and really accent her loose, dark hair and bright white strapless dress.

6. DIY Pink Rose and Greenery Flower Crown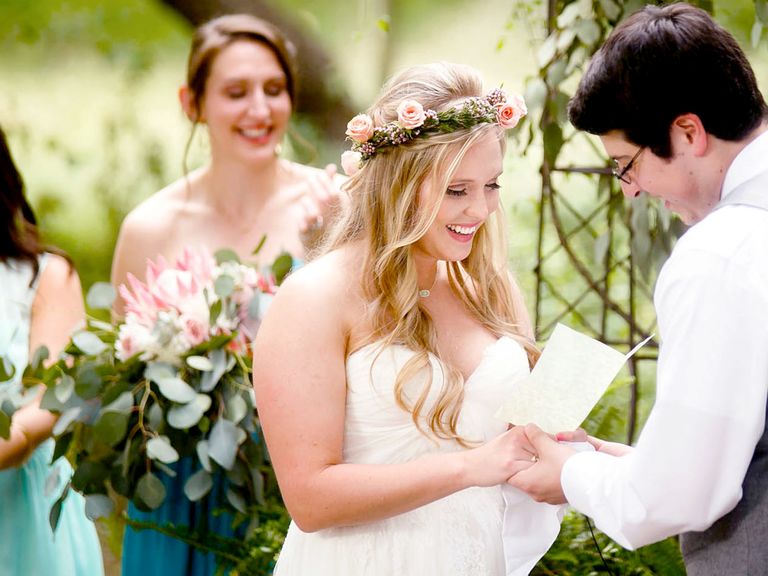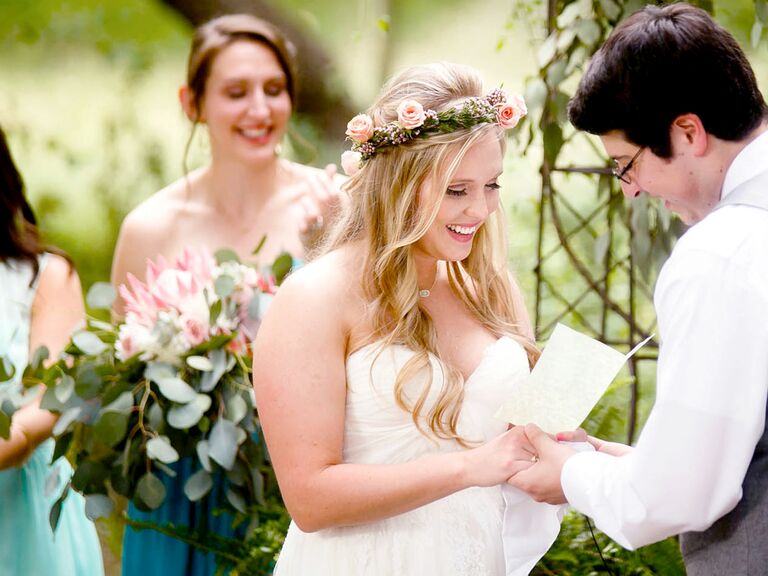 Tank Goodness Photography
In an attempt to add rustic and bohemian elements to her wedding day look, the bride designed this flower crown out of blooms used in her wedding displays, including pink roses, lavender and lots of greenery. She paired it with free-flowing curls for a natural, earthy look.

7. Bohemian Peach and Green Flower Crown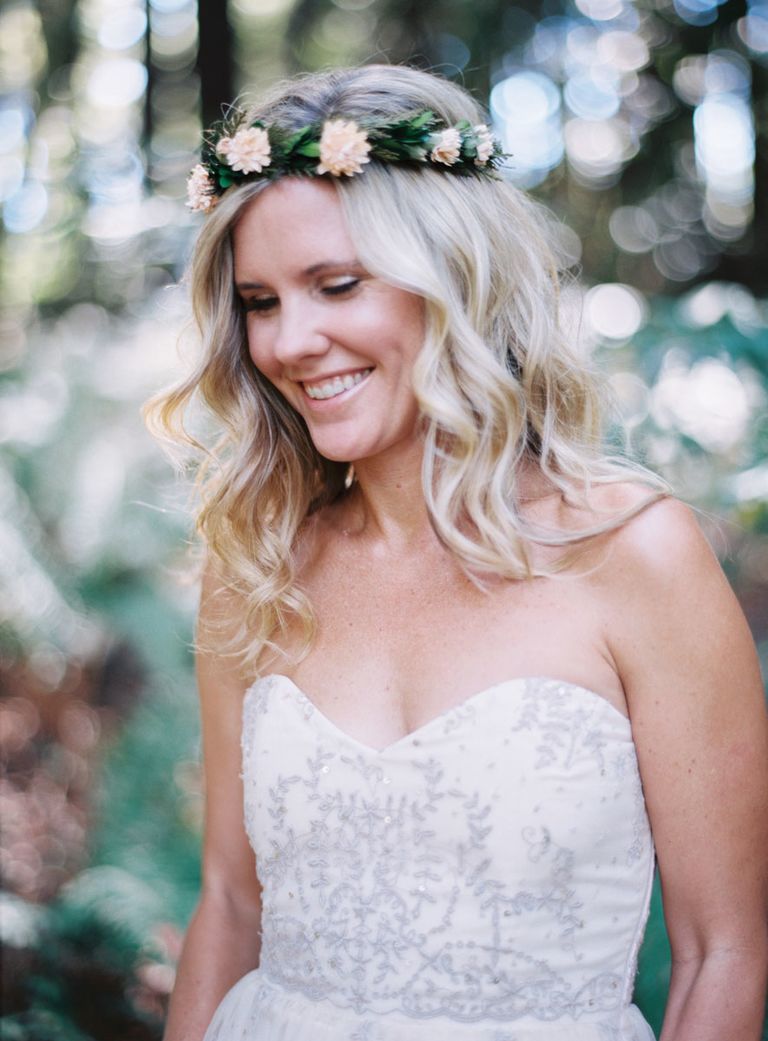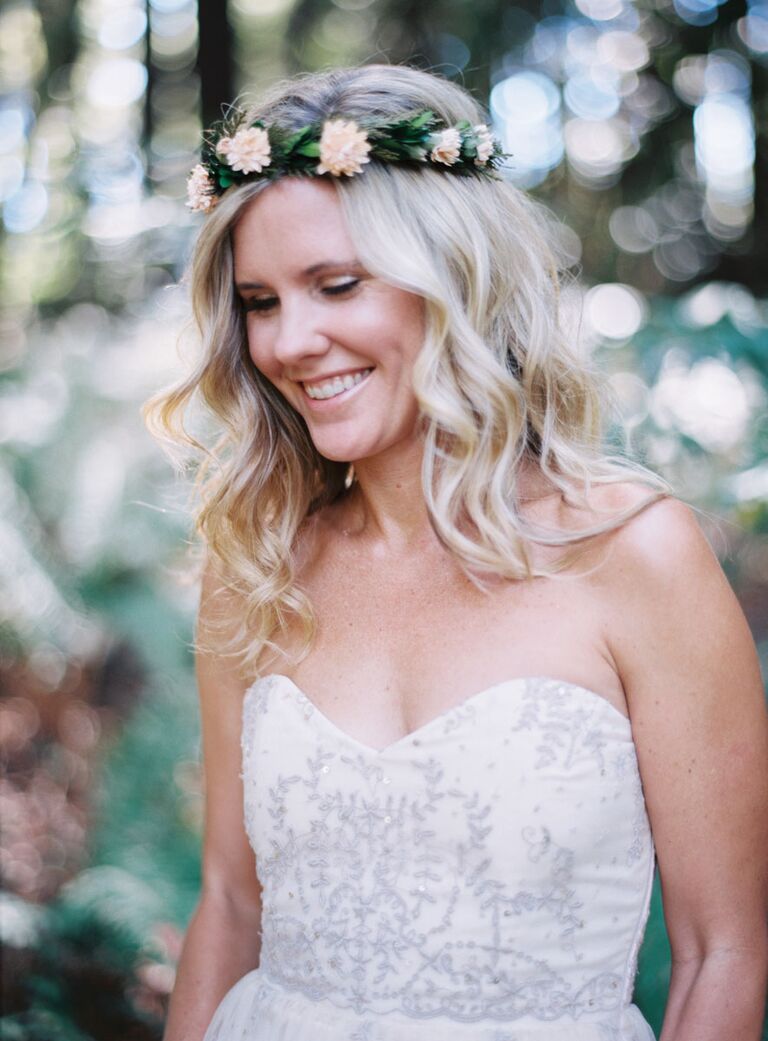 As part of her DIY wedding, this bride created a simple peach and green flower crown to wear in place of a veil. To emphasize a more relaxed vibe, she placed the crown atop a hairstyle of casual loose curls that pairs well with an outdoor woodland wedding ceremony and reception.

Cutest Flower Girl Crowns
From simple designs meant to match or complement the bride's flower crown to more complex crowns that tie in with color palettes or themes, there are just as many possibilities for flower girl crowns as there are bridal crowns. Here are a few of our favorite flower girl styles to inspire their look.
1. Baby's Breath Flower Crown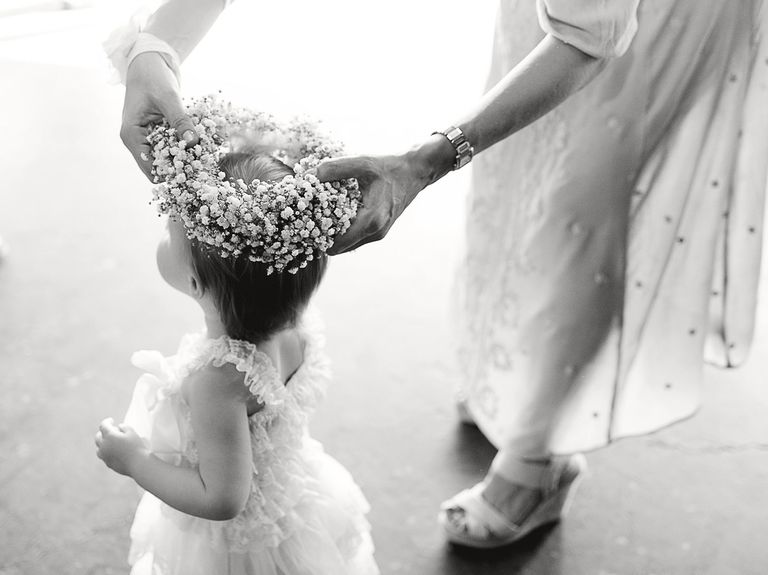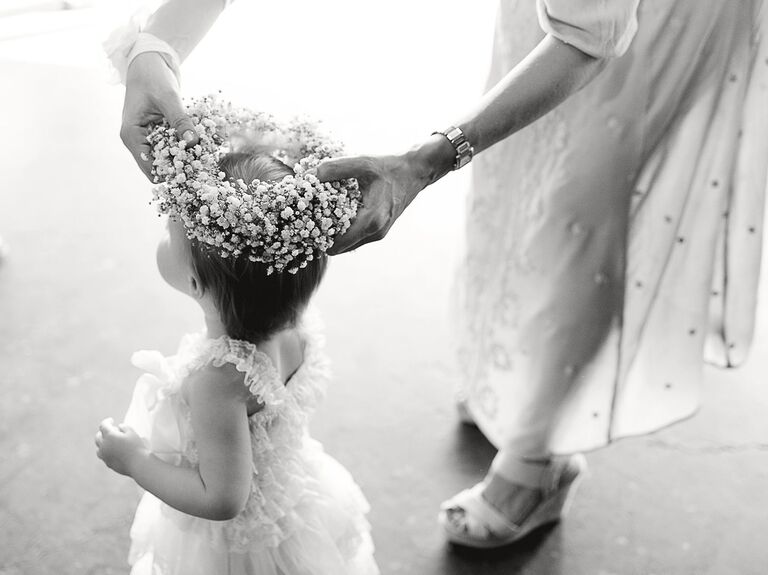 Finch & Farrow Photography
This simple baby's breath flower crown is the perfect complement to any little one's hair. The style is simple, elegant and easy to pair with other floral bouquets or accents.
2. Baby's Breath Flower Crown With Ribbon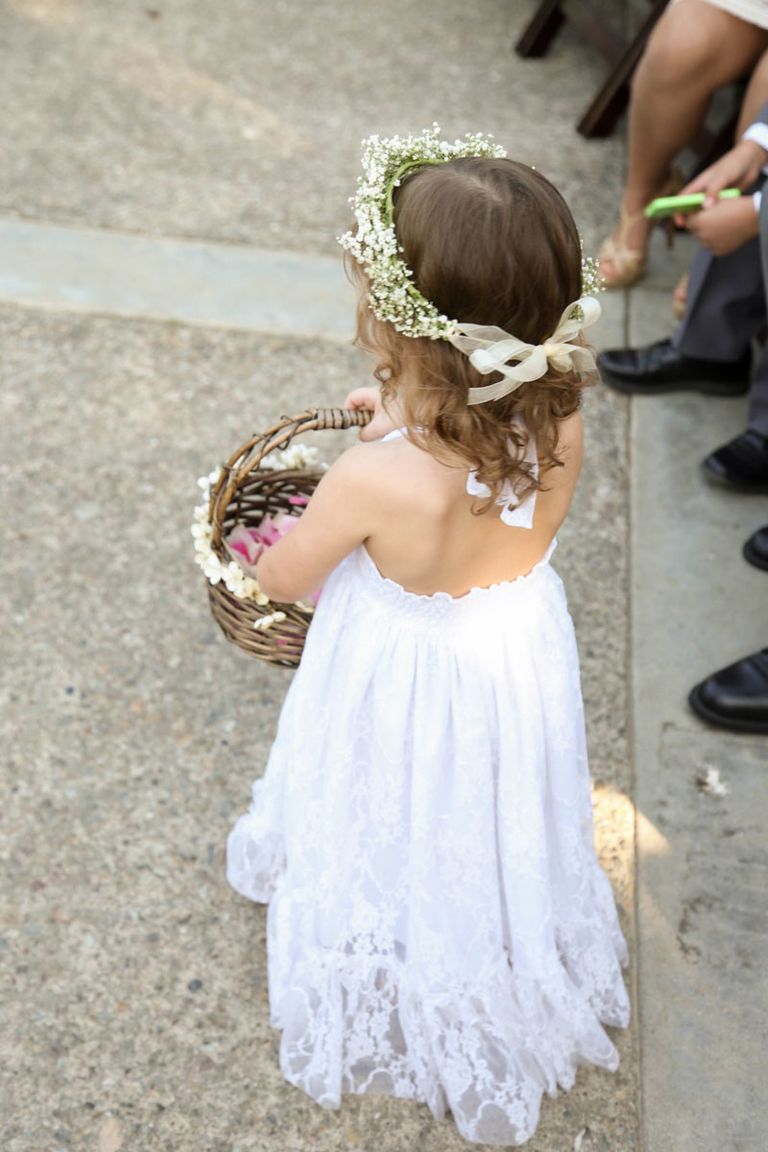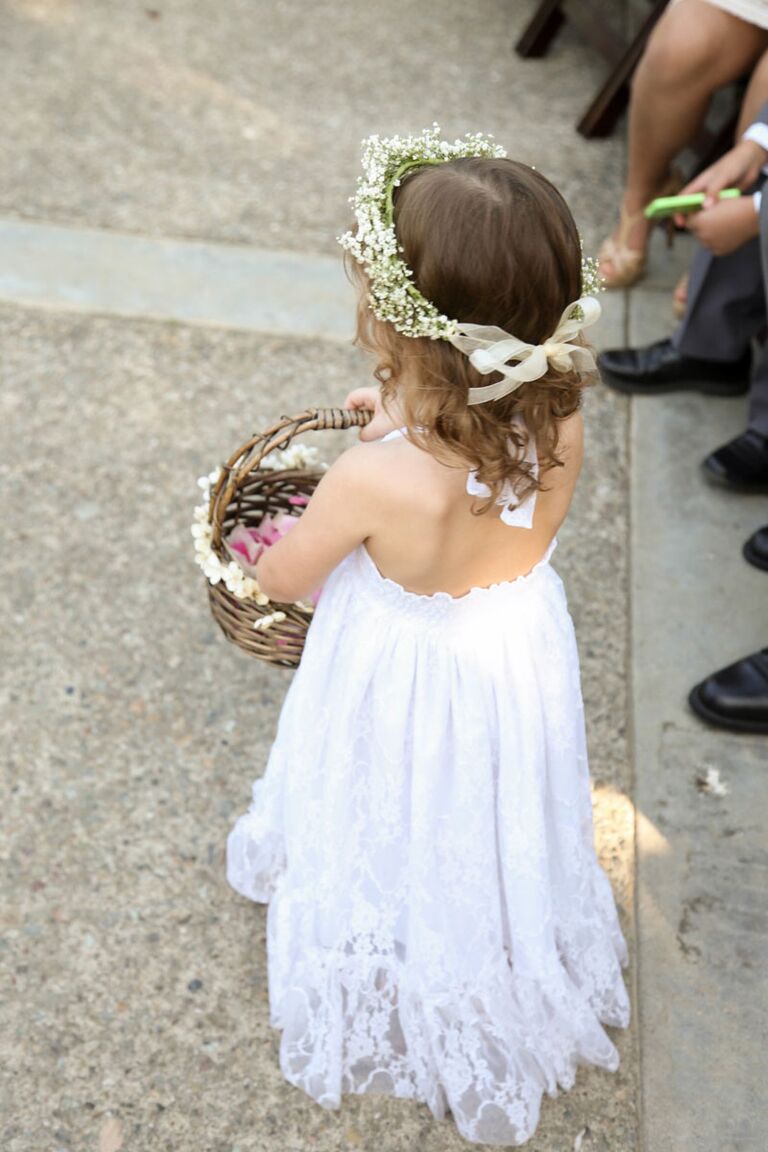 For an older flower girl, this baby's breath crown is less bulky and secured with ribbon atop her natural curls. The ribbon in back not only keeps the crown secure, but works well the lacy design of the flower girl's dress.

3. Purple Limonium Flower Crown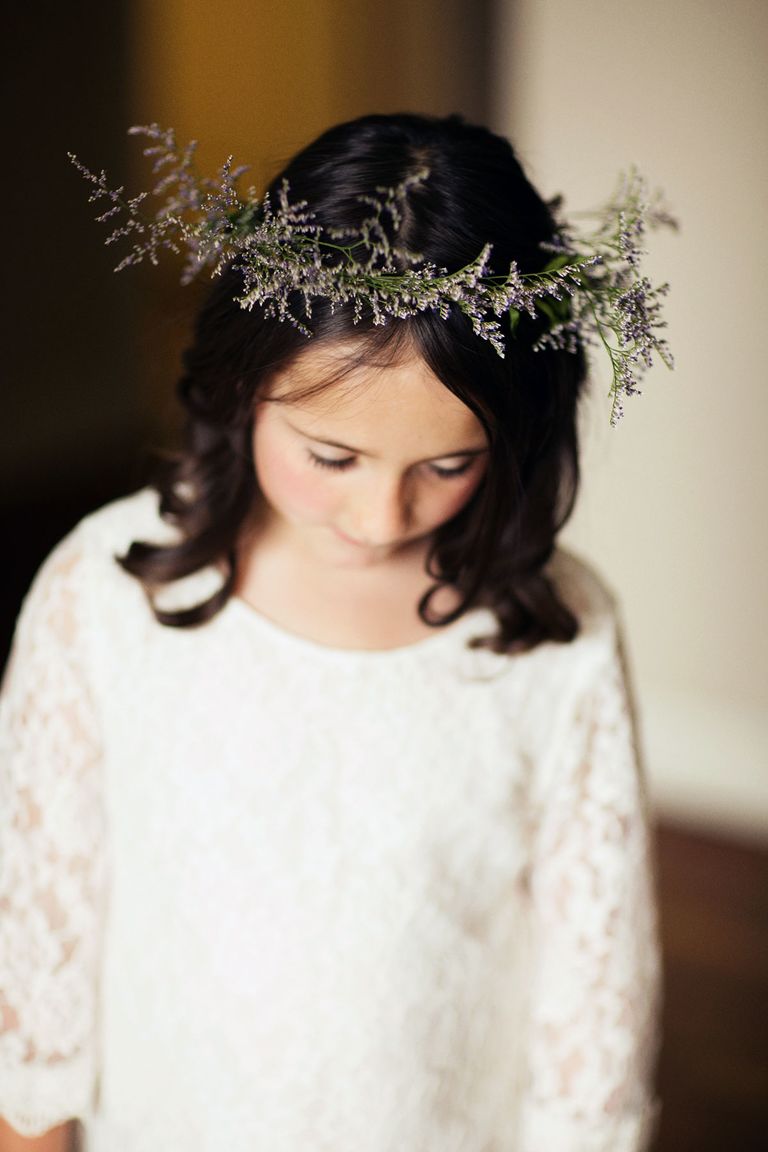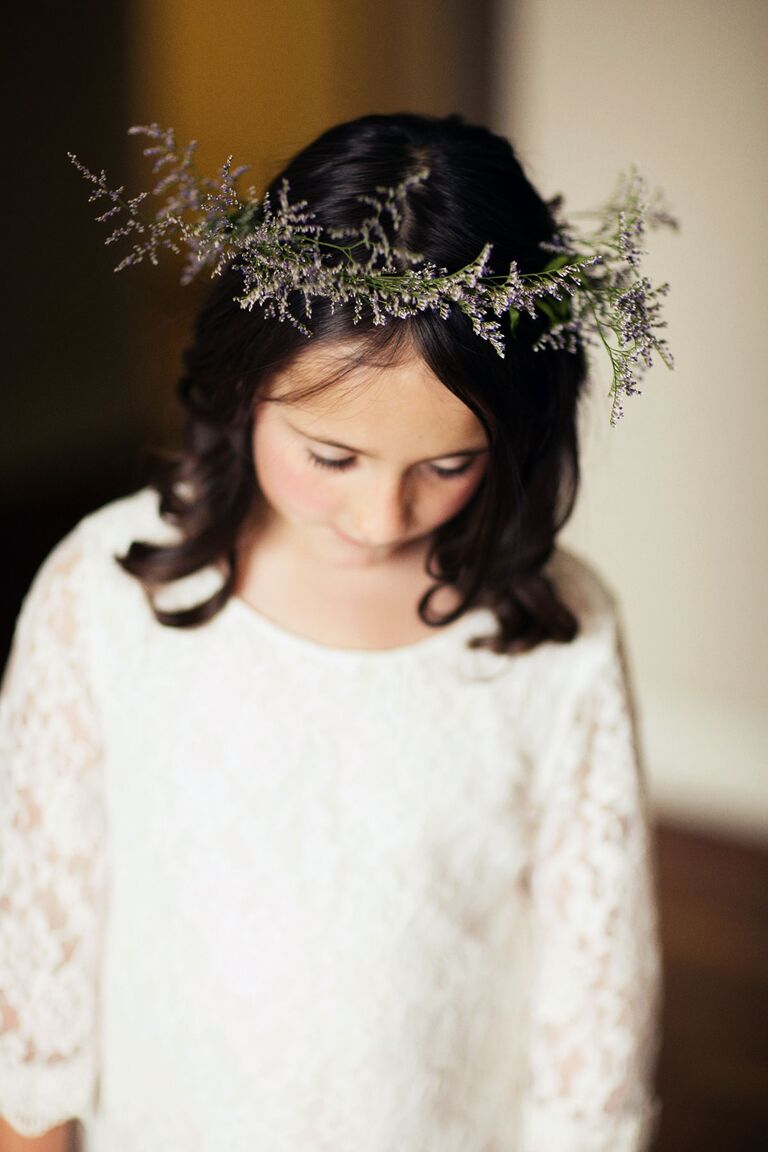 Ginny Corbett Photography
Another simple style, this flower crown uses only sprigs of fresh lavender and was made as a complement to the bride's crown. The natural wildness of the lavender sprigs adds an angelic look to any flower girl and a calming fragrance as she walks down the aisle.
4. Thistle Flower Girl Crown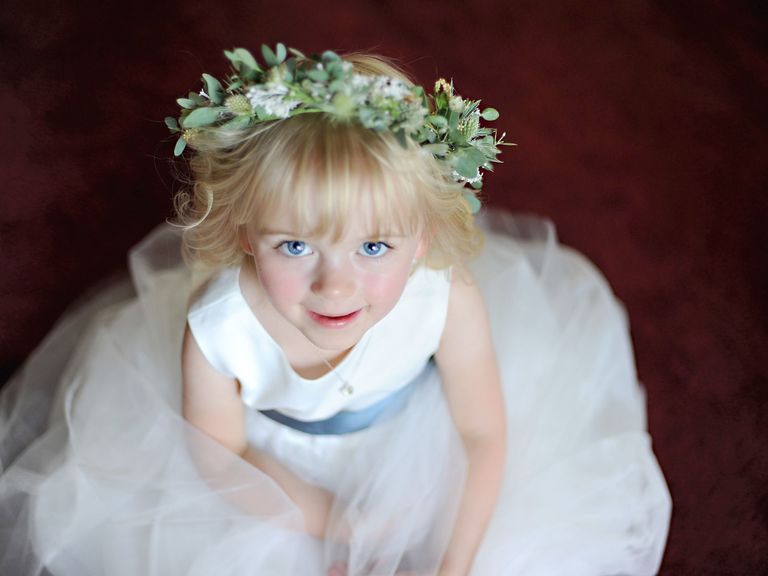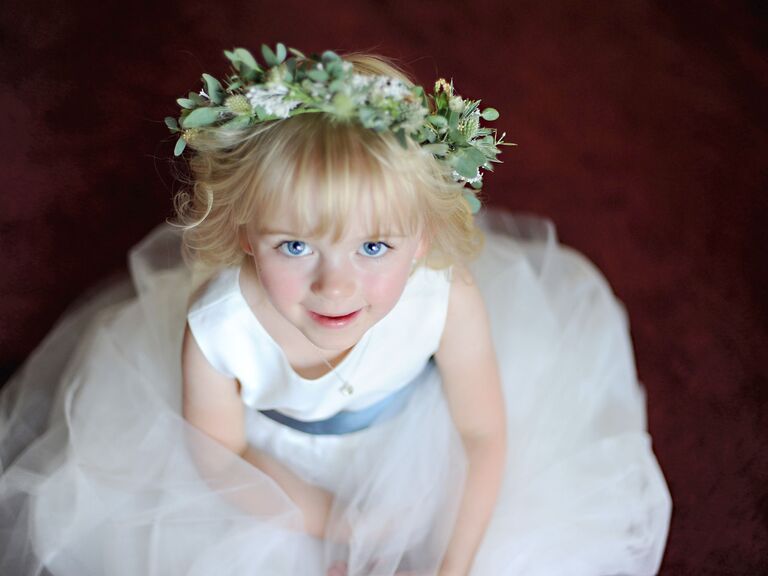 Offering a green take on a natural flower girl flower crown look, this thistle crown gives a rustic element to an otherwise traditional flower girl dress. Its looks lovely on this flower girl's loose hair.
5. Large White Wax Flower Girl Crown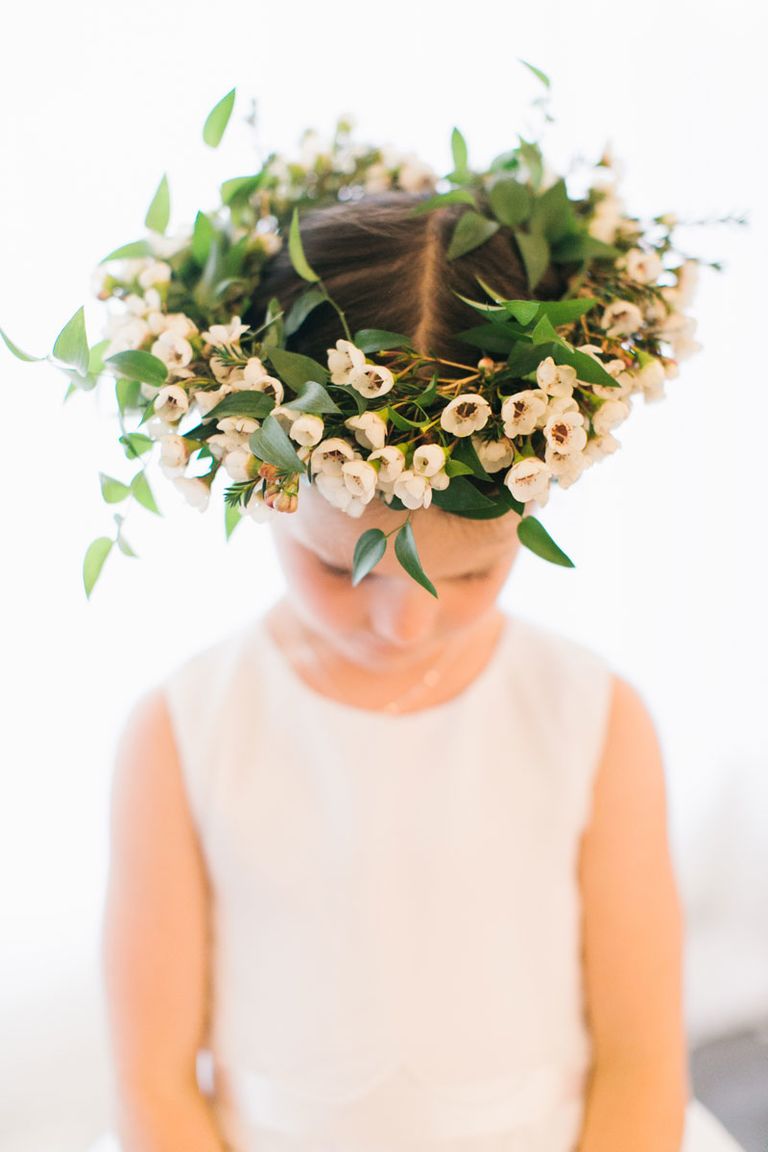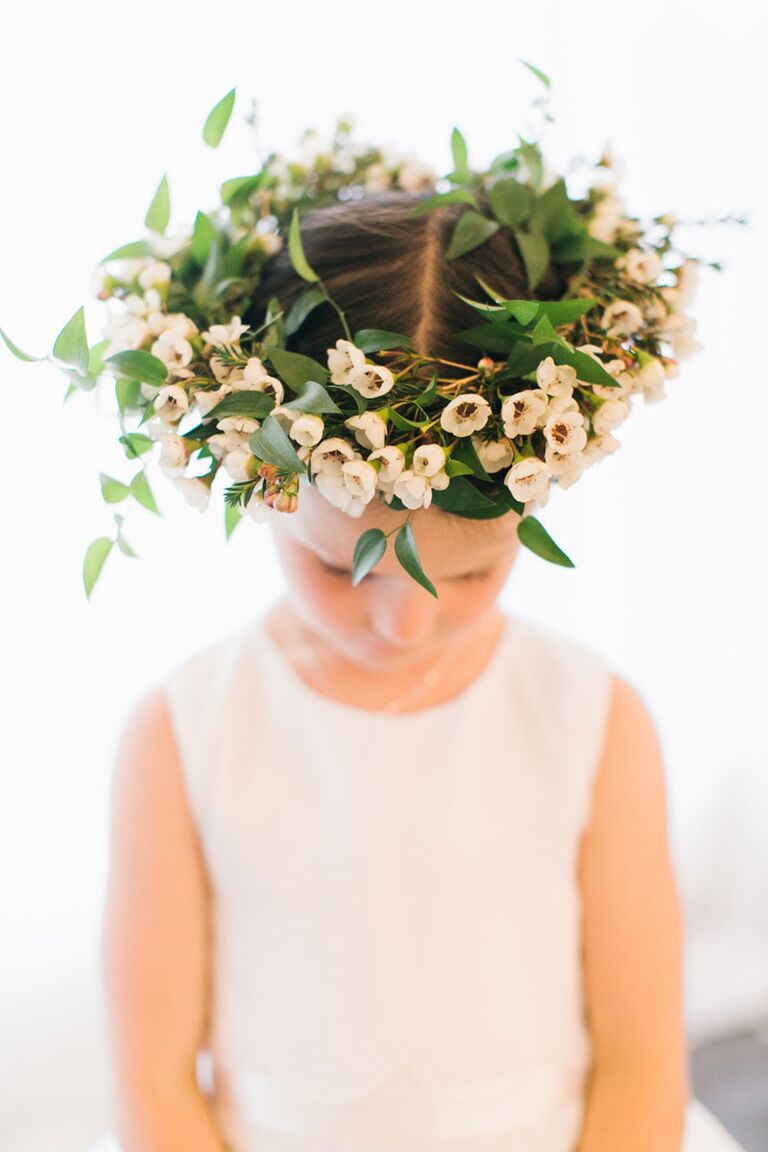 Rebecca Arthurs Photography
This whimsical flower girl crown stands out thanks to the wide white wax blossoms and deep green leaves. A crown like this can even be paired with a pulled-back hairstyle, which allows the crown to be the center of attention.

6. White Carnation and Viburnum Berry Flower Crown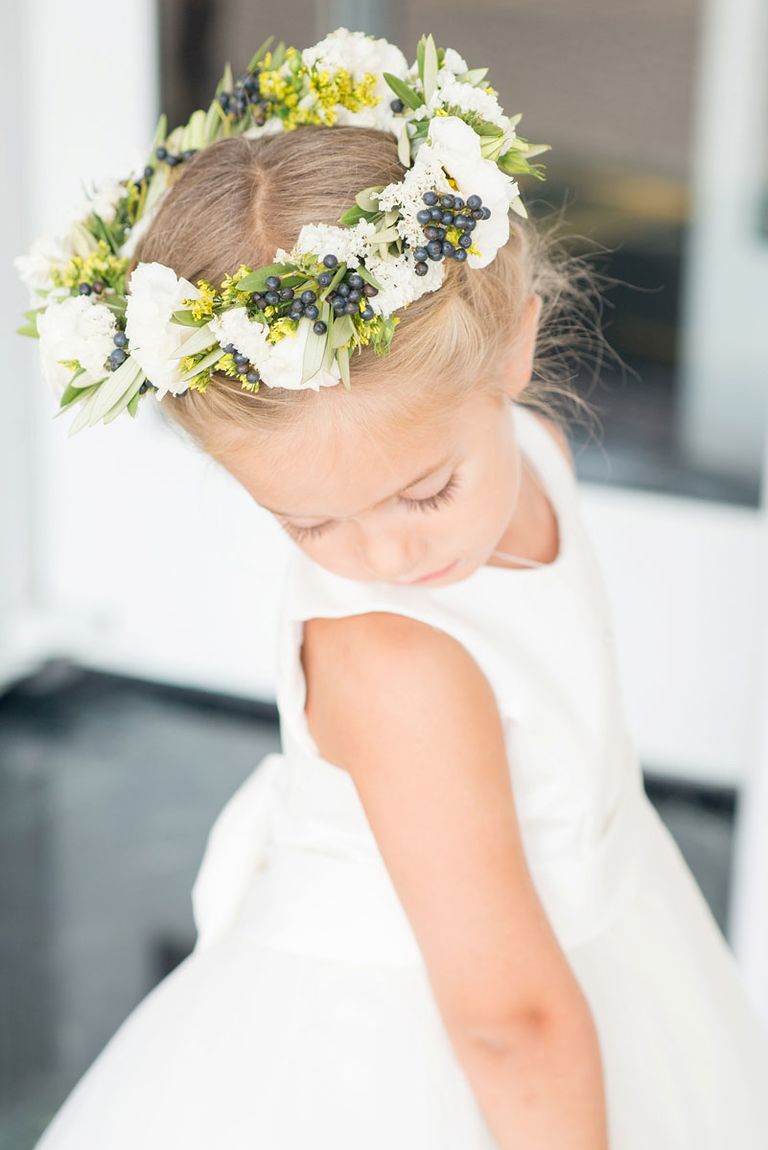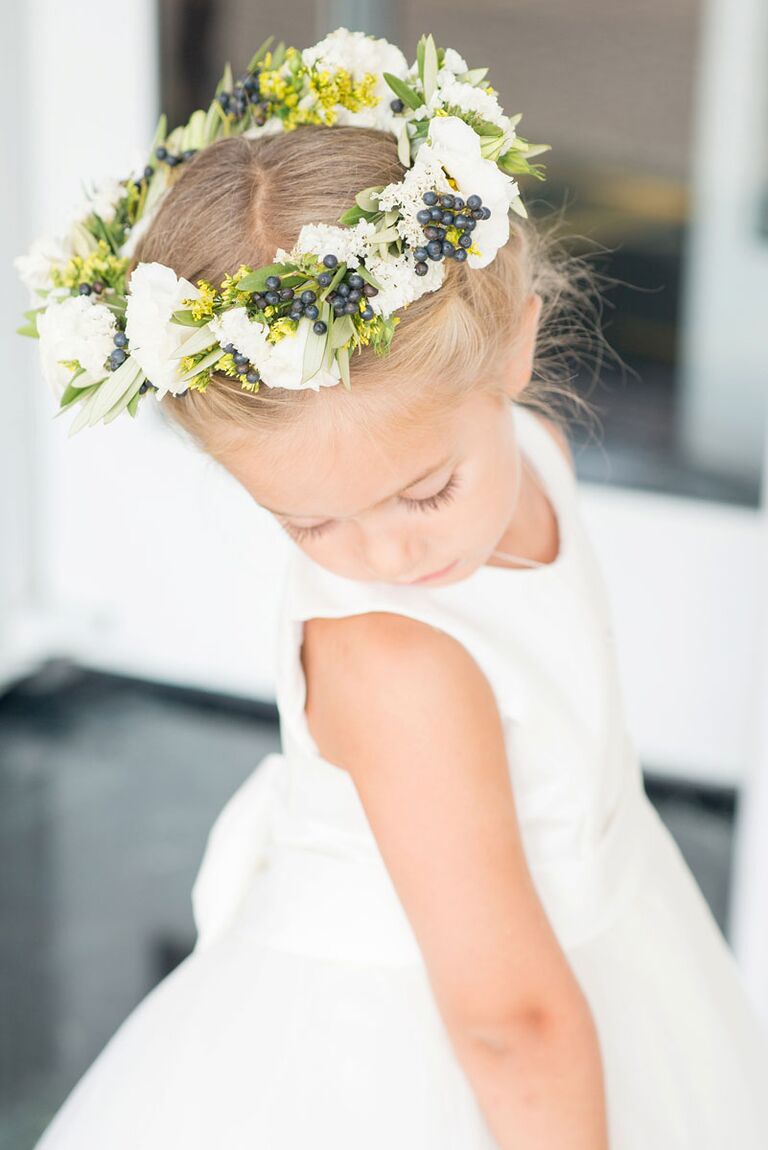 Designed to match the wedding's nautical theme, this flower girl crown uses white carnations along with viburnum berry accents, small yellow flowers and eucalyptus leaves. Combined with a braided updo, this sophisticated look still offers an innocent tone thanks to the "halo" effect of the flower crown.

7. Pink and Ivory Flower Crown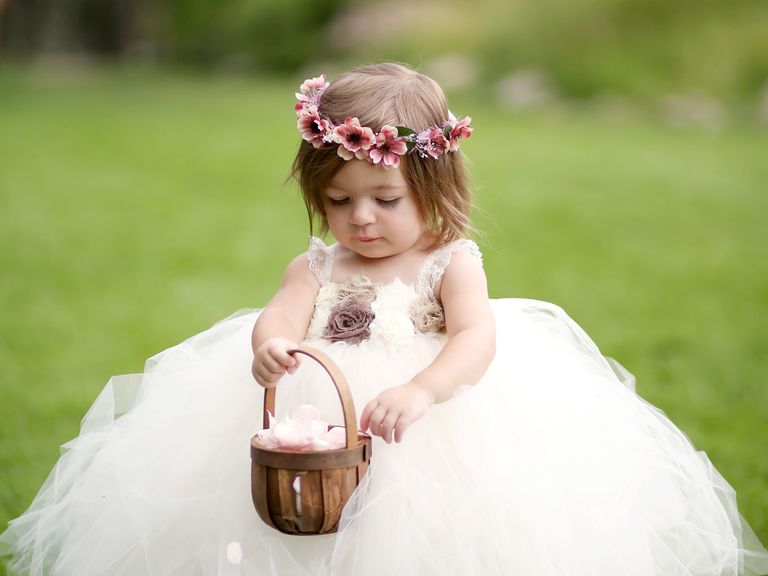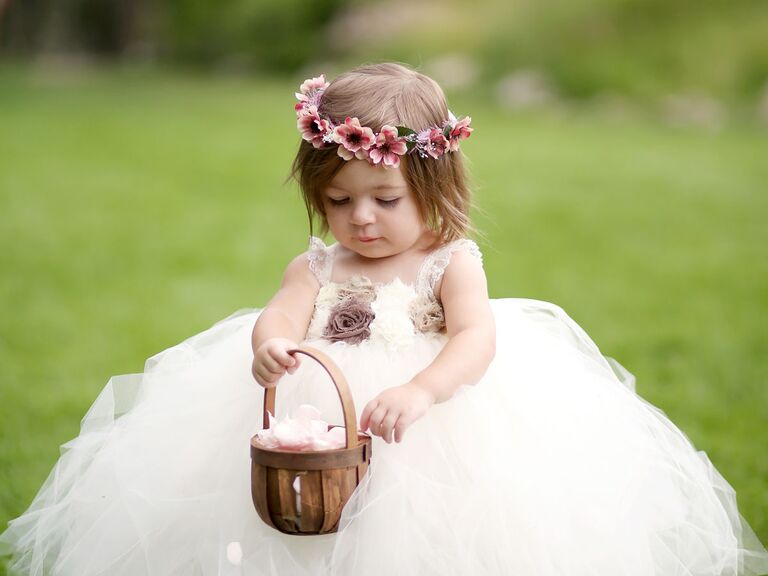 Autumn Twilight Photography
The delicate colors of this flower crown match the details of the flower girl's dress and the blush pink petals she tossed down the aisle. The pink and ivory tones are perfectly pretty against her soft brown hair.

8. Fern and Baby's Breath Matching Flower Girl Crown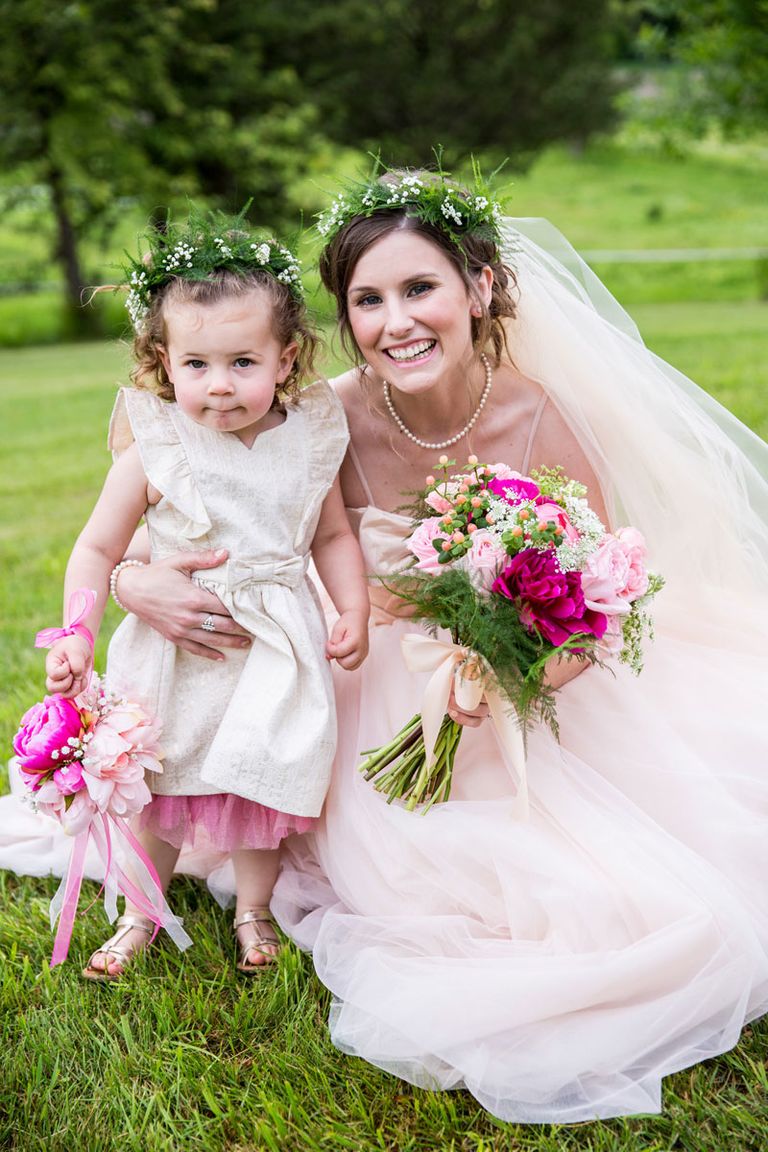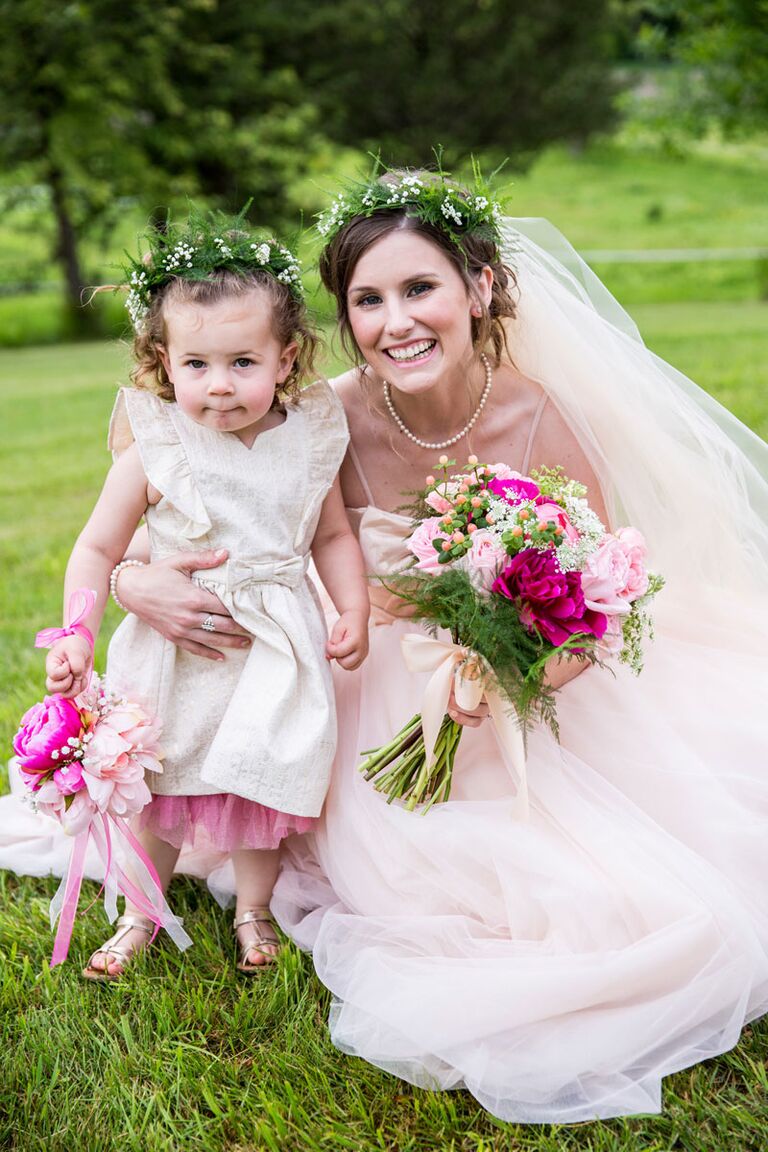 Krista Esterling Photography
This flower girl's entire ensemble was made to mirror the bride's wedding day look. Her crown features baby's breath and green ferns, adding a natural and rustic look to her pink dress that's complemented by her soft curls.

9. Yellow Rose and Leaf Flower Crown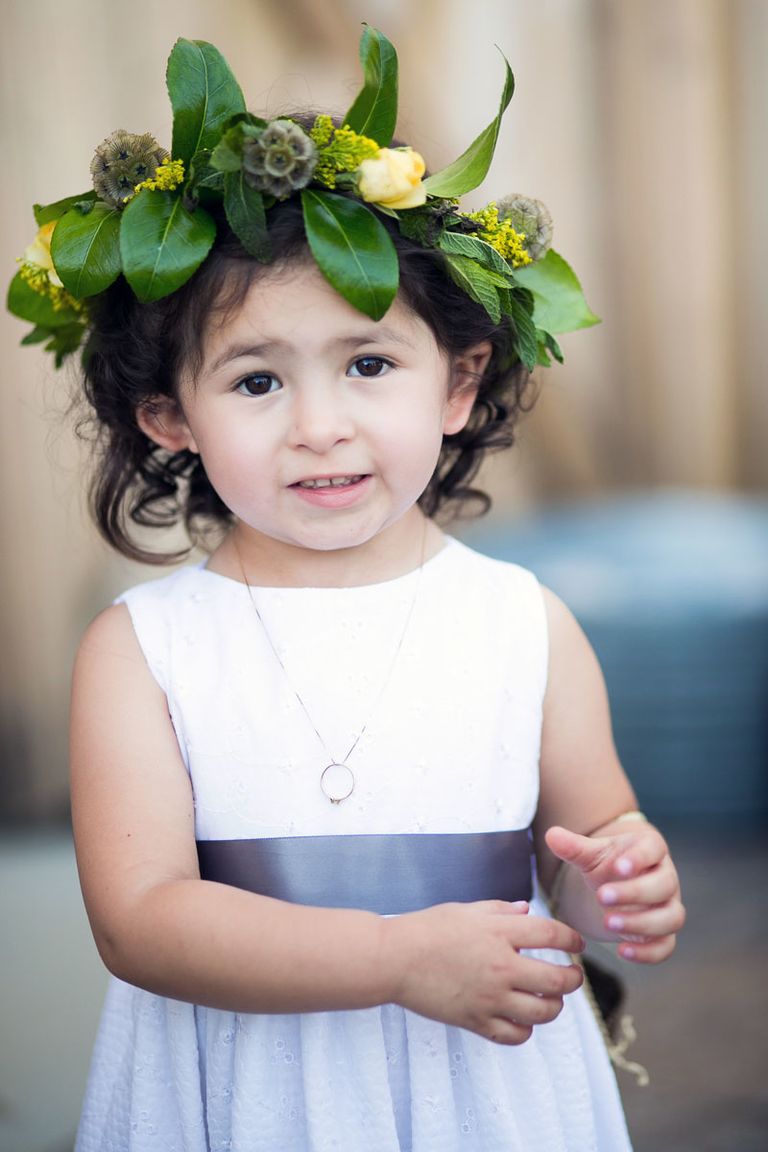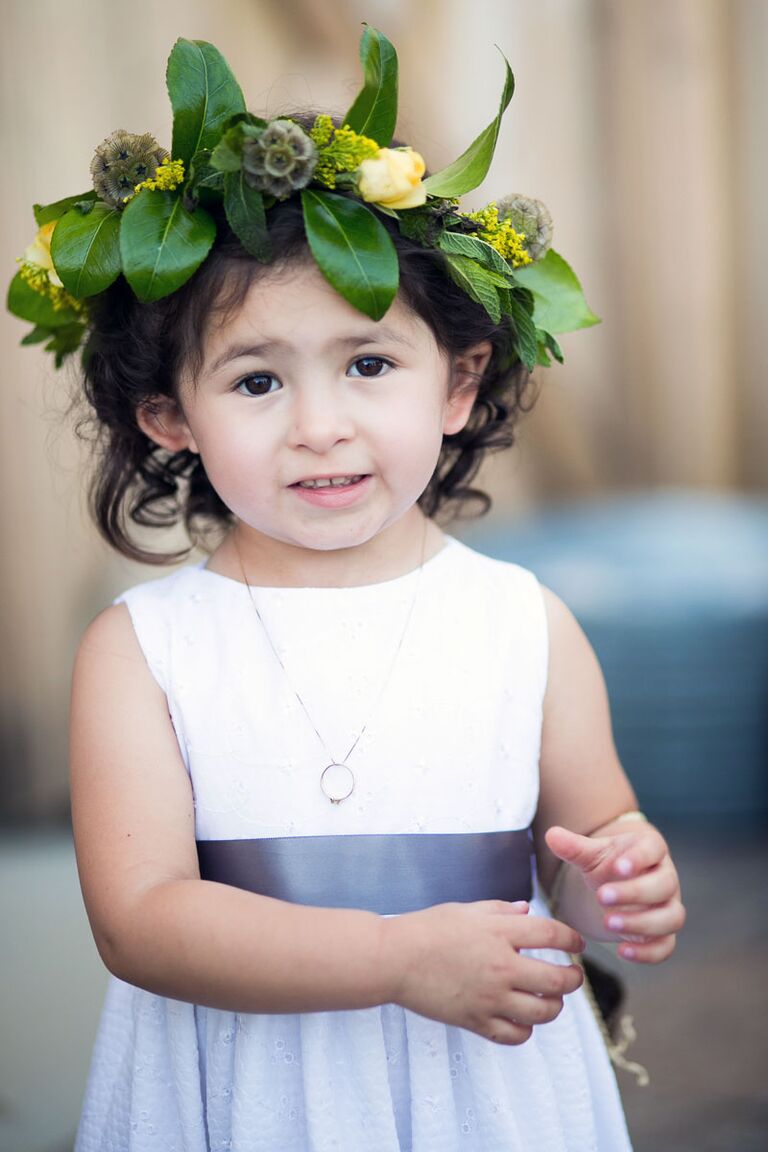 The organic feel of this yellow rose, green leaf and scabiosa pod flower crown contrasts well with the flower girl's pretty white eyelet dress with a gray silk sash. Her dark curls complete this natural look.

10. Peach Rose and Eucalyptus Flower Crown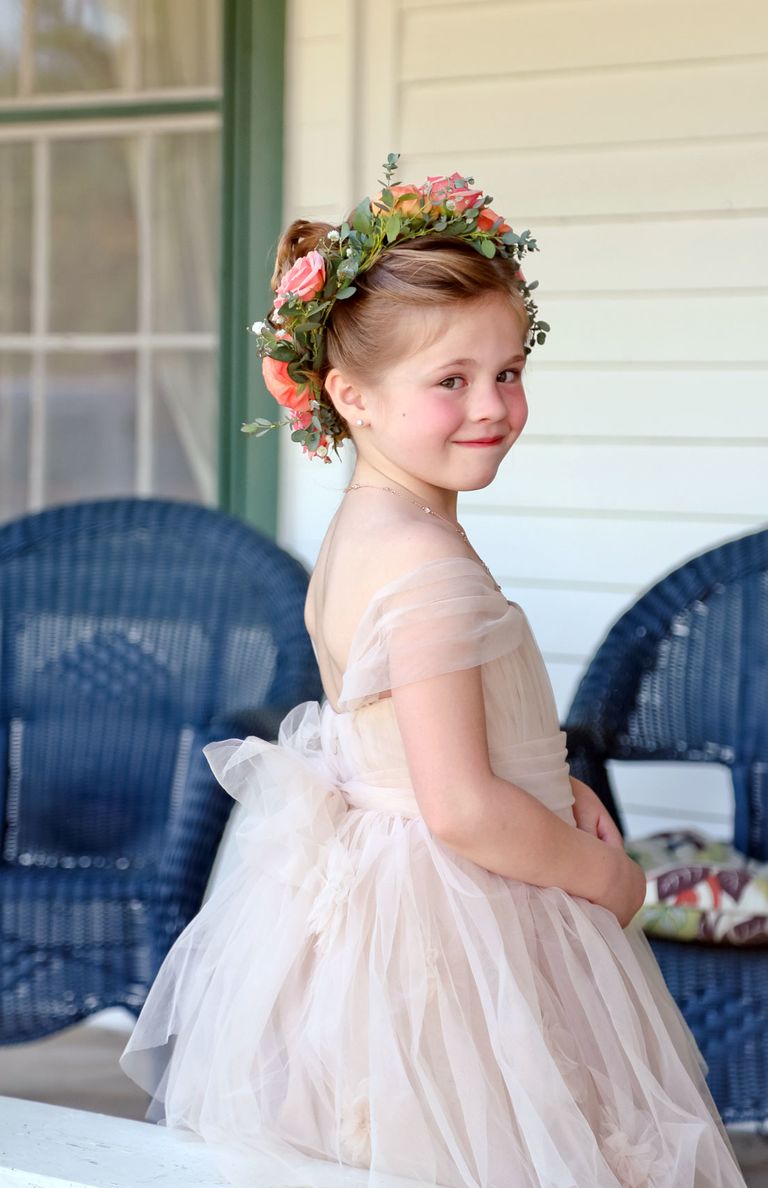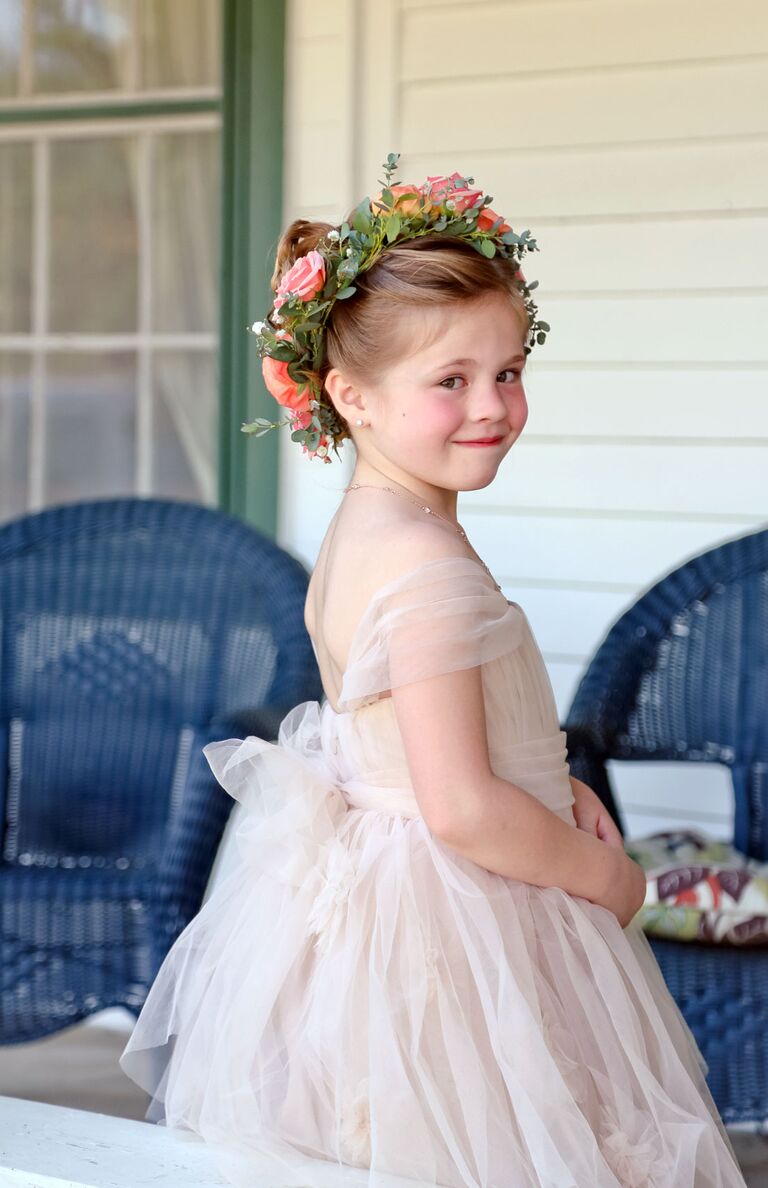 Studio Eleven Photography
The bold pops of color offered by the peach roses in this classic-yet-country-style flower crown complement the flower girl's champagne dress. Paired with eucalyptus leaves for added contrast, this crown sits atop an elegant twisted updo that is oh-so pretty on a little girl.

11. Organic Coral Rose Flower Crown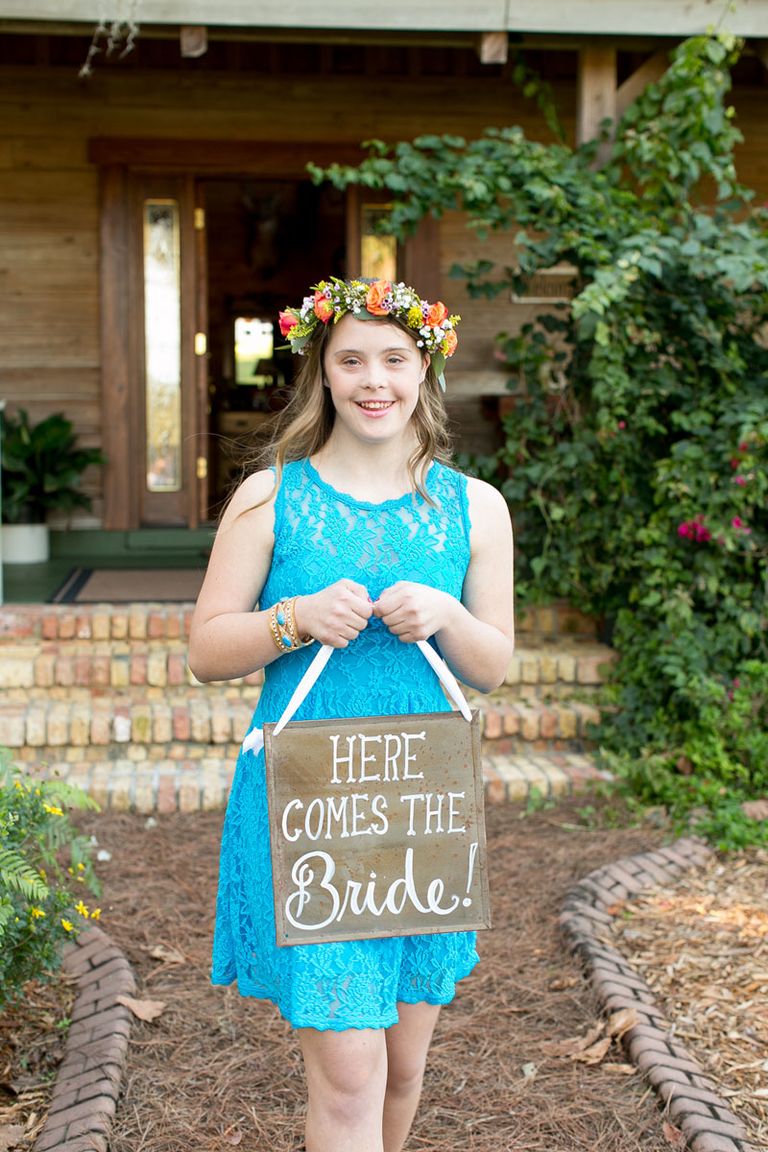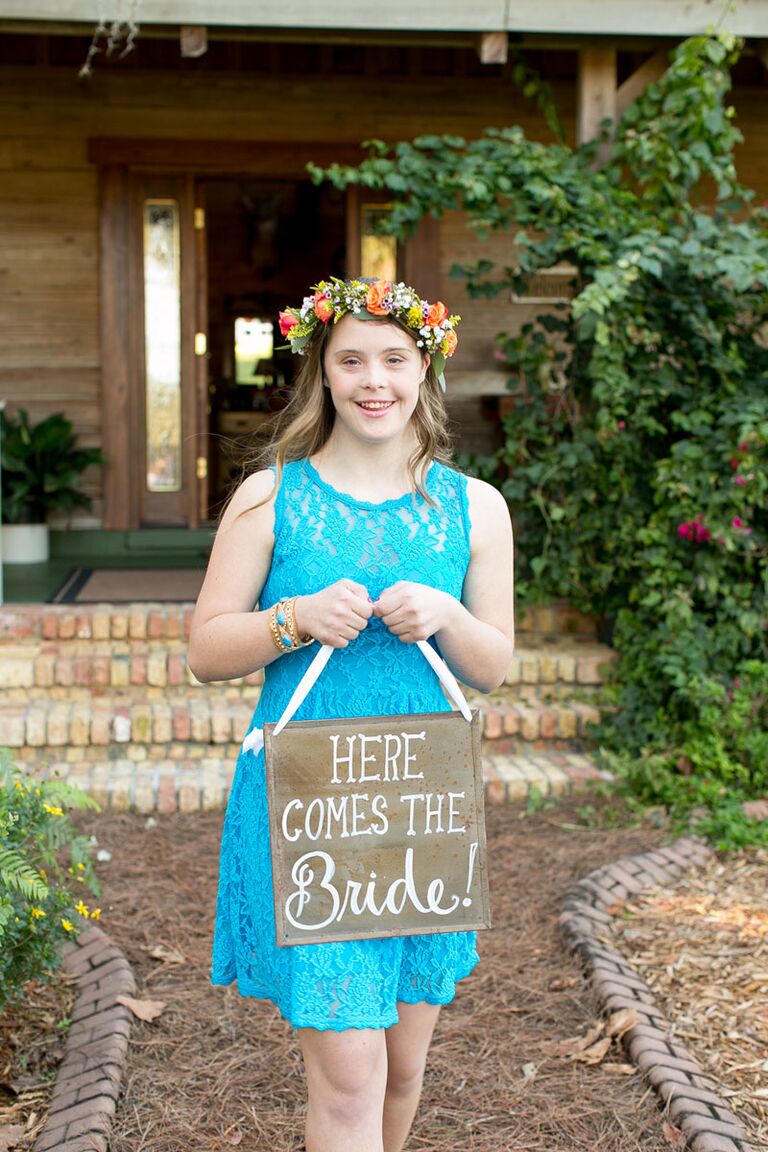 Amalie Orrange Photography
Flower girls of any age look fantastic in flower crowns. This flower girl's organic crown features bright coral roses along with yellow, white and purple accent flowers, which beautifully contrast with her bright blue lace dress.

12. Boho Pink and White Flower Crown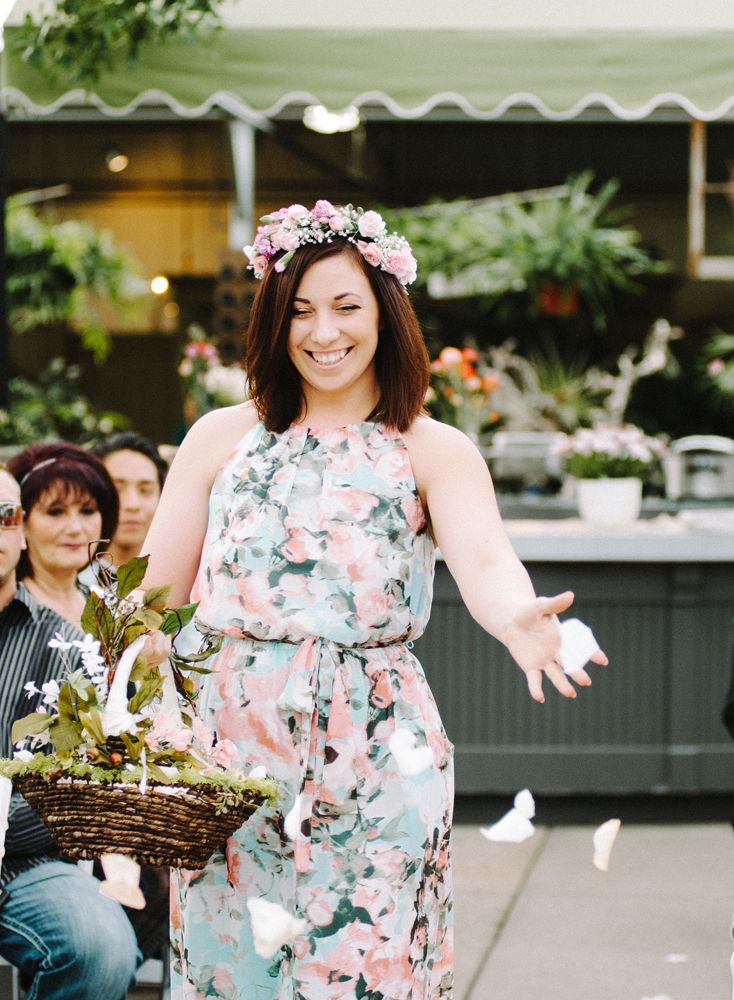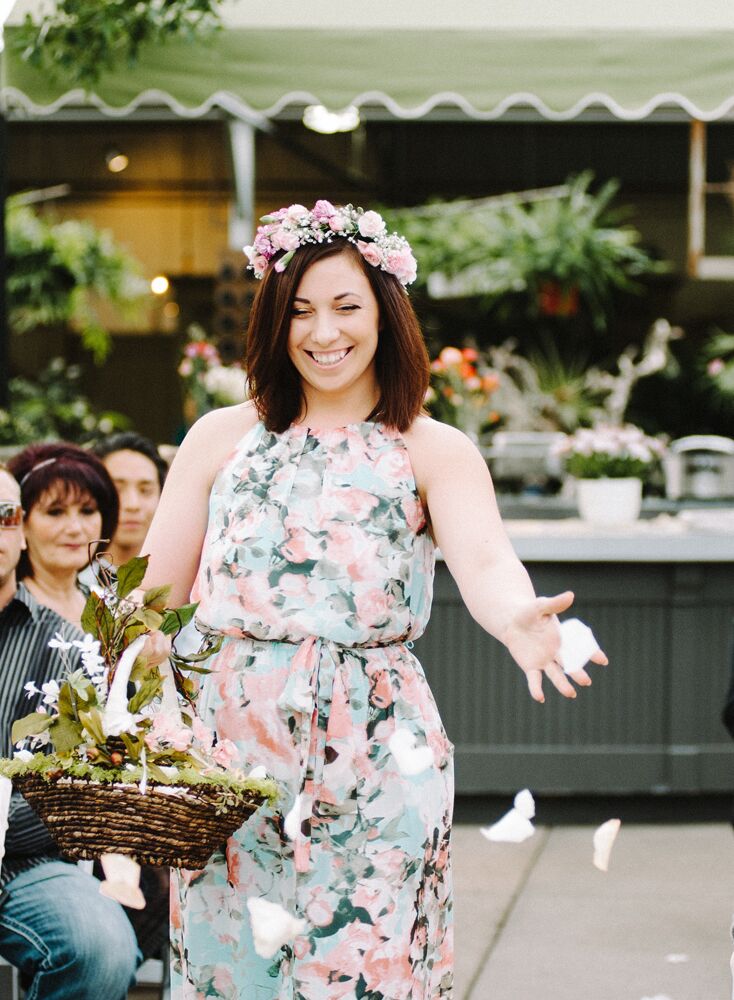 This flower girl shows how much fun a crown is with bright pink and white roses that complement her dress and the basket of blooms. Her dark, straight hair makes the pretty pink blooms stand out.