If you weren't planning on having your honeymoon at Disneyland or Walt Disney World, you might want to reconsider. From the classic honeymooner pins to dining perks (free dessert!), newlyweds get extra-special treatment around the various parks. Many special Disney experiences aren't common knowledge, but you can take these tips from couples who honeymooned at Disney and the team at Disney's Fairy Tale Weddings & Honeymoons who are spilling their insider secrets.
Stay and Play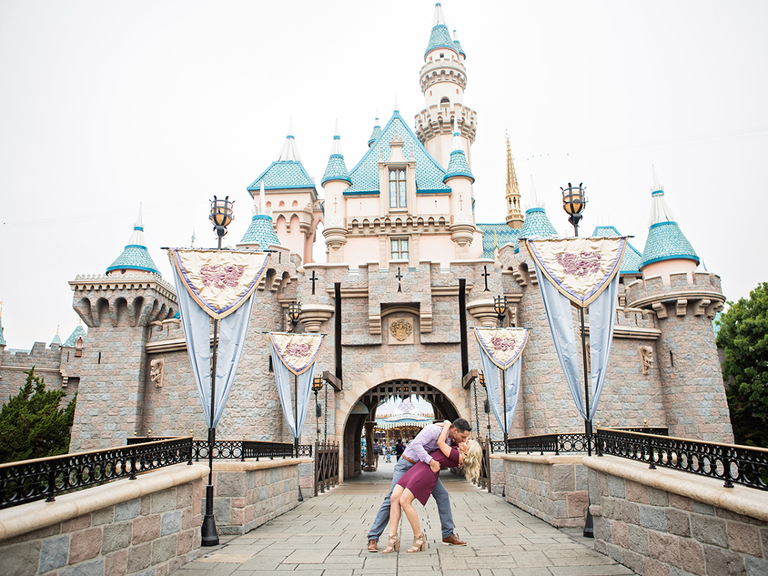 "Get the 'just married' button from Disney's City Hall to show you're on your honeymoon. Cast members will notice this and oftentimes offer priority seating for shows or a free dessert. It seems kind of goofy, but it actually gets you some attention." —Brooke 
"Our favorite place was the Tiki Room because the people working there saw that we had fallen asleep and let us sit there for three shows straight since my husband wasn't waking up! It's super-relaxing in there. We actually fell asleep on a lot of the rides because we got no sleep the night before. I would recommend relaxing for a day between your wedding and going to Disneyland." —Kelsi 
"When taking pictures with characters, let them know you're celebrating. It seems juvenile, but character reactions to engagements and honeymoons are really cute and make for unique pictures." —Brooke
"We got our 'just married' pins at Downtown Disney and didn't have to wait in line at City Hall in the Disneyland park." —Courtney
"Look for PhotoPass people (anywhere but the castle) and if they aren't too busy, they'll take some fun pictures—it's like a miniature photo shoot. Look for someone who isn't being bombarded and who doesn't have a tripod. These are typically called 'rovers' and they just roam areas of the park to take lifestyle shots of families and couples." —Brooke
"The bride and groom Mickey Mouse ears are a must! We had a lot of fun meeting other newlyweds and bonding because of our matching hats." —Kelsi
"The workers at 'It's A Small World' noticed our wedding Mickey ears and they gave us a boat all to ourselves—even with a long line behind us! It was magical." —Liz
"Make sure your new husband twirls you often (especially at the castle) because it's the one day that it's not cheesy, and it makes you feel like a princess." —Kelsi 
"We got FastPasses to our favorite rides first thing in the morning—that way we wouldn't miss them. Then we would hurry on to a popular ride that would attract lots of people. We went on the new Space Mountain (the Star Wars edition) right when the park opened and walked right on. When we got off, the line was three hours long! So planning ahead is the best way to get on the rides you want the most." —Taylor
"We loved staying at the Disneyland Hotel. It was special to be immersed in Disney from the get-go and then it was exciting to basically wake up in Disneyland the next day." —Liz
"Downtown Disney has great restaurants and shopping for a little break from the parks." —Taylor
Food, Food, Food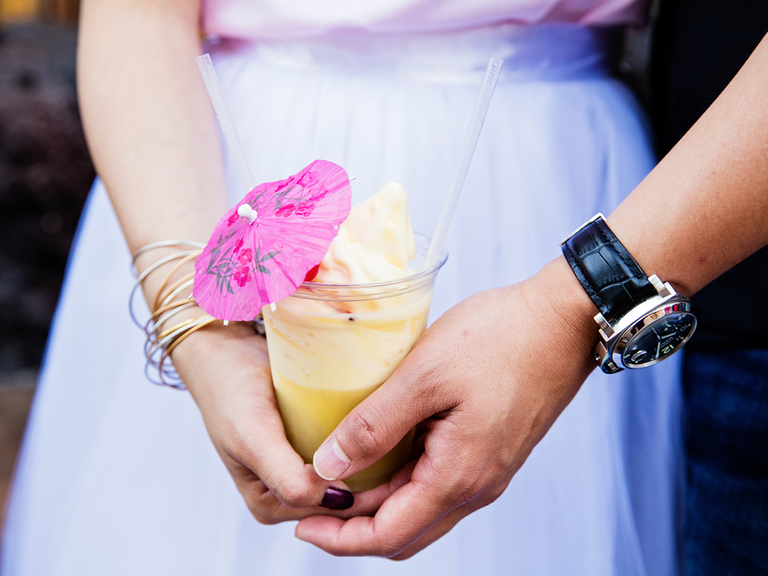 "My husband's dream has always been to take his future wife to eat at the Blue Bayou Restaurant inside of the Pirates of the Caribbean ride. We were able to make a last-minute reservation around 3 p.m. If you want to dine at dinnertime, then make those reservations a month in advance through the Disneyland app." —Liz
"Get the Dole Whip after a stop in the Tiki Room." —Kelsi
"Make reservations at a nice restaurant like Blue Bayou or Carthay Circle. They're on the pricey side, but it's a treat in itself. They ask you ahead of time if you're celebrating something and usually make your dining experience extra special." —Brooke
"Eat all of the desserts! Our favorites were the cream cheese pretzels, Dole Whip, Mickey macarons, Mickey beignets, Mickey fudge ice pops and the caramel apples." —Liz
"I recommend bringing snacks and your own water bottles into Disneyland to save money." —Nicolette 
"At the Magic Kingdom, find the grass patch near the castle (outside the ice cream shop) and have a little picnic. It's a great way to relax and get away from all of the hustle and bustle." —Kiara 
"You must eat breakfast at Goofy's Kitchen. When you're an adult at Disney, the rides seem to take priority over seeing the Disney characters and princesses. At Goofy's Kitchen, all of the characters are there while you eat. They're dancing around you and it's just the best start to your day!" —Liz
"Try the food in different Epcot countries—it's surprisingly authentic. And if you're a foodie, give yourself a good budget for park meals and treats. You'll be surprised at all the yummy things you can find." —Kiara
Tech-y Tricks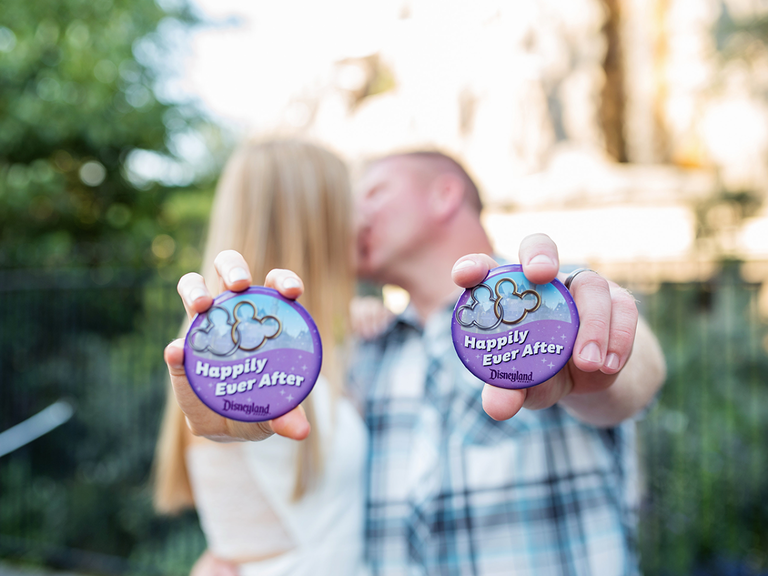 "We bought our tickets the day before at Get Away Today—they seem to always have the best deals." —Taylor
"Buy the MaxPass. It's only $10 more with your ticket and all fast passes can be reserved through the Disneyland App. So now you can save time and you don't have to go to the actual ride for your fast pass tickets." —Liz
"Check out a Disney World Crowd Calendar and plan which parks to visit on what day accordingly." —Kiara 
VIP Treatment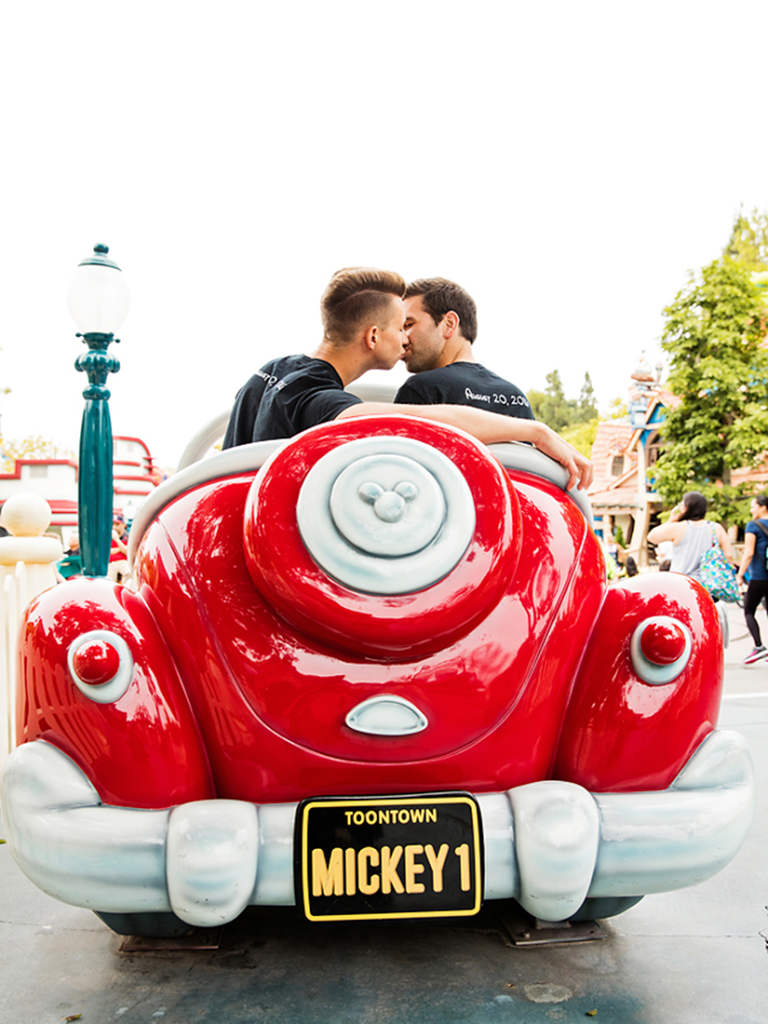 For couples who book Club-level reservations at Walt Disney World Resort and Disneyland Hotel Resort hotels, you'll enjoy personalized vacation planning support through Disney Signature Services, a special resource to help you create the honeymoon of your dreams. And you can hang out in the Concierge Club lounge for complimentary light bites throughout the day—including continental breakfasts, afternoon refreshments and evening appetizers with wine, beer and desserts.
Treat yourselves to a private VIP tour and explore the theme parks with your own VIP Guide. They'll customize and plan the most efficient way for you to experience all of the attractions and shows that you want to see most.
For the all-out romantics, create a completely customized, entirely unique experience that's personal to your relationship. Enjoy a private portrait session in the parks or a private dinner show featuring signature Disney entertainment and characters. You can even opt for a custom fireworks show to celebrate your marriage and the start of your new life together.
You can truly relax and rejuvenate at one of the full-service spa and health clubs—Senses Spa (two locations at Walt Disney World) and Mandara Spa at Disneyland Resort.
Special Occasions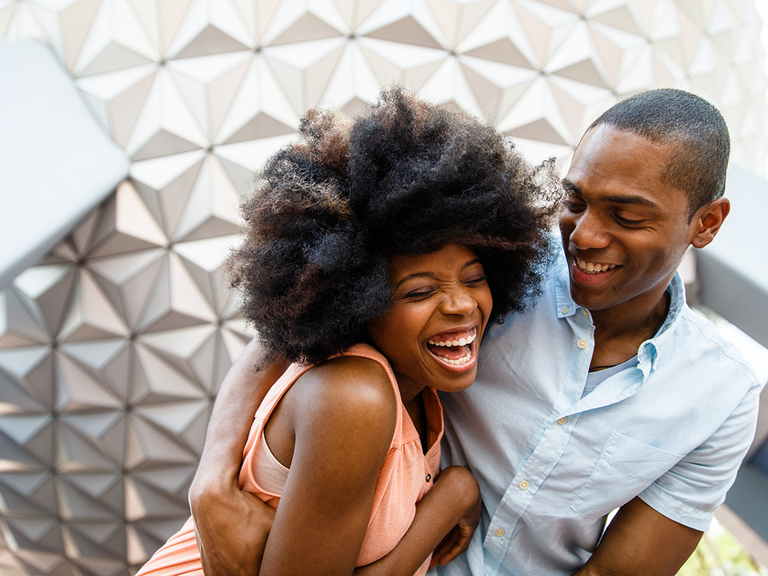 Time your honeymoon to enjoy special seasonal holiday events, like the International Epcot Food & Wine Festival at Epcot (Walt Disney World Resort) or the Flower and Garden Festival at Epcot, and Festival of Holidays at Disney California Adventure (Disneyland).
Try the Napa Rose Food and Wine Pairing experience at Disney's Grand Californian, which is a relaxing, hour-long tasting of five fine wines and artisanal cheeses.
For the 'Gram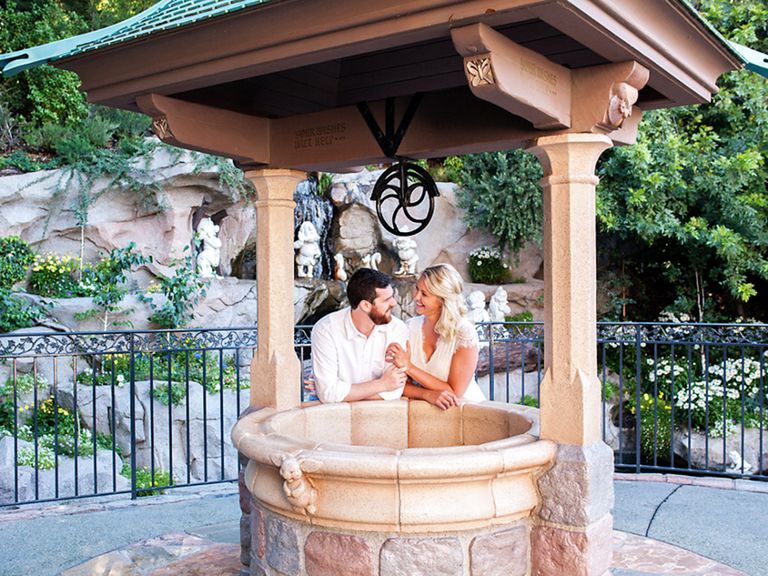 Instagram-worthy photo spots at Disneyland: The White Rabbit's House in Fantasyland, the fountain at Snow White's Grotto near Sleeping Beauty Castle and Toontown.
Instagram-worthy photo spots at Disney World: The new Pandora area at Disney's Animal Kingdom, the gardens at the Canada Pavilion in Epcot and the Liberty Bell at Magic Kingdom.