Boutonnieres may be one of the smallest floral wedding details, but they can make a huge impact when it comes to style. Because grooms and groomsmen typically wear neutrals like black, white, and navy, a boutonniere is the perfect way to add a pop of color to their lapels and tie their attire into the wedding style. For rustic wedding boutonnieres, including flowers and berries, like the one below from a flamingo-inspired wedding (yes you read that right!) add just the right amount of color and texture. Thorny thistle, colorful hypericum berries and soft, romantic ranunculus give the boutonniere a unique shape that's more casual than a classic rose, but still elegant. A patterned or colored ribbon pulls it all together (we love the gold glitter ribbon used in this boutonniere!).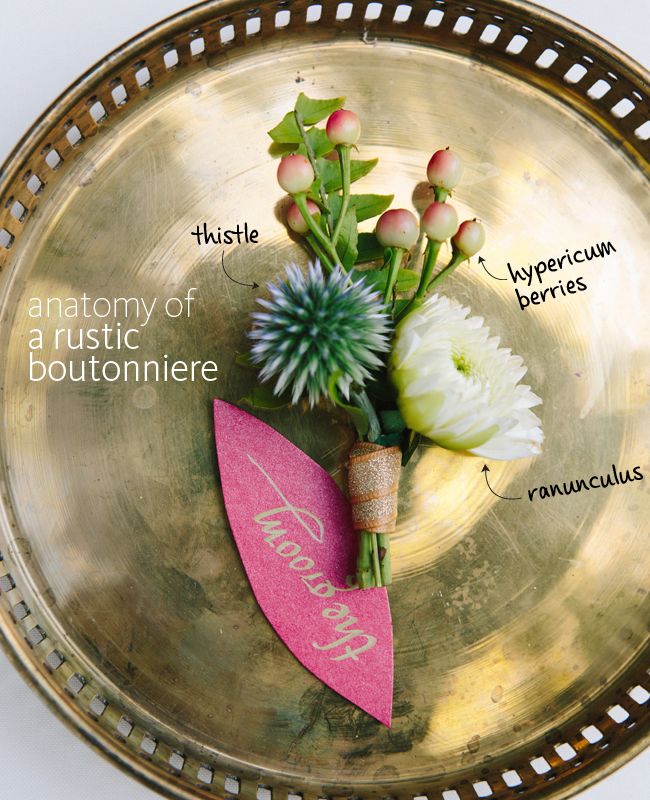 Brittany Graham Photography
Want more? Of course you do!
> 13 boutonnieres that don't have flowers
> How to make your own boutonnieres
> 25 prettiest flower ideas ever