Choosing your wedding flowers can be difficult, but learning what each bloom really means can make your decision a little easier. (For example, did you know that magnolia means "love of nature" and stephanotis signifies "marital happiness"?) During the Victorian era, The Language of Flowers created an ultra-romantic language for lovers' correspondence in which flowers replaced words. If you want to suffuse your wedding flowers with symbolism, check out our guide to the most popular wedding flowers and decide which messages move you most—your florist can also be a great resource too. Happy picking. 
Anemone

Moderately priced anemone flowers represent "expectation," which seems fitting for an event that symbolizes a future together. Other interpretations include good luck and protection against evil. They're unscented, primarily in season during the spring (but also late fall) and perfect for bouquets and arrangements. 
Baby's Breath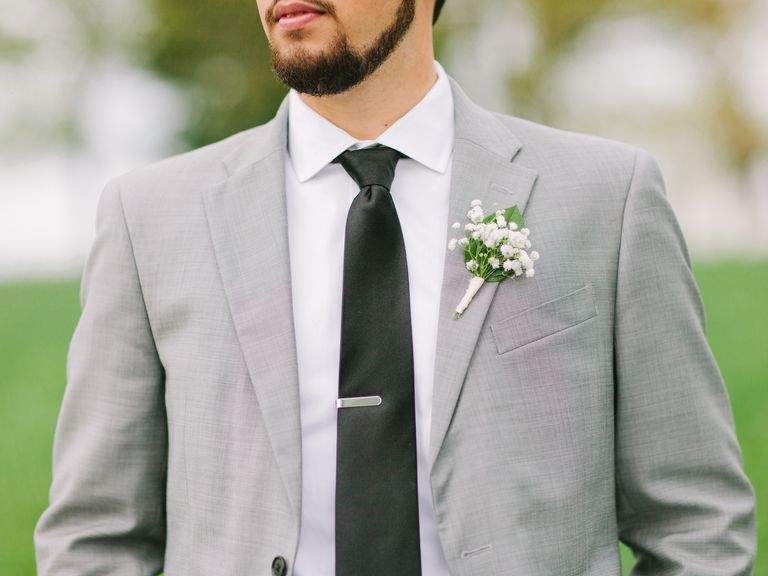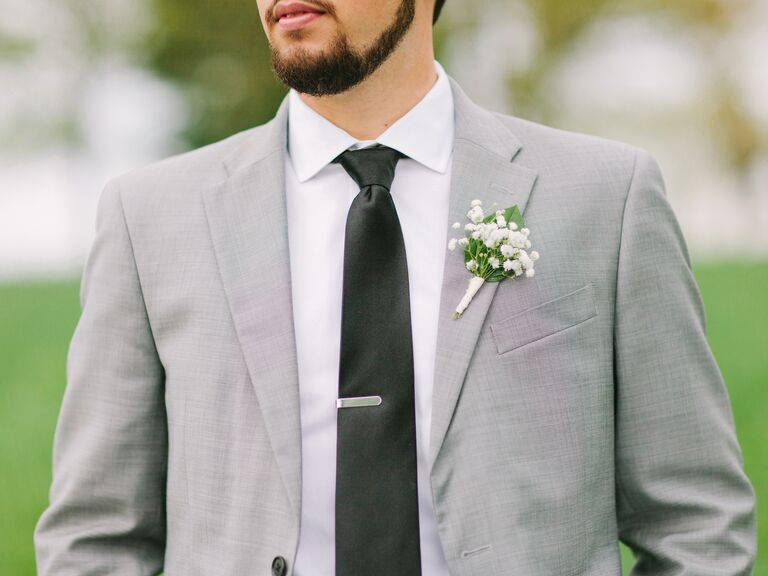 Baby's breath (like the white items you'll likely be wearing on your wedding day) symbolize innocence—and they're majorly back in style as of late. Fun fact: They're fairly inexpensive and in season year-round, so go crazy with these babies. 
Calla Lily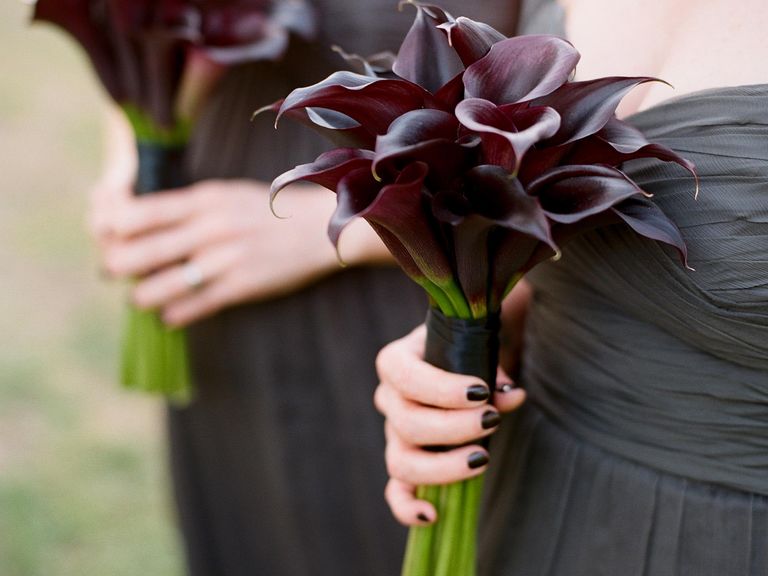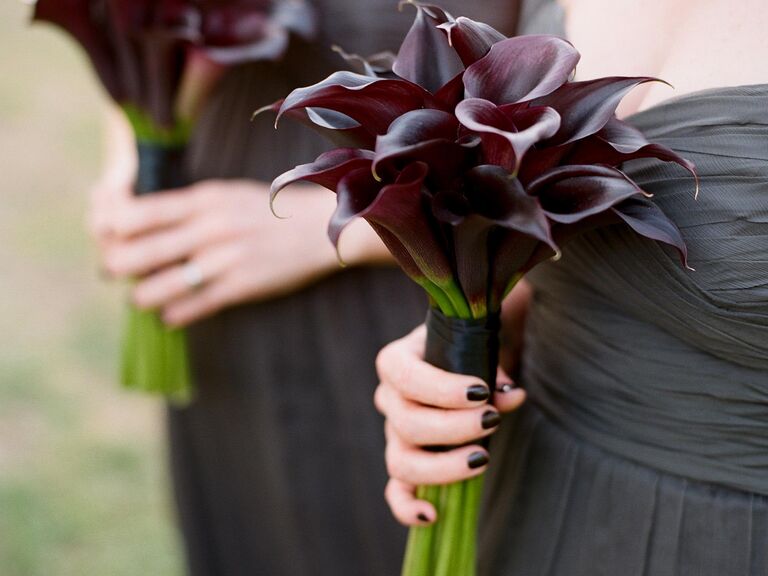 Lightly fragrant calla lilies represent "magnificent beauty," and are perfect and in season for spring and summer weddings (it is a tropical flower that originated in Africa, after all). 
Carnation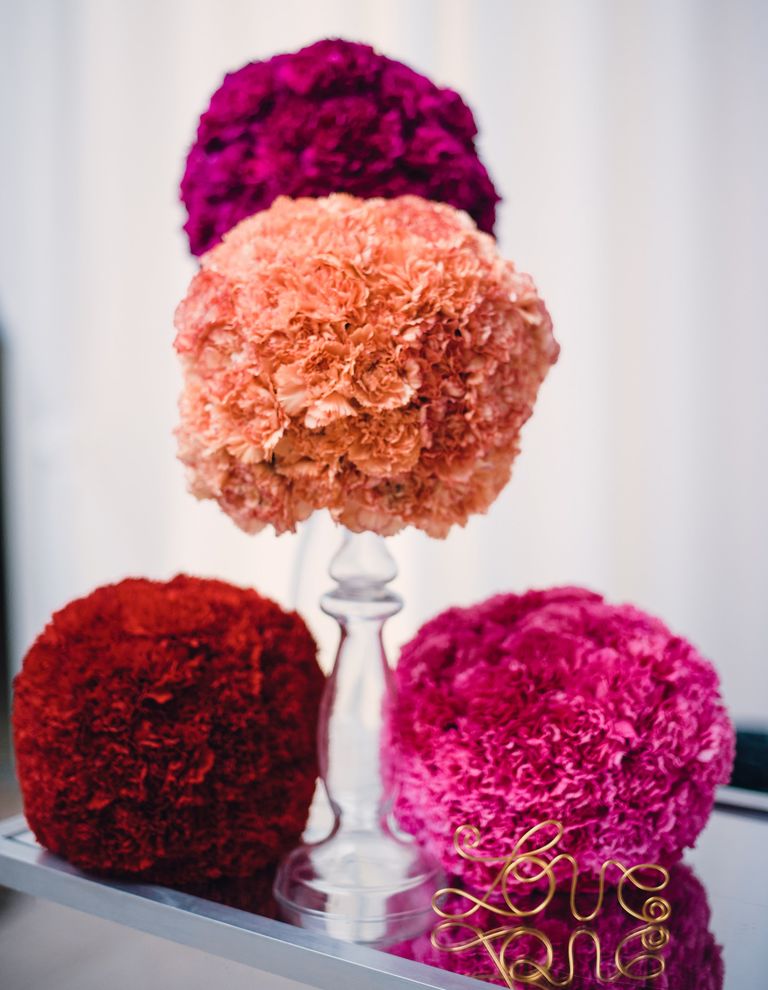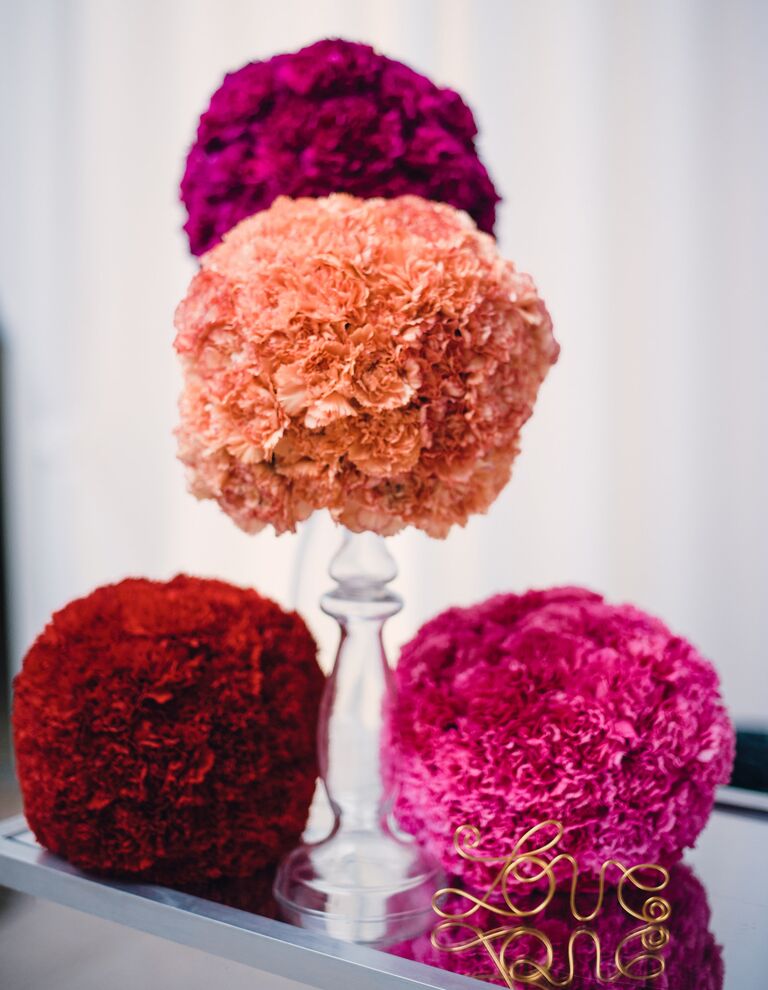 Colorful carnations are extremely underrrated and misunderstood—just to start, each color symbolizes something different. Pink represents boldness, red symbolizes love, and white indicates talent. They're also inexpensive and in season year-round. 
Chrysanthemum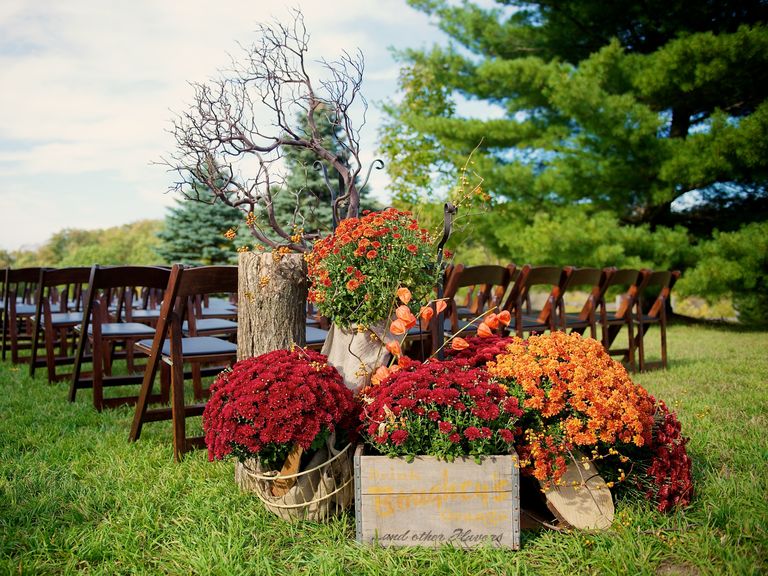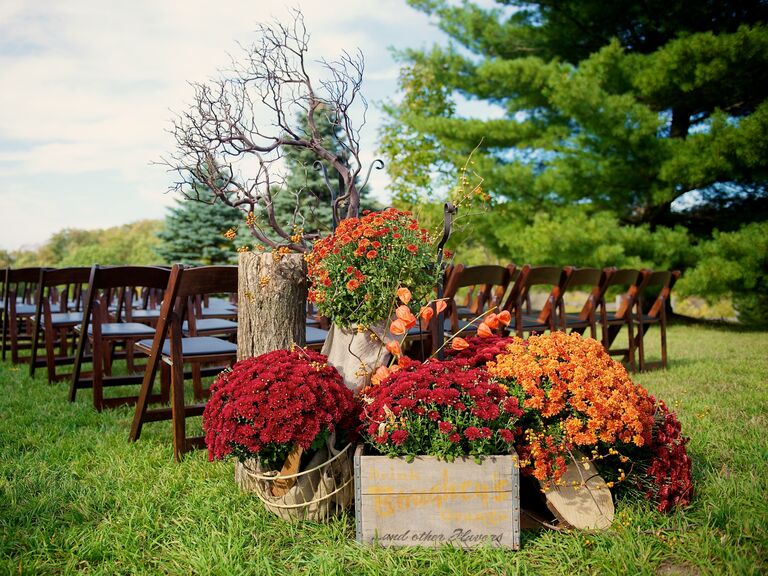 Wealth, abundance and truth are just a few of the words associated with the cost-efficient chrysanthemum. 
Cornflower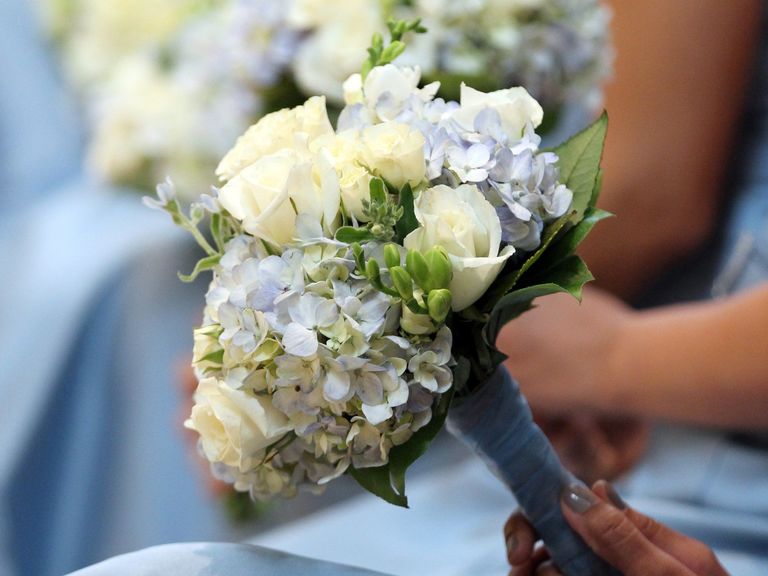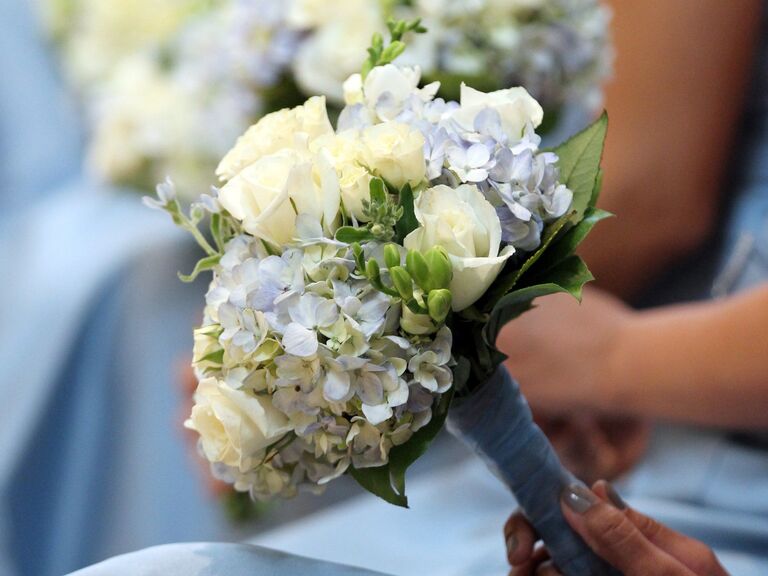 Cornflowers indicate prosperity and friendship—two things everyone hopes to follow after their wedding day. They're most associated with a gorgeous blue hue, but they're available in white and pink as well. 
Daffodil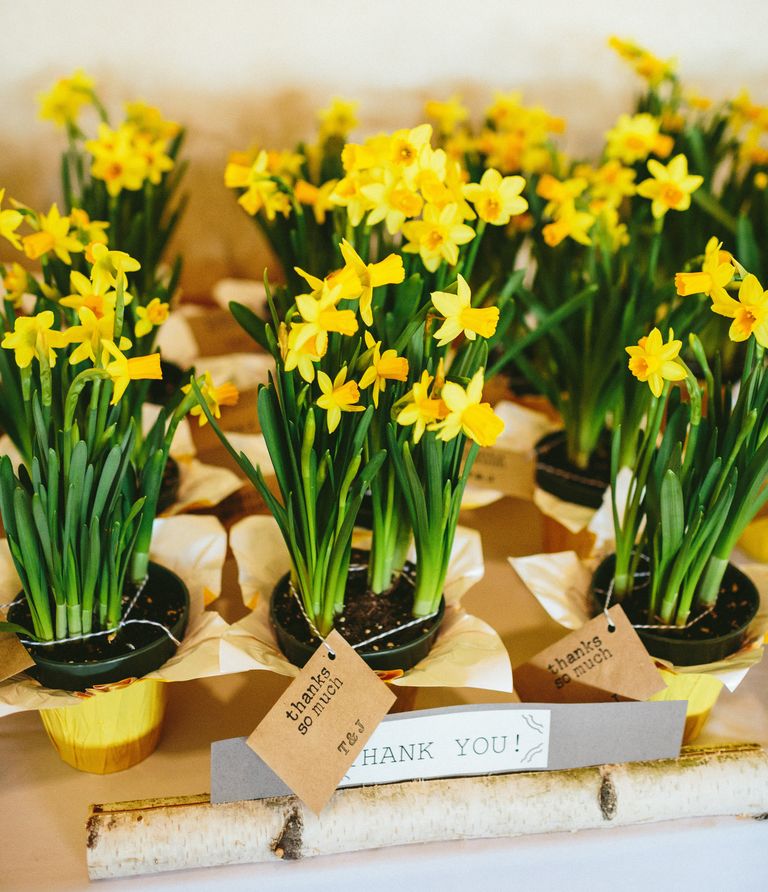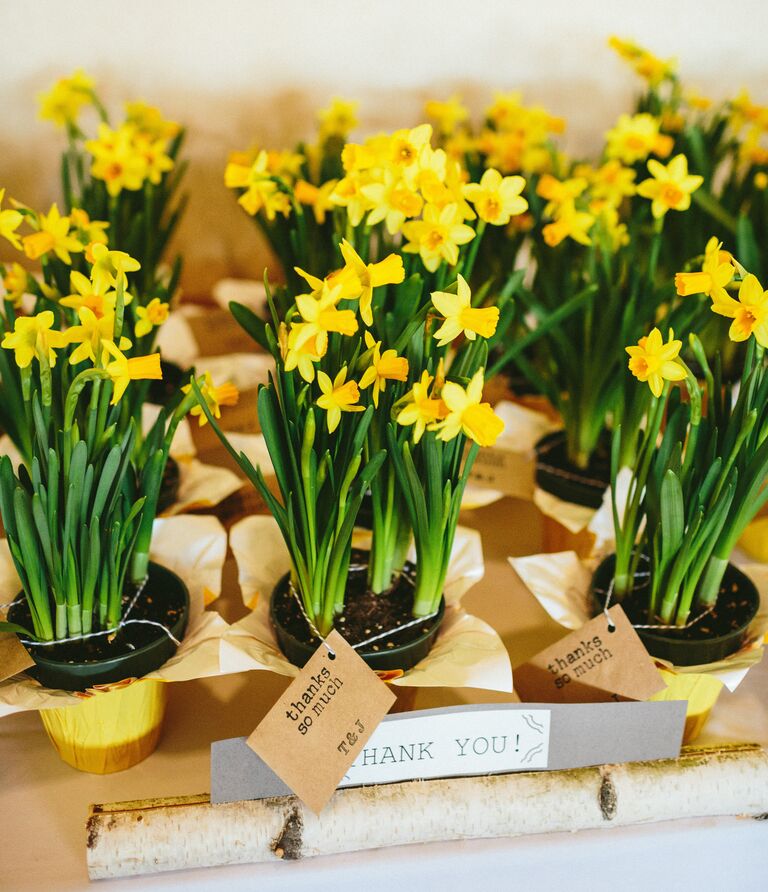 Hudson River Photographer
The bright, springy daffodil represents happiness and kind regards. Spring brides, take note: They're inexpensive when they're in season. 
Dahlia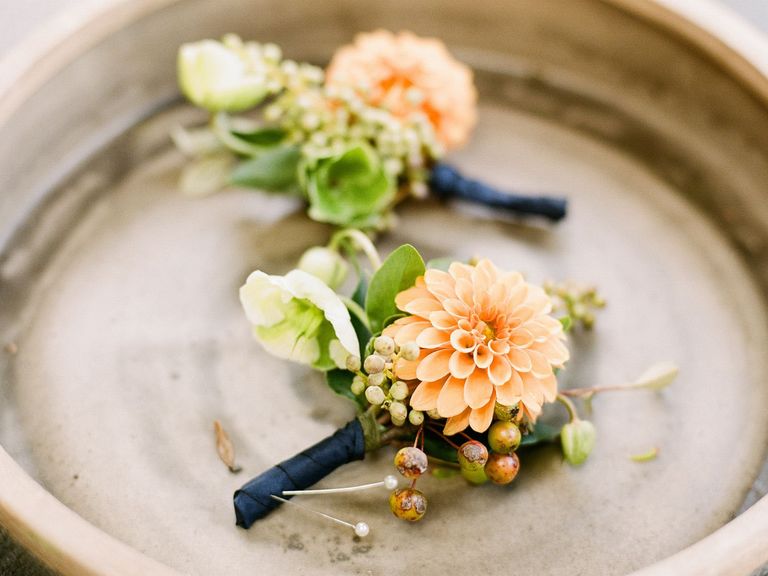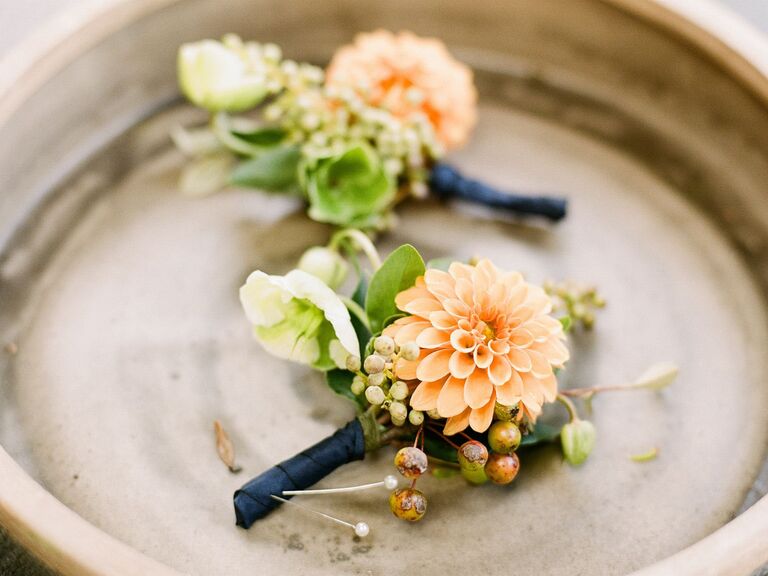 The dahlia is a symbol of a commitment and bond that lasts forever, making them pretty perfect for weddings. The bold, bushy flower is elegant for summer or early fall weddings (when they're in season). 
Daisy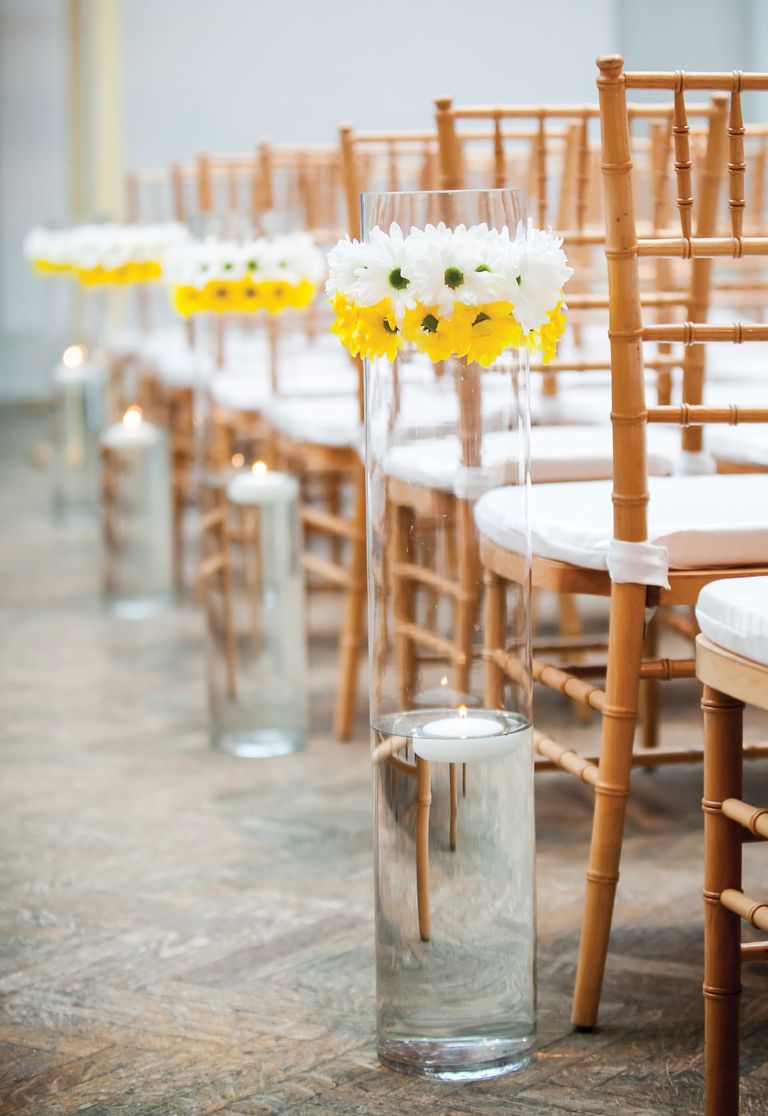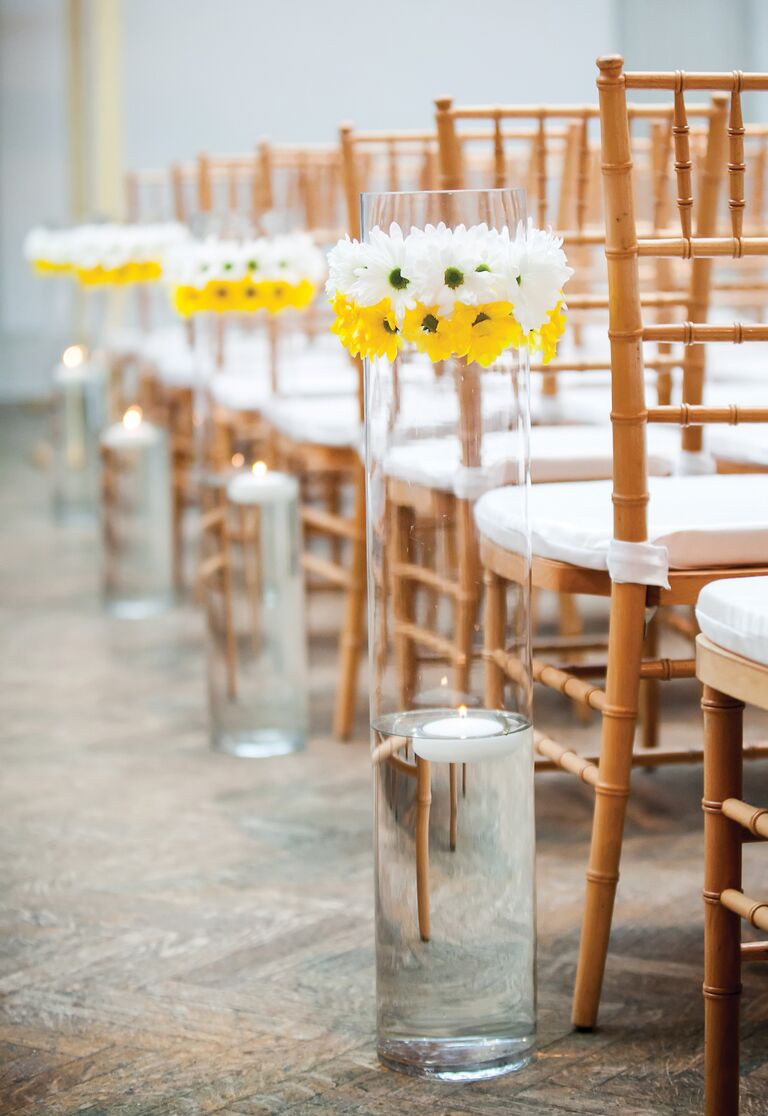 Casual daisies mean to "share one's feelings," so go ahead and arrange them around the altar for when you read your vows. 
Delphinium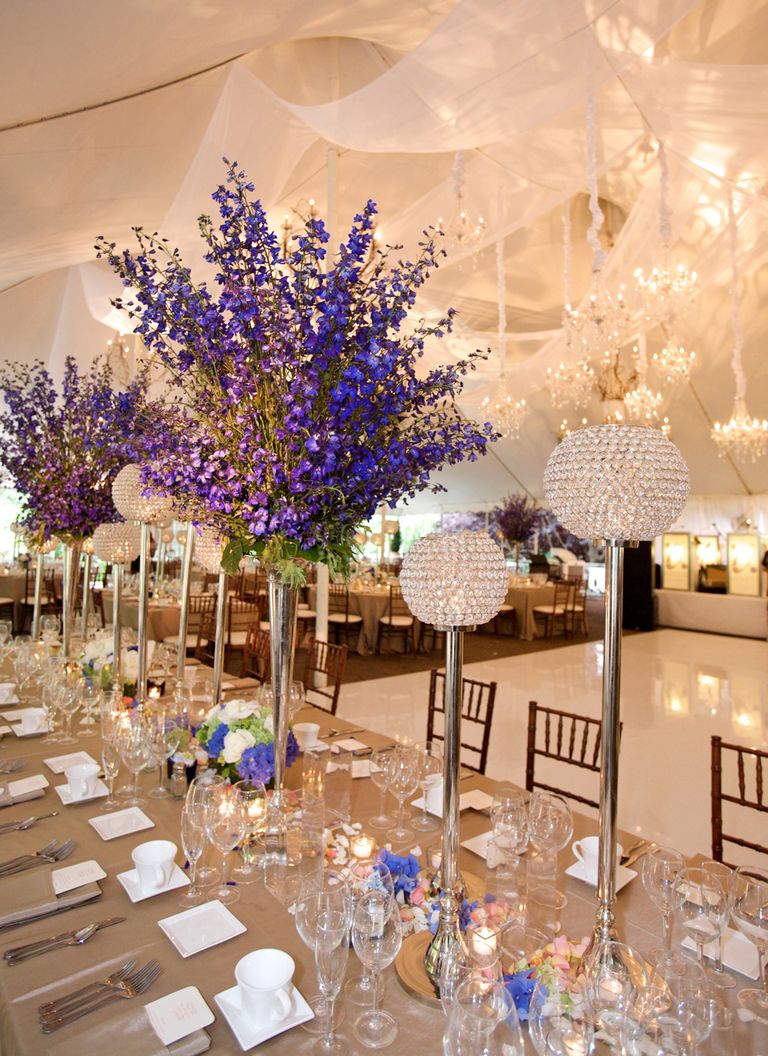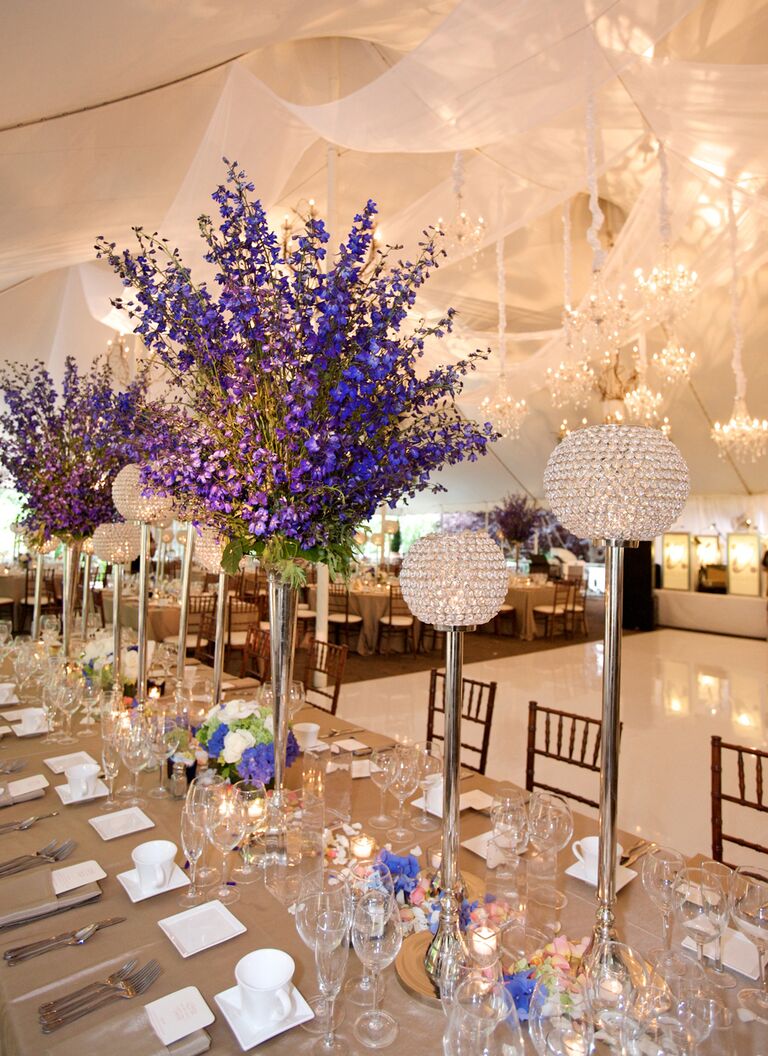 Lightly fragrant delphiniums represent swiftness and lightness, and are beloved (and in season) for summer weddings. 
Freesia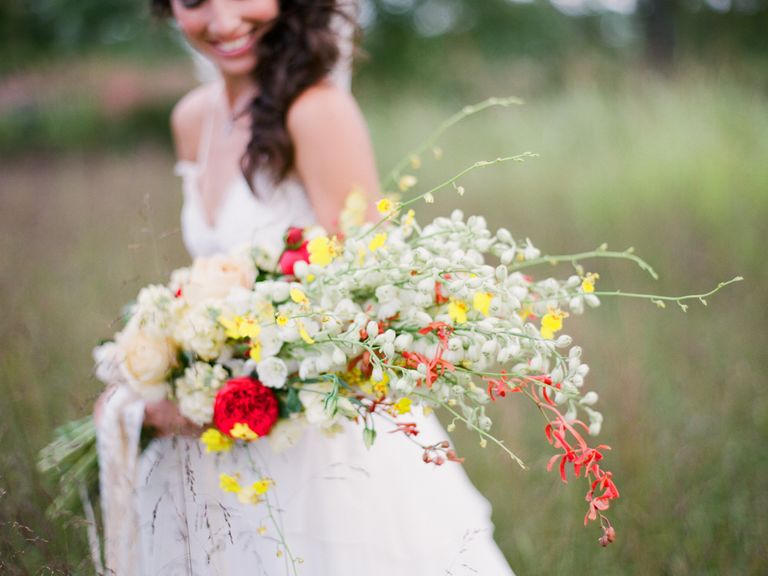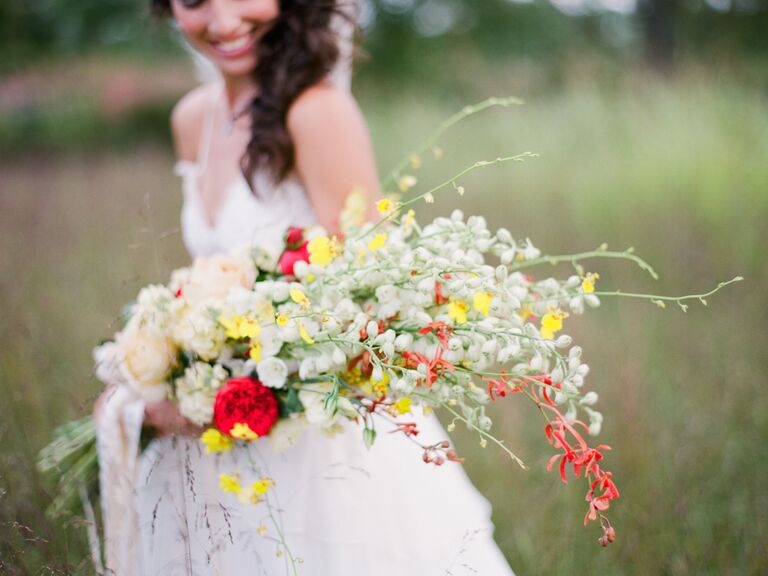 Freesias have a fresh, fruity scent and, like baby's breath, represent "innocence." Pro tip: While they're perfect for bouquets, the fragrance might interfere with your dinner menu, so avoid using them as centerpieces. 
Gardenia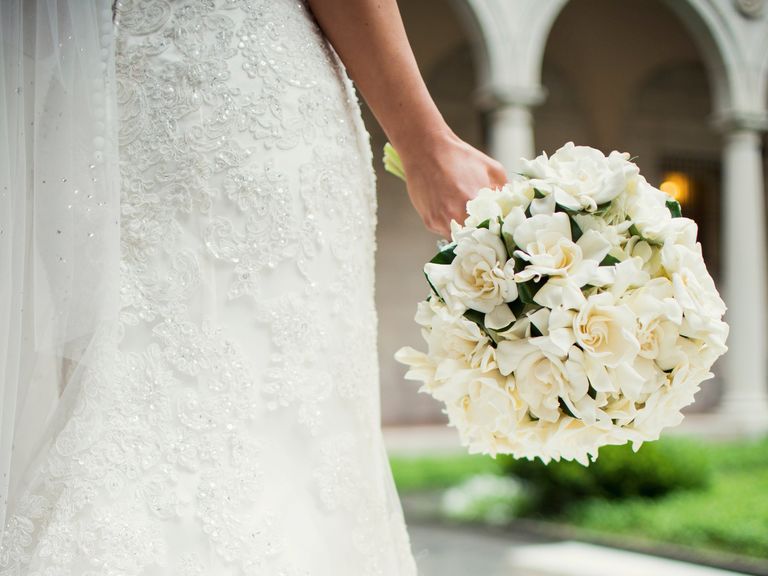 Gorgeous gardenias represent purity and joy—two things strongly associated with weddings. Fun fact: The gardenia scent is intoxicating. 
Hydrangea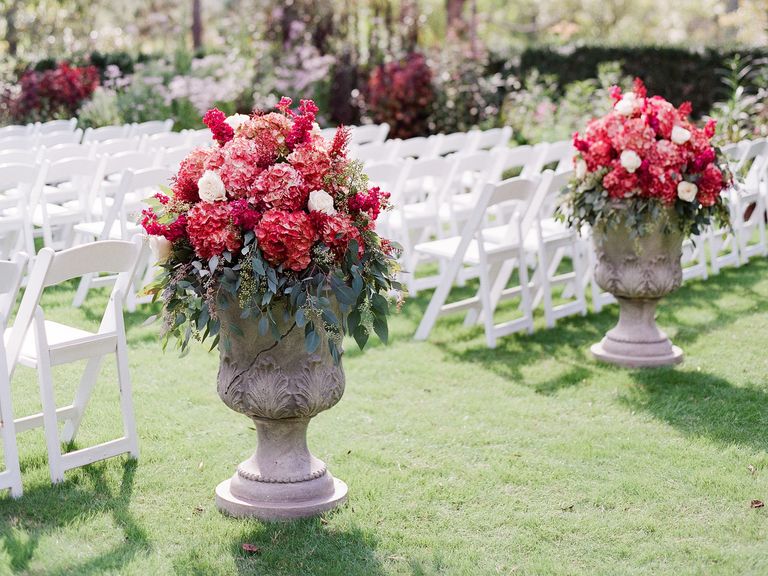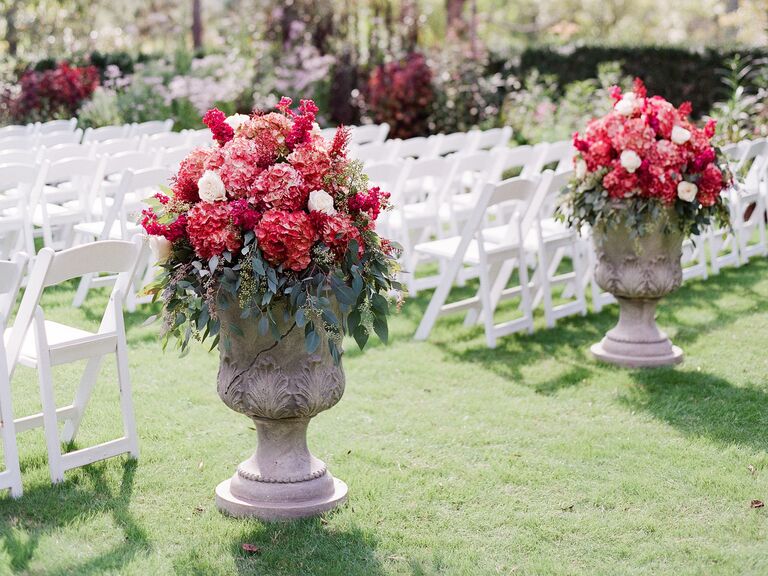 Moderately priced, colorful hydrangeas represent both understanding and "heartfelt emotions." 
Iris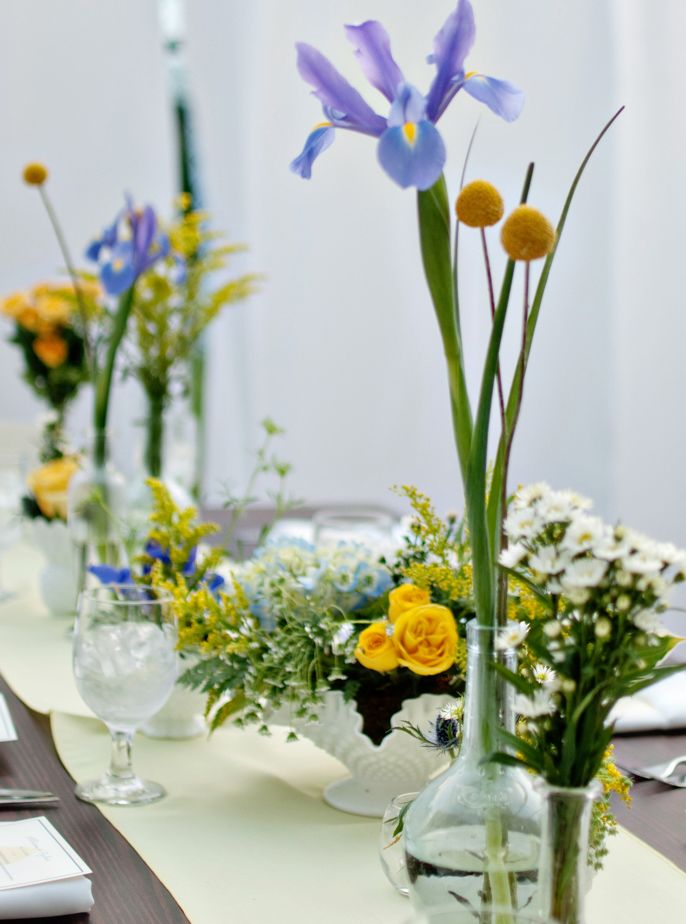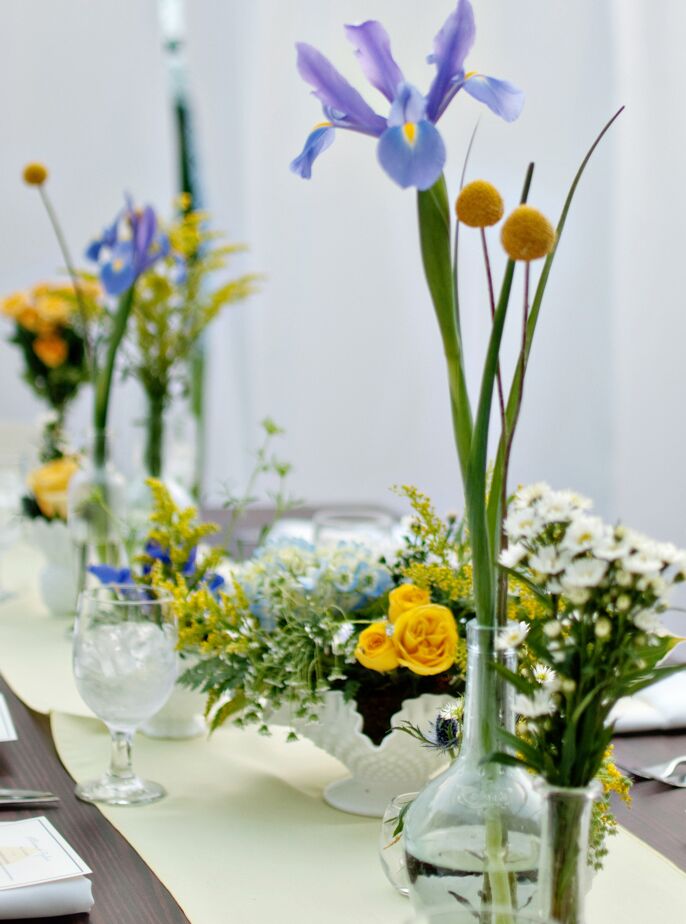 Alecia Lauren Photography
Unusual irises—which typically come in blue, purple or white—symbolize faith and wisdom, and have been strongly admired throughout history (by ancient Greeks, ancient Egyptians and medieval Europeans). 
Lilac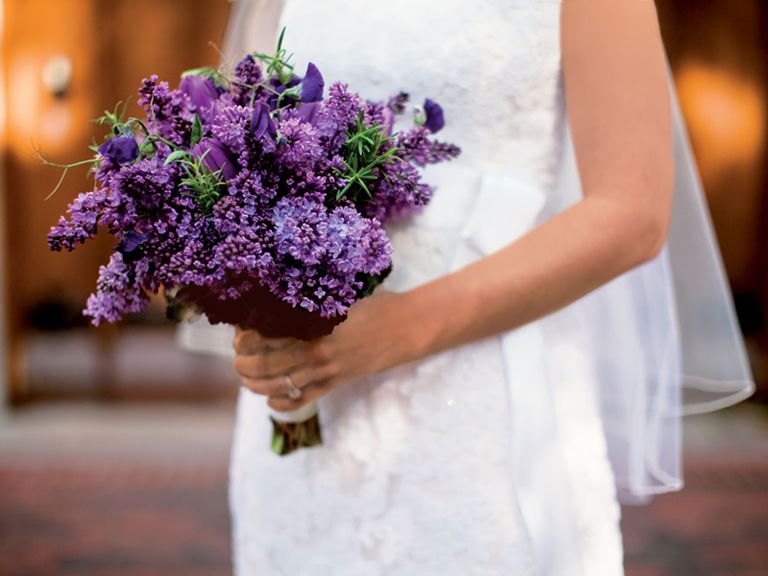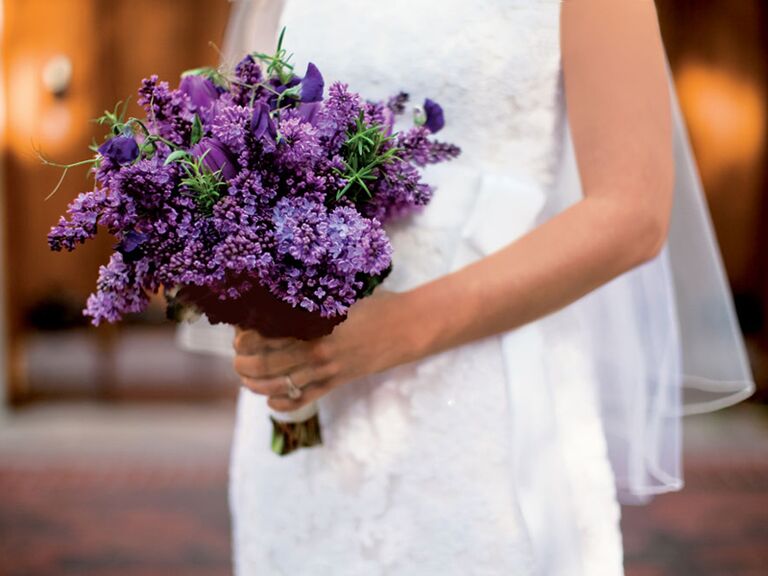 The meaning behind lilacs? "Love's first emotions." Pretty romantic, right? Local lilacs are available in the spring, and imported French lilacs are available year-round. 
Lily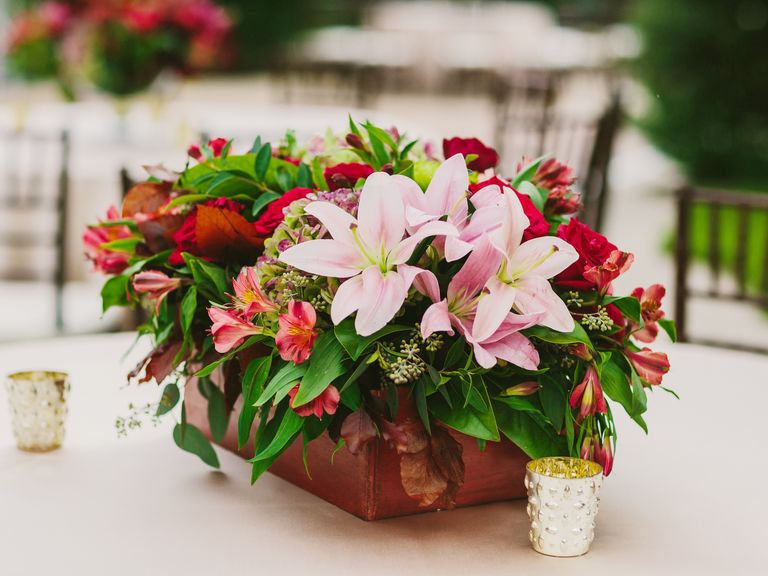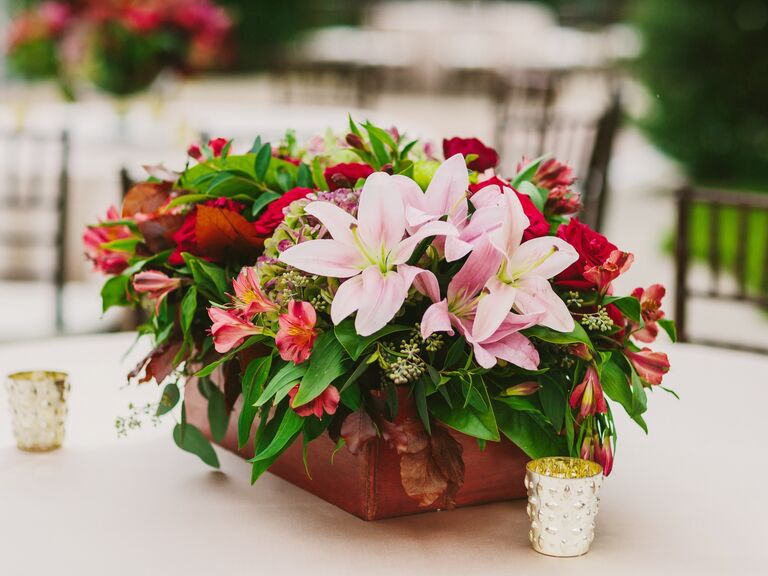 Fit for royalty, the lily represents majesty, truth and honor. The fragrant flower is perfect (and in season) for summer weddings. 
Lily of the Valley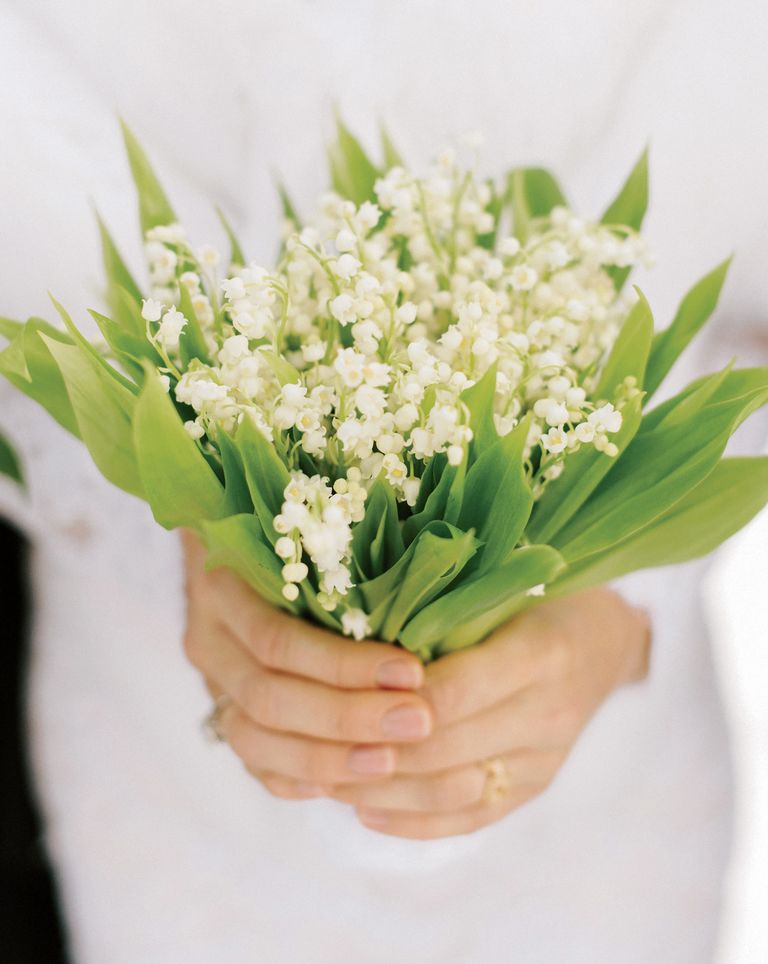 Lily of the valley have a fresh, happy scent—which is fitting, considering they literally symbolize happiness. They're also considered to be traditional marriage flowers.
Magnolia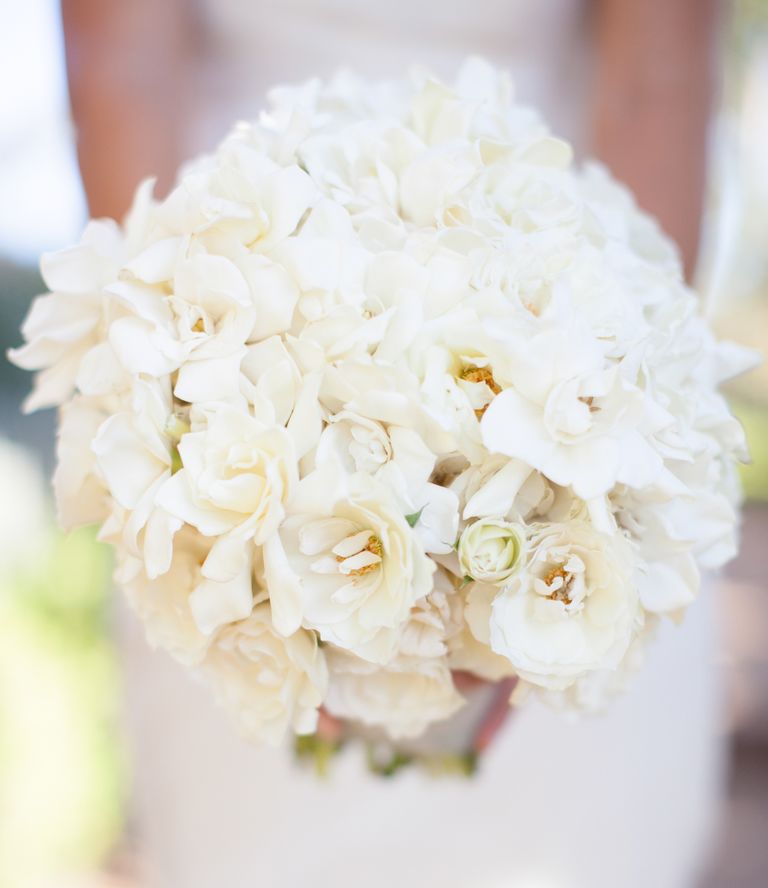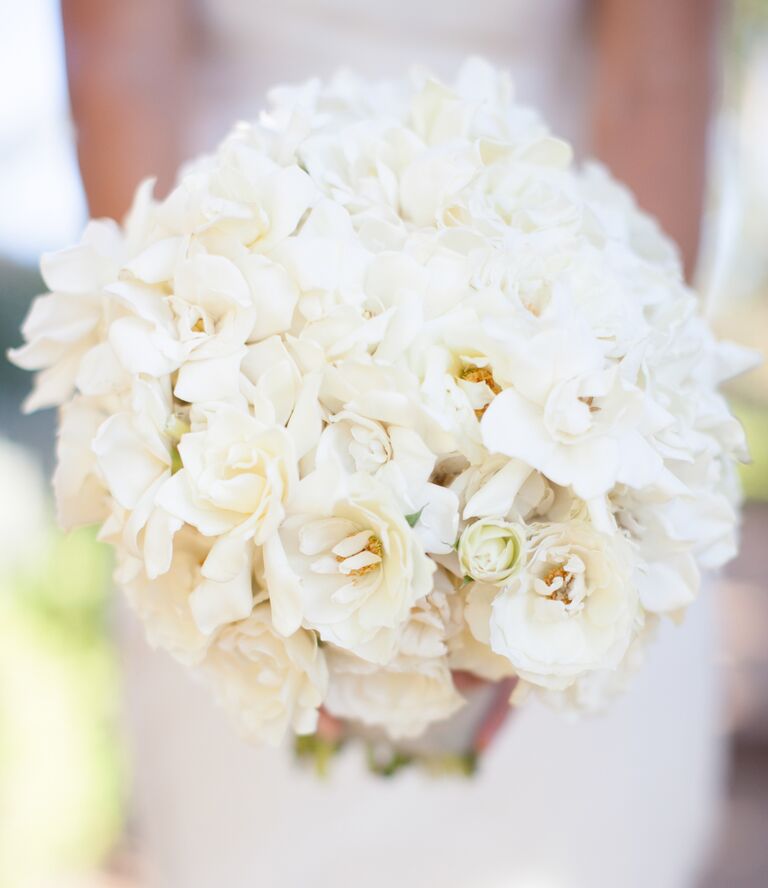 Most magnolia trees grow in the South, but you can get these luxurious flowers that mean "love of nature" mostly anywhere during the spring and summer seasons. 
Orchid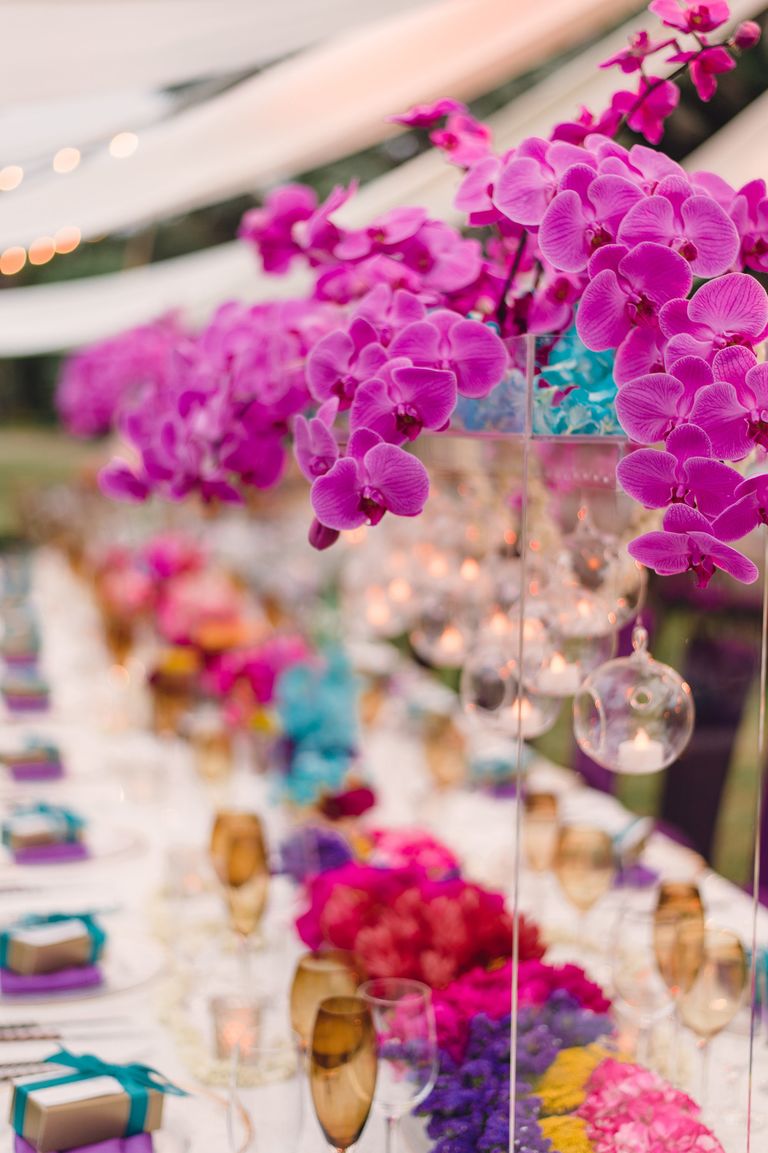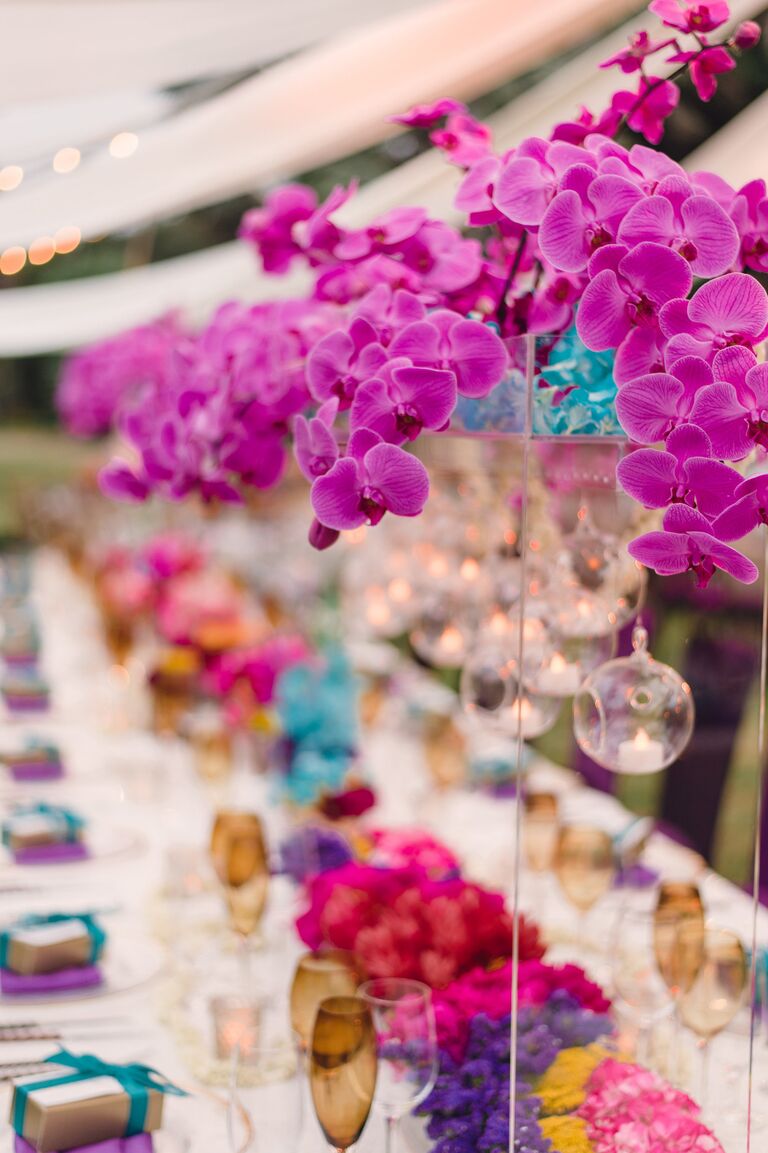 Orchids are a symbol of beauty (and love, refinement, fertility and so on) and come in a variety of colors and sizes—so no matter what your definition of "beauty" is, you're likely to find a bouquet- or corsage-worthy orchid for you. 
Peony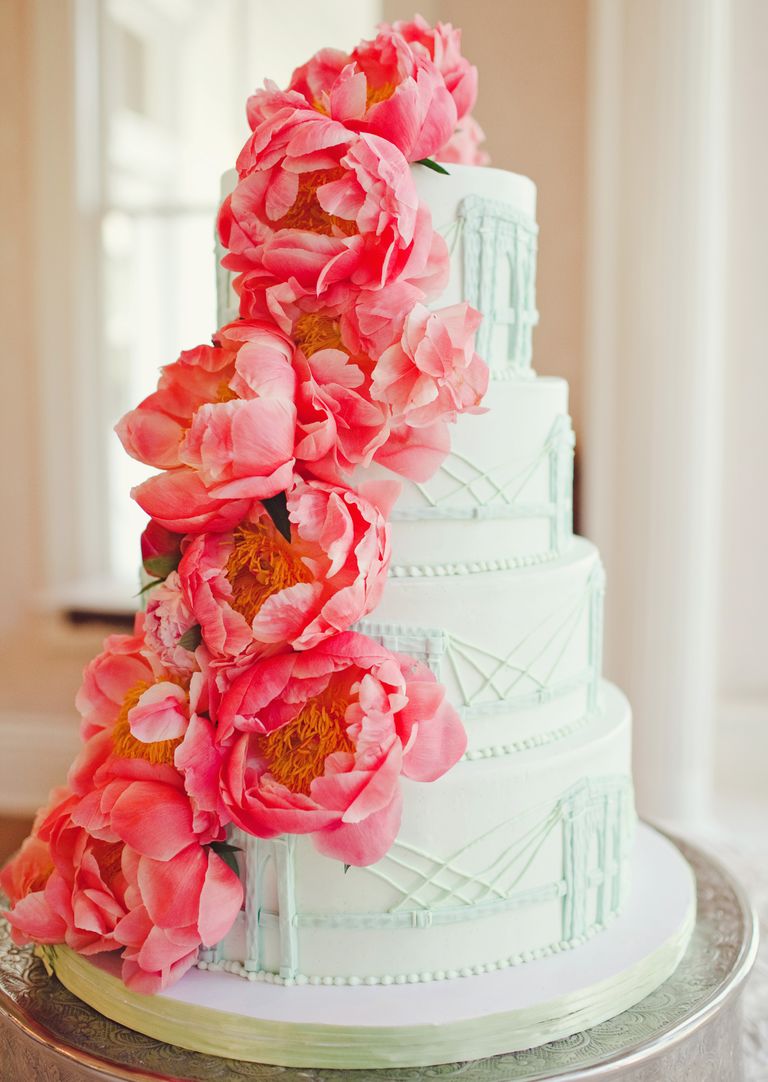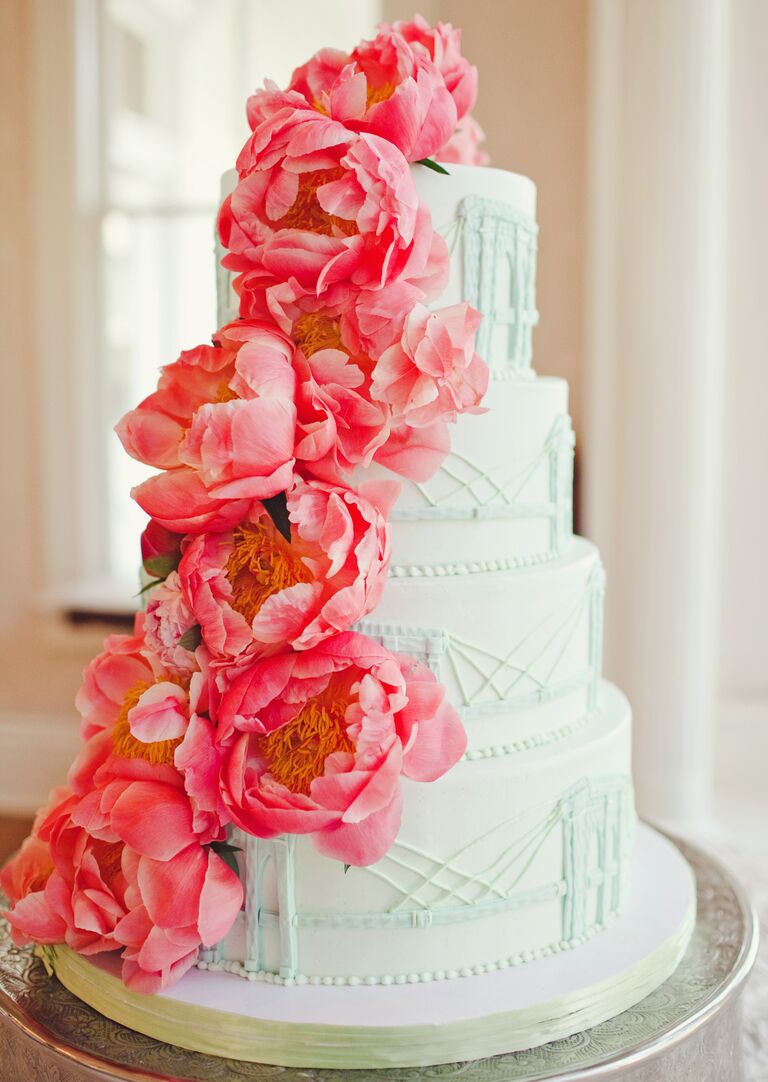 Peonies stand for love, happiness and ambition, which is a sweet sentiment for your romantic day. They're in season during late spring. 
Ranunculus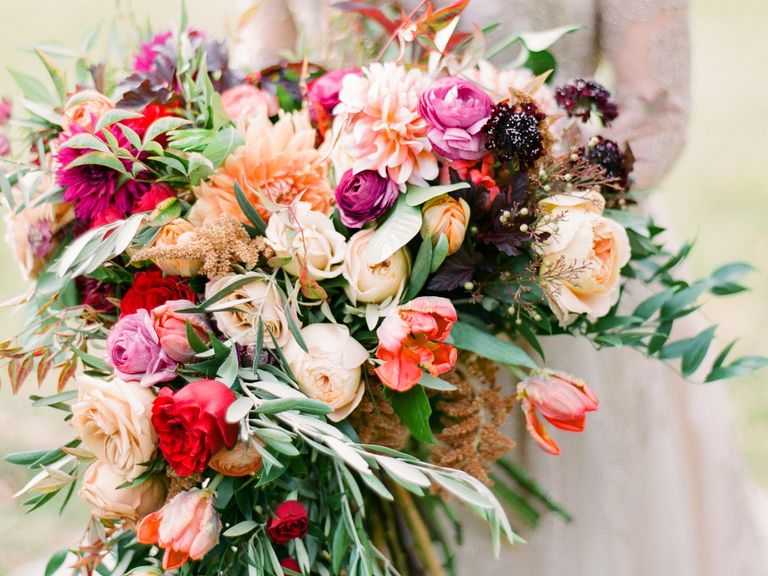 A lush, cascading ranunculus bouquet will say, in the language of flowers, "I am dazzled by your charms." Perfect for walking down the aisle to your partner. Also, they're available in nearly every color of the rainbow.
Rose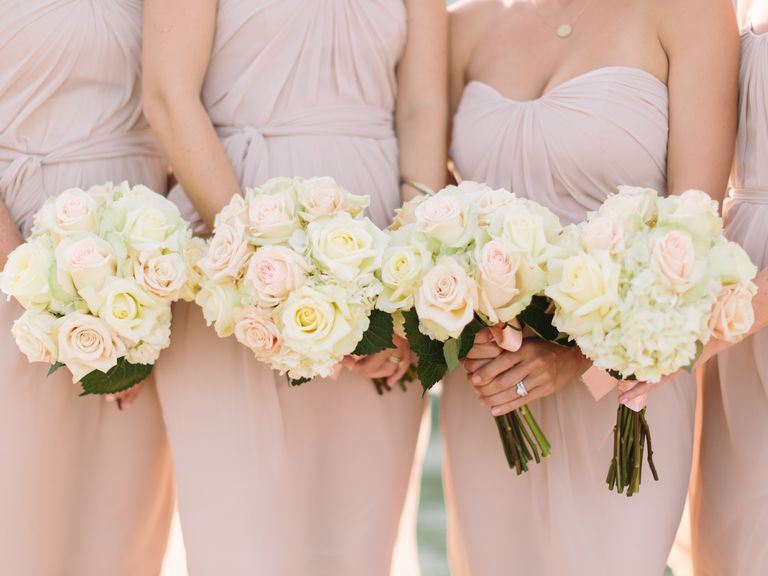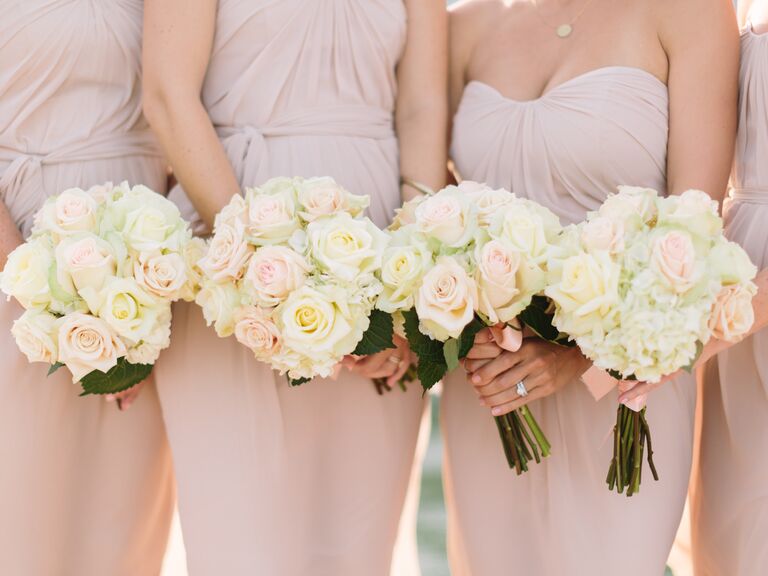 It's no wonder roses rank as the most beloved wedding flowers—they're a symbol of romance, love and beauty, are surprisingly affordable and are available year-round. Yes, their popularity definitely makes sense. 
Stephanotis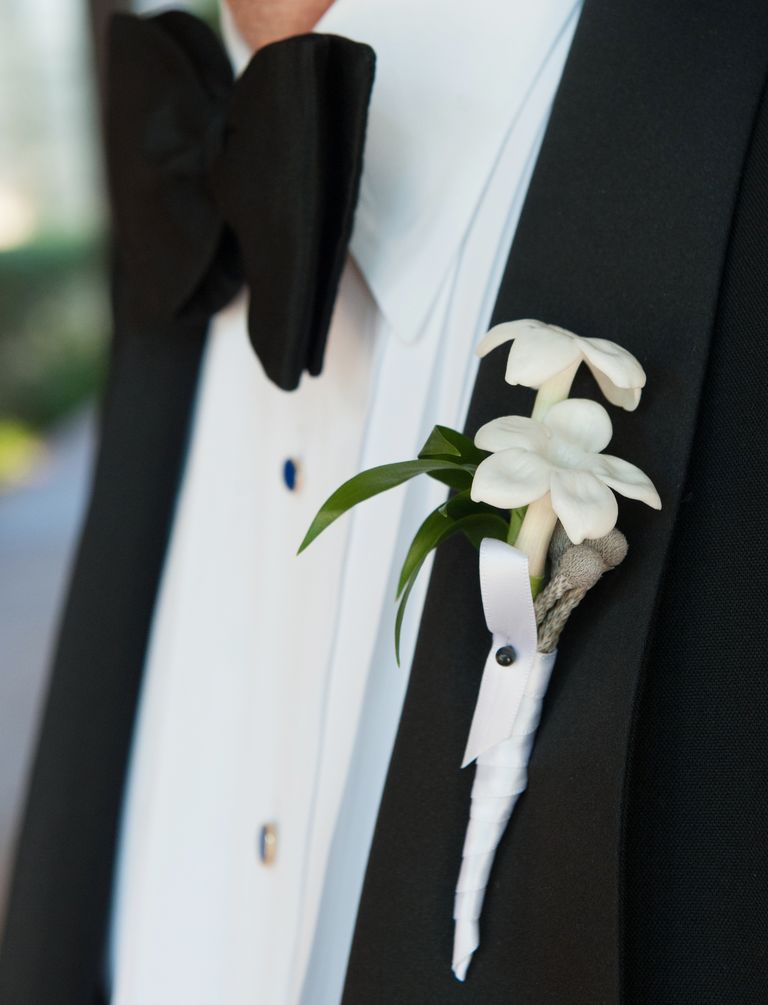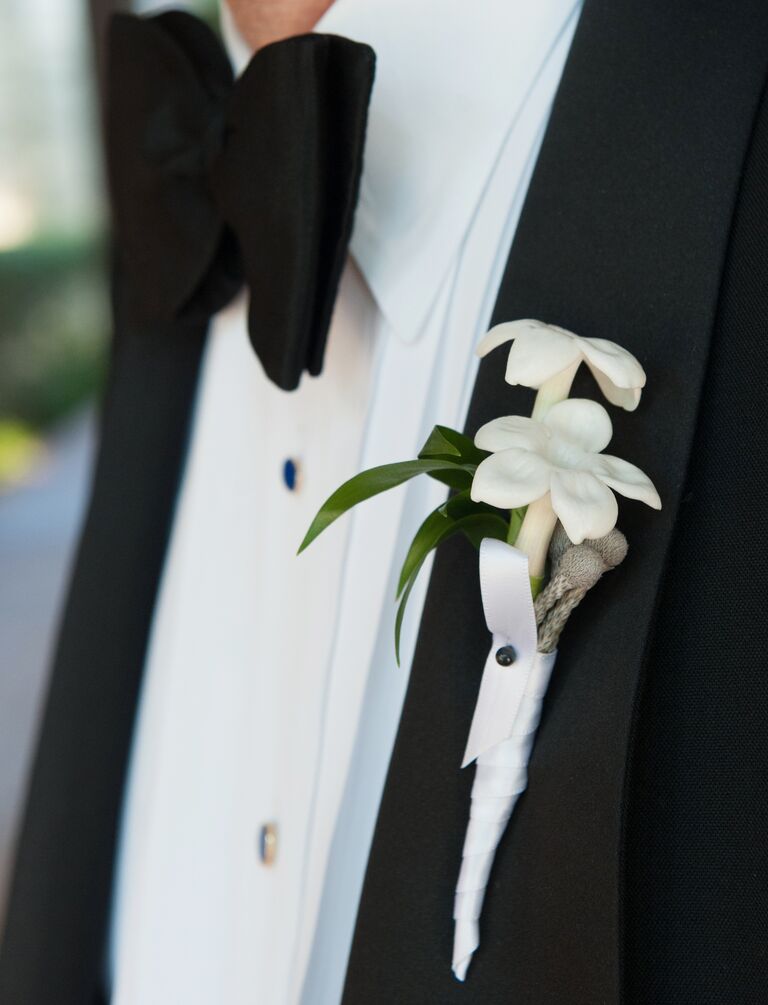 Jennifer Lindberg Weddings
The name stephanotis literally means "marital happiness," making this star-shaped, fragrant flower an obvious choice for weddings. 
Stock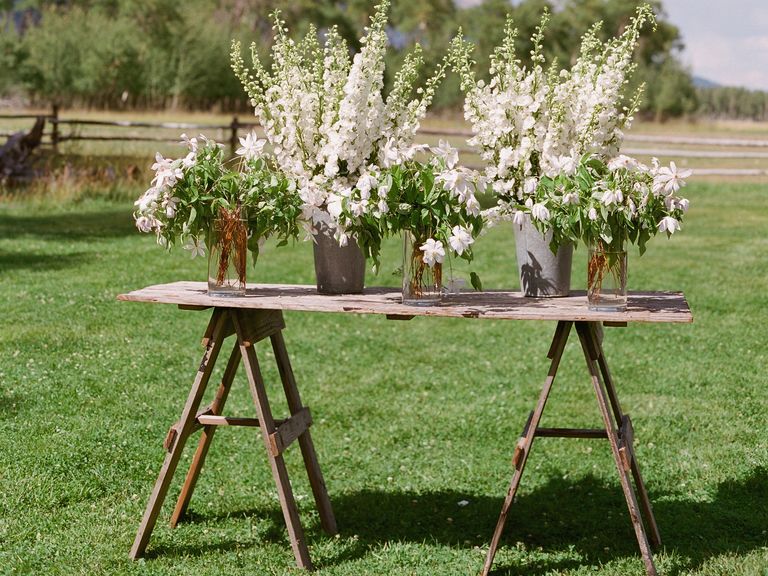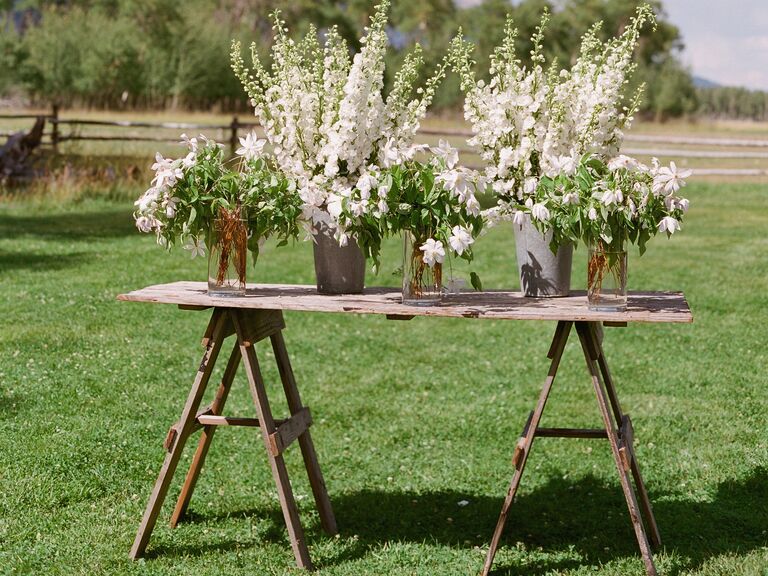 Carrie Patterson Photography
Long stock flowers have tall stems and represent lasting beauty. They're fragrant, inexpensive and come in a variety of colors, so they're guaranteed to complement any arrangement or palette. 
Sunflower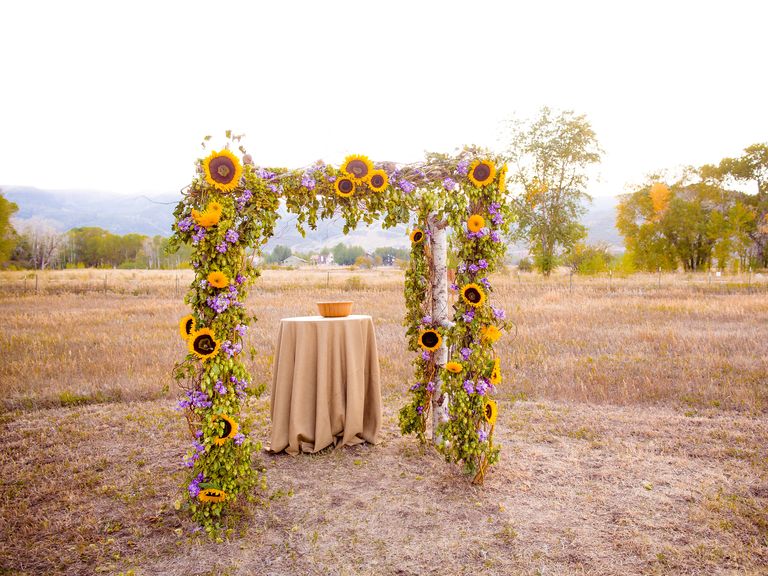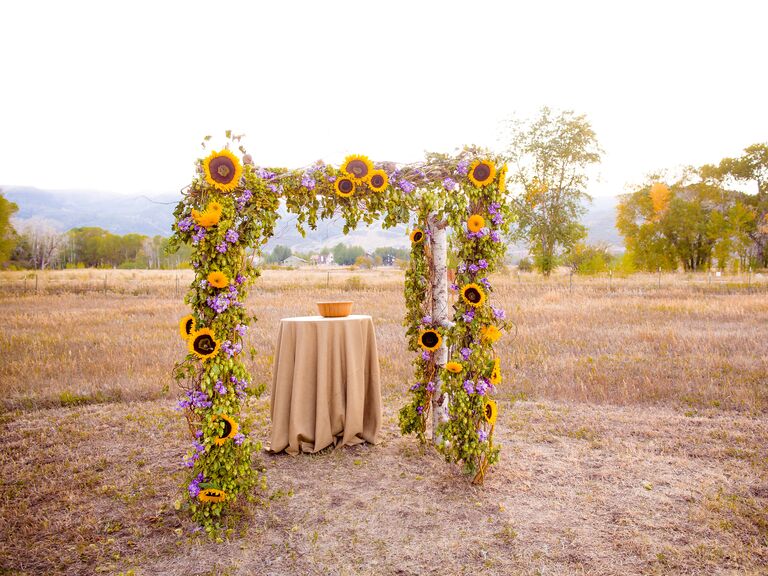 Sunflowers mean adoration and loyalty, but here's why: The head of the sunflower is known to follow the sun as it moves across the sky. Both the colors and the symbolism make them perfect additions to a rustic summer wedding. 
Sweet Pea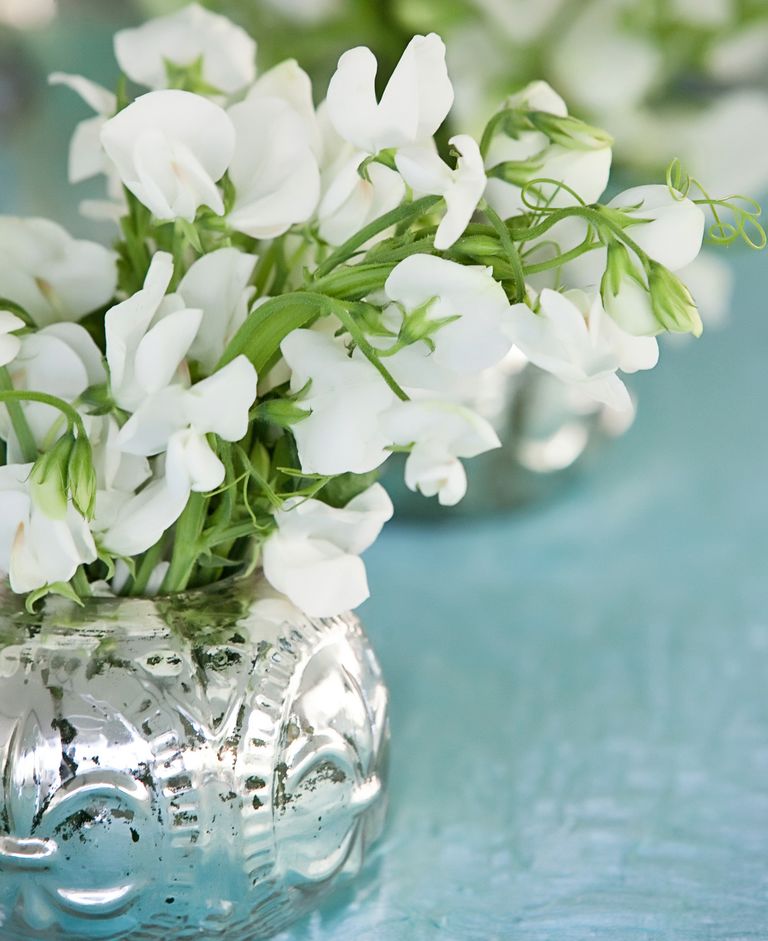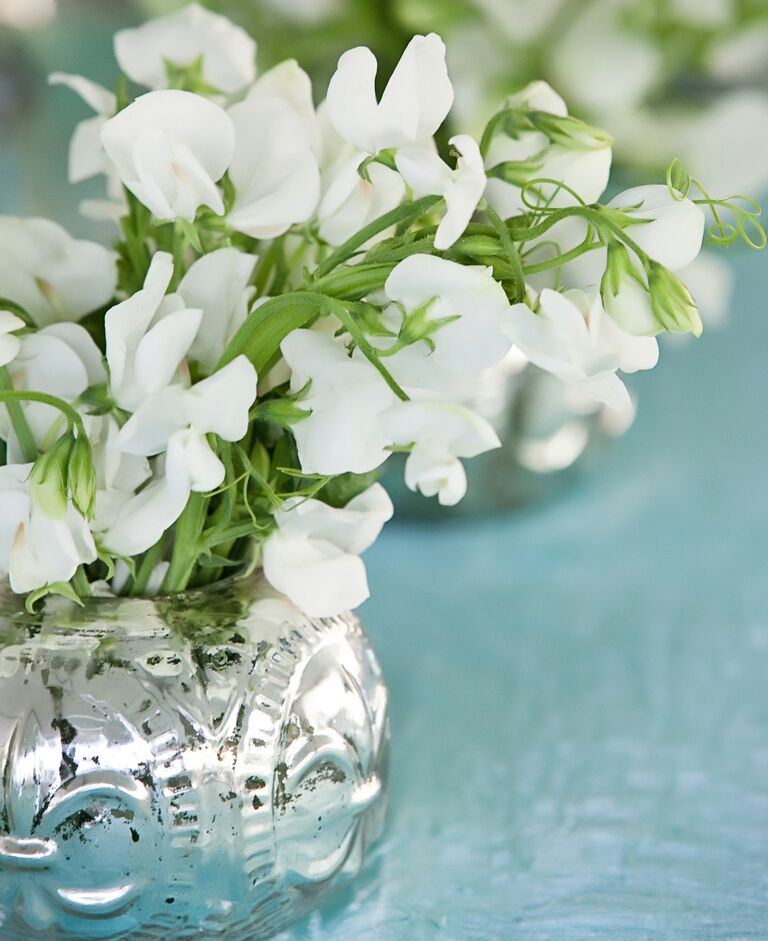 An old-fashioned favorite, sweet peas represent "pleasure" and are fairly fragrant. Use them for a late spring or early summer (that's when they're in season) garden wedding. 
Tulip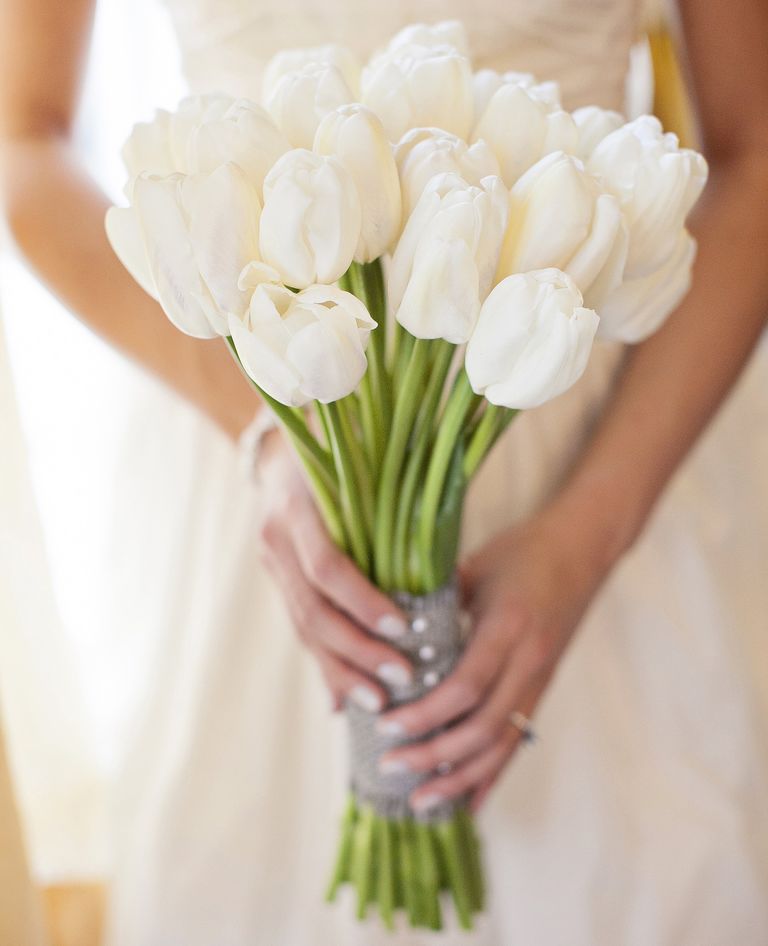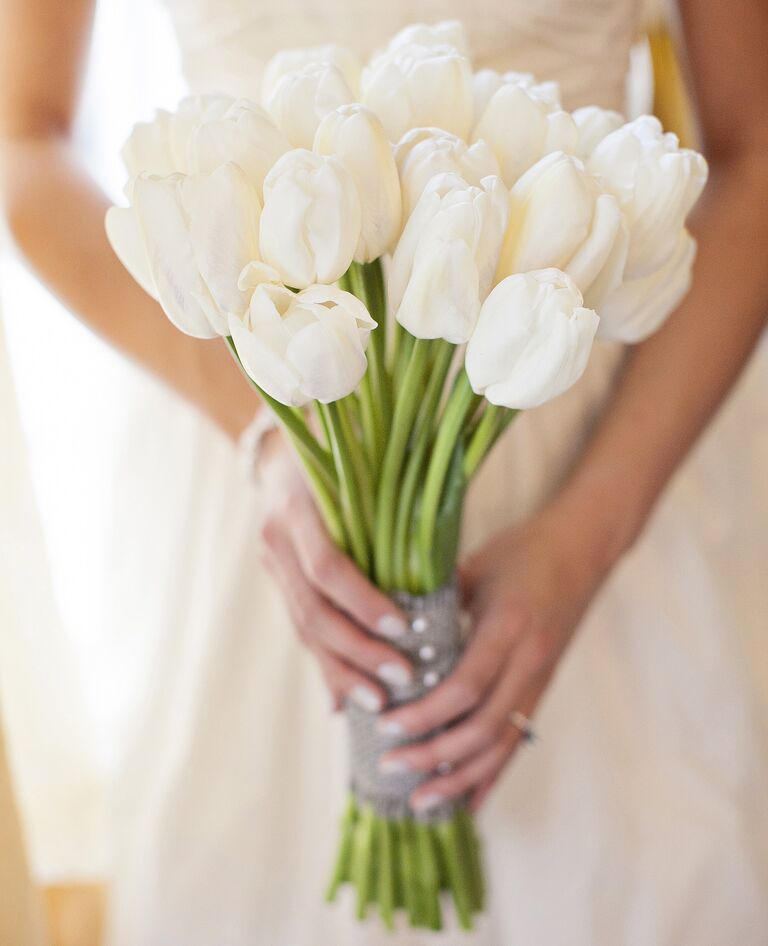 The ever-popular, stately tulip indicates love and passion—pretty perfect for the most romantic day of your life. They can be found in a myriad of colors, but typically in pastel hues. 
Zinnia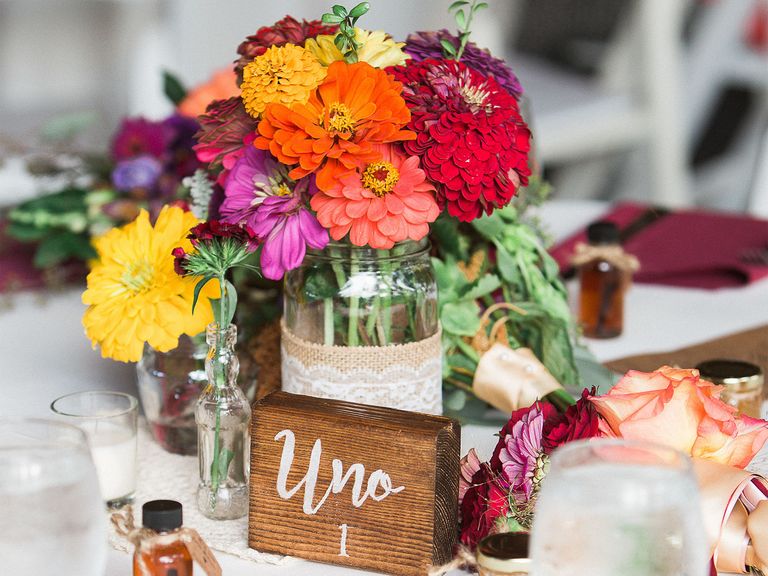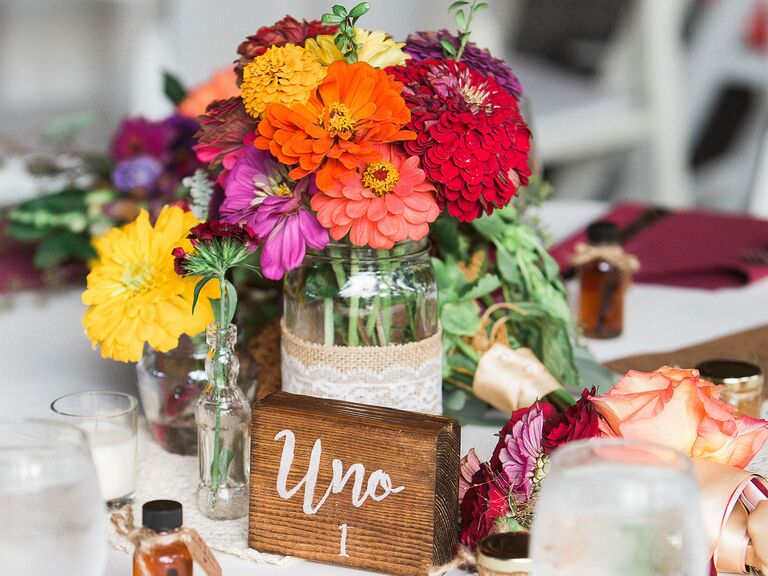 Affordable zinnias symbolize lasting affection, daily remembrance and also "thoughts of friends." If you still need bouquets for your beloved bridesmaids, this might be your flower.