Every time we turn around, there's a new flower arrangement trend, whether it's using king proteas, succulents or even
fresh fruit in your florals. Now, feast your eyes on the latest fad to take over the flower world: painted plants. Couples are asking their florists (or taking the DIY route!) to paint fresh floral centerpieces with metallics—and it looks awesome. Sure, paint isn't the thing that comes right to mind when you're thinking about how to glam up your blooms, but these eight photos from real weddings prove it should be. Check out all the ways you can incorporate this trend in your decor below!
1. Golden Bout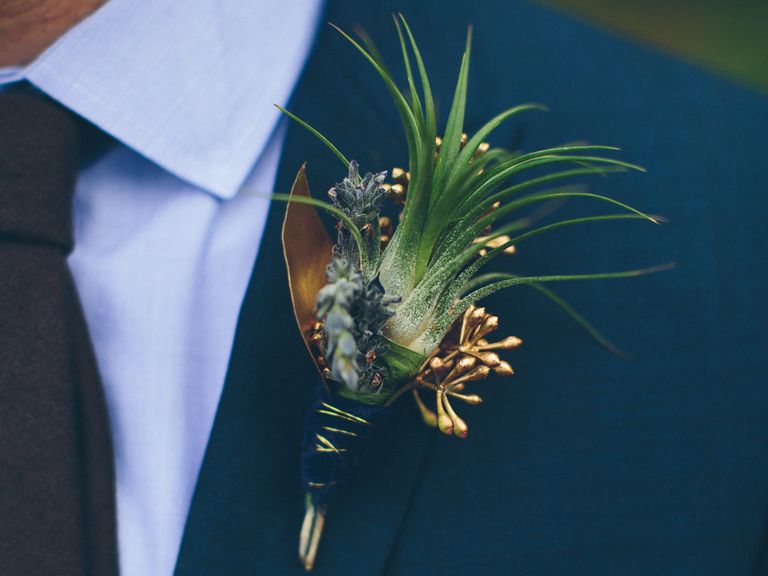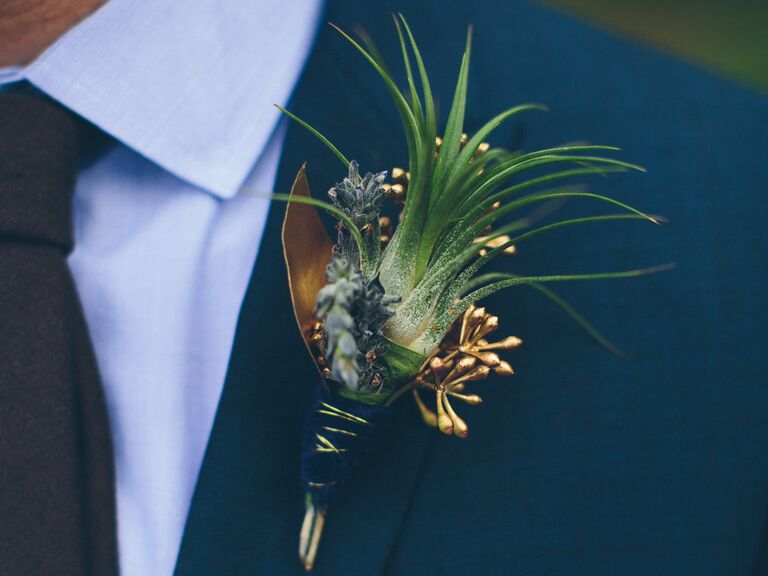 With just a touch of gold, this humble bunch of greenery is turned into a totally personalized boutonniere—not to mention how chic it looks styled against a dark navy blue lapel. Pull the whole look together with a gold wire wrap.
2. Gold-Painted Pumpkins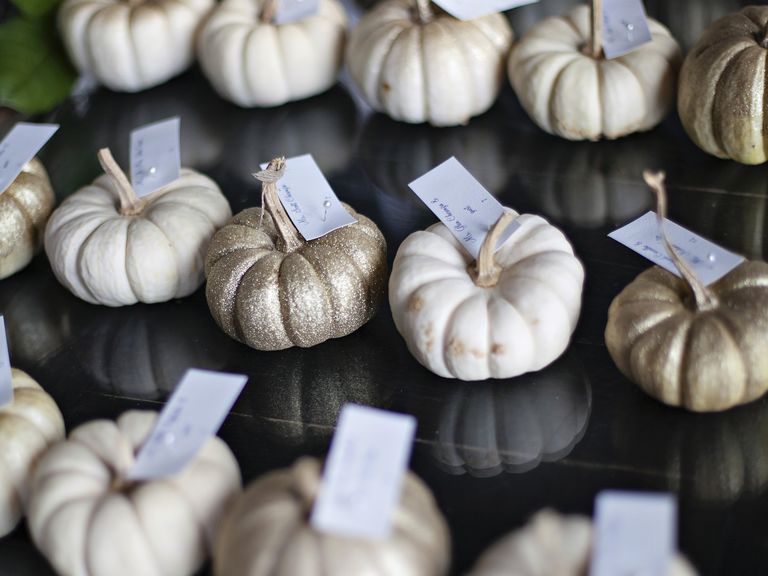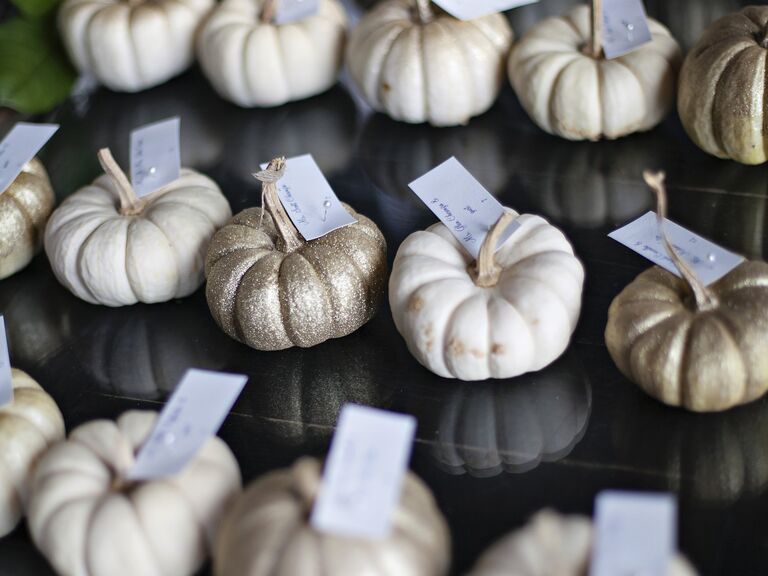 Sarah Pudlo & Co Photography
If you want a touch of autumn's natural decor at your fall wedding but orange isn't on your color roster, these small white pumpkins fit the bill perfectly. Spraying a few with gold glitter adds a hint of an accent, without too much distraction.
3. Custom Calligraphed Leaves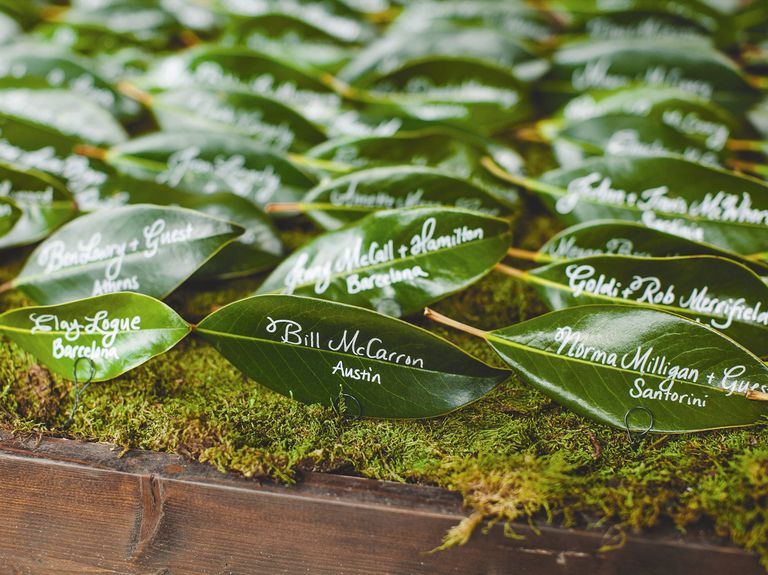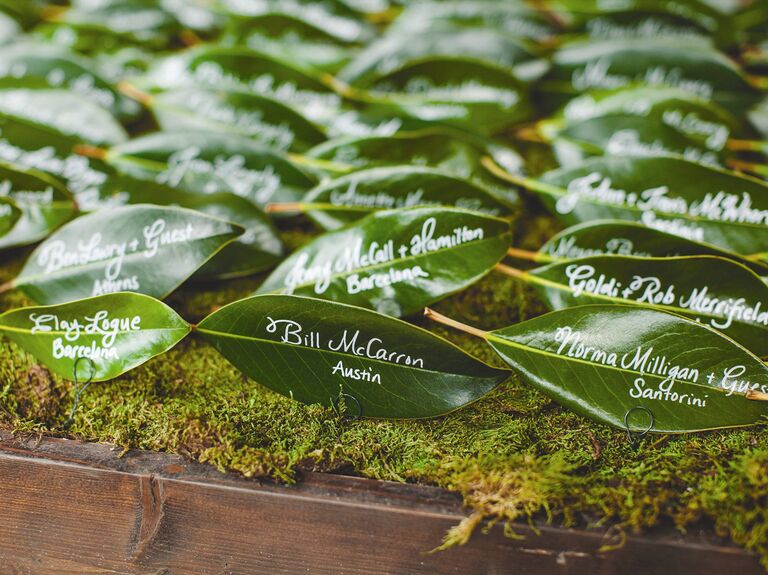 We've seen custom calligraphy before, but we haven't seen it written onto little individual leaves and arranged on a bed of moss. This escort card display is especially fitting for the environmentally conscious couple who wants to cut down on their paper usage.
4. Metallic Artichokes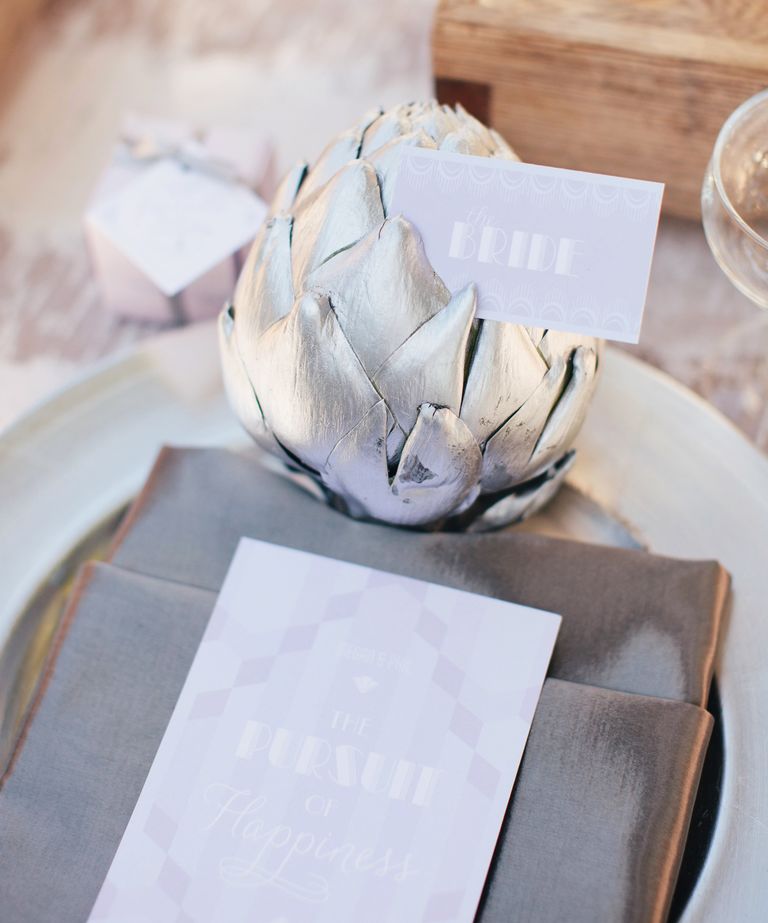 In case you haven't noticed,
fruit and vegetable arrangements are totally a thing. Bringing unexpected elements to your tabletop has become a trend all its own, and adding metallic silver spray paint into the mix only makes it more fun. Bonus: There's no chance of artichokes wilting in the summer heat.
5. Statement Stems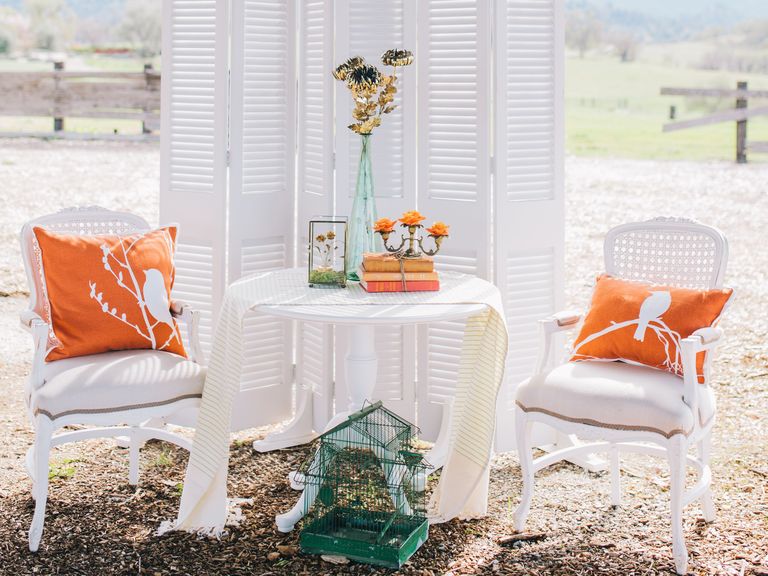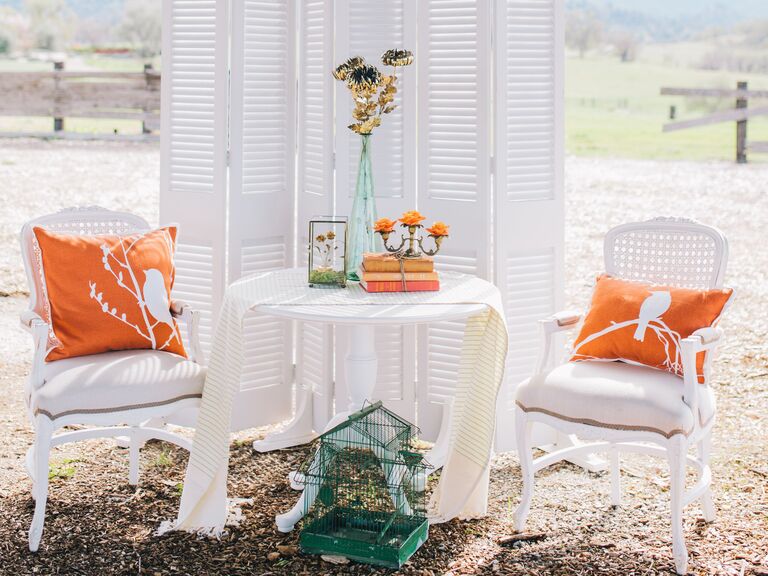 We're calling it: King protea is the new succulent. Because of its massive bowl-shaped head and unique leaves, it adds an unexpected detail to aisle decor, bouquets and centerpieces alike. Similar to succulents, they also have a high tolerance for warm weather and less water.
6. Gold Place Settings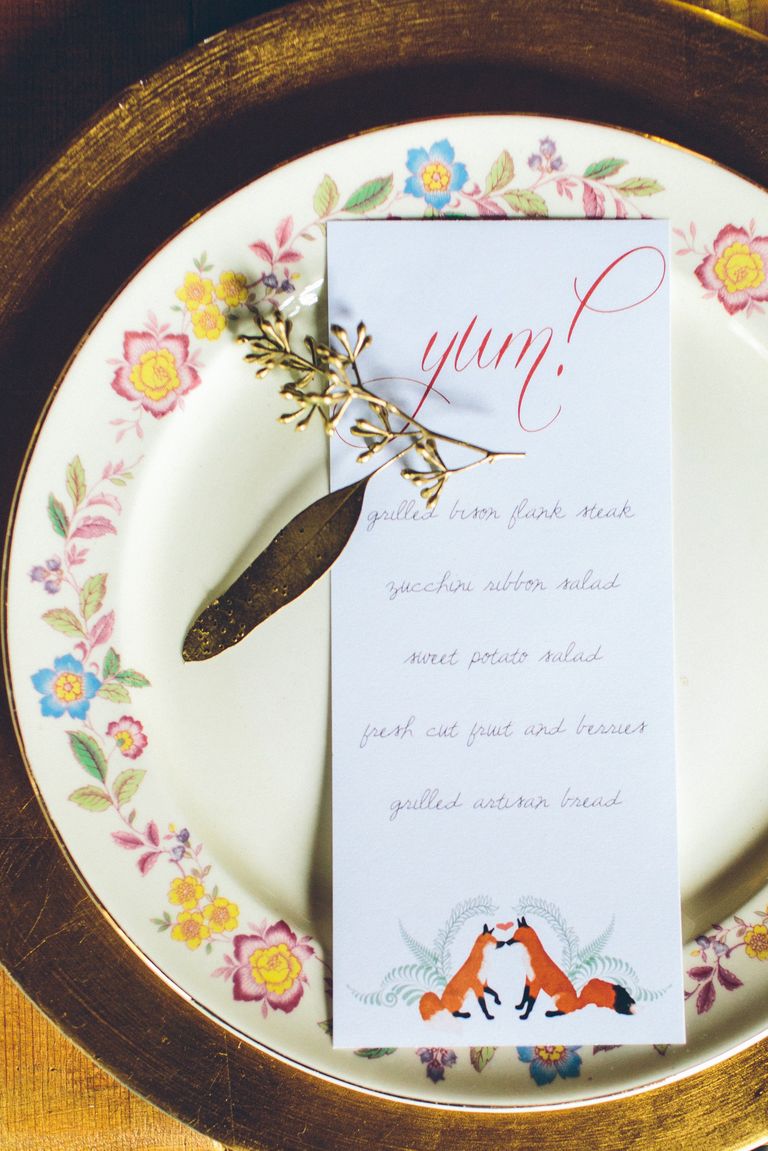 If you invested thought and time (and money!) into your dinnerware, you probably want those place settings to be the star of the tabletop. Instead of crowding the table with linens and place cards, opt for one style detail per plate, like this simplistically chic gold sprig.
7. Golden Accents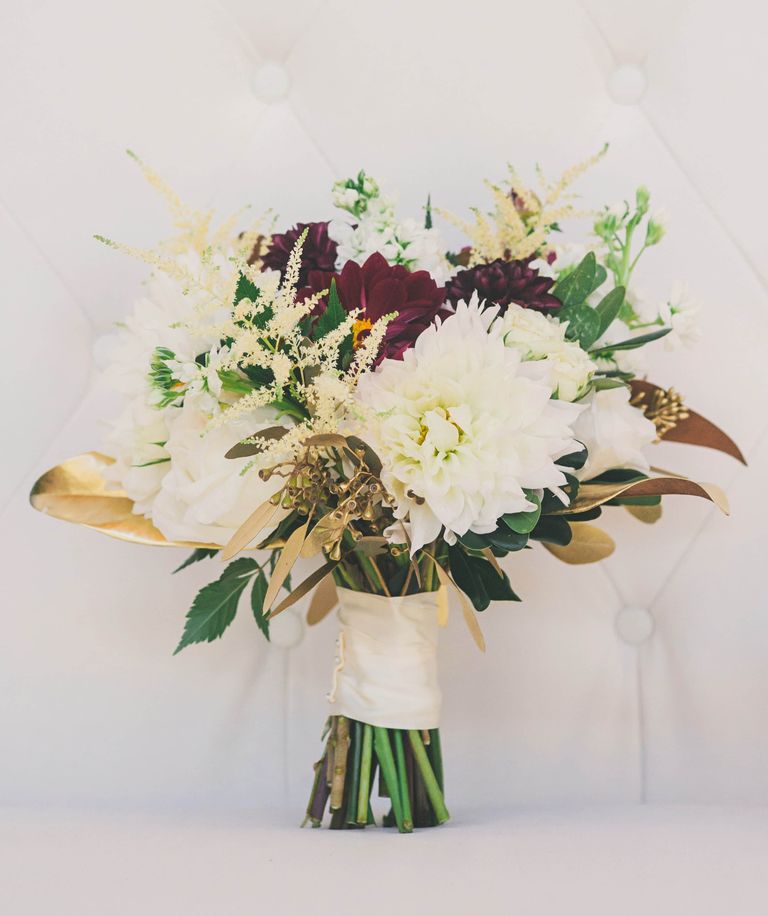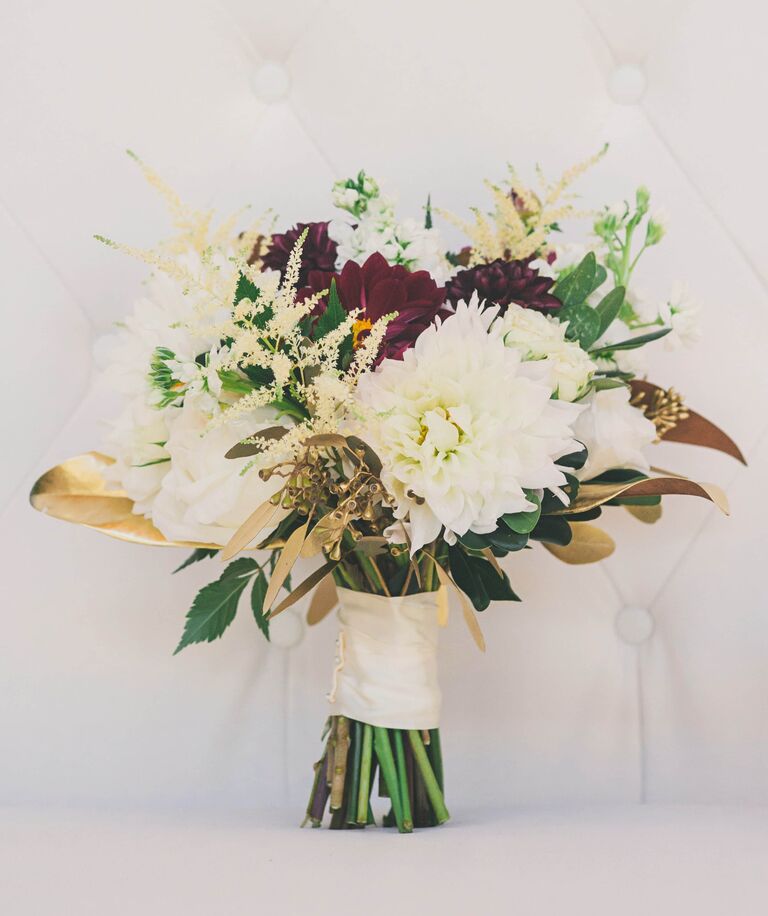 A bright metallic is the perfect accent for a bridal bouquet of white and burgundy dahlias—it keeps the white from looking too stark against the dark hue, and brightens up the arrangement as a whole.
8. Painted Pomegranates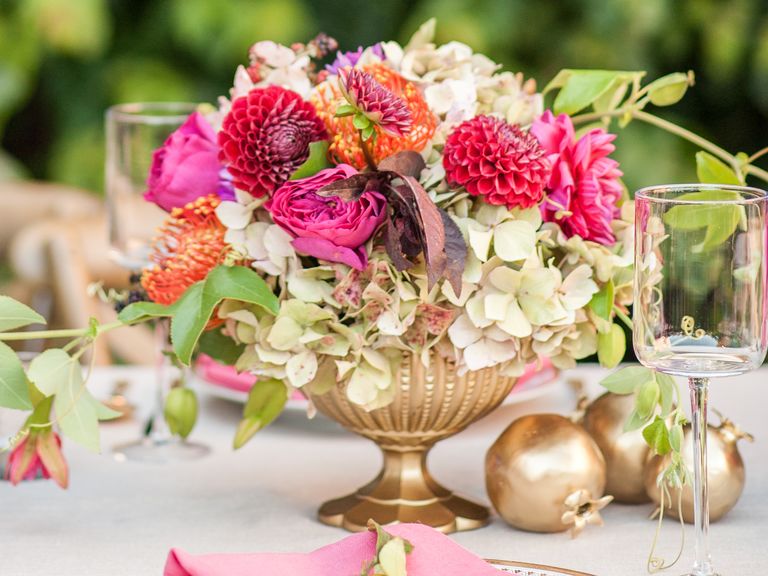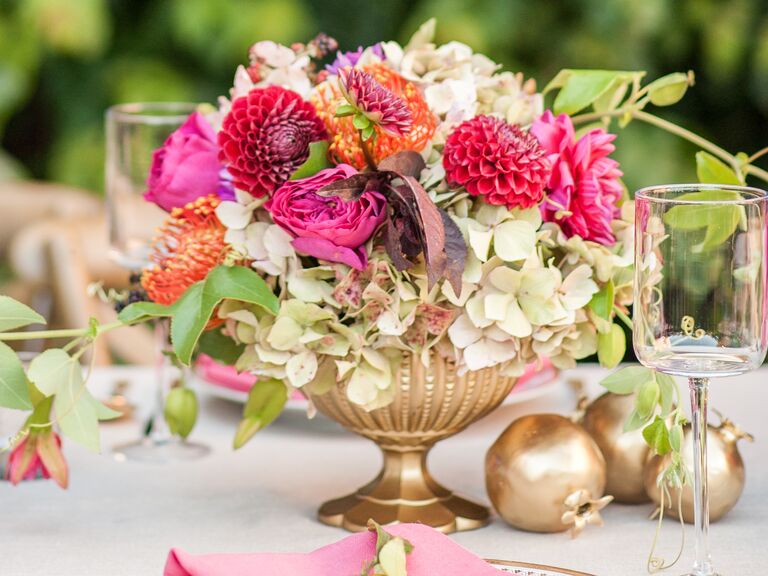 Melanie Duerkopp Photography
If you're going the DIY route with the centerpiece arrangements and painting your vases (or urns, bowls, pedestals—what have you) to fit your wedding color palette, save some paint and spread the love to other elements on the tabletop, like pomegranates.
Want more? Right here!
>
13 Amazing Ways to Use Lavender in Your Wedding
>
12 Ways to Incorporate Hanging Flowers in Your Decor
>
17 Ways to Include Moss in Your Wedding Decor