If you hear the word "caviar" and go running in the other direction, you're not alone. We've got to admit, caviar can seem a little intimidating if you've never tried it or rarely indulge. But prepare for a major opinion shift. It's way more accessible than you'd think—not to mention delicious.
So why serve caviar at your wedding? "Caviar is confident, elegant and the perfect, decadent addition to your wedding menu," says Patrick Brown, CEO and founder of Khavyar (purveyors of exceptional, sustainably farmed caviar). "It can be enjoyed in a variety of different ways—paired with the classic blini and crème fraiche or on top of a lobster roll—and always adds a level of sophistication to each dish." Sounds good to us!
In collaboration with renowned chef Holly Goetting, executive chef at Charley G's Seafood and Grill in Lafayette, Louisiana, Khavyar gives us three mouthwatering, caviar-topped dishes to inspire your own wedding menu and impress your guests. Trust us—if you pull off plates like these, your wedding menu will be unforgettable. Who knew these dainty little fish eggs could pack such a punch?
Charbroiled Oysters on the Half Shell Served With Garlic Butter and Khavyar's Osetra Galilee Prime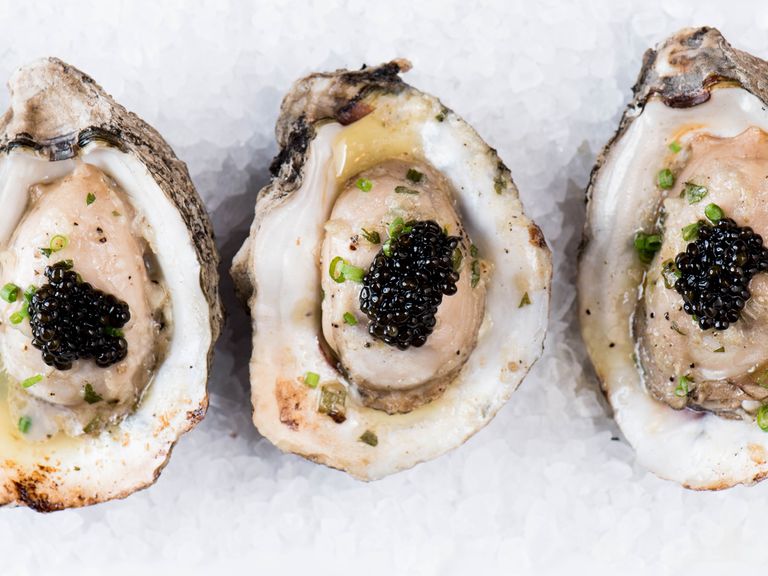 If you're an oyster fan, this is the dish for you—and if not, this is the dish to give them another go. Savor succulent, fire-roasted oysters crackling with garlic and herb butter. "This is one of my favorite things to enjoy on the grill. They're great when you're looking for something quick, light and flavorful," says Goetting, who recommends sipping a classic Old Fashioned between mouthfuls.
Lobster Rolls With Potato Gaufrettes and Khavyar's Osetra Belgian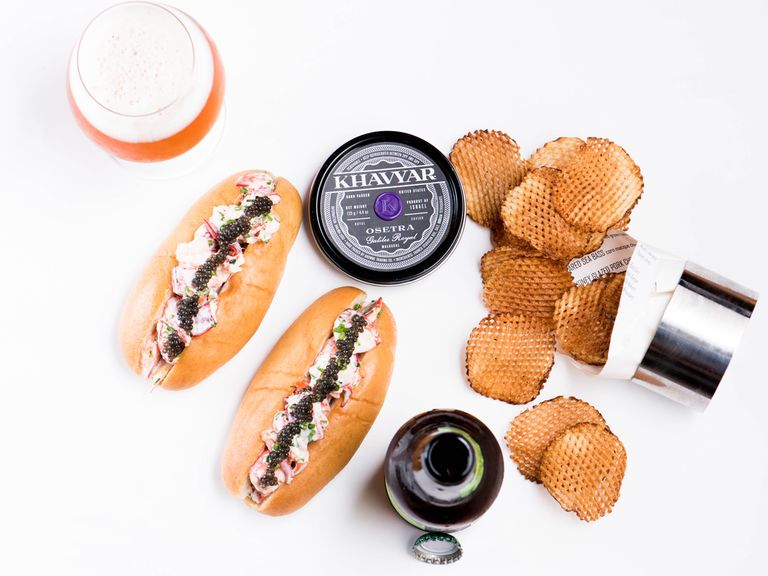 Escape to the East Coast shore with this summer favorite. Enjoy sweet, juicy lobster meat, poached and tossed with a light lemon-thyme aioli, between a toasted, buttered roll. With a side of homemade potato gaufrettes (basically a cross between potato chips and waffle fries—yum!) and a dollop of salty caviar to top it all off, this dish is both elegant and satisfying. And don't forget to wash it down with a crisp IPA.
Grilled Smoked Salmon Flatbread and Khavyar's American Spoonbill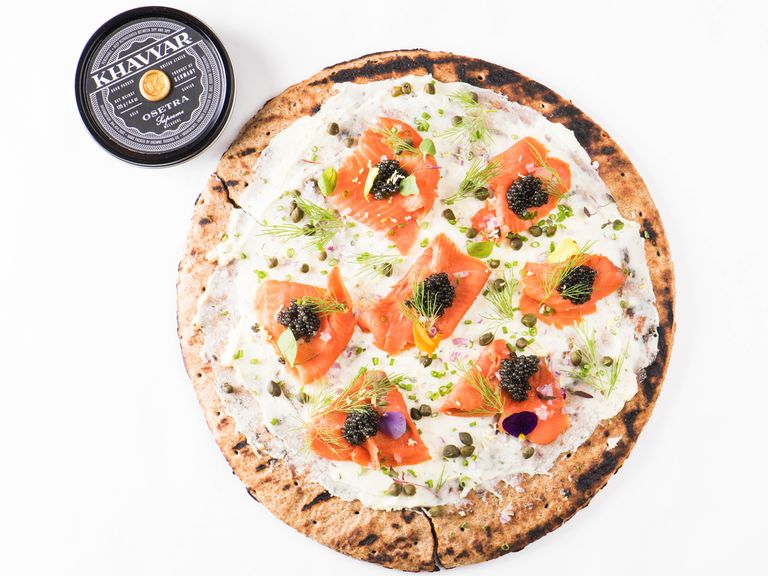 As if grilled bread isn't good enough on its own, here, it's layered beneath thinly sliced smoked salmon, a velvety cheese spread, capers and sweet onions. Goetting says the combo of the smoky fish and bright caviar on a buttery crust is unique enough to surprise and delight even the most sophisticated palates at the party. For the perfect cocktail complement, alternate bites of this loaded flatbread with a clean, refreshing rosé.