When it comes to over-the-top flowers, LA-based florist and floral designer for the Four Seasons Hotel Los Angeles, Eric Buterbaugh is a pro — he's made his career designing flowers for celebs like Rosie Huntington Whitley, Rachel Zoe and Miranda Kerr (and even designed a five-foot skull covered in flowers!). Recently Buterbaugh partnered up with flower delivery company The Bouqs to make his signature wedding flower style more accessible with deliveries across the country. Read on for Buterbaugh's favorite trends and must-have wedding flower tips.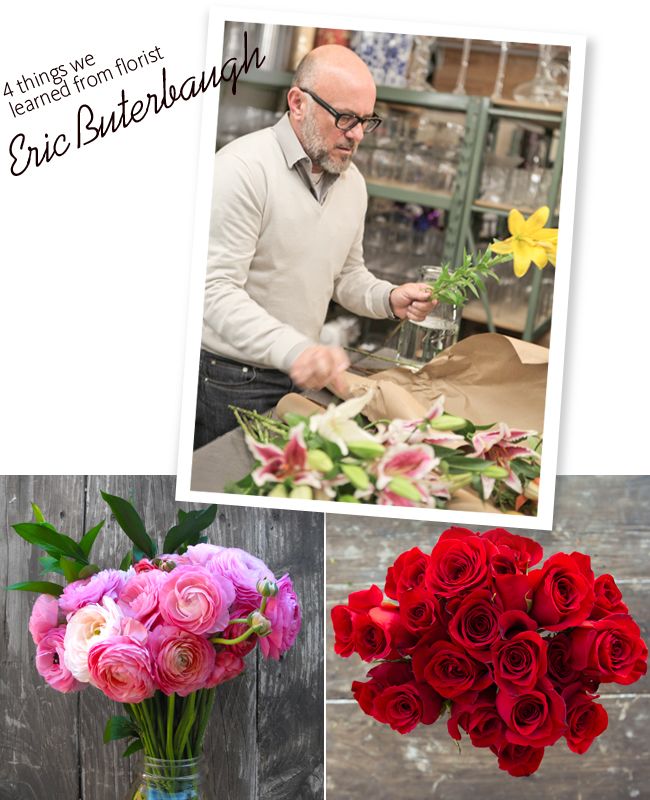 By partnering up with The Bouqs you've made your floral designs accessible, what are some of your top tips for getting pretty wedding flowers on a budget?
"Look through wedding magazines and websites and get "solid" on the look you are going for, then do as much as you can yourself. Be very organized and precise on the flowers you order — from the type to the count you need. It would be a good idea to practice making the arrangements at home to make sure you can do it. Then make the flowers the day before so the "day of" is just placing them," says Buterbaugh.
What's type of flower are you loving right now?
"At the moment I am obsessed with peonies. Peonies are the queen of all flowers. The heads are so big that they are really best just on their own. Also they are so amazing you can put just one stem in a bud vase and then line several vases down a table to make a major look. Single ingredient arrangements, small or large, are also on trend.. It is especially popular with the fashion crowd," says Buterbaugh.
The farm-to-table trend has really caught on in wedding catering, do you think something similar is happening with wedding flowers too?
"Many people are really conscious of locally grown and simply arranged flowers — I like the trend. Locally grown flowers often have more smell than commercially grown flowers. This year The Bouqs launched their California collection using eco-friendly farms on the west coast for a more local option. I do think this country farm look with flowers in jam jars should only be used for lunch parties though, it's not elegant enough for dinners and evening events," says Buterbaugh.
How is your process different when you're designing floral arrangements for a wedding versus a party for your celebrity clientele?
"It really isn't much different though with a wedding the tone is always to keep a romantic look. Sometimes at a wedding there are a lot of cooks in the kitchen. Many times the mother-of-the-bride and the groom have opinions too so you need to use all of your talents to address everyones taste," says Buterbaugh.
Want more? Right here!
> Proposal planner Sarah Pease shares her expert tips
> 6 things no one tells you about wedding flowers
> 26 prettiest flower ideas ever