Some spots are more difficult to reach than others…especially if it's skin you usually don't show to the world. Here, we'll give you a rundown on what to wear to a tattoo appointment. We cover all the tough spots starting at the top including what to wear for a side boob tattoo, butt tattoo, and sternum tattoo.
We should also mention that if you're getting a tattoo where you're showing a lot of skin, it's totally okay to ask for a privacy screen. This is definitely something your artist should offer and set up to the best of their ability.
Remember, when you're getting a tattoo, your experience is just as important as the outcome. Your comfort and safety is imperative to creating an awesome tattoo that you and the artist will both be happy with, so be sure to speak up if you're uncomfortable at any time!
Tattoo by Pilgrim ttt aka Adi Ariesta #pilgrimttt #AdiAriesta #sculpture #greek #sacredgeometry #bird #woman #ancient #shapes #fineline #linework #blackanddgrey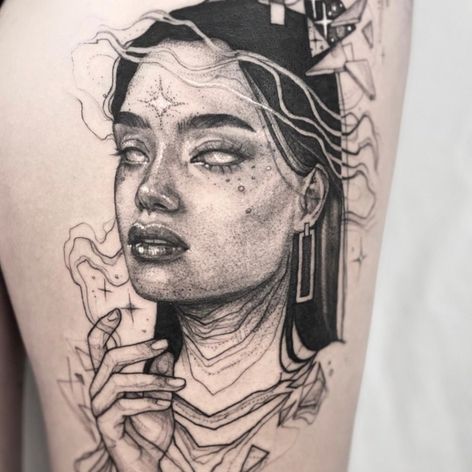 What to Wear for a Neck Tattoo
You'd think this wasn't the most intimate area ever, but, surprise! You'll be lying on your back or side with your artists face about two inches away from your face for quite awhile before that tattoo is finished up. So, make sure to wear something comfortable and loose but something that also has a low neckline. We don't mean cleavage low…a shallow boatneck, like the girl in our feature image, is perfect! You don't want to get ink on your clothing, or have to take off your shirt because it's covering the area.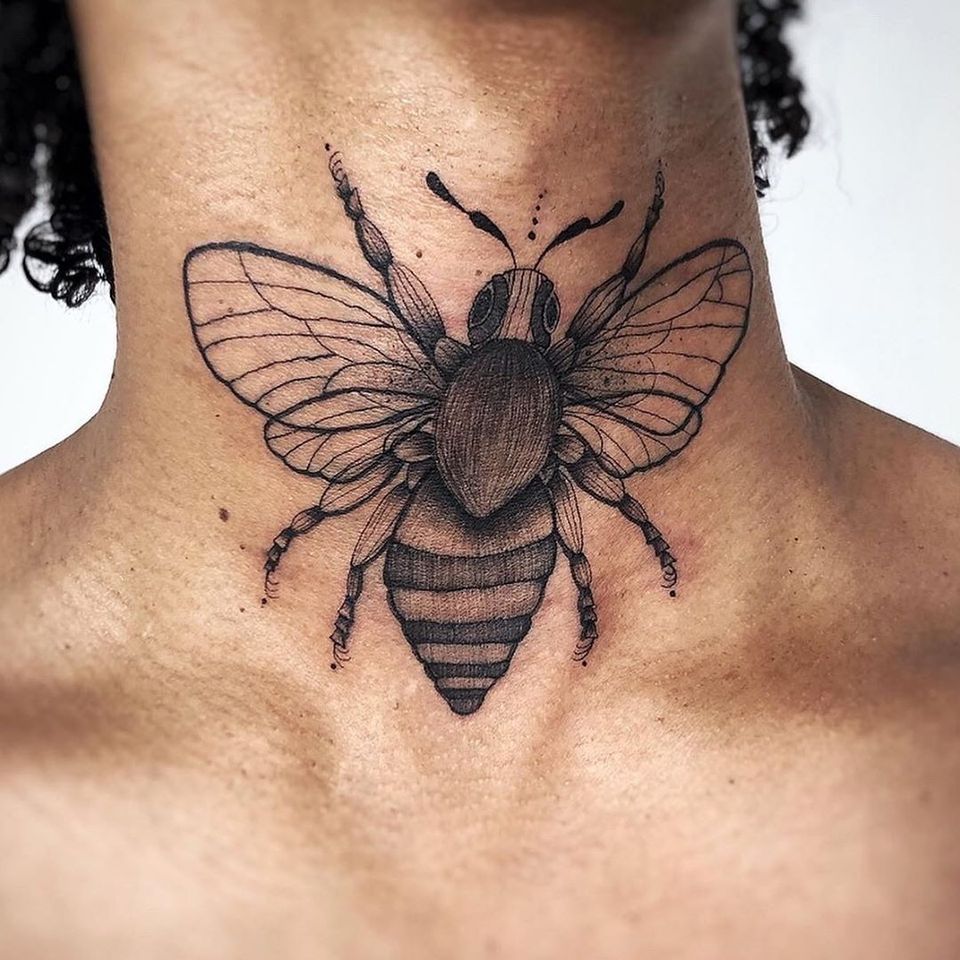 Bee neck tattoo by Hellen Zumbi #HellenZumbi #illustrative #linework #dotwork #nature #organic #braziltattoo
What to Wear for a Shoulder Tattoo
Tank tops, specifically one with spaghetti straps, is ideal here. Another perfect thing to wear for a shoulder tattoo is a bandeau top, also known as a tube top. Because it doesn't have straps, this type of top will be completely out of the way so that your artist can easily do their work. If you do wear a spaghetti strap top, you can slip the strap off if that's comfortable for you, or your artist can tape it out of the way.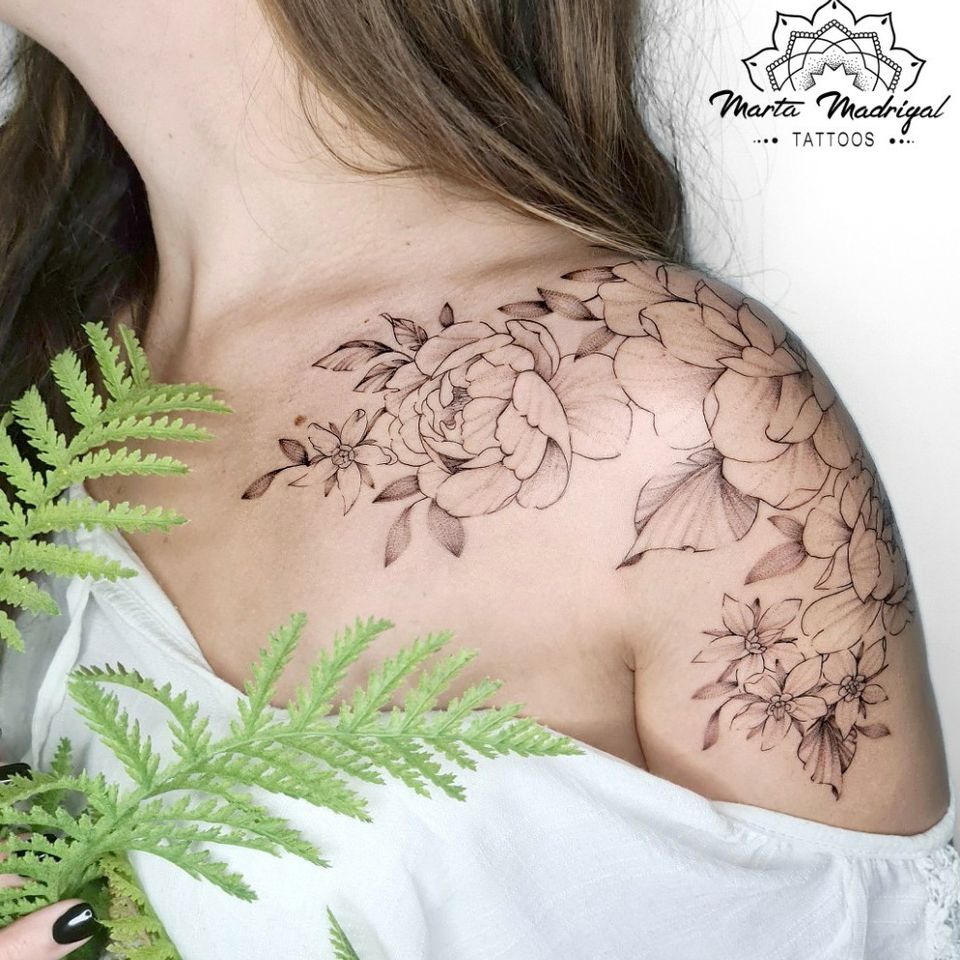 floral tattoo on shoulder by Marta Madrigal #MartaMadrigal #fineline #flower #rose #linework #shoulder
What to Wear for a Chest Tattoo
A chest tattoo is another great placement to wear a tube top, low cut spaghetti strap or bralette. Wear something you don't mind getting ink on, just in case. If you do have to remove your shirt because the area being tattooed is quite large, your tattoo artist should definitely give you pasties or tape to cover your nipples. You should be in charge of putting on the pasties, not your artist. If an artist makes you feel uncomfortable during this process, feel free to speak up! This is a sensitive area and you should be well taken care of.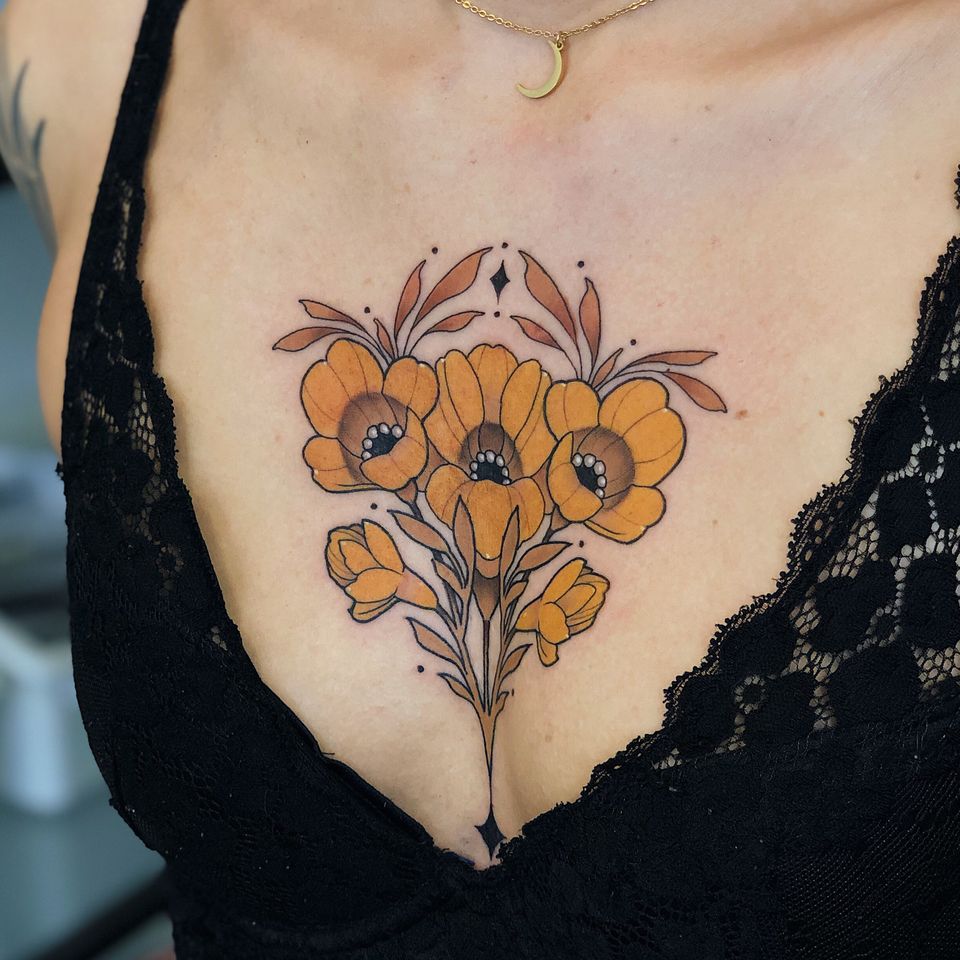 Flower chest tattoo by Jen Tonic #chestflower #jentonic #jenxtonic #floral #flower #color #neotraditional
What to Wear for a Back Tattoo
When getting your back tattooed, it's a great idea to wear a shirt that has an open back such as a halter top. You can also wear a button up shirt, or similar, and flip it around so that your arms are in the sleeves, but the back is open. If neither of these options work, this is another case where you tattooer should give you pasties or tape to cover your nipples.
If you're getting a lower back tattoo, or full backpiece, it's great to wear some bottoms with an elastic waistband. That way, you can stretch it as needed and pull it in a place that's comfortable for you and good for your artist!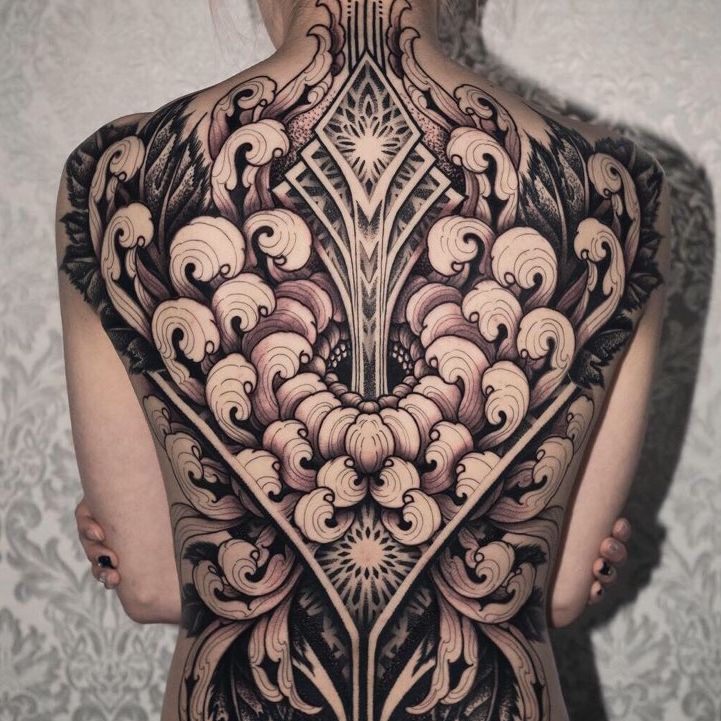 Full back chrysanthemum by Arang Eleven #ArangEleven #chrysanthemum #flower #floral #sacredgeometry #shapes #geometric #backpiece
What to Wear for a Side Boob Tattoo
If you have a shirt that has a low or dropped armhole, go with that. That means the tattoo artist can give you a side-boob tattoo without actually removing any clothing. You can also wear a comfy shirt with lots of extra fabric so that you can pull it out of the way, while still covering your chest. If possible, wear a loose fitting bralette underneath and if your artist still needs more room to work, you can either tape the bra out of the way or remove it and use pasties to cover your nipples.
Need help finding a tattoo artist for your idea?
Get started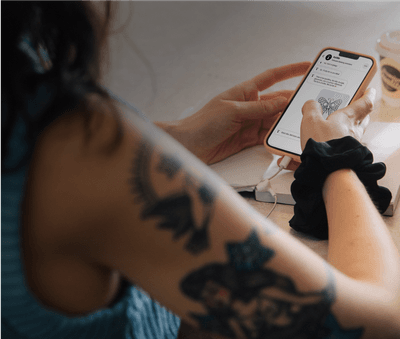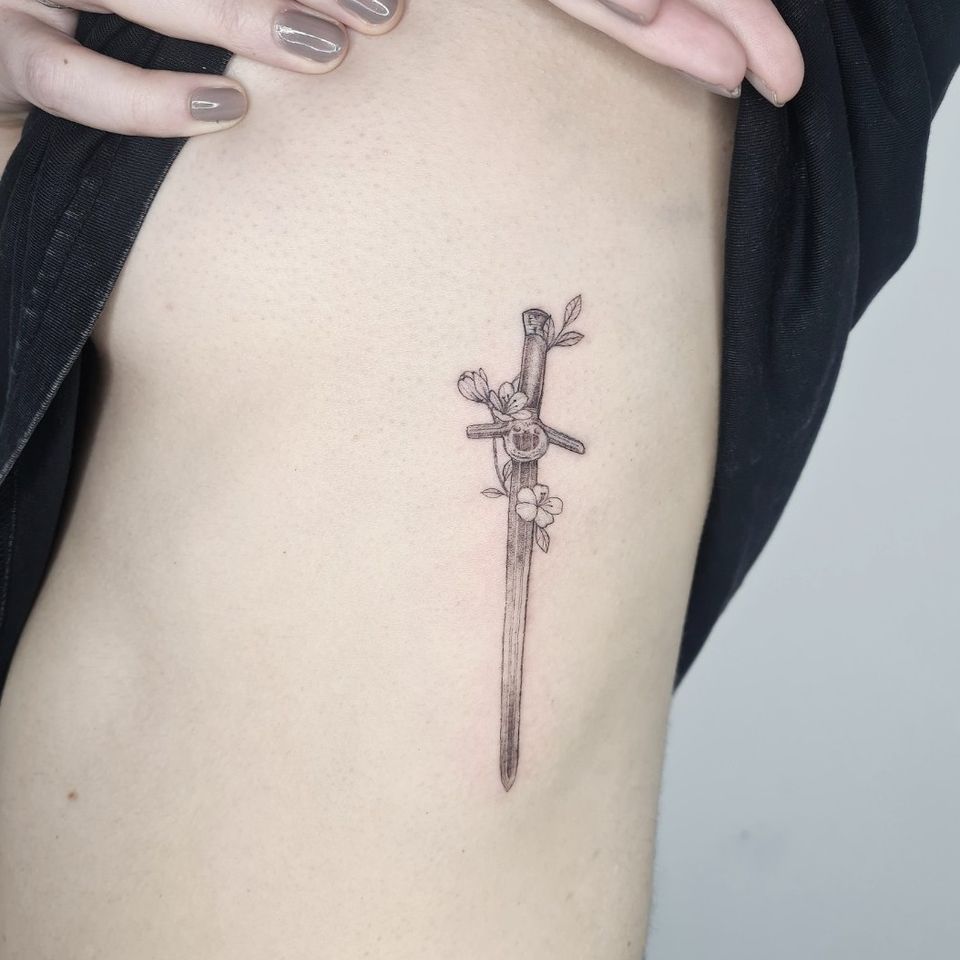 Fineline sword by David Baker #DavidBaker #fineline #sword #floral #floraltattoo #singleneedle
What to Wear for an Under Boob Tattoo
Your artist may need your breasts to hang naturally while they position the tattoo stencil in order for the tattoo to really work naturally with your curves. This means that the best clothing to wear for an under boob tattoo is something that is loose fitting. A baggy crop top is an awesome choice here and you can use pasties to cover your nipples. When you're laying down for the tattoo, you can tuck the extra fabric of the shirt under you so that it stays in place and covers all the bits!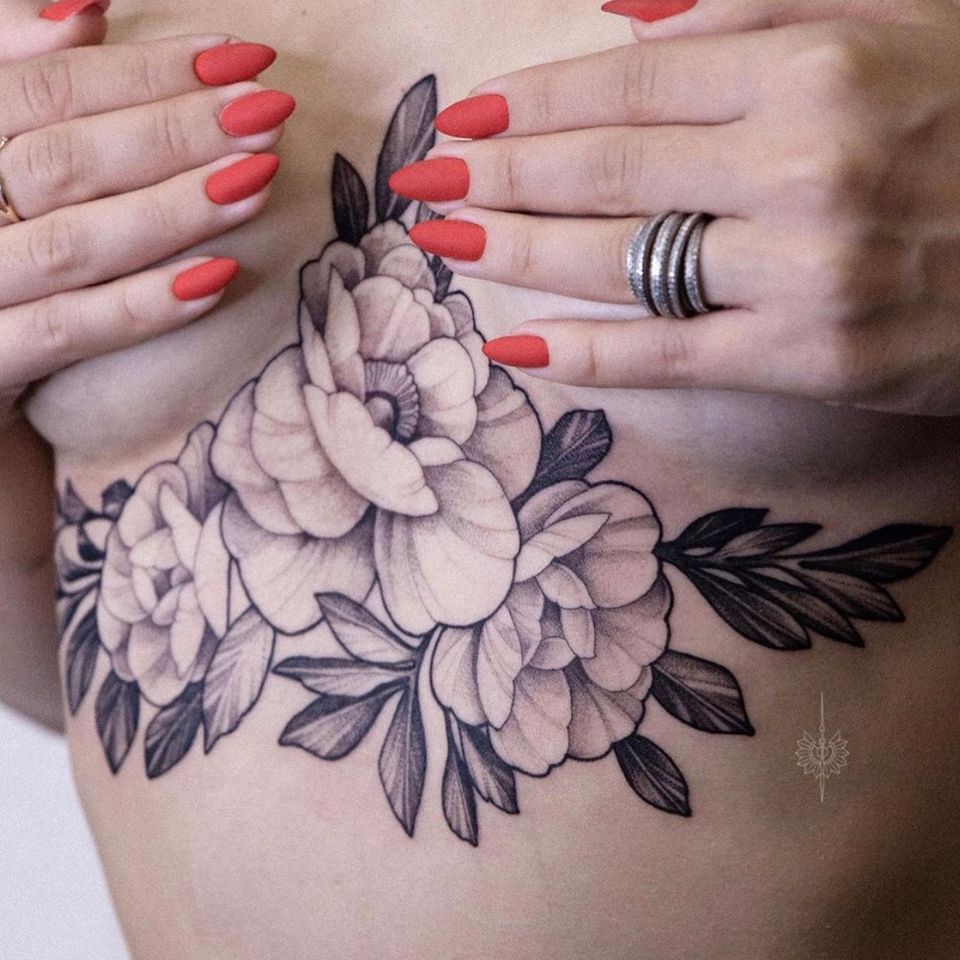 Underboobs tattoo by Zozulenko #Zozulenko Full day session tattoo with flowers! #flowers #underboob
What to Wear for a Sternum Tattoo
Similar to an under boob tattoo placement, loose fitting crop tops are the way to go here. In this case, you may be able to wear a bra but it's always best if it's a simple style that doesn't cover the area or can easily be pushed out of the way. If you feel uncomfortable, however, definitely use some pasties to cover up your nipples!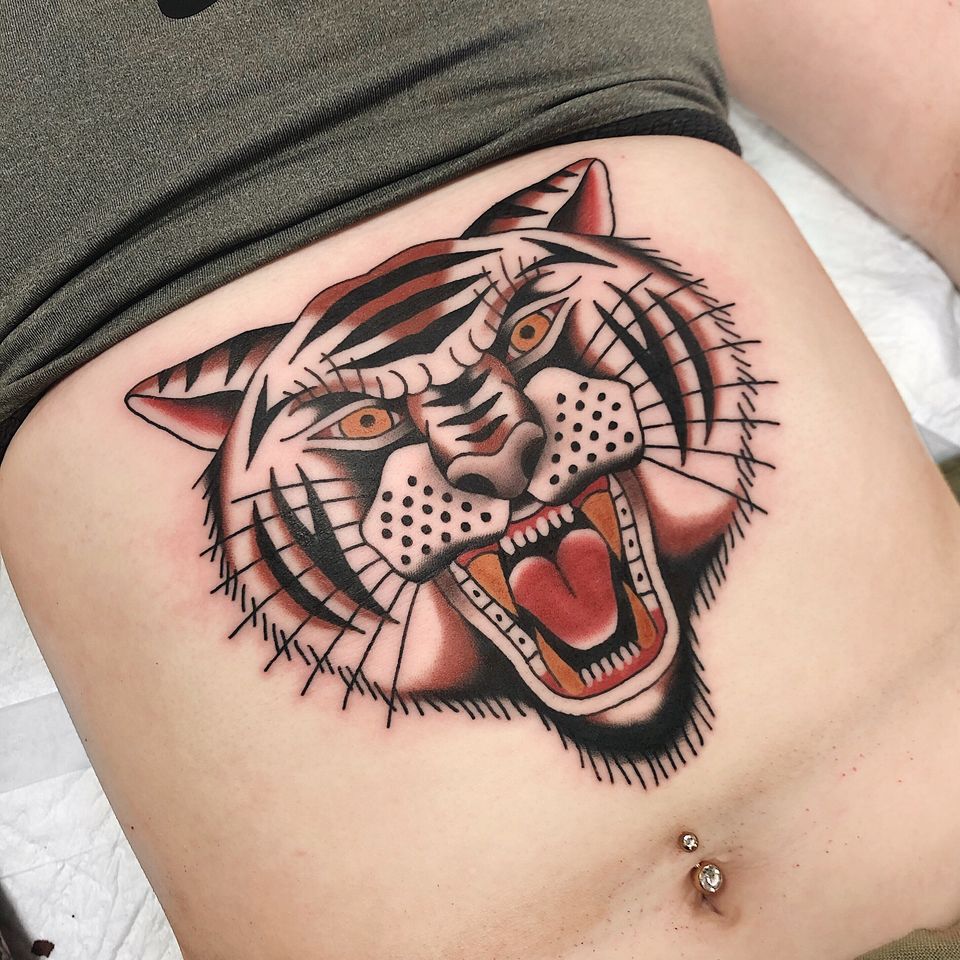 Tiger tattoo by Dan Cooper #DanCooper #tiger #traditional #stomach #animal
What to Wear for a Stomach Tattoo
When you're getting a stomach tattoo, it's really good to wear a bottom with an elastic waist. You can also wear jeans, but if they aren't low cut make sure to wear underwear that you're comfortable showing. Sometimes bathing suit bottoms are even better and less intimate, if you're concerned with that. A top should be comfortable and loose fitting so you can move it out of the way from the area being tattooed.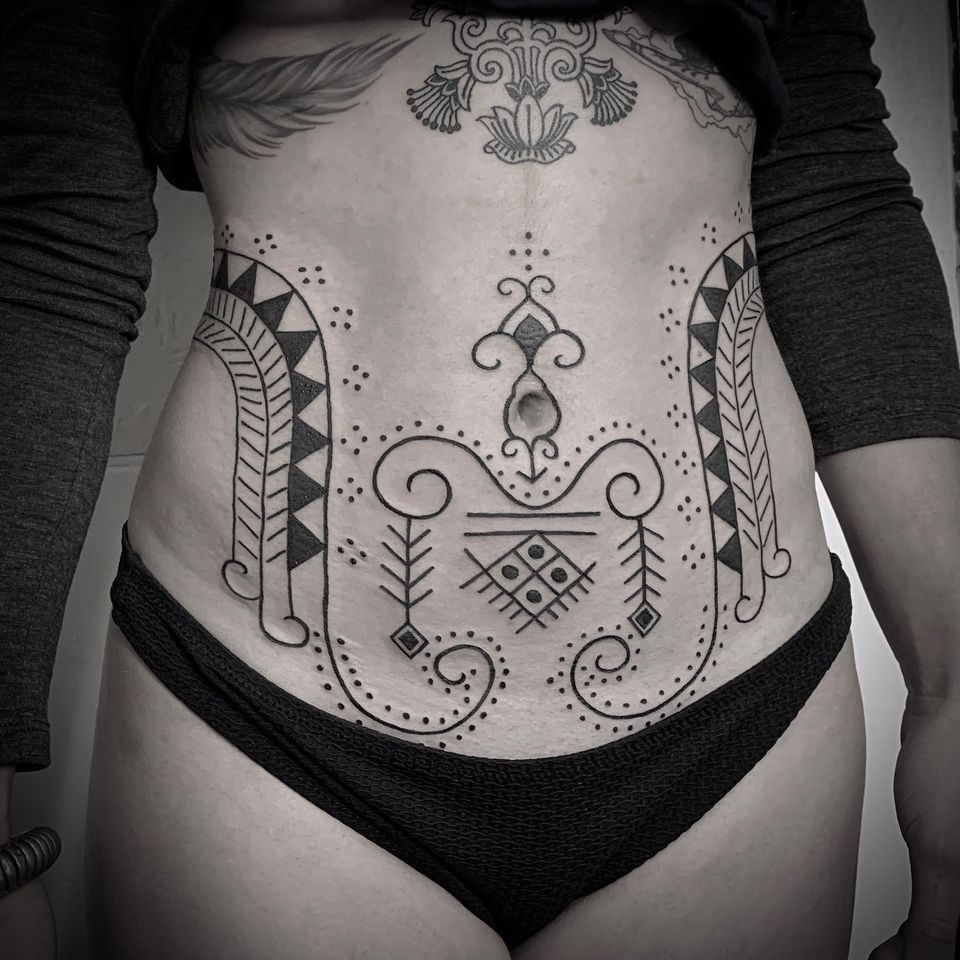 Tattoo by Sentenza our guest artist at Taioba Tattoo #Sentenza #TaiobaTattoo #stomach #pattern #tribal #folkpattern
What to Wear for a Hip Tattoo
A long flowing skirt or dress is the perfect thing to wear for a hip tattoo. Anything where you can easily move the fabric around your body will work really well. This way you can show the hip but hide other intimate areas in the front and back. It's also great to wear bikini bottoms with side ties underneath your dress or skirt, especially if you're getting a hip tattoo high up on the body. You can undo one tie and tape it in place so you're still covered but the artist can access the area.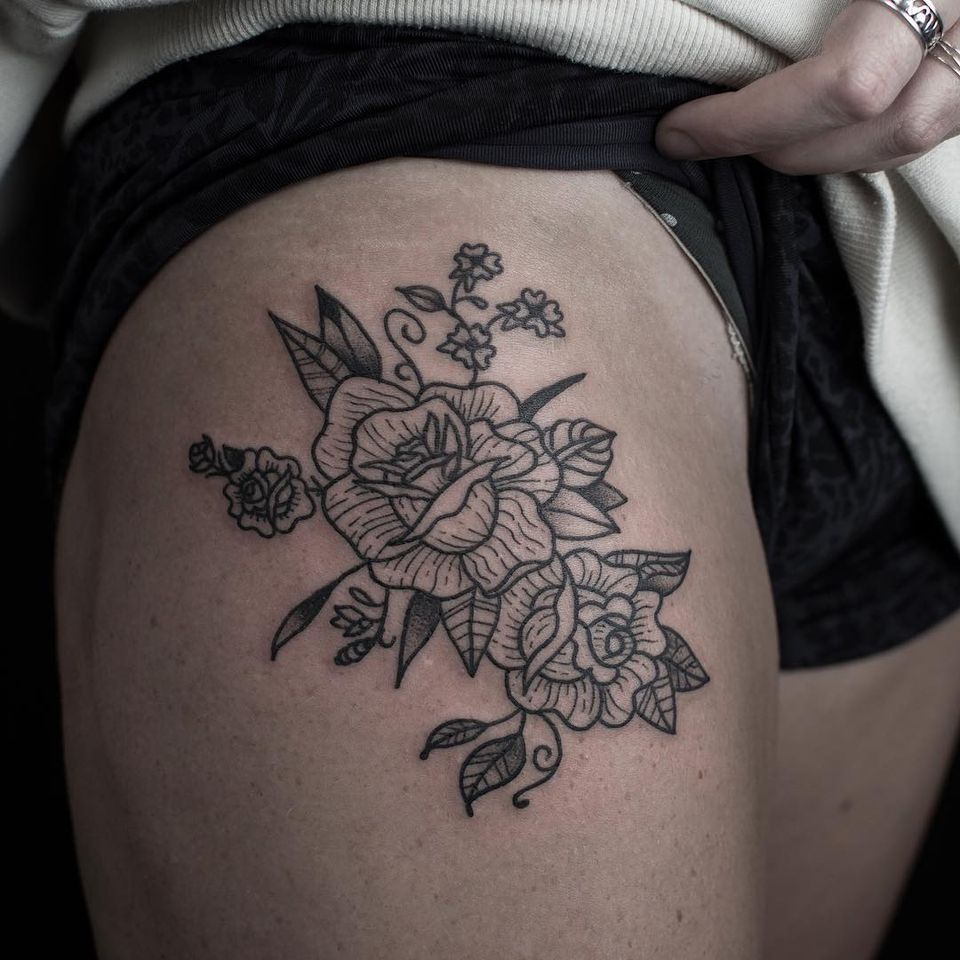 Classic roses tattoo by Burak Moreno of Fleur Noire #BurakMoreno #FleurNoire #roses #linework #blackwork #floral #nature #flower #leaves
What to Wear for a Butt Tattoo
When getting a butt tattoo, in most cases, a high cut thong or g-string is perfect. This will definitely depend on the design, but for most tattoos, the inside of the butt crack won't be involved so having fabric there is not a problem. We should mention that the thong you wear should be one you don't mind getting ink on, just in case. Obviously, also, wearing a shirt that isn't long is a good idea. Otherwise, you can just pull it out of the way.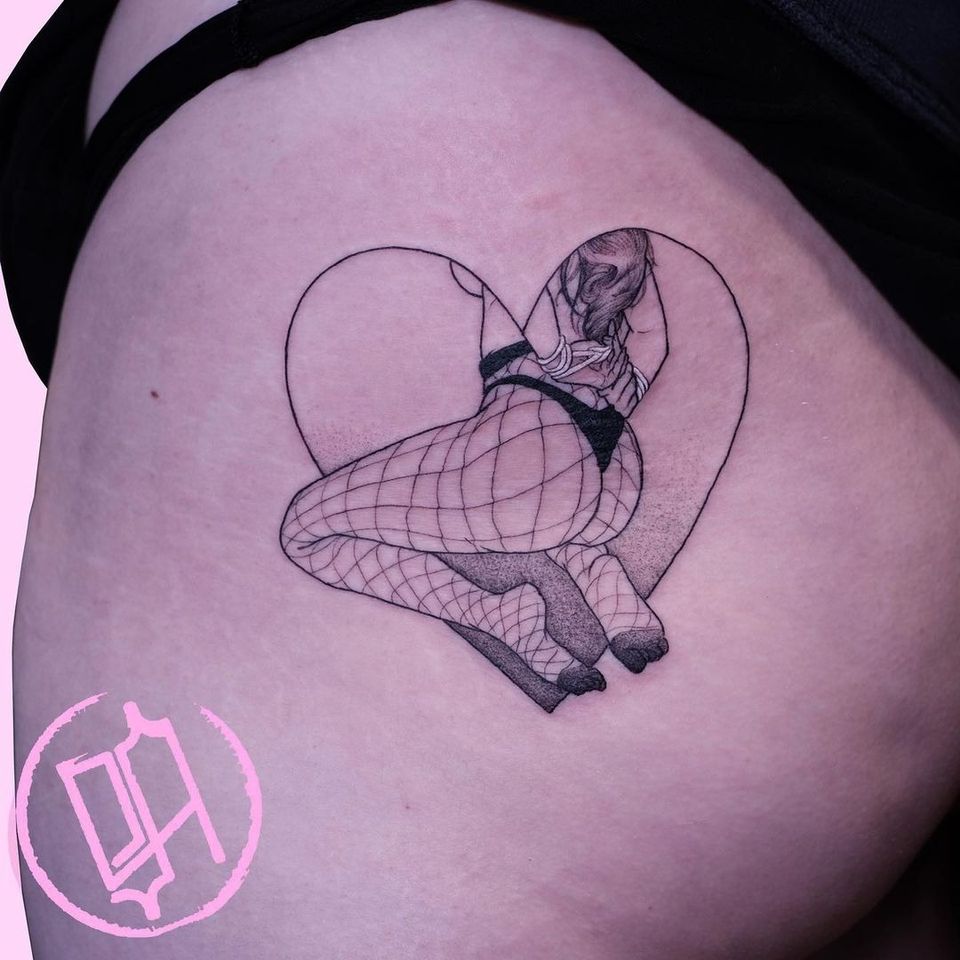 Bum tattoo by Sad Amish #SadAmish #heart #pinuup #babe #butt #bum #fishnets #kinky #sexpositive #love