While we know that the flower crown trend has been around for a while, that doesn't mean we love them any less. Let's be honest—we'll take any excuse to don an accessory of fresh blooms. Whether it's a bachelorette brunch accessory or the final finishing touch on a bridal hairstyle, flower crowns are as diverse as they are beautiful. Another popular reason to pick up some stems? Coachella.
Walking into Coachella without a flower crown is like walking into your first day of class without pants on. You'll feel naked (well, more naked than you already feel in that crochet halter) and underdressed.
For all of you festival-goers, one of our favorite flower delivery services has your back. The Bouqs Co. partnered with Postmates to supply the Los Angeles area with beautiful, fresh flower crowns. For $30 (plus a $3 delivery fee), you can have the hottest accessory delivered right to your tepee for a limited time (4/13–4/14, 4/20–4/21). Genius.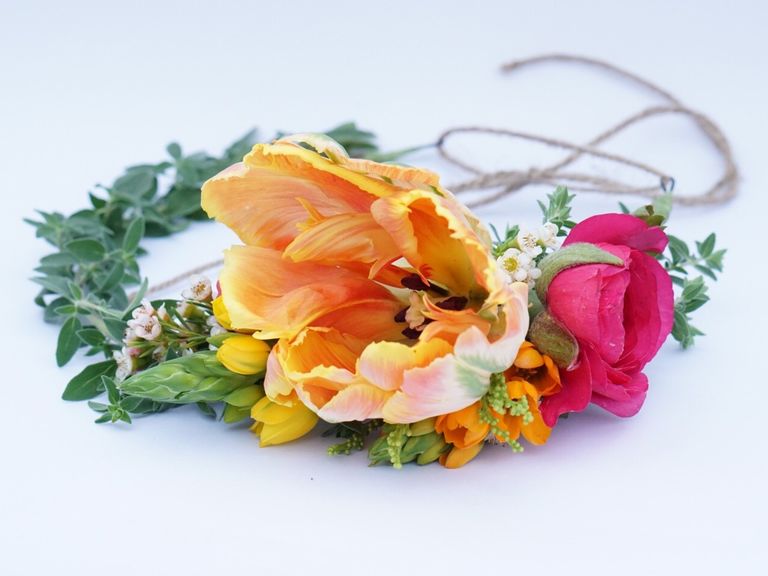 Even though the flower crowns are only available for a short time, if you love your blooms, rest easy knowing you can enjoy The Bouqs Co.'s arrangements year-round with their bouquet delivery service. (Psst—their quick two-hour delivery also makes for the perfect hostess gift!)
Happy Coachella!