Contrary to popular belief, you are allowed to gift your partner with a bouquet of something other than red roses on Valentine's Day. The crimson-colored blooms are always omnipresent when Cupid's afoot, but if you ask us, red roses are just a tad overdone this time of year. But why doesn't their popularity ever die down? Cameron Hardesty, head of mechandising at UrbanStems, gave us a little background on why the red rose industry is basically a self-fulfilling prophecy that started long ago, and what to do if you're also dealing with red rose exhaustion.  
"The reality is, people will still pick red roses every Valentine's Day," Hardesty says. "But at UrbanStems, we have one design rule. We'll never carry a bouquet with a dozen red roses for Valentine's Day. Not that we don't ever carry them—but that type of bouquet is everywhere. The kind of red rose we do carry is a Mayra rose. It's hard to find and grow, and it's a deep, rich burgundy."
With the market being oversaturated with Freedom roses (the standard rose you see at most grocery stores), it's hard to see or estimate an end in sight, due to how and why they're grown.
"The Freedom rose began to gain popularity 20 years ago," Hardesty says. "When a farm decides to buy a type of rose, it's a seven-year plan, meaning they won't see a profit on the roses until about seven years later. So from that, there's a demand for that type of rose because it's what's been and being cultivated in the market and still turning a profit. On Valentine's Day, the same Freedom rose that could be a dollar a stem at the supermarket can be marked up to $5 a stem elsewhere."
Everyone knows red roses are a declaration of love and romance—after all, you wouldn't feel comfortable giving just anyone a bouquet of them—but their meaning originated in the 19th century and still holds true today. 
"Overall, about 20 to 25 percent of flowers sold in the US every year are roses, because they're a safe choice, due to their ability to send a message that stems from the 19th century," Hardesty says. "To flirt back then, men in the Victorian era would send women flowers, and each flower had a very specific meaning that could decode their intentions. Some of that mind-set carried over to today's world, where a red rose still means 'I love you.' It's a straightforward way to send a message on Valentine's Day, people still feel comfortable sending them to get their point across, and farms respond to demand of the market. It's easy for the cycle to continue." 
With plenty of other options to choose from for Valentine's Day, Hardesty recommends thinking outside the box and mixing tradition with a fresh take on florals. 
"Ranunculus and peonies are always gorgeous to gift instead," Hardesty says. And ranunculus is just the coolest flower—it's very delicate, fluffy and romantic with the feel of a rose, but with a certain je ne sais quoi. UrbanStems does 20 times the volume of an average day on Valentine's Day. "Our pink and peach Kahala roses are popular then and will keep for a really long time. Two of our most popular bouquets for Valentine's Day are the Valentine and Jackie bouquets. Both include roses—just not red ones. Our customers will always get fresh and unique bouquets."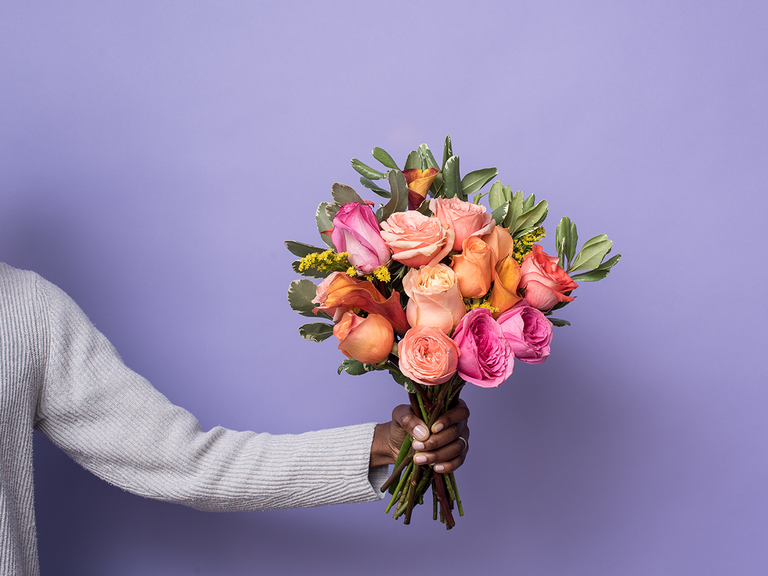 Pictured above: The Valentine bouquet