You've picked the dream wedding couple, the theme, and the rings! Now it's time to vote for the flowers you'd like to see at The Knot Dream Wedding, which will be live-streamed on February 14! Flower arrangements were all provided by Rebecca Shepherd.
Don't forget, the floral decor should match the Modern Ice Castle theme to complete the winter wonderland look!
Voting has closed! Tune in tomorrow and watch our 1 P.M live broadcast to find out what rings the couple will exchange on their wedding day.
BABY'S BREATH & LUCITE
Fresh, feminine and airy — this look brings the snowy outdoor landscape inside the modern ice wonderland. Centerpieces of beautiful clouds of baby's breath are set atop gorgeous fluid glass vases surrounded by a collection of glass bud vases and tall candles, with a reflective mirror at the base. The bridal bouquets would also feature delicate clouds of baby's breath. (Note: This is not the baby's breath that comes with grocery store flowers — it's amped up, extra-large and gorgeous!)
OMBRE & MIRROR
Taking a cue from fashion trends, these centerpieces set in mirrored boxes feature a crescendo of color: mini Picasso calla lilies (white with a deep-purple center), followed by lavender tulips, violet orchids, indigo vanda orchids and hydrangeas, and ending in deep-wine ranunculus and structural eggplant-hued calla lilies. The bride's bouquet would be a tight bundle of the Picasso calla lilies, and the bridesmaids' posies each would feature a single bloom — so that when they stand together, it would create another ombre moment.
CUBIST WHITE
Super-white and super-modern, this composite centerpiece creates a clean, sleek aesthetic in the venue. Each of the four milky-white ceramic square vases of varying heights contains a different variety of white bloom: white amaryllis, white ranunculus, white fringe tulips and silver brunia. The fourth vase of the collection is a piece of artwork in and of itself, featuring a modular set of bud vases. The accompanying bridal bouquet would contain a beautiful blend of all these white blooms. And each bridesmaid would carry a single variety, echoing the centerpieces.
MANZANITA & CRYSTAL
Tall and exotic, these centerpieces add a modern touch to the branchy seasonal look. Like a tree on each table, manzanita branches are softened by oversize white phalaenopsis orchids and delicately placed crystals that hang from above. The bridal bouquet would be a cluster of shimmering brooches, while the bridesmaids would carry bunches of gorgeous white orchids in different varieties.
Here's another glimpse at the winning theme to help you decide!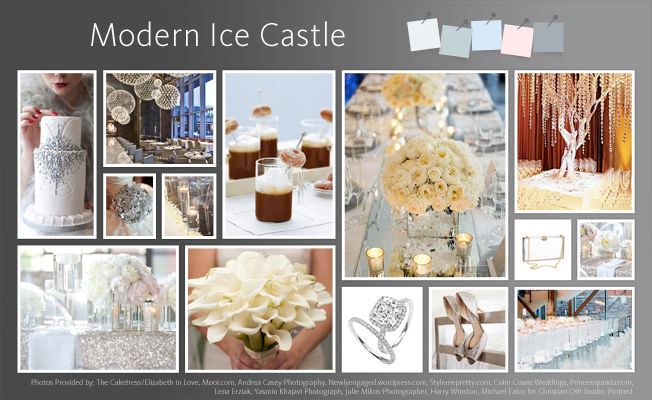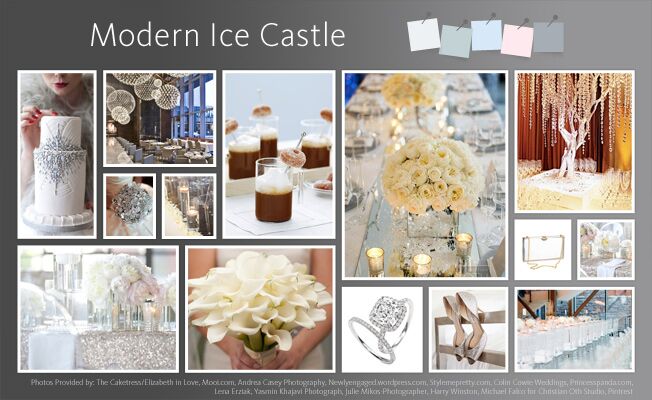 > Meet the Dream Wedding Couple: Sierra & Andre!
> Pin More Modern Ice Castle Inspired Details Here!