Idyllic and ideal for honeymooners of all types, Cartagena, Colombia, is one of the most romantic cities in the world. The ancient oceanfront town is tucked within fort walls that once housed cannons and protected the population. Next to this old world sits the other half of the city, a Miami-like harbor community lined with high-rises, busy beaches and yacht-filled marinas.
Both sides of the walls are bustling, but the old city is nothing short of magical. Cobblestone streets too small for most cars are peppered with horse-drawn carriages and lined with historic buildings flanked by South American–style Juliet balconies and beautiful bougainvillea. This is a walking city—no rental cars needed—and rarely will you find an excuse for a taxi or Uber. So when you're in town, embrace the lifestyle of long walks together, dancing to live music in the squares, window shopping and stopping for gelato on every street corner. But before you pack your bags, consider these top tips to planning a honeymoon in Cartagena.
Stay Within the Walls of the Old City
The charm of the old city is unlike any other place on earth. Live like generations past and stay in a boutique hotel, most of which were colonial houses at one time. Noted as the most romantic hotel in the city, Casa San Agustin is a dream for honeymooners. A 300-year-old aqueduct wall fills the center courtyard and connects three historic homes that now make up the 31-room posh place to stay. A pool also runs through the lobby area, as does Alma, one of the best restaurants in the city, where breakfast is included and live music brings the place to life in the evenings. This is a meal not to miss during your stay. But don't forget about the rooftop bar, tea in the afternoons in the library—and that's if you can convince yourselves to leave your sophisticated suite (some are two-stories with a balcony). This hotel couldn't be more perfect for a luxuriously quiet and relaxing honeymoon with the city just steps away.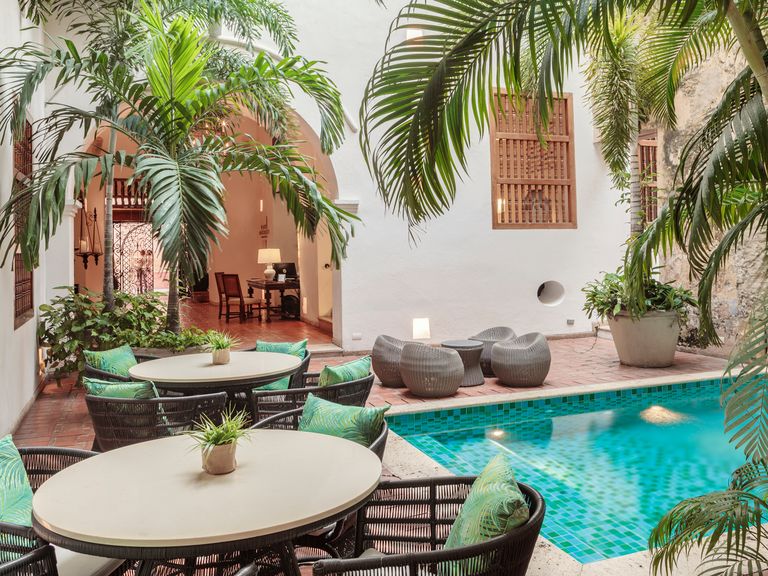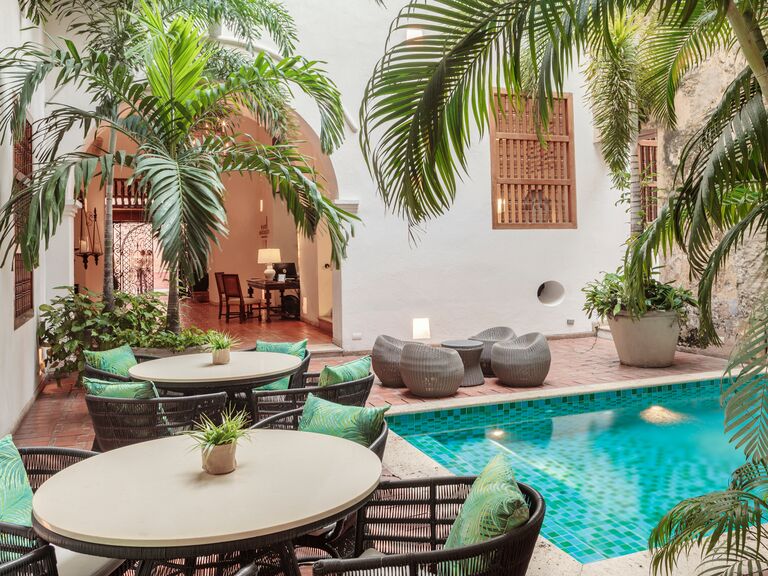 Explore the Local Flavors
Many restaurants offer live music to set the mood, so plan on dining out and staying late. The ambience is everywhere, and one such spot, Pata Negra, is primed for a perfect date night. For a local favorite, Carmen has some of the most delicious food in the city and is run by Le Cordon Bleu–trained chefs. Do yourselves a favor and make a reservation early, since this is one spot you have to go to.  
Get Out at Night
Cartagena has a lively nightlife scene and a flare for mixology. Pay a visit to El Barón and order any one of their Instagram-worthy beverages and stay for a bite—they've got the best quiche Lorraine in town. After a copper mug unicorn cocktail, head to Alquímico, a multilevel bar and bites hot spot with a rooftop scene the locals love. If you like to dance, head outside the old city walls to Café Havana for a horn-filled Latin band that'll have you on your feet until the wee hours of the morning. 
Pack Light and Shop 
The fashion in Cartagena is envy inciting. There are affordable deals everywhere, and local designers rival the best in the world. For designer label favorites from the region, shop at St. Dom and you'll find a variety of stores on the street to pop into along the way.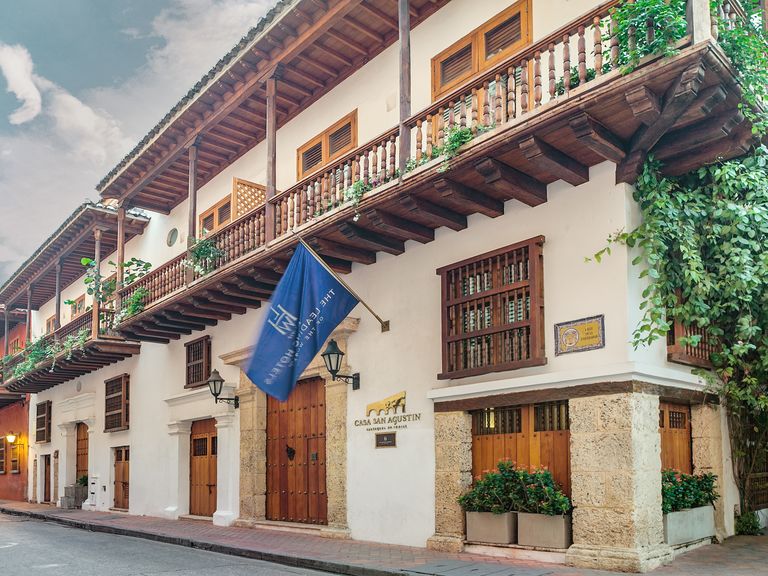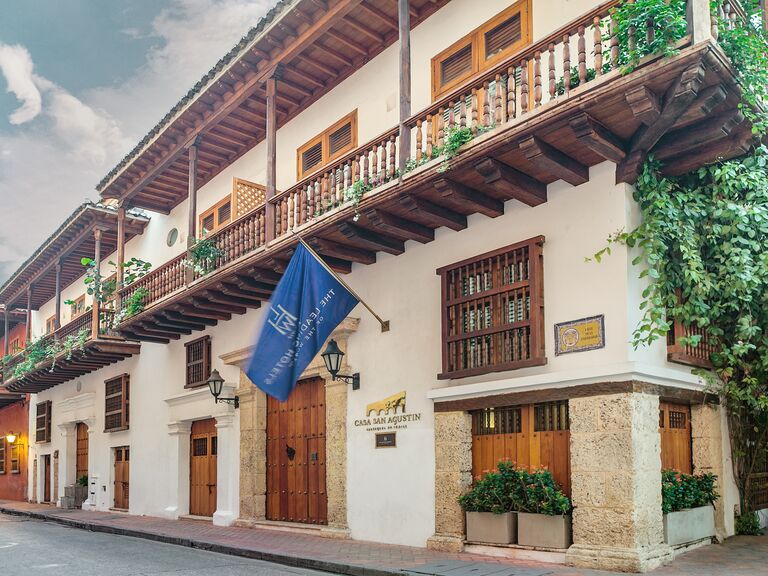 Spend a Few Days on the Islands
Cartagena sits on the Caribbean Sea, and just off the coast are dozens of spectacular tropical islands known as the Rosario Islands. One of the highlights, Barú, is home to brand-new tree house property Hotel Las Islas, which is as secluded as it is spectacular. The 54-bungalow resort offers private saltwater pools for the lower suites and outdoor treetop Jacuzzi tubs for the rooms high above sea level. With three restaurants, a library lounge perched higher than the tree canopy, and a stargazing deck four stories from the sand, you likely won't find a more romantic spot on earth to spend an evening. Tip: Book one of the three ground floor bungalows with a private beach and your honeymoon destination will feel like your own private island.
Enjoy the Exchange Rate
Cartagena is a fantastic place to make your money stretch. You'll find your cash goes far (especially on food and drinks) and you'll experience everything this magical city has to offer without the guilt of spending the equivalent of a down payment on your first home for your honeymoon.
When visiting Cartagena, be prepared to break out a little Spanish from time to time. Keep your itinerary light to allow the city to be your guide and enjoy the warm and welcoming weather, people and places to stay on this exotic South American honeymoon. (And if you're from New York, you're in luck—you can even fly direct.)
Harmony Walton is the founder of The Bridal Bar, host of Bridal Bar Radio airing on iHeartRadio and editor of the destination wedding blog, Jet Fete by Bridal Bar. With a vast celebrity clientele and over a dozen years of experience, her brands have been recognized around the world and featured in media outlets such as The Associated Press, The New Yorker, The Knot, The New York Times, Entertainment Tonight, People Magazine, The Los Angeles Times and many more.